Lewis Bennett charged with murdering wife on catamaran off Cuba
A British man has been charged with the murder of his American wife, who went missing while the couple were sailing on their catamaran off the coast of Cuba.
Lewis Bennett, 41, was arrested in a federal court in Miami for the second-degree murder of Isabella Hellmann when he arrived to be sentenced for smuggling stolen coins on the same voyage.
The FBI said in court documents it believes Bennett "knowingly and unlawfully killed" Ms Hellmann, the mother of their 19-month-old daughter, Emelia.
Last May, the newlyweds were heading back to their home in Delray Beach, Florida, when Bennett says he felt the boat hit something.
The 41-year-old said his wife was at the helm at the time but when he looked for her she was gone and the 37-foot Surf Into Summer was sinking.
An expert later said the vessel had been "intentionally scuttled" after two underwater escape hatches were opened.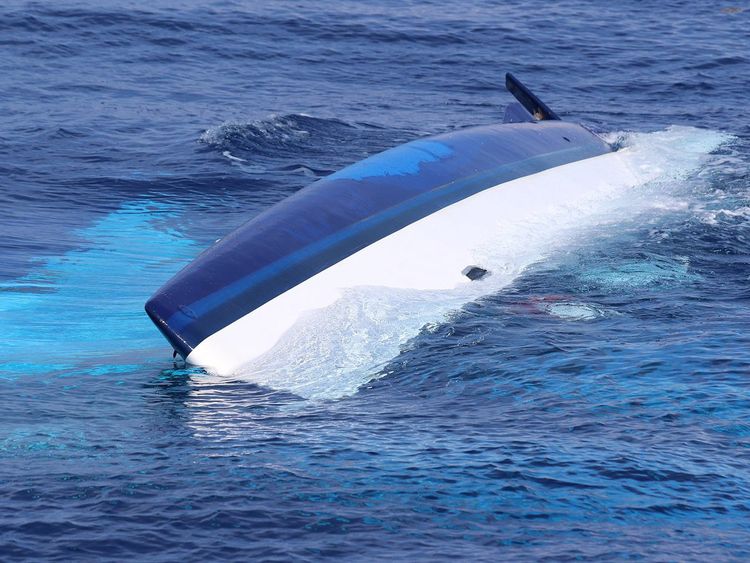 Bennett reported that his wife was missing in an SOS call in the early hours of 15 May.
Investigators claim Bennett did not activate his satellite phone or register his personal locator beacon until he was in Cuba on the final leg of the voyage.
He wanted to "ensure his own rescue and survival after murdering his wife and intentionally scuttling his catamaran," they said.
The US Coast Guard searched for four days but her body was not found.
Bennett, from Poole, took to a life raft and was rescued hours later.
He had a backpack, buoys, gallons of water and nine plastic tubes containing 235 stolen English and Canadian coins with him when the Coast Guard found him.
The haul, worth up to £28,500 ($38,480) was found to be part of a haul valued at £72,000 ($100,000) stolen from an employer's boat in 2016.
Bennett, a British-Australian citizen, was sentenced to seven months in prison, followed by three years of probation for charges relating to the discovery of the coins.
A day after the search for Ms Hellmann was abandoned, Bennett asked Palm Beach County Court to have Hellmann declared dead so he could settle her estate.
A judge refused his request.
COVID-19: Holidays to Spain could be delayed 'until end of summer' | World News
Britons hoping to escape to Spain could have their holiday plans cancelled following reports the Spanish prime minister said the country would not welcome international tourists until the "end of summer".
Speaking at a meeting of the World Tourism Organisation, Pedro Sanchez reportedly said he did not expect holidaymakers to visit Spain until nearly all of the population has been vaccinated.
He said the country would "progressively" prepare to welcome international tourists once 70% of Spain's population had been vaccinated, which he expected to be by the end of this summer, local media sites including Euro Weekly News have reported.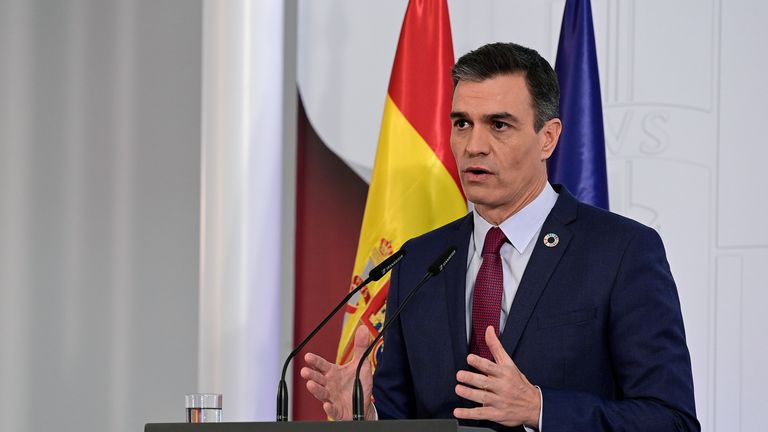 It will be a blow for the tourism sector, which closed its worst year since the 1970s in 2020 with revenues falling by more than 75%.
Spain reported its highest daily number of coronavirus infections yet on Thursday, recording 44,357 cases.
A further 404 deaths were also reported, taking the country's total to 55,041 deaths and 2.5 million cases.
Spain is not the only popular holiday destination closing its doors to British tourists, as Portugal has said it will be suspending all flights to and from Britain from Saturday onwards.
Only repatriation flights will be allowed between the two countries, Prime Minister Antonio Costa told a news conference.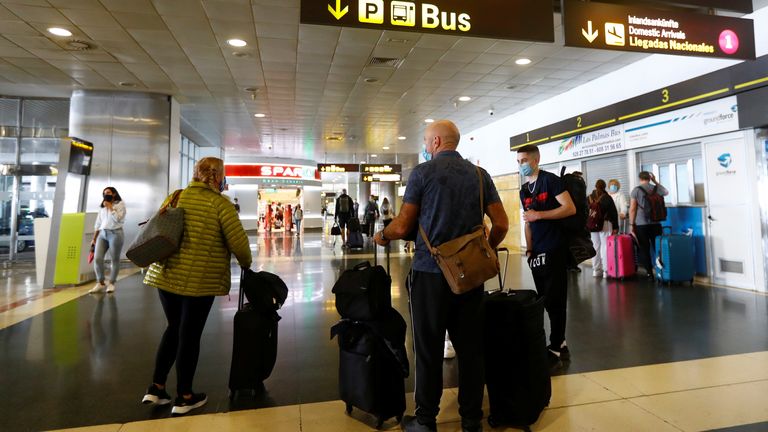 Meanwhile, the UK itself has "considered" a full closure of its borders.
Environment Secretary George Eustice told Sky News ministers were keeping the idea "under review" and "can't rule anything out for now" – although they believed the current restrictions were "sufficient".
Asked whether people should be booking foreign holidays for this summer, Home Secretary Priti Patel refused to give an answer and said it was "far too early" to speculate on restrictions.
But some Britons have already begun booking their breaks, with holiday firms saying they had seen a spike in bookings from older people planning trips following the vaccine roll-out.
'We need to have a spring and summer season'


The UK's largest tour operator TUI said half of bookings made so far have been made by over-50s.
Spain ranks among the most popular countries for people planning holidays this year.
A study by travel company Club Med showed it was the fifth most popular destination, behind the Maldives, Mexico, Thailand and Turkey.
Earlier, European Union leaders held an online summit to discuss potential coronavirus measures, including further border restrictions.
While a number of EU leaders said they would not rule out border closures, Spain and Greece backed an idea for a common approach to "vaccine passports".
The system would allow people to travel if they had received the vaccine, although EU diplomats said the measure was premature as it is not yet clear if vaccinated people could still pass on the virus to others.
China gold mine blast: Trapped workers must wait another two weeks for rescue | World News
Rescuers trying to free a group of miners trapped hundreds of metres underground have said it may take another 15 days to drill and clear a route wide enough to reach them.
They are desperately trying to bring the workers back to the surface following an explosion at the Hushan gold mine in Qixia, Shandong province, in eastern China on 10 January.
A total of 22 miners became trapped after the blast blocked the mine entrance.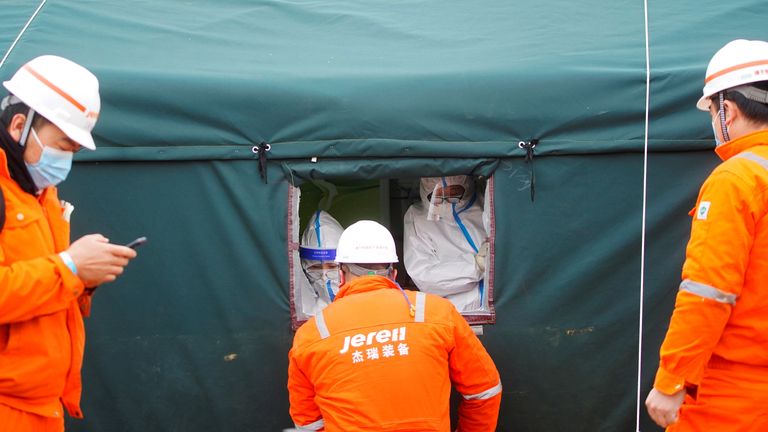 One is confirmed to have died from head injuries. Eleven are known to be alive and rescuers have made contact with 10 of them, while one is said to be in a nearby chamber. The remaining 10 are missing.
Holes have been drilled and used to pass food, medicine and other supplies to the group while they wait.
Rescuers are now drilling a new wider shaft to reach the 10 men in the middle section of the mine – more than 600m from the entrance – which they hope to use to bring the survivors to safety.
The mine shaft is blocked 350m below the surface by 70 tonnes of debris that extends down another 100m, the Yantai city government said in a statement on its social media account.
Other shafts are being drilled for communication and ventilation – to expel deadly fumes.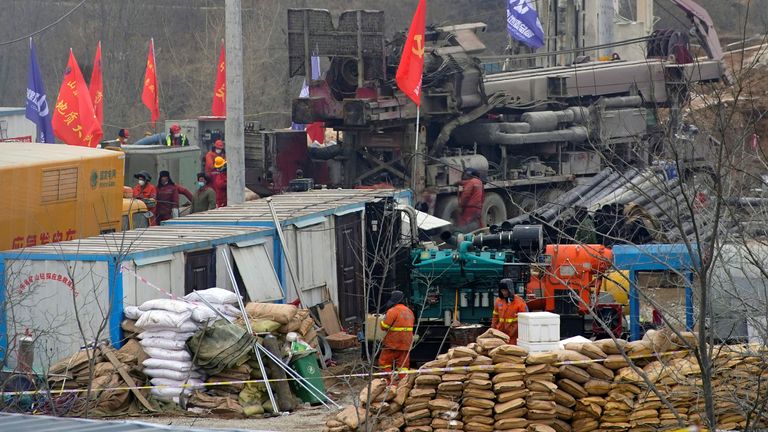 About 600 people are involved in the rescue, with as many as 25 ambulances waiting at the scene, as well as neurosurgeons, trauma specialists and psychologists.
Medical workers in white protective suits are also on site and have been taking people's temperatures as part of COVID-19 precautions.
Mine managers have been detained for waiting more than 24 hours before reporting the incident, the cause of which is still not known.
Google threatens to block search engine in Australia if forced to pay for news | Science & Tech News
Google has threatened to block its search engine in Australia if it is forced to pay media outlets for their news content.
Both Google and social media giant Facebook – which also opposes the rules and has threatened to remove news from its feed for Australian users – are fighting government plans for a new digital news code.
It would make tech giants negotiate payments with local publishers and broadcasters, and a government-appointed arbitrator would decide the price if they fail to strike a deal.
"Coupled with the unmanageable financial and operational risk if this version of the code were to become law, it would give us no real choice but to stop making Google Search available in Australia," Mel Silva, the company's managing director for Australia and New Zealand, told a Senate inquiry into the bill.
"And that would be a bad outcome not only for us, but also for the Australian people, media diversity, and the small businesses who use our products every day."
Australian Prime Minister Scott Morrison immediately hit back, saying "we don't respond to threats".
Ms Silva said the company was willing to pay a wide and diverse group of news publishers for the value they added, but not under the rules currently proposed, which includes payments for links and snippets.
She suggested a series of tweaks to the bill, adding: "We feel there is a workable path forward."
Simon Milner, a Facebook vice president, said the sheer volume of deals it would have to strike would be unworkable.
Google dominates internet searches in Australia, with Ms Silva telling senators about 95% are done through the company.
Mr Morrison told reporters in Brisbane: "Australia makes our rules for things you can do in Australia.
"That's done in our parliament. It's done by our government. And that's how things work here in Australia."
He added: "People who want to work with that in Australia, you're very welcome. But we don't respond to threats."
Australia announced the legislation last month after an investigation found Google and Facebook held too much market power in the media industry, a situation it said posed a potential threat to a well-functioning democracy.
Subscribe to the Daily podcast on Apple Podcasts, Google Podcasts, Spotify, Spreaker
Facebook and Alphabet, the parent company of Google, are among the most prominent American technology companies.
The US government this week asked Australia to scrap the proposed laws, and suggested it should pursue a voluntary code instead.
But The Australia Institute, an independent think tank, said politicians should stand firm against the tech giants.
"Google's testimony today is part of a pattern of threatening behaviour that is chilling for anyone who values our democracy," said Peter Lewis, the director of the institute's Centre for Responsible Technology.