How do gun background checks work? A look at the current system
In the wake of the mass shooting at a Florida high school earlier this month, President Trump is seemingly open to strengthening federal background checks for gun purchases.
"While discussions are ongoing and revisions are being considered, the president is supportive of efforts to improve the federal background check system," White House Press Secretary Sarah Sanders said Sunday, adding that the president has spoken to Senate Majority Whip John Cornyn about a bill to "improve federal compliance with criminal background check legislation."
On Twitter Tuesday, Trump said Republicans and Democrats "must now focus on strengthening" federal background checks. 
Here's a look at how the federal background check works, and what activists and experts have to say about it.
What happens when you want to purchase a gun?
In order to purchase a gun from a federal firearms licensed dealer (FFL), a consumer must provide identification and pass a federal background check using the Bureau of Alcohol, Tobacco, Firearms and Explosives' 4473 form.
The first page of the document requires basic information, including the buyer's full name, address, sex, birthday and ethnicity. A Social Security number is encouraged, but not required.
The form also asks the buyer about criminal background, immigration status and mental health — information that could result in a consumer being denied. Those questions include:
Have you ever been convicted in any court of a felony, or any other crime for which the judge could have imprisoned you for more than one year, even if you received a shorter sentence including probation?
Are you an unlawful user of, or addicted to, marijuana or any depressant, stimulant, narcotic drug or any other controlled substance?
Have you been discharged from the Armed Forces under dishonorable conditions?
Have you ever been convicted in any court of a misdemeanor crime of domestic violence?
Lying on the federal form is a felony, punishable by up to 10 years in prison and a $250,000 fine, an ATF spokesperson confirmed to Fox News. That penalty is also listed at the top of the form.
Once the form is completed, the dealer will submit it to the National Instant Criminal Background Check System (NICS) online or by phone. Then, almost immediately, the licensed seller will know how to continue with the sale:
Proceed: If NICS indicates the seller can proceed, then the sale can continue.
Canceled or Denied: Should NICS mark the form as "canceled" or "denied," the seller cannot legally sell the firearm to the buyer. Michael Smith, the vice president of marketing and media for Upstate Armory Group, a firearm dealer in Simpsonville, S.C., told Fox News he generally provides the customer with contact information for a local lawyer who handles restoration of firearm rights in case the failed background check is erroneous. There have been times police have arrived at the gun shop to arrest the customer who legally cannot purchase a gun, Smith said.
Delayed: If the background check elicits a "delayed" response from NICS, the seller cannot complete the transaction for at least three business days. Unless a specific "denied" designation is issued, the seller will be able to complete the transaction with the customer after that period elapses, under federal law.
Even before a 4473 form is filled out, Robbie Wheaton, vice president of the Wheaton Arms Inc. gun shop in Piedmont, S.C., said he takes note of the customer. If a customer seems to be intoxicated or "shady" – talking, for instance, about a cheating spouse – dealers don't have to sell that person a gun.
"A shop has a final right to say 'no' based on a person's behavior whether they will sell a firearm to them or not."

– Robbie Wheaton, vice president of Wheaton Arms Inc. in South Carolina
"As a federal firearms licensee, we have the right to be able to refuse the transfer of firearms to someone," Wheaton told Fox News. "A shop has a final right to say 'no' based on a person's behavior whether they will sell a firearm to them or not."
Smith praised the background check system, as it can flag other discrepancies for sellers, such as an age issue.
South Carolina law, for example, prohibits anyone under the age of 18 from purchasing a long gun (such as an AR-15) and anyone under 21 from buying a pistol, handgun or other firearm, he said. The background check can prevent sellers, particularly at hectic gun shows, from accidentally selling a firearm to someone who isn't of age, Smith said.
Why do I have to complete the background check?
Thanks to the Brady Handgun Violence Prevention Act, the FBI created the NICS in 1998. The system is supposed to instantaneously let a firearms dealer know whether a buyer is legally allowed to purchase the gun.
According to the FBI, more than 230 million checks have been made by cashiers prior to a purchase and more than 1.3 million denials have been issued since the system was put in place.
Is this process the same in every state?
No.
In South Carolina, for example, consumers who already have a concealed weapons permit do not need to go through a background check in order to purchase a firearm in the state, multiple dealers in the Palmetto State told Fox News.
Also, state laws may be superseded by federal law. The 4473 form asks consumers about marijuana use. Those who use the drug, in states where recreational or medicinal use is legal, will be denied a firearm, Wheaton said.
In Hawaii, after the first legal medicinal marijuana dispensary opened in the state in 2017, local law enforcement agencies asked users who are also gun owners to turn in their firearms within 30 days, the Honolulu Star-Advertiser reported.
Is this system strong enough?
It depends on who you ask.
Jonas Oransky, the deputy legal director of Everytown for Gun Safety, a nonprofit that advocates for stronger gun control, praised the background check system but said it has "significant gaps."
Specifically, Oransky's organization points to a "private sale loophole." Federal law requires licensed dealers to complete background checks, but people can also purchase guns from a private seller – such as a friend or through online classifieds websites like ArmsList.com. (ArmsList.com prompts users to "accept" a terms of use document, which acknowledges the website doesn't certify or investigate transactions and instructs users not to use the site for "illegal purposes.")
"It doesn't matter necessarily if people are selling at scale," Oransky told Fox News. "It's not that all sellers are dangerous or devious, but buyers who know that they can skip the background check can look for an unlicensed seller."
Wheaton, who has been in the firearms business full time since 2007, said he and other licensed sellers try to persuade customers to transfer guns through a licensed dealer so a background check can be conducted.
Oransky also pointed to the so-called "Charleston loophole," which allows dealers to sell guns to a customer before a background check is completed – when NICS marks a document "delayed" but does not approve or deny it within three business days. He said a disproportionate number of buyers who obtain a gun before a background check is completed are domestic abusers, citing complex records and restraining orders that investigators need additional time to read through or discuss with the appropriate local law enforcement agency.
"The FBI should have the time they need to complete a background check. It's more important than expediting sales to people who shouldn't have a gun," he said.
On the other hand, Second Amendment advocates argue that the background check system already does too much.
"We don't think it's proper for people to have to prove their innocence to the government in order to exercise their God-given right," Erich Pratt, executive director of Gun Owners of America, a Virginia-based gun rights nonprofit, told Fox News.
"Our rights are listed in the Bill of Rights for a reason," he continued. "People's rights are being infringed upon and it's resulting – in some cases – in death and in other cases extreme inconvenience in being able to purchase firearms."
Pratt also said the background check system doesn't do its job, as several of the more recent mass shooters in the U.S., including the suspect in the fatal shooting of 17 people in Parkland, Fla., were able to pass background checks.
COVID-19: What EU leaders said about AstraZeneca vaccine – and the data forcing a rethink | World News
European countries are revising their refusal to give older people the Oxford/AstraZeneca COVID-19 vaccine following the release of fresh data.
The French government has made a partial U-turn, with people aged between 65 and 74 with pre-existing health conditions now able to get the AstraZeneca vaccine.
The vaccine, developed with Oxford University, has suffered rollout setbacks and doses are languishing after nearly half of the EU's members limited its use to under 65s.
Follow live COVID-19 updates from the UK and around the world
It was approved for all adults by the EU's drugs regulator but it is up to each member to set out its own policy, with many saying the initial trial did not have enough data on the effectiveness on over 65s.
France's partial U-turn came hours after fresh data published by Public Health England (PHE) based on the UK's vaccine rollout showed protection against symptomatic COVID in those over 70, four weeks after the first jab, ranged between 60-73% and 57-61% for the Pfizer/BioNTech vaccine.
The study found one dose of either vaccine is more than 80% effective at preventing those over 80 years old from being admitted to hospital three to four weeks after the first jab.
Sky News looks at which EU countries have restricted the AstraZeneca vaccine.
France
Emmanuel Macron was one of the vaccine's most vociferous critics, calling it "quasi-ineffective" for the elderly.
Ainsi les personnes entre 65 et 74 ans pourront désormais se faire vacciner en allant voir leur médecin. Nous débuterons par celles qui sont porteuses de fragilité.

— Olivier Véran (@olivierveran) March 1, 2021
At the end of January, having ordered 1.1 million doses, Mr Macron said: "The real problem on AstraZeneca is that it doesn't work the way we were expecting it to.
"We're waiting for the EMA [European Medicines Agency] results, but today everything points to thinking it is quasi-ineffective on people older than 65, some say those 60 years or older."
France's Europe minister, Clement Beaune, then said the UK was taking "a lot of risks" by having a 12-week gap between the two doses and said French citizens would not stand for this type of gamble, even though scientists have approved the method.
Scepticism towards vaccines has been high in France for a few decades, with a very low COVID-19 vaccine take-up compared with its neighbours and just a quarter of its AstraZeneca vaccines administered by Friday.
In an attempt to restore public trust in the AstraZeneca vaccine Mr Macron has now said he would take it if he was offered it.
Germany
The efficacy of the AstraZeneca vaccine in older people started being publicly questioned by European countries after a German newspaper claimed it was only 8% effective on the over-65s.
Handelsblatt's story, which it stood by, was attributed to a single anonymous government source with no explanation of how the number was calculated.
It came in the week that the EMA was due to decide whether to authorise the vaccine, which it did on 29 January – although with a warning that data for over 55s was limited.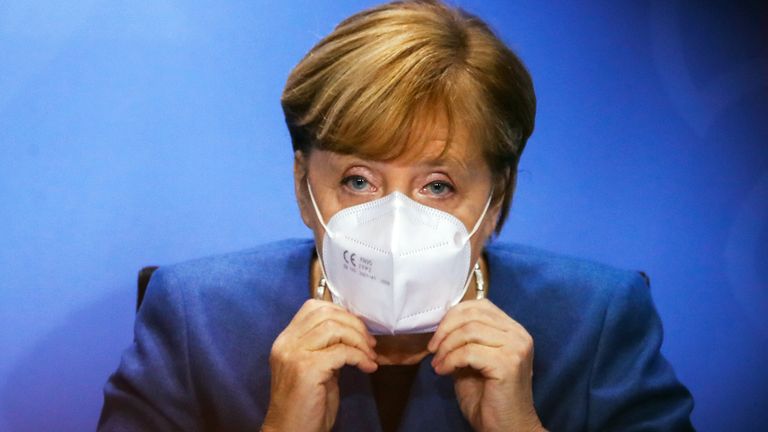 Germany then recommended the vaccine should not be used for people over 65, saying there was a lack of reliable efficacy data on this age group.
Like France, Germany's vaccine rollout has been much slower than the UK's, with purchased vaccines lying unused.
German officials said a key reason for the low uptake was the age restriction and a growing number of leading politicians are now calling for the rule to be relaxed, which is expected to happen soon.
European Commission
Ursula von der Leyen, European Commission president, had a very public spat with AstraZeneca over gaining more of its vaccine doses.
She then suggested the UK had compromised on "safety and efficacy" by approving the jab so early, despite the EMA reaching the same conclusions as the UK's internationally-respected MHRA which approved the vaccine.
EU chief's 'regrets' over vaccine export row

The Commission has been criticised over the slow pace of immunisation across the bloc, with critics saying it failed to secure sufficient early supply.
In late February, Ms von der Leyen changed her tune as officials rushed to ensure doses did not go to waste.
"I would take the AstraZeneca vaccine without a second thought, just like Moderna's and BioNTech/Pfizer's products," she told Germany's Augsburger Allgemeine newspaper.
Which other European countries have restricted the AstraZeneca vaccine?
Greece, Denmark, the Netherlands, Sweden (where AstraZeneca is based along with the UK), Poland and Austria have all blocked its use in over-65s.
Norway, which is not in the EU but is in the European Economic Area, has also blocked its use on under 65s.
Italy initially limited the jab to under 55s but at the end of February raised that to adults up to 65 years old.
Belgium and Spain have limited it to under 55s.
Switzerland, which is not in the EU but is in the single market, has rejected the AstraZeneca jab as it said the trial data is "not yet sufficient".
Kidnapped Nigerian schoolgirls: 'Repentant bandits' key to release of the 279 students it has emerged | World News
"Repentant bandits" helped secure the release of 279 girls kidnapped from a Nigerian boarding school, it has emerged – as the students open up about the horrors of their ordeal.
A group of about 100 gunmen burst into the Girls Science Secondary School in the northwestern state of Zamfara on Friday and abducted the students.
Before ransacking the school in Jangebe town, they also attacked a nearby military camp and checkpoint, preventing soldiers from stepping in.
'They were pointing guns at our heads'

The girls said they were forced to march through stones and thorns and were repeatedly hit with guns if they could not keep up.
Umma Abubakar said: "Most of us got injured on our feet and we could not continue trekking, so they said they will shoot anybody who did not continue to walk."
Farida Lawali, 15, added: "While they were beating the girls with guns, some of them were crying and moving at the same time."
At least a dozen of the schoolgirls have been taken to hospital for treatment.
In spite of their horrific ordeal, the father of seven of the girls, vowed the abduction would not stop him from schooling his children.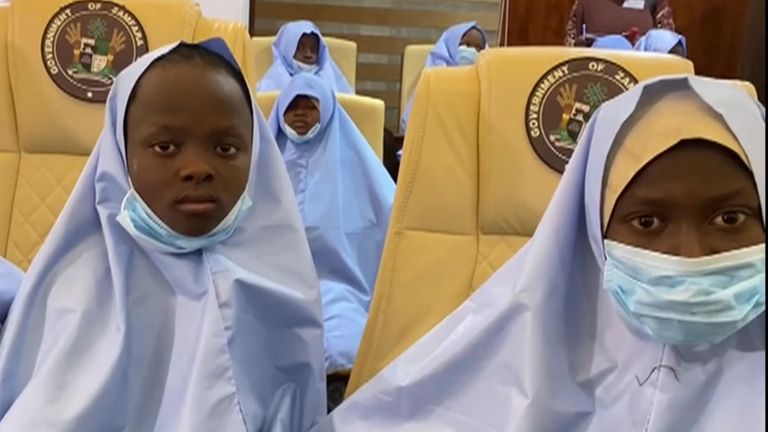 Lawal Abdullahi said: "It's a ploy to deny our girls from getting the western education in which we are far behind.
"We should not succumb to blackmail.
"My advice to the government is that they should take immediate precautions to stop further abductions."
And UN children's agency UNICEF has joined his call, urging the Nigerian government to provide added protection to schools.
Nigerian president Muhammadu Buhari said news of the girls' release had brought "overwhelming joy".
Alhamdulillah! It gladdens my heart to announce the release of the abducted students of GGSS Jangebe from captivity. This follows the scaling of several hurdles laid against our efforts. I enjoin all well-meaning Nigerians to rejoice with us as our daughters are now safe. pic.twitter.com/YKfHoUuiXP

— Dr. Bello Matawalle (@Bellomatawalle1) March 2, 2021
And Zamfara state governor Dr Bello Matawalle revealed it had been "repentant bandits" working with the government under an amnesty programme who had helped secure the Jangebe girls' release.
"Those repentant ones are working for us, and they are working for the government and they are working for security,"
he said.
Several large groups of armed men operate in Zamfara state, described by the government as bandits, and are known to kidnap for money or for the release of their members from jail.
The government has repeatedly denied paying ransoms.
But on Friday president Buhari had issued a statement in which he urged state governments "to review their policy of rewarding bandits with money and vehicles, warning that the policy might boomerang disastrously".
Sky News' Africa correspondent John Sparks said the latest abduction prompted more questions on the ransom debate.
"Was money paid? This is becoming a growth industry in Nigeria," he said.
"It's happening frequently: Criminal gangs or bandits taking advantage of the precarious security situation in the north and central areas."
Such kidnappings in Nigeria were first carried out by jihadist group Boko Haram, and later its offshoot Islamic State West Africa Province, but the tactic has now been adopted by other criminal gangs.
The raid in Zamfara state was the second kidnapping in little over a week in the north west, a region increasingly targeted by criminal gangs.
On Saturday, gunmen released 27 teenage boys who were kidnapped from their school on 17 February in the north-central state of Niger.
Carlos Ghosn: Special forces veteran and son extradited over ex-Nissan chief's 'music box' escape from Japan | World News
A US special forces veteran and his son accused of helping ex-Nissan boss Carlos Ghosn escape from Japan have been extradited to the country.
They are accused of aiding a plot to smuggle Ghosn out of the country, where he was awaiting trial on financial misconduct charges in December 2019.
Michael Taylor and son Peter Taylor allegedly helped him escape in a music box and on a private jet to his home country of Lebanon, which has no extradition treaty with Japan.
Prosecutors say they received at least $1.3m (£936,000) for their services.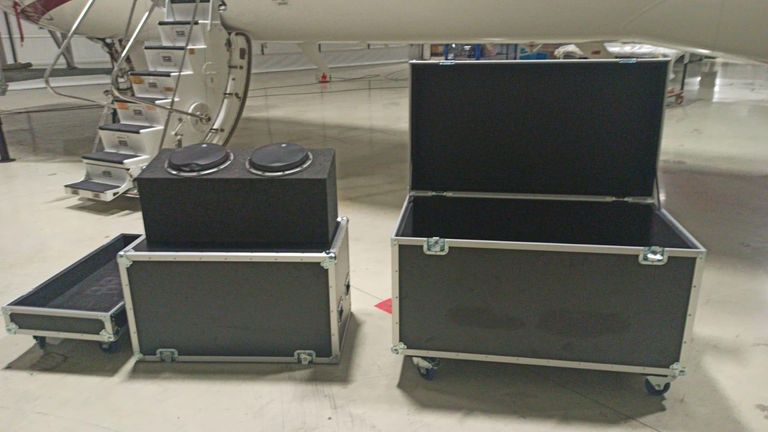 The pair landed in Tokyo on Monday after a high-profile battle to avoid being handed over, with lawyers claiming they faced the prospect of relentless interrogation and "mental and physical torture".
They had been in a Boston jail since May, but last month the US Supreme Court cleared the way for their extradition.
"This is a sad day for the family, and for all who believe that veterans deserve better treatment from their own country," said their lawyer Paul Kelly.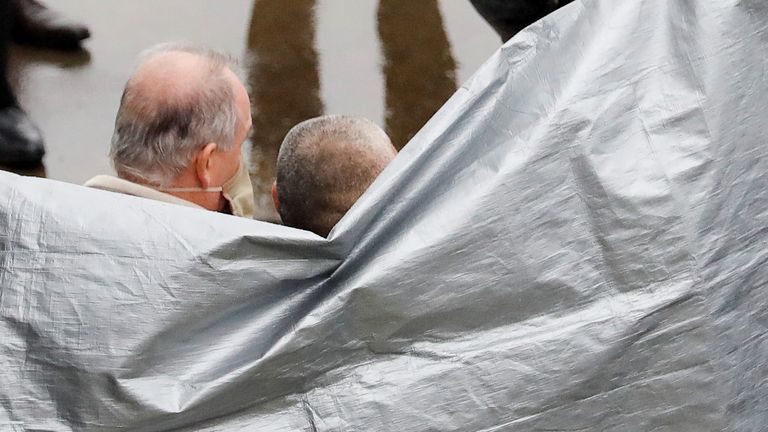 Under Japanese law, suspects cannot have a lawyer present during questioning by prosecutors and can be held for 20 days before being charged or released.
Michael Taylor, 60, is a special forces army veteran and private security specialist who in the past had been hired to rescue abducted children. He has never denied the allegations.
He described the escape plan in detail in an interview with Vanity Fair last year and said he did it "to liberate the oppressed".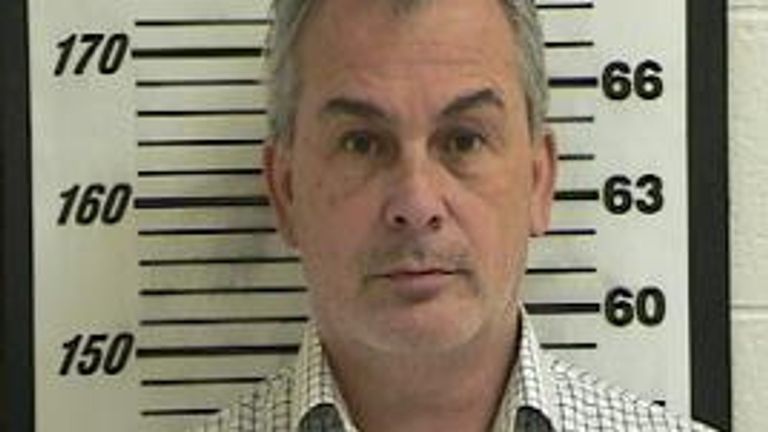 Prosecutors have called it one of the most "brazen and well-orchestrated escape acts in recent history".
Michael Taylor and another man, George-Antoine Zayek, allegedly chartered a jet to Japan with two large boxes in a ruse that they were musicians with audio equipment.
Ghosn, who was out on bail, is said to have met up with Peter Taylor at a Tokyo hotel before the others joined them.
As the younger Mr Taylor flew to China, the other three are said to have taken a bullet train to another hotel near Osaka airport.
They all went into a room but only two came out.
Prosecutors say Ghosn was inside one of the boxes – which passed through security without being checked.
January 2020: 'I was facing conviction rate of 99%' – Ghosn

The private jet landed in Istanbul in Turkey, before Ghosn was transferred to another flight to Lebanon.
He had initially been arrested in November 2018 on claims he diverted money from Nissan for his own gain and underreported his future income.
He denies the charges against him and says he escaped to avoid "political persecution" and an unfair trial.