Hired gunman may have killed Seattle federal prosecutor, report says
New evidence suggests the killing of Seattle federal prosecutor Thomas Wales in 2001 may have been the doing of a small group of people and a hired gunman, an FBI official familiar with the investigation told the Seattle Times.
The findings signal a major breakthrough in the 16-year-long investigation, with authorities previously focusing on a single shooter theory involving a Bellevue-area airline pilot as a leading suspect, the Times reported.
Authorities are now investigating the pilot's relationship with a small group of people believed to be connected to the killing, the official told the paper. The FBI is still pursuing other leads as well.  
Wales was 49 years old when he was shot several times while sitting at his computer in his home late in the evening of Oct. 11, 2001. He was working as a white-collar criminal prosecutor in the U.S. Attorney's Office, the Times reported.
The 57-year-old pilot, who was prosecuted in a fraud case at the hands of Wales, has denied any wrongdoing, according to the paper. He has not been identified because he has not been charged in the case.
Climate change: UK to encourage others to act ahead of Biden summit and COP26, No 10 says | Climate News
Britain is going to do more to persuade other nations to take action on climate change from next week, Number 10 has said, calling it "the greatest challenge that we face".
Climate change tsar, Alok Sharma, is heading to Japan to shore up support ahead of Thursday's Leaders Summit on Climate, hosted by US President Joe Biden.
There, Boris Johnson will urge other world leaders to go further to maintain momentum on progressing worldwide action to tackle global warming, Downing Street said.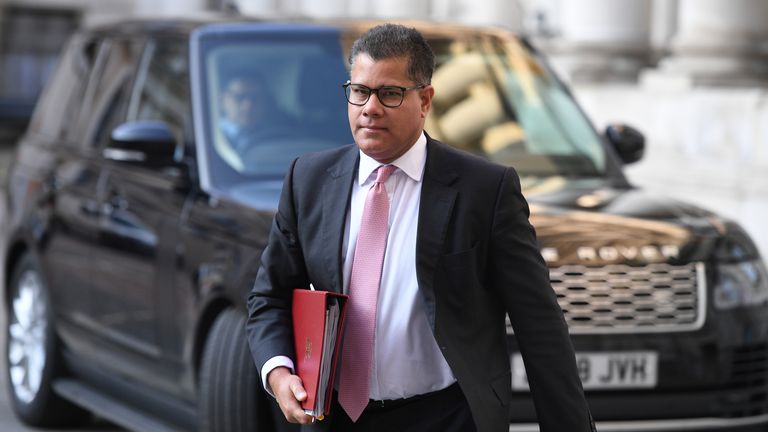 The UK, which is hosting the major COP26 climate summit in Glasgow in November, was "using all international avenues" to ask every nation to set ambitious emission-reducing targets in order to reach net zero carbon output by the middle of the century, Number 10 said.
Mr Sharma said: "The US Leaders Summit on Climate is a major event in this vital year for climate action on the road to COP26 in Glasgow.
"The climate crisis is the greatest challenge that we face and it is our duty to address it.
"There are also great opportunities as we look to build back greener [after the coronavirus pandemic] – accelerating our move to a greener future, as we invest in new technologies and create millions of new jobs across the world.
"We are making progress but we are not there yet – there is much more work to be done.
"We need to turn ambition into action and coming together this week we are looking to raise global climate ambition, continue the momentum we have already seen and ensure we keep 1.5 degrees in reach."
The 2015 Paris Climate Change Agreement commits signatories to keeping global warming to well below 2C, preferably 1.5C.
To stand any chance of achieving that, carbon emissions need to reach net zero by 2050.
A range of major carbon-producing countries, including the US, the UK, Japan and the EU, have signed up to the idea and China committed to reaching it by 2060 in September.
Officials said 80 countries had made net zero commitments, covering 65% of global carbon emissions – more than triple from when the UK took over the COP presidency in December 2019.
In the lead up to the November gathering, the UK is also asking donor countries to deliver on their commitment to secure $100bn (£72 billion) of public finance and unleash the trillions needed to support developing countries and to help meet the goals of the Paris Agreement.
Russian leader Vladimir Putin has not decided whether to go to next week's US summit, the Kremlin said on Saturday.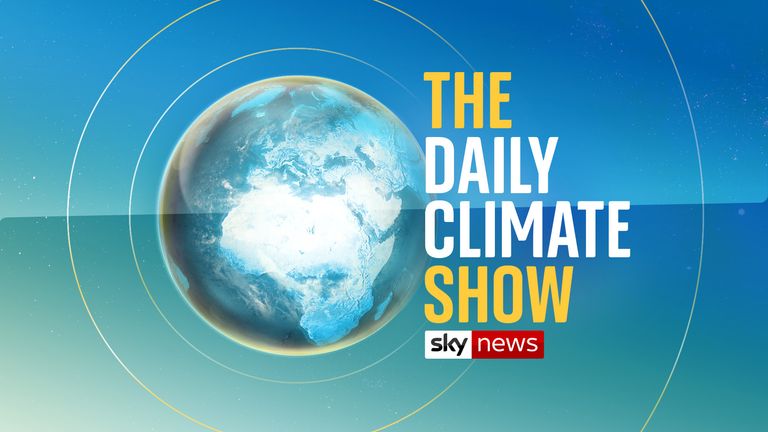 Sky News broadcasts the first daily prime time news show dedicated to climate change.
Hosted by Anna Jones, The Daily Climate Show is following Sky News correspondents as they investigate how global warming is changing our landscape and how we all live our lives.
The show will also highlight solutions to the crisis and show how small changes can make a big difference.
Myanmar junta releases over 23,000 prisoners but fate of detained protesters unknown | World News
Myanmar's junta has claimed to have pardoned and released more than 23,000 prisoners – but it is not known if the figure includes pro-democracy activists detained in the wake of February's coup.
The release was announced to mark the new year holiday.
State broadcaster MRTV said Myanmar's military leader Senior General Min Aung Hlaing pardoned the 23,047 prisoners, including 137 foreigners who will be deported.
The strongest weapon in Myanmar is a phone

He also reduced sentences for others.
Early prisoner releases are customary during major holidays, but this is the second time the ruling junta has done so since it ousted the elected government of Aung San Suu Kyi, triggering daily protests, arrests and deaths by security forces.
According to the Assistance Association for Political Prisoners, which monitors casualties and arrests, government forces have killed at least 726 protesters and bystanders since the takeover.
The group says 2,728 people, including Ms Suu Kyi, are in detention.
Following the release of more than 23,000 convicts to mark Union Day on 12 February, there were reports on social media that some were recruited by the authorities to carry out violence at night in residential areas to spread panic.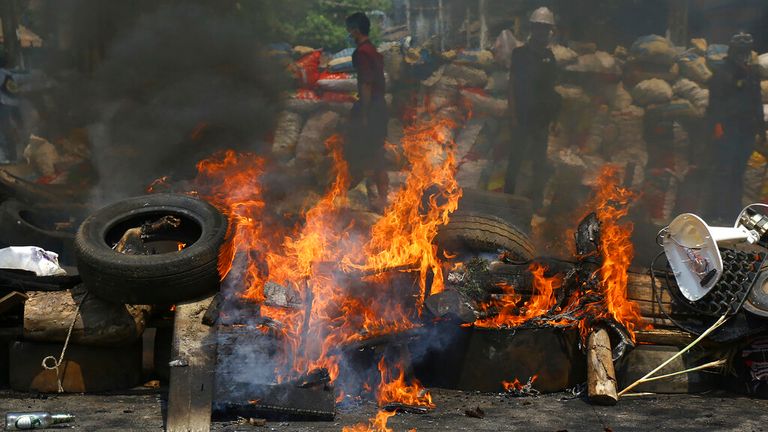 Some areas responded by setting up their own neighbourhood watch groups.
The military said it staged the coup because a November election won by Ms Suu Kyi's party was rigged – an assertion dismissed by the election commission.
COVID-19: Pandemic has now killed three million across the world – as countries see surge in cases | World News
The global death toll from coronavirus has topped three million people amid repeated setbacks in the worldwide vaccination campaign and a deepening crisis in places such as Brazil, India and France.
The number of lives lost, as compiled by Johns Hopkins University in the US, is about equal to the population of Kyiv, Ukraine; Caracas, Venezuela; or metropolitan Lisbon, Portugal.
It is bigger than Chicago (2.7 million) and equivalent to Philadelphia and Dallas combined.
However, the true number is believed to be significantly higher because of possible government concealment and the many cases overlooked in the early stages of the outbreak that began in Wuhan, China, at the end of 2019.
Worldwide, COVID-19 deaths are on the rise again, running at around 12,000 per day on average, and new cases are climbing too, eclipsing 700,000 a day.
"This is not the situation we want to be in 16 months into a pandemic, where we have proven control measures," said Maria Van Kerkhove, one of the World Health Organisation's leaders on COVID-19.
In Brazil, where deaths are running at about 3,000 per day, accounting for one-quarter of the lives lost worldwide in recent weeks, the crisis has been likened to a "raging inferno" by one WHO official.
A more contagious variant of the virus has been rampaging across the country.
Meanwhile, problems that India had overcome last year are coming back to haunt health officials.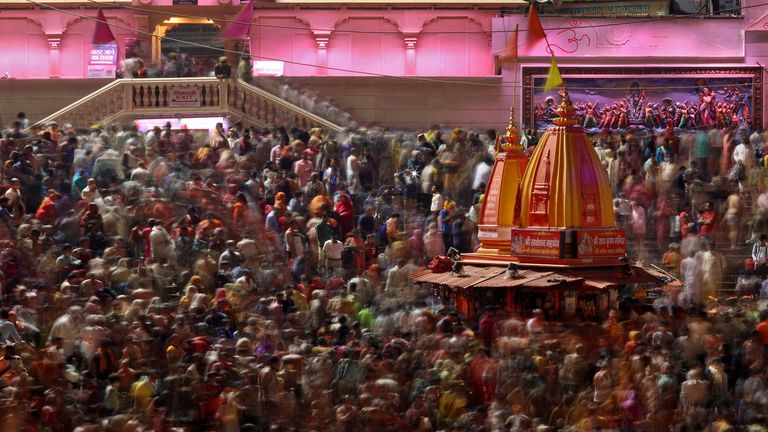 Only 178 ventilators were free on Wednesday afternoon in New Delhi, a city of 29 million, where 13,000 new infections were reported the previous day.
The challenges facing India reverberate beyond its borders since the country is the biggest supplier of shots to Covax, the UN-sponsored program to distribute vaccines to poorer parts of the world.
Last month, India said it would suspend vaccine exports until the virus's spread inside the country slows.
The WHO recently described the supply situation as precarious.
Up to 60 countries might not receive any more jabs until June, by one estimate.
To date, Covax has delivered about 40 million doses to more than 100 countries, enough to cover barely 0.25% of the world's population.
Globally, about 87% of the 700 million doses dispensed have been given out in rich countries.
While one in four people in wealthy nations have received a vaccine, in poor countries the figure is one in more than 500.