Fisherman hook two Great White Sharks in 10 minutes: 'I couldn't believe it'
Two fishermen in Hilton Head, S.C., managed to hook two different Great White sharks — including one 16-footer — within just ten minutes during a fishing trip earlier this week.
"I couldn't believe it, it was like the two sharks were traveling close to each other," Captain Chip Michalove told Hilton Head's Island Packet. "I've hooked multiple in one day before, but they're usually hours apart."
WATCH: FISHERMAN CUTS OPEN FISH TO FIND GARBAGE IN ITS STOMACH
Michalove, who owns and operates the Outcast Sport Fishing charter company, and who also works alongside the Atlantic White Shark Conservancy in Massachusetts, was out fishing with his friend Patrick on Monday afternoon when they hooked the first of the day's big catches.
"I couldn't tell if it was a male or female, but it took the bait right by the port side motor and looked to be about 9-10 feet long," Michalove wrote on Facebook. "Perfect size for the two of us."
Unfortunately, despite a 15-minute "battle," Michalove said the shark spit out the hook. But he and Patrick wouldn't have to wait long for their next bite.
"In less than 10 [minutes]," Michalove said a bigger Great White — one measuring 16 feet — had snagged the line. In fact, the fish was so big that Michalove and Patrick radioed a nearby fisherman friend and his daughter for help, Island Packet reported.
SEE IT: FISHERMAN JUMPS INTO RIVER TO AVOID ONCOMING MOTOR BOAT
"She was so big, my skeleton crew had to call for help," Michalove told the outlet.
The four were eventually able to pull the Great White alongside the boat, at which point the shark stopped resisting. Michalove then tagged the shark's fin and released her back into the ocean.
"What I've noticed is, the less stressed they are, the more likely they are to stay in the location they're caught," said Michalove on Facebook.
FOLLOW US ON FACEBOOK FOR MORE FOX LIFESTYLE NEWS
Scientists with the Atlantic White Shark Conservancy have since estimated the shark to be around 3,000 pounds, which was easily "the biggest" Great White Michalove has tagged this season, Michalove says. But he's not just doing it for bragging rights, though — the captain's work helps the conservancy to monitor the migratory patterns of the species.
Pakistan: Millions of people in darkness after national power grid breakdown | World News
Pakistan's national power grid has experienced a major breakdown, leaving millions of people in darkness, government officials have said.
"A countrywide blackout has been caused by a sudden plunge in the frequency in the power transmission system," Power Minister Omar Ayub Khan said on Twitter.
According to Mr Khan, the power breakdown was caused after the frequency in the national power distribution system suddenly fell from 50 to zero.
He has appealed to people across the country to remain calm, but residents in Karachi have voiced their fears and concerns.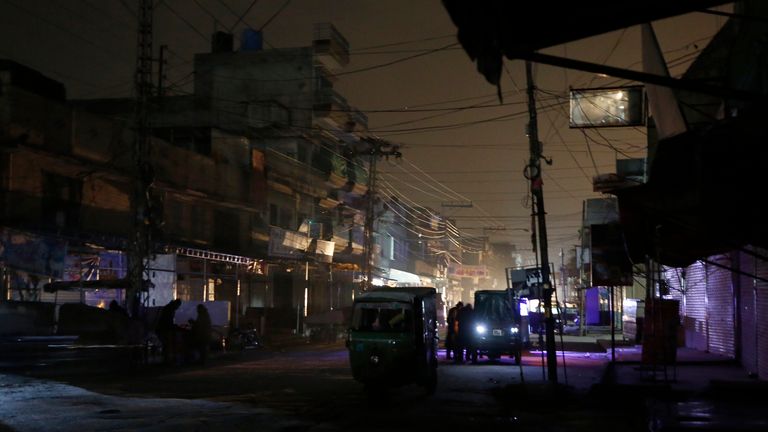 "There is a lot of fear," said Usama Khan said. "Sometimes just one or two cities lose power but we can't understand why all of Pakistan has lost power.
"Pakistanis are already scared and now we are without electricity. We are shocked."
Another resident, Shakil Ahmed, said: "I left my home, thinking only our house had no electricity but then I saw darkness everywhere. I was shocked.
"Businesses are closed, other activities are shut down."
The blackout is one of the worst that Pakistan has experienced.
In 2015, around 80% of the country was left without power after a key transmission line broke down.
Australia vs India: Cricketers Bumrah and Siraj say they were 'racially abused' by fans in third test in Sydney | World News
India's cricketers allegedly suffered racial abuse from a section of the crowd on day three of the third Test against Australia in Sydney, according to reports.
Fast bowlers Jasprit Bumrah and Mohammed Siraj are said to have complained of hearing racist slurs while fielding near the boundary rope at the Sydney Cricket Ground (SCG) on Saturday.
India captain Ajinkya Rahane and other senior players spoke to the umpires at the end of the day's play, but they have not spoken publicly about what happened.
India batsman Cheteshwar Pujara did not answer when asked about the matter at the end-of-day news conference.
It is not clear whether the Indian cricket board (BCCI) has officially lodged a complaint with Cricket Australia. The two boards and the International Cricket Council (ICC) did not immediately respond to a request for comment.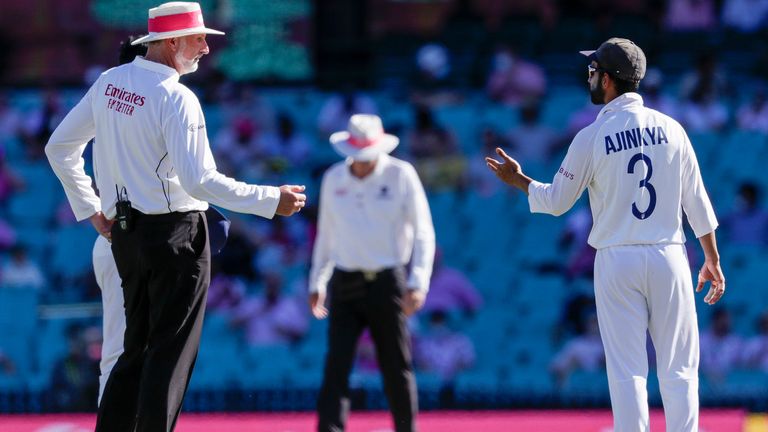 BCCI vice president Rajeev Shukla told Indian news agency ANI: "We've come to know about the issue. Cricket is a gentleman's game and these kinds of things are not allowed or accepted."
In remarks reported by the WION news agency, he added: "If somebody is using racial comments, I think the Australian court should take cognisance of it and these kinds of incidents must be prevented.
"There is no place for such acts and these kinds of things are not allowed or accepted. I think every board should take cognisance of it and take strict measures to ensure such acts aren't repeated."
Bumrah, Siraj and members of India's team management held "long discussions" outside the Indian dressing room after play ended, WION said, adding that Indian officials are "fuming" and that the abuse has happened for the past two days.
It is not the first time a match between the two countries has been marred by accusations of bigotry.
Australian crowds have a history of hostility towards visiting players, with England's often targeted.
Former Australia all-rounder Andrew Symonds accused India's Harbhajan Singh of calling him a "monkey" during a game in 2008. Harbhajan was banned for three matches, later overturned on appeal.
According to the ICC anti-discrimination policy, the host board would have to investigate any incident relating to "inappropriate conduct" and submit a report to the world governing body within two weeks.
A man was banned from attending cricket matches in New Zealand for two years after being found guilty of abusing England fast bowler Jofra Archer during a 2019 tour.
Australia are in control of the match against India, leading by nearly 200 runs with eight wickets left in their second innings. The series is tied at 1-1, with one remaining test.
Spain snowstorm: Four dead as heaviest snowfall in decades causes travel chaos | World News
At least four people have been killed in Spain as freak blizzard conditions brought the heaviest snowfall in decades, with troops deployed to rescue trapped motorists amid travel chaos in the capital Madrid.
Thousands have also been stranded at railway stations and airports, with services cancelled due to the wintry conditions.
In Madrid, authorities activated a red alert for the first time since the system was introduced four decades ago and the authorities sent the military to assist 1,500 people stuck in vehicles on everything from small roads to major routes.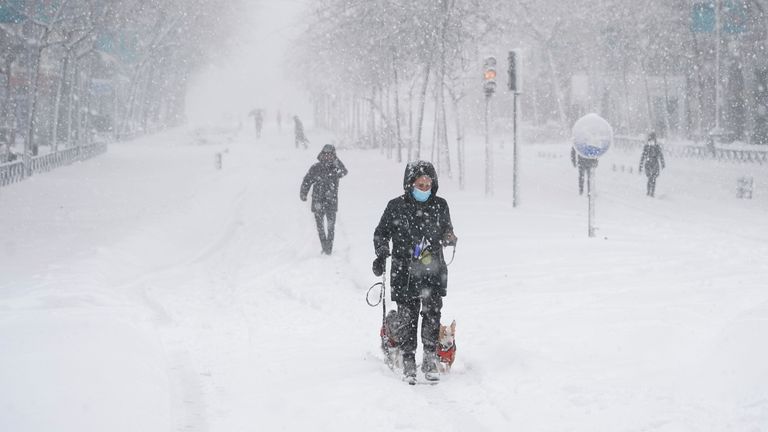 More than 50cm (20in) of snow fell in the capital – the highest recorded over a 24-hour period since 1971, according to the national AEMET weather agency.
It was in Madrid that a 54-year-old man was found dead under a pile of snow, said the interior ministry.
Police also reported a homeless man died of hypothermia in the northern city of Zaragoza.
Meanwhile, a man and woman drowned after their car was washed away when a river burst its banks near Malaga in southern Spain.
Responding to the deaths, King Felipe VI and Queen Letizia tweeted: "The royal family would like to express their sorrow for victims of the storm… and ask for extreme caution against the risks of accumulation of ice and snow."
Interior minister Fernando Grande-Marlaska urged Spaniards to avoid all but essential travel.
"We are facing the most intense storm in the last 50 years," he said.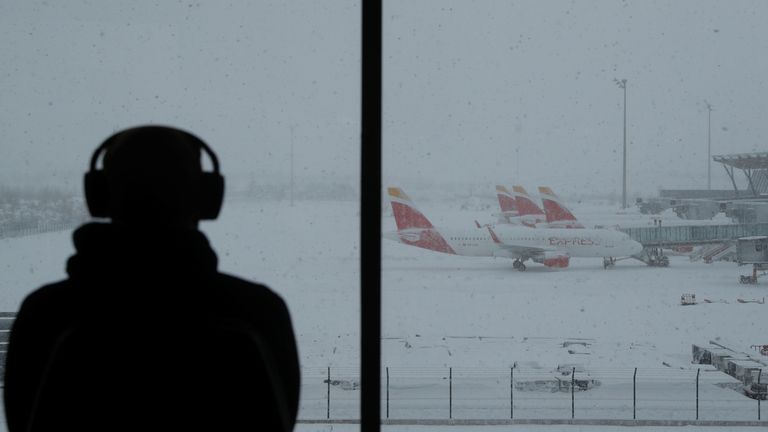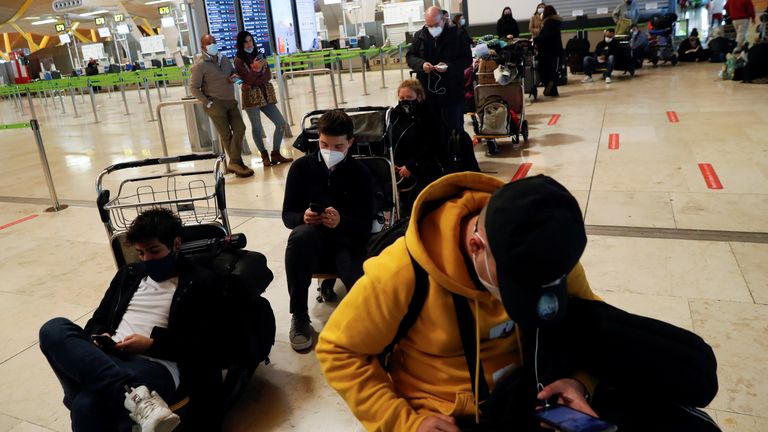 AEMET had warned some regions would be receiving more than 24 hours of continuous snowfall due to the unusual combination of a stagnant cold air mass over the Iberian Peninsula and the arrival of the warmer Storm Filomena from the south.
The storm is expected to move northeast throughout Saturday, but it is expected to be followed by a cold snap, the agency said.
Transport minster Jose Luis Abalos warned that "snow is going to turn into ice and we will enter a situation perhaps more dangerous than what we have at the moment".
"The storm has exceeded the most pessimistic forecasts we had," Mr Abalos added.
Carlos Novillo, head of the Madrid emergency agency, described it as a "critical situation" and added: "We ask all those who remain trapped to be patient, we will get to you."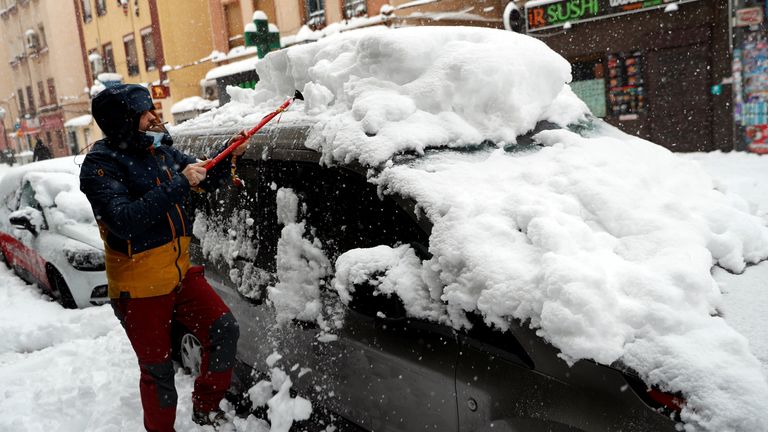 Airport operator AENA said Adolfo Suarez Madrid-Barajas International Airport, the main gateway in and out of the country, would remain closed throughout the day.
All trains in and out of Madrid and routes between the south and the northeast of the country were suspended, railway operator Renfe said.
The storm caused serious disruption on – or had closed – more than 650 roads by Saturday morning, according to Spain's transit authorities, which urged people to stay indoors and avoid all non-essential travel.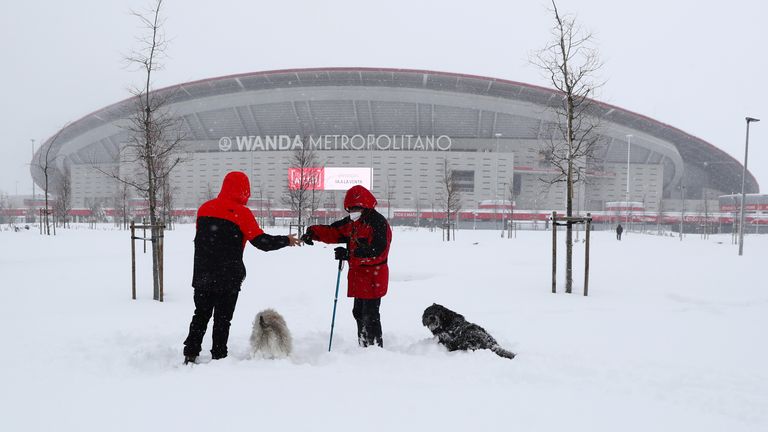 The wintry weather even halted the country's football league, with some teams unable to travel for games.
A flight to Madrid carrying players with league leaders Athletic Bilbao had to return to Bilbao airport, while second-placed Real Madrid were unable to take off for their match against Osasuna.
The regions of Castilla La Mancha and Madrid, home to 8.6 million people altogether, announced that schools would be closed at least on Monday and Tuesday.