Dallas Mavericks owner Mark Cuban fined $600G for tanking comments
DALLAS –  The NBA fined outspoken Dallas Mavericks owner Mark Cuban $600,000 on Wednesday for comments about tanking during a podcast with Hall of Famer Julius Erving.
Commissioner Adam Silver said the fine was for "public statements detrimental to the NBA." The league said the podcast with Erving was posted Sunday, the day the All-Star game was played in Los Angeles.
Cuban said during the 30-minute interview that he met recently with some of his players and told them "losing is our best option." Cuban was trying to illustrate to Erving how he believes he is a transparent owner.
"I'm probably not supposed to say this, but I just had dinner with a bunch of our guys the other night," Cuban said. "And here we are. We weren't competing for the playoffs. I was like, `Look, losing is our best option.'
CUBAN UNDER FIRE FOLLOWING REPORT ALLEGING RAMPANT SEXUAL MISCONDUCT IN MAVS' FRONT OFFICE
"Adam would hate to be hearing that. But at least I sat down and I explained it to them. And I explained what our plans are going to be this summer, that we're not going to tank again. This is like a year and a half of tanking. That was too brutal for me."
The Mavericks dumped veterans Deron Williams and Andrew Bogut around the trading deadline last season and had their highest draft pick (No. 9) since ending up with Dirk Nowitzki from that spot in 1998. They drafted rookie point guard Dennis Smith Jr., one of the league's rising stars.
After trading veteran guard Devin Harris to Denver at the deadline this season, Dallas (18-40) is tied for the fewest wins in the NBA and among seven teams with 18 or 19 victories at the All-Star break.
The latest fine surpasses the $500,000 Cuban was docked in 2002 for criticizing former director of officials Ed Rush, saying he wouldn't hire Rush to manage a Dairy Queen. Cuban has been fined more than $2 million, a lot of it for criticizing refs.
"I earned it," Cuban told The Associated Press when asked about the latest fine. "I got excited talking to Dr. J and said something I shouldn't have."
The fine came a day after Cuban's franchise was accused of having a hostile workplace for women in a Sports Illustrated report that detailed allegations of inappropriate sexual conduct by former team president Terdema Ussery.
Cuban said he was embarrassed by the allegations and vowed to improve the club's work environment. He is hiring outside counsel to investigate the claims and requiring everyone to undergo sensitivity training, including himself. The NBA has said it will monitor the investigation closely.
The team fired website reporter Earl Sneed, who was twice accused of domestic assault while working for the team. Sneed pleaded guilty over the first incident, and the charge was dismissed after he met conditions of the plea agreement. Cuban told ESPN it was a mistake not to fire Sneed earlier.
 
COVID-19: British pilot discharged from US hospital after 243 days of coronavirus treatment | UK News
A British pilot punched the air with delight as he was discharged from hospital in Texas after being treated for coronavirus for 243 days.
Nicholas Synnott works for British Airways and was taken ill after arriving in Houston last March.
The 59-year-old was admitted to UT Health and Memorial Hermann Hospital in the city where he was placed on a ventilator and heart and lung machine.
He was treated there for eight months, with his wife Nicola, 54, by his side every day.
Live COVID news from UK and around the world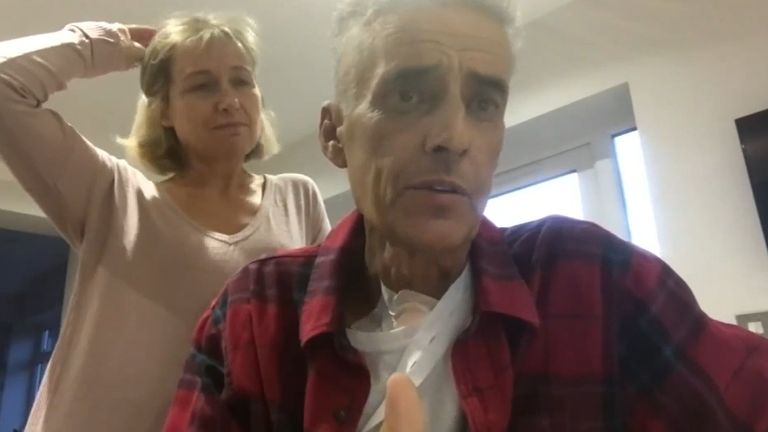 "Every organ of his body was affected by COVID-19. But yet, because his health was so good as a pilot prior to the illness, he could sustain all this and survive something as serious as this," cardiologist Dr Biswajit Kar told ABC 30 News.
"We were firstly overwhelmed by the joy that someone this sick could make it."
Mr Synnott was discharged before Christmas and is now back at home in Betchworth, Surrey.
Photos and video from the hospital showed him punching the air and hugging staff members as he walked down the corridor.
Mr Synnott told ABC 30 he was able to recover "with the support of my wife, and the thought of going back to my kids. It was a tough journey but, we've got where we are".
The pilot said he would like to travel to Houston again to thank everyone who helped him and to visit the city's zoo which he could see out of his window every day.
New electric car battery can charge in five minutes | Science & Tech News
A new electric car battery that can be fully charged in five minutes has been manufactured for the first time on a normal production line in China, based on designs by Israeli company StoreDot.
The breakthrough could address a significant concern for electric car drivers – the fear of running out of power during a journey, marooning the vehicle for a couple of hours while it charges.
"A five-minute charging lithium-ion battery was considered to be impossible," said StoreDot's chief executive, Dr Doron Myersdorf.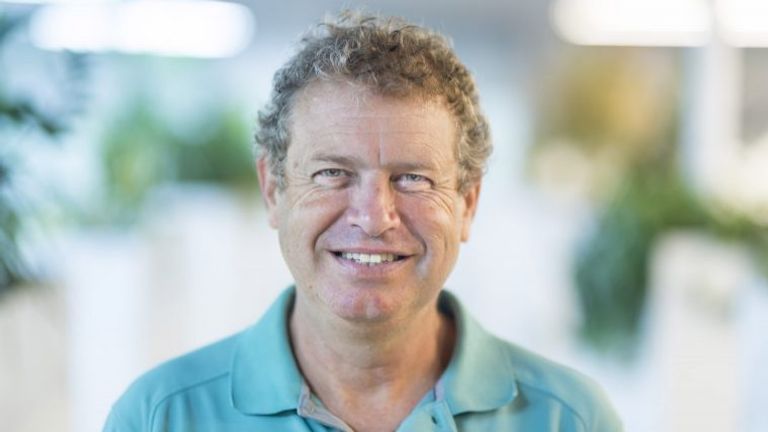 "But we are not releasing a lab prototype, we are releasing engineering samples from a mass production line. This demonstrates that it is feasible and commercially ready," Dr Myersdorf added.
The company produced 1,000 sample batteries with its manufacturing partner Eve Energy in China.
These samples, which are compliant with Li-ion battery certifications, were manufactured on a normal construction line and will be used to showcase the company's technology to other companies.
So-called "range anxiety" is the "number one barrier to the adoption of electric vehicles", said Dr Myersdorf.
Fast charging lithium-ion (Li-ion) batteries is a significant problem for electronics manufacturers and developers, and companies from Samsung to Daimler have invested in StoreDot.
The company's new batteries are designed differently to standard Li-ion ones, replacing the graphite with semiconductor nanoparticles based on germanium – though they hope to move to silicon in the future.
Because the speed of the charge is based on the battery rather than the charging point, StoreDot's invention could have a significant impact on the adoption of electric vehicles, which are facing a bottleneck in countries such as the UK that have limited charging stations.
There are more than 30,000 points currently in the UK in over 11,000 locations, and around 10,000 charge points were added in 2019 alone.
But research by Deloitte suggests the UK will need to spend £1.6bn on 28,000 more public points for the estimated seven million EVs that will be on the road by 2030.
In 2019, there were 37,850 BEVs (Battery Electric Vehicles) registered in the UK – up 144% on the previous year, however they still only account for 1.6% of the market.
Hybrid electric vehicles – combing an electric motor with a petrol or diesel engine – are currently more popular, making up 4.2% of the market share, but they are set to be phased out along with petrol and diesel cars by 2035.
Priyanka Chopra Jonas: 'I want to get South Asian stories influxed into Hollywood' | Ents & Arts News
Priyanka Chopra Jonas has told Sky News she is determined to get South Asian stories "influxed" into Hollywood.
The actress and activist spoke about representation on the big screen ahead of the release of her new film, The White Tiger, which is based on the 2008 Man Booker Prize-winning novel by Aravind Adiga.
It tells the story of Balram Halwai (played by newcomer Adarsh Gourav), who narrates his humorous but dark rise from poor villager to successful entrepreneur in modern India.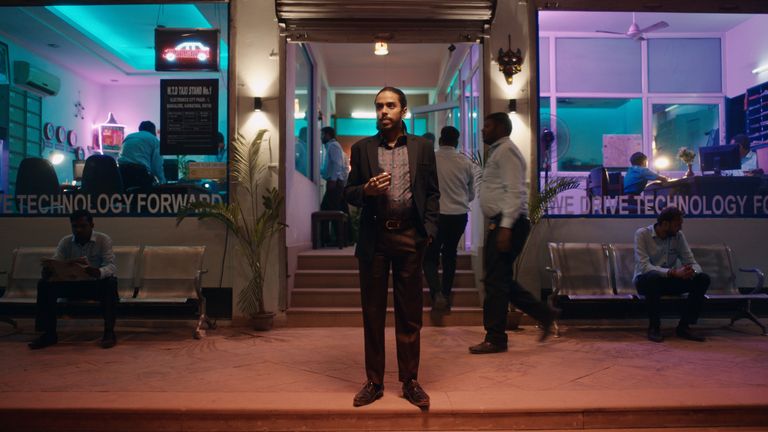 Reviews ahead of the film's release have been strong, and it has been touted as a possible outside contender for the Oscars.
Following Balram's journey to becoming a driver for a wealthy couple, Ashok (Rajkummar Rao) and Pinky (Chopra Jonas) who have returned to India from the US, it highlights the huge gap in the country's class system.
Priyanka Chopra Jonas, who stars in The White Tiger, wants to see more South Asian stories in Hollywood.

Chopra Jonas, who is also an executive producer on the film, says it is the kind of story we need to see more of on screen.
"I chased after this movie, actually, I read about it on Twitter," she tells Sky News. "I had read this book about a decade ago. I was very excited and profoundly moved by it so when I read about the fact that it was being made by Netflix, I got my agents to call the producers and offered my services.
"Pinky as a part has really developed in the movie but I really wanted to be an EP (executive producer) on this to offer my support. And my belief is to be able to get South Asian stories influxed into Hollywood.
"We don't see enough representation in global entertainment, considering we're one fifth of the world's population. So I was very, very excited to offer my support to this movie."
In the film, Balram makes himself indispensable to Ashok and Pinky, the will to serve ingrained deep within – but when an act of betrayal makes him really start to see the unequal system for what it is, he becomes determined to rise up, whatever the cost.
Chopra Jonas, a former Miss World who won the contest in 2000, is one of India's biggest stars. She says she hopes the story will make people who watch the film think about privilege.
"I think that it's a movie of self-reflection for the privileged to think about the rest of the world that lives in a completely different circumstance," she said.
:: Subscribe to the Backstage podcast on Apple Podcasts, Google Podcasts, Spotify, Spreaker
One viewer who is already a fan of the film is her husband, singer Nick Jonas. The couple married in a lavish ceremony in Jodhpur, Rajasthan, in 2018.
After seeing a preview, Jonas posted on Instagram to say the film was "unreal" and his wife's performance "exceptional".
Asked if her husband is her biggest supporter, Chopra Jonas said: "Well, I would like to believe that family does that for each other. He does love this film, though. He's a very big fan of the movie, I have to say."
The White Tiger is out on Netflix from 22 January