A-list stars donate millions to Florida shooting victims amid gun control protests
Several A-list celebrities have joined George and Amal Clooney in pledging $500,000 to the March For Our Lives movement.
The list includes Oprah Winfrey, Steven Spielberg, Kate Capshaw and Jeffrey and Marilyn Katzenberg, who have also said they will participate in the march on Washington DC next month.
The donations, which translate to about £360,000 each, will be given to the students of Marjory Stoneman Douglas High School in Florida after a mass shooting last week killed 17 people.
Students have into turned activists following the attack, which has rekindled the debate over gun control in the US.
George Clooney said in a statement: "Amal and I are so inspired by the courage and eloquence of these young men and women from Stoneman Douglas High School.
"Our family will be there on 24 March to stand side by side with this incredible generation of young people from all over the country, and in the name of our children Ella and Alexander, we're donating $500,000 to help pay for this groundbreaking event.
"Our children's lives depend on it."
:: US school shootings: A deadly history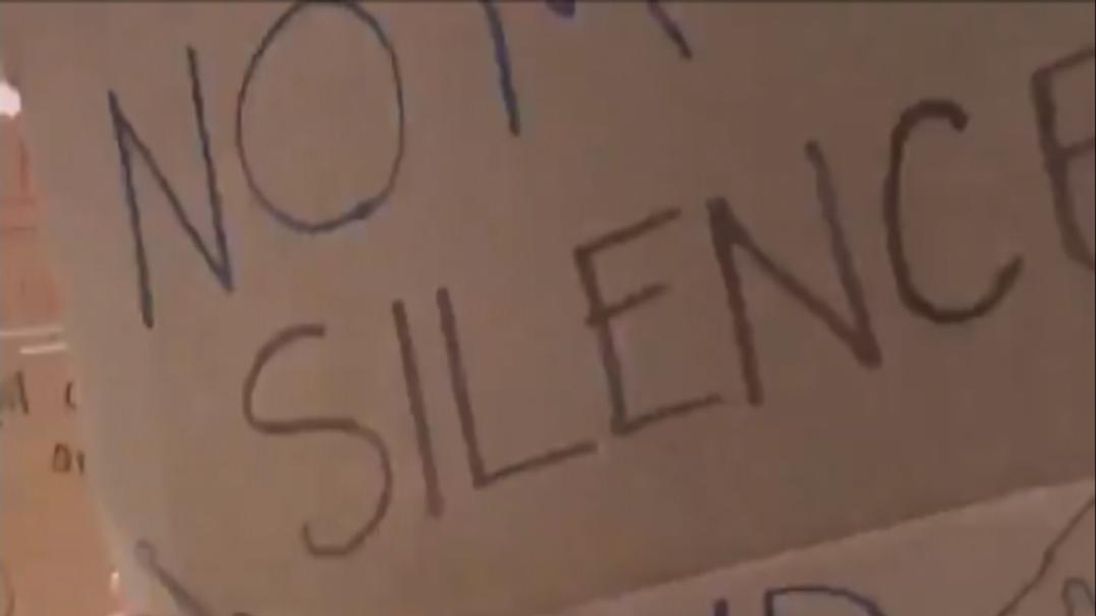 Oprah Winfrey followed with a tweet, pledging the same amount.
"George and Amal, I couldn't agree with you more," she wrote.
"I am joining forces with you and will match your $500,000 donation to March For Our Lives.
"These inspiring young people remind me of the Freedom Riders of the 60s who also said we've had ENOUGH and our voices will be heard."
:: Gun owners destroy rifles after Florida massacre as #OneLess campaign goes viral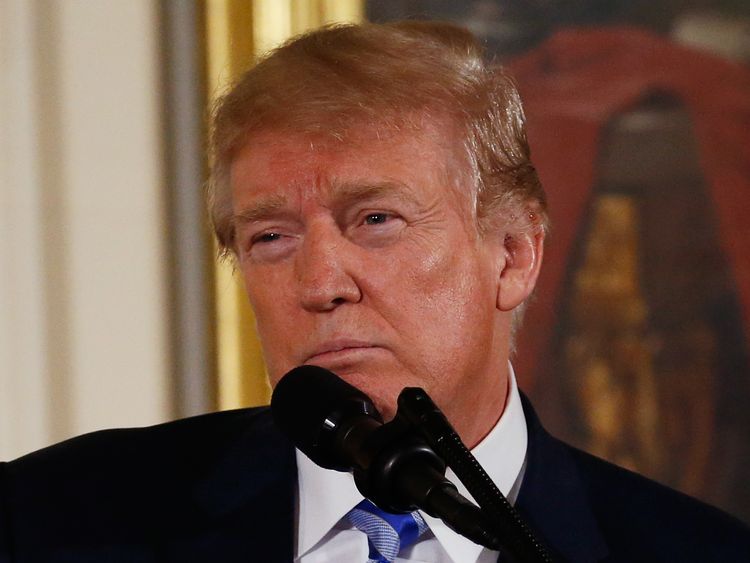 The alleged gunman, 19-year-old former student Nikolas Cruz, is reported to have been legally sold the assault rifle used in the attack despite having a history of mental health issues.
Survivors, stars and politicians have all called on the Republican Party and US president Donald Trump to impose stricter gun controls.
Steven Spielberg and his wife Kate Capshaw followed, and said: "Young students in Florida and now across the country are already demonstrating their leadership with a confidence and maturity that belies their ages.
"Kate and I applaud their efforts to take a stand for the benefit of this and future generations. They are an inspiration to us all, and we are joining in this movement with a donation of $500,000."
Studio boss Jeffrey Katzenberg also said he was "proud to stand with the brave young leaders from Parkland, who have turned their pain and grief and turned it into action".
On Wednesday, Donald Trump signed an order recommending a ban on devices that turn rifles into machine guns, saying: "We must do more to protect our children."
'Pervasive racism' blamed for unequal treatment of black and Asian war casualties | UK News

Up to 350,000 predominantly black and Asian service personnel have not been formally remembered in the same way as their white comrades.
An investigation has blamed "pervasive racism" for the failure to properly commemorate at least 116,000 but up to 350,000 people who died fighting for the British Empire.
The Commonwealth War Graves Commission has apologised and vowed to act immediately to correct the situation.
The report, obtained by the PA news agency and due to be published in full later today, found that the casualties – mainly from the First World War – were "not commemorated by name or possibly not commemorated at all".
Most of them were commemorated by memorials that did not carry their names.
An estimated 45,000 to 54,000 Asian and African casualties were also "commemorated unequally".
This meant some were commemorated collectively on memorials – unlike those in Europe – and others who were missing were only recorded in registers, rather than on stone.
The job of commemorating the war dead belongs to the Commonwealth War Graves Commission, originally named the Imperial War Graves Commission.
The report was compiled by a special committee, established by the CWGC in 2019 after a critical documentary about the issue.
According to the report, the failure to properly commemorate the individuals was "influenced by a scarcity of information, errors inherited from other organisations and the opinions of colonial administrators".
"Underpinning all these decisions, however, were the entrenched prejudices, preconceptions and pervasive racism of contemporary imperial attitudes," it added.
The report gave the example of a 1923 communication between FG Guggisberg, the governor of what is now Ghana, and the commission's Arthur Browne.
The governor had said "the average native of the Gold Coast would not understand or appreciate a headstone," as he argued for collective memorials.
Mr Browne's response showed "what he may have considered foresight, but one that was explicitly framed by contemporary racial prejudice", according to the report.
He had said: "In perhaps two or three hundred years' time, when the native population had reached a higher stage of civilisation, they might then be glad to see that headstones had been erected on the native graves and that the native soldiers had received precisely the same treatment as their white comrades."
In its response to the report, the CWGC said it "acknowledges that the commission failed to fully carry out its responsibilities at the time and accepts the findings and failings identified in this report and we apologise unreservedly for them".
CWGC director general Claire Horton said: "The events of a century ago were wrong then and are wrong now.
"We recognise the wrongs of the past and are deeply sorry and will be acting immediately to correct them."
David Lammy, the shadow justice secretary, said: "No apology can ever make up for the indignity suffered by the unremembered.
"However, this apology does offer the opportunity for us as a nation to work through this ugly part of our history – and properly pay our respects to every soldier who has sacrificed their life for us."
COVID-19: India sets record for new coronavirus cases in a single day | World News
India has reported more than 300,000 new coronavirus cases in a 24-hour period – the biggest one-day total seen anywhere in the world since the pandemic began.
The country's health ministry said there had been 314,835 new cases on Thursday, a number that passes the previous record – 297,430 in the US in January.
The previous day, India had reported 295,041 new COVID-19 cases.
India's number of deaths rose by 2,104 to reach a total of 184,657.
Prime Minister Narendra Modi said earlier this week that India was facing a coronavirus "storm" which was overwhelming its health system.
Hospitals are facing a severe shortage of beds and oxygen, with some private hospitals in Delhi warning they have less than two hours' supply of the gas.
People have crowded into refilling facilities, trying to refill empty oxygen cylinders for relatives in hospital.
At least 22 patients in western India died on Wednesday when the oxygen supply to their ventilators ran out due to a leak.
There have even been instances of looting oxygen tankers.
Subscribe to the Daily podcast on Apple Podcasts, Google Podcasts, Spotify, Spreaker
Mr Modi has been criticised for allowing big gatherings such as weddings and festivals where crowds can mix in confined spaces.
He has also addressed packed political rallies for local elections, speaking to millions of people.
Despite the fact that hospitals are struggling, Mr Modi said earlier this week that state governments should not impose a harsh lockdown.
Instead, he suggested micro-containment zones in an effort to avoid damaging the economy.
But the state of Maharashtra has strengthened its restrictions until at least the beginning of May.
Patients dies after oxygen tank leaks

All offices – except those providing essential services – must operate with no more than 15% of their staff.
Travel by private vehicle is only allowed for medical emergencies.
And only medical workers and government employees can ride on the trains.
So far, India has administered nearly 130 million doses of the vaccine but this is still a small effort when compared with its population of 1.35 billion.
Currently, only frontline workers and those aged above 45 are eligible but all adults are expected to be allowed a dose from May.
There could be delays ahead, with the country's Serum Institute warning that it will not be able to reach 100 million doses per month until July, compared with its previous forecast of late May.
Syrian anti-aircraft missile strikes near Israeli nuclear reactor, military says | World News

A missile launched from Syria has struck Israel's Negev desert region, setting off air raid sirens near the country's nuclear reactor.
In response, Israel said it had struck the missile launcher and other targets in Syria.
The Israeli Defence Force said: "A short while ago, surface-to-air missile fire was identified from Syria, which landed in the Negev area.
"In response, a few minutes ago, the IDF struck the battery from which the missile was launched and additional Syrian surface-to-air batteries in the area."
Israeli Army Radio said the Syrian missile had been fired at Israeli aircraft during an earlier strike and had overflown its target and reached the Dimona area, where a nuclear reactor is located.
Syrian air defences said they intercepted an Israeli attack in the direction of the Golan Heights.
Syria's state news agency said that attack took place at around 1:38am local time and targeted areas in the Damascus suburbs.
It said: "Air defences intercepted the rockets and downed most of them."
Sky correspondent Mark Stone, who has previously been based in the Middle East, said the IDF had told him that the weapon was a SA5 missile and that it had landed in the Negev desert area causing no damage.
He added: "Crucially though this appears not to be a deliberate targeting of the Israeli nuclear facility by Iranian proxies in Syria. Had that been the case, there would have been a significant response by Israel.
"Israel regularly targets Iranian proxies operating inside Syria. It sees them as a clear threat to Israel both in terms of providing a supply line of weapons to Hezbollah in Lebanon and it sees them as a direct threat to Israel."
"Israel talks less about its regular attacks and clandestine operations inside Iran. It's all part of an effort by Israel to slow down what it sees as a clear attempt by Iran to develop nuclear weapons. Top scientists have been assassinated and facilities hit.
"In response, Iran repeatedly threatens to retaliate. It's a continually precarious situation."
Iran has troops and proxies in Syria and has accused Israel of attacking its nuclear facilities in the past.
Iran has previously vowed revenge for what it says are attacks on its nuclear programme, including a fire that recently damaged its Natanz research site.
Israel accuses Iran of trying to develop nuclear weapons, and also opposes efforts by the US to revive the international nuclear deal with Iran.
Israel says the deal will not stop Iran from developing nuclear weapons and that it does not address the country's long-range missile programme and its support for proxies in Syria, Lebanon and Gaza.