Who's been charged by Mueller in the Russia probe so far?
Special Counsel Robert Mueller's probe into alleged Russian interference in the 2016 election is ongoing.
So far, four Americans — Michael Flynn, Paul Manafort, Richard Gates and George Papadopoulos — have been charged, though none of the charges are directly related to misconduct by President Trump's campaign. Additionally, more than a dozen Russian nationals have been indicted.
You can read more about their ties to the president, his campaign and the charges below. 
Michael Flynn
Michael Flynn, who served as Trump's national security adviser for less than a month before resigning, was charged and pleaded guilty in December 2017 to making false statements to the FBI. 
Flynn reportedly lied about his talks with Russia's ambassador to Washington. In late 2016, while former President Barack Obama was still in office, the two allegedly spoke about the U.S. sanctions imposed on Russia.
This raised concerns that Flynn, a retired Army lieutenant general, misled Trump officials about his conversations with Russian officials.
Paul Manafort
Paul Manafort turned himself in to federal authorities in October 2017. Manafort, 68, served as Trump's campaign manager for a few months in 2016. Richard Gates, Manafort's business associate, also turned himself in at the time. 
Manafort was indicted in connection with foreign lobbying work, and he pleaded not guilty. More specifically, the charges include: conspiracy against the U.S., conspiracy to launder money, false statements, unregistered agent of a foreign principal, and multiple counts of failure to file reports of foreign bank and financial accounts, according to a Special Counsel's Office spokesman.
Manafort sued to have the case against him dismissed and argued that Mueller had overstepped his bounds by charging him for conduct he says is unrelated to Russian interference in the 2016 election.
Richard Gates
Like Manafort, Richard Gates was indicted in October in connection with foreign lobbying work and pleaded not guilty. His charges are the same as Manafort's, ranging from conspiracy against the U.S. to conspiracy to launder money.  
Gates, who also worked for Trump's campaign, pleaded not guilty to all charges. 
George Papadopoulos
A former foreign policy adviser to Trump's presidential campaign, George Papadopoulos, pleaded guilty in 2017 to making false statements to the FBI regarding "the timing, extent and nature of his relationships and interactions with certain foreign nationals whom he understood to have close connections with senior Russian government officials," according to court documents.
He also reportedly tried to set up meetings between Russian and Trump campaign officials on various occasions. 
Alex Van Der Zwaan
Mueller's team charged Alex Van Der Zwaan, an attorney who allegedly lied to federal investigators in the Russia probe, in federal court on Feb. 16.
According to charging documents, Van Der Zwaan was employed by a law firm hired by the Ukraine Ministry of Justice in 2012. He is accused of lying about his interactions with Richard Gates
13 Russian nationals
A grand jury indicted 13 Russian nationals and three Russian companies in February 2018 for allegedly interfering in the election. In the case, Mueller details a sophisticated plot to wage "information warfare" on the U.S.
The indictment is the first to be brought against Russian nationals in Mueller's investigation. 
However, the Justice Department said the indictment does not allege the interference changed the outcome of the election.
"There is no allegation in this indictment that any American was a knowing participant in this illegal activity," Deputy Attorney Gen. Rod Rosenstein, who oversees the special counsel probe, said.
Fox News' Kaitlyn Schallhorn and The Associated Press contributed to this report. 
Georgia GOP, using new law, starts push to take over local election board in metro Atlanta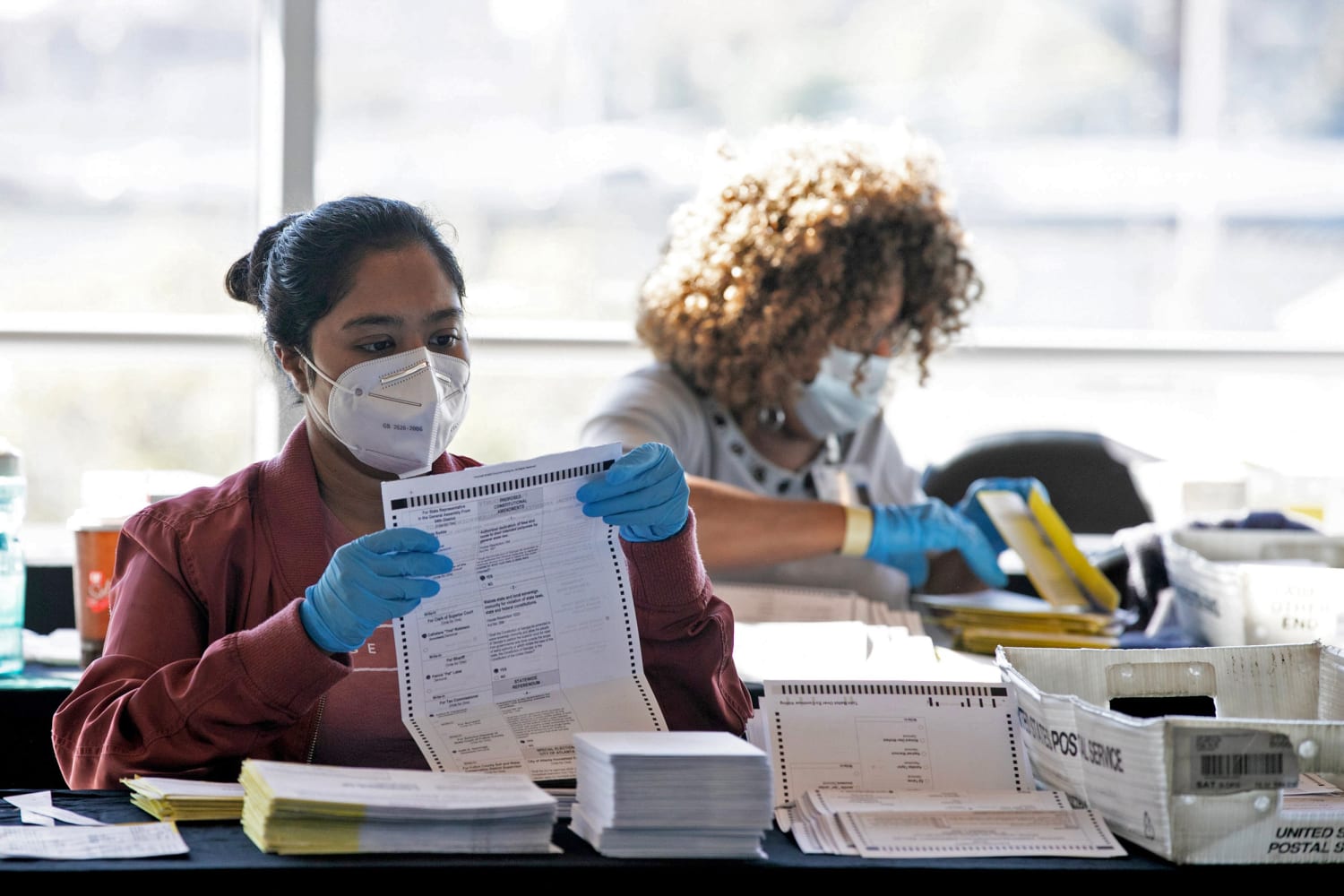 ATLANTA — Republican lawmakers in Georgia have started a process that could lead to a takeover of elections in the state's most populous county.
Many in the GOP continue to claim wrongdoing in reliably Democratic Fulton County had stolen the 2020 election from Donald Trump, even though an independent monitor found no evidence of fraud or impropriety.
Lawmakers are using a tool created by the state's sweeping new election law to exert influence over local elections. Democrats and voting rights advocates decry the takeover provision as an invitation for political interference. The county, with about 11% of the state's electorate, includes most of the city of Atlanta.
But Fulton County has been plagued with problems for years and Republicans say it's time for answers. State House Speaker Pro Tem Jan Jones and four other GOP state representatives whose districts include parts of Fulton submitted a letter Friday to the State Election Board demanding a performance review of the county's board of registration and elections.
"I wrote the letter as a representative of constituents who have expressed concerns over the sloppy manner in which elections were conducted in Fulton County in 2020 and in the years leading up to then," Jones, who represents a suburban north Fulton district, said Friday.
Three Republican state senators representing parts of Fulton, as well as 24 other GOP senators, sent a slightly different letter this week.
"The people deserve better and I want to see a comprehensive review and plan for improvement," state Sen. John Albers, also from north Fulton, wrote in an email Friday.
Rebecca Galanti, a spokesperson for the state Democratic Party, called the takeover effort "a shameless Republican power grab designed to suppress voters and inject partisan politics into our elections."
Under the law that Georgia Republicans pushed through this year, the letters could lead to the State Election Board removing Fulton's five-member election board. But there remains uncertainty about how the process would work.
"The critics of it are alleging that this allows the board to just willy-nilly take over boards and change the results of elections, but there's a lot of due process that's built into this," said State Election Board member Matt Mashburn, a Republican.
GOP Gov. Brian Kemp and Secretary of State Brad Raffensperger expressed support, even though the new law took away Raffensperger's vote on the State Election Board.
"I appreciate the General Assembly finally supporting my movement that something needs to be done in Fulton County," said Raffensperger. He has vigorously defended Georgia's 2020 election results, but rarely misses an opportunity to criticize Fulton.
Mallory Blount, a spokesperson for Kemp, said the Fulton board has chronically shown "poor management and incompetence."
"This review process will hopefully provide greater transparency, ensure local accountability and restore voter confidence," Blount said.
Both Raffensperger and Kemp have taken withering criticism from Trump, who says Georgia's 16 electoral votes were stolen from him. Both face 2022 GOP primary challenges from candidates echoing those criticisms, with Trump endorsing Raffensperger challenger and U.S. Rep. Jody Hice.
There could be procedural hiccups. The senators' letter seeks review of a board employee, Fulton County Elections Director Richard Barron.
Jones, Albers and others say the Senate letter is sufficient to start the process. Mashburn declined to comment. Sara Tindal Ghazal, the only Democratic appointee to the state board, says she has questions.
"We're not in charge of hiring and firing county staff," she said.
Under the new law, the state election board must mount a preliminary investigation and hold a hearing within 90 days of a request. The state board could suspend the county board if it finds evidence county officials violated state election law or rules three times since 2018 and haven't fixed violations. It could also remove the county board if it finds that during at least two elections over two years the board has shown "nonfeasance, malfeasance, or gross negligence."
The State Election Board, currently with a 3-1 Republican majority, would appoint a temporary administrator to run Fulton elections if it finds wrongdoing. The county board could seek reinstatement. If the state board refuses, its administrator would remain in place for at least nine months.
The state board must set rules for the process.
Mashburn said Fulton has done some "great things," but said that since he began working in election law in 1988, "Fulton has been the problem, every single election."
Mashburn called Fulton's long lines in the June 2020 primary election a "watershed moment." The county spent millions to alleviate those problems.
The State Election Board entered into a consent order with the county to make changes for the general election, appointing independent monitor Carter Jones.
After observing from October through January, Jones wrote that he witnessed "sloppy processes" and "systemic disorganization" but did not see "any illegality, fraud or intentional malfeasance." He concluded major changes and a managerial shakeup were needed.
Democrats say Jones' findings prove Fulton's problems don't merit a takeover.
"We already have a report from the secretary of state's hand-picked consultant saying there was no malfeasance," Tindal Ghazal said.
Fulton County Commission Chairman Robb Pitts, a Democrat, lays the blame at Trump's feet and warns of Republican efforts to subvert Fulton County elections in 2022 and 2024.
"I will not let them get away with this circus unopposed," Pitts said in a statement Friday. "We are exploring every legal option that is on the table and I am hopeful we will prevail against these attacks that look more like political theater than good governing."
U.S. sues Texas over Abbott order restricting transportation of undocumented immigrants
WASHINGTON — The Justice Department sued Texas and Republican Gov. Greg Abbott in federal court late Friday over the state's effort to restrict travel of undocumented immigrants.
A July 28 executive order signed by Abbott "would severely disrupt federal immigration operations" in Texas and is invalid because states cannot take action to preempt enforcement of federal law, the lawsuit said.
Attorney General Merrick Garland urged Abbott, in a forcefully worded letter Thursday, to withdraw the executive order. When the governor declined to act, the federal government was certain to sue.
Abbott's order said only law enforcement officials can provide transpiration to immigrants who have been detained for crossing the border illegally. He said many of the detainees have tested positive for Covid-19, and their movement around the state risks spreading the virus.
But the lawsuit said the federal government depends on contractors and non-government organizations to move immigrants around the state, so that they can attend hearings or travel if they are released by Customs and Border Protection, CBP.
Because CBP stations are designed to hold people only for a short amount of time, they must be transferred. In the Rio Grande Valley sector alone, CBP used contractors to move nearly 120,000 people since last October, the suit said.
Contractors also transfer unaccompanied children from Homeland Security facilities to the custody of resettlement authorities.
"The massive federal immigration operations in Texas depend heavily on the ability of the federal government and its contractors, grantees, and partners to transport noncitizens," the government said.
And far from preventing the spread of Covid, the lawsuit said Abbot's executive order would likely make things worse by curtailing the ability of immigrants to get medical care or testing. The order would also worsen congestion in border facilities, government lawyers said.
The Justice Department asked a federal judge to immediately block Abbott's executive order until the case can be heard.
Trump asked DOJ to declare 2020 election 'corrupt'
IE 11 is not supported. For an optimal experience visit our site on another browser.