Underpaid Venezuelans skipping out on work to make ends meet
CARACAS, Venezuela –  On many days, Ramon Medina has no choice but to skip work to make ends meet.
Like around half of Venezuelans, he earns the minimum wage — the equivalent of around $3 a month — so whenever his cellphone buzzes with a tip, he sneaks away from his job as a hospital orderly for the chance of taking home a government-supplied food bag on which he depends to feed his family.
He's not the only one hustling. On any given day, he estimates a third of his co-workers at Vargas Hospital in Caracas are also stepping out for a lucrative side job or spending hours in line to buy flour and cooking oil at bargain-basement prices impossible to pass up. That leaves few back in the hospital caring for sick patients, the 55-year-old said.
"You do what you can to help out," he said of his job, but added, "People are discouraged."
Along with four-digit inflation, widespread shortages and a recession deeper than the U.S. Great Depression, Venezuela's economy is now being ravaged by a new scourge: mass absenteeism.
In recent weeks, newspapers and social media have been filled with reports of work stoppages at the Caracas subway system or the state-run oil company as workers scraping by on meager paychecks can't be bothered to show up for work. Private companies complain they can't find enough workers to punch the clock, exacerbating a standstill in what few assembly lines are still running.
The crisis is spiraling out of control even as President Nicolas Maduro is seeking a second term in a snap election his supporters recently set for April 22, drawing condemnation from the U.S. and other countries who say he's flouting Venezuela's democratic tradition. Yet, Maduro has turned the economic crisis to his advantage, analysts say.
Douglas Barrios, a Venezuelan economist at Harvard University, said that in 2012, before the country sank into recession, the country's monthly minimum wage equaled $300, on par with those of other Latin American nations and enough to support a family with rent and food.
That has since dramatically changed, he said, noting that today it takes a worker nearly two weeks to earn enough to buy two pounds of powdered milk.
Normally, voters would turn their backs on a government under such circumstances. But Maduro is locking in support by making voters dependent on discounted government food bags and by announcing wage hikes before energized live audiences on nationally televised broadcasts.
"You support us and you have access to food," Barrios said, explaining what he sees as the government's strategy. "If you don't support us, you go figure out how to make ends meet."
The government has accused opponents of waging an "economic war" on Maduro and point to recent sanctions by the Trump administration banning lending to the government as further proof of sabotage. Far from throwing in the towel, it says it is expanding social programs like the food parcels to protect the poor.
"The revolution guarantees the people are protected," Maduro tweeted this week.
Jenny Mejia, 24, said she's not fooled. She recently walked away from her low-paying job at a lunch counter to sell bottles of shoe glue stacked on a table along a busy street in Caracas. It takes her about a week to earn the equivalent of the monthly minimum wage.
"With Maduro, more hunger is assured," said Mejia, who receives the government food bags but vows she won't support his re-election bid.
Socialist Venezuela's battle with absenteeism isn't new. The late Hugo Chavez in 2001 signed a decree that came to be known as the Law of Labor Immobility that makes it but impossible for employers to fire a worker without their consent.
But the problem has grown worse as the economy has unraveled and price distortions have become more pronounced. For many Venezuelans, the choice is going to work for a few pennies a day or scavenging for the declining number of products sold at controlled prices and reselling them on the black market for several times their official value.
Venezuela no longer publishes labor statistics, but workers in Caracas' busy subway estimated that as many as 70 percent of their colleagues don't show up some days. The country's state-run oil firm PDVSA — virtually the only source of hard currency — is losing workers due to low wages and a lack of safety, said Venezuelan economist Francisco Monaldi, a Latin American energy policy expert at Rice University in Houston.
"Those who can, leave the country," Monaldi said. "Others simply do not show up to work."
Companies juggling to stay in business have no choice but to remain flexible.
At Danubio bakery one day recently, some of the 300 employees squeezed past one another preparing pastries, cakes and lasagna. Many said bus fare eats up their paychecks despite earning 30 percent more than minimum wage.
For many, the two meals a day they get at work make it worthwhile.
"Coming to work is a kind of relief," said Andrew Kerese, who runs the successful family business with five bakeries across Caracas. "Here people have breakfast and lunch."
However, many long-time employees have fled the country and called Kerese from abroad to tell him they're not returning. Others struggle getting to work because the buses are full or don't run, or they can't find spare parts for their cars. Some days, word spreads of a market selling discounted flour, so everybody leaves to get in line.
Antonio Golindano's daily journey into work at the bakery starts at 4 a.m. The 71-year-old has tied on his apron and sifted flour there for four decades. But he said the hardships make it harder for him every day.
"I do the impossible to come and fulfill my duty," he said. "It is my obligation to come to work."
Uganda presidential election: Incumbent Yoweri Museveni declared winner | World News
Yoweri Museveni has been declared the winner of the Uganda presidential election with 58.64% of the total votes, according to the country's electoral commission.
The incumbent will now serve a sixth term as president of the east African nation following some of the worst pre-election violence since the 76-year-old took office in 1986.
His man opposition, singer Bobi Wine, has alleged vote rigging throughout the process and had strong support in urban centres where frustration with unemployment and corruption remains high. He won 3.48 million votes, or 34.8% of the total, according to the commission.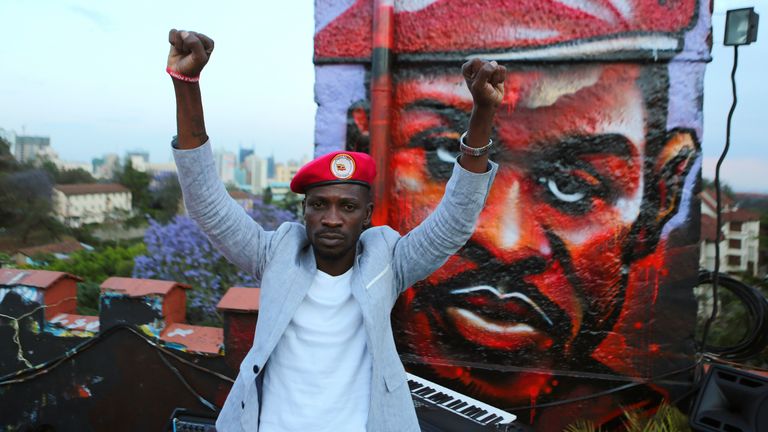 Mr Wine and other opposition candidates were often harassed, and more than 50 people were killed when security forces halted riots in November after he was arrested.
Although Mr Museveni holds on to power, at least 15 of his cabinet ministers including the vice president were voted out, with many losing to candidate's from Mr Wine's party, according to local media.
Mr Wine, real name Kyagulanyi Ssentamu, claimed victory on Friday and said he had video evidence of vote-rigging and insisting "every legal option is on the table" to challenge the election results.
He was beaten up and arrested several times during the election campaign but was never convicted of any charge. He later wore a flak jacket and said he feared for his life.
On Saturday, Mr Wine said his home in the capital Kampala had been surrounded by soldiers and the military was now allowing him to leave.
The army's deputy spokesman, Deo Akiiki, told Reuters security officers were assessing threats to Mr Wine if left his home.
Monitoring of the elections has been hit by the arrest of independent observers and the denial of accreditation for members of the UN observer mission.
Tibor Nagy, the top US diplomat for Africa, tweeted on Saturday that "Uganda's electoral process has been fundamentally flawed", adding that the "US response hinges on what the Ugandan government does now".
COVID-19: India begins vaccine roll-out and aims to administer 300 million jabs by August | World News
India has began its ambitious project of vaccinating its 1.3 billion citizens – as it aims to administer 300 million jabs by August.
Prime Minister Narendra Modi launched the voluntary vaccination programme at 3,006 locations across the country this morning.
About 300,000 health workers will be vaccinated today and the numbers will increase as more capacity is enhanced every week.
In the first phase, vaccines will be given to 30 million health and frontline workers for free.
In its second phase 270 million citizens over the age of 50 and those under 50 with other health problems will be vaccinated.
There is an air of relief and optimism at the Rajiv Gandhi Super Speciality hospital as the first beneficiaries line up for the jab.
There is also relief and celebration by health workers at the Lok Nayak Jai Prakash (LNJP) Hospital in Delhi.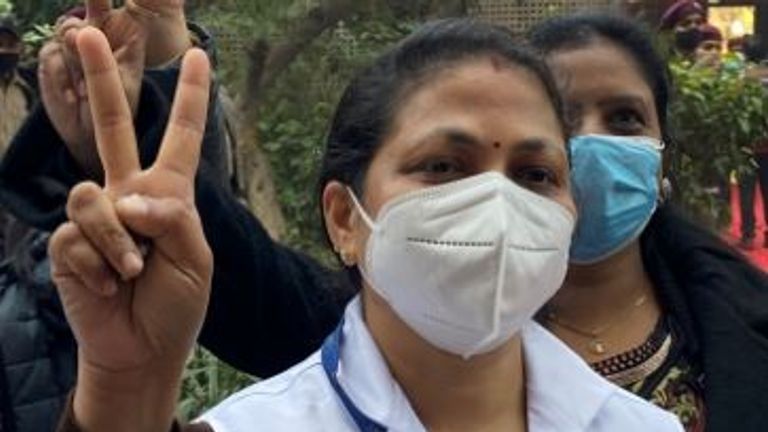 Staff nurse Biji Tony, the first to be vaccinated there, told Sky News: "I am so relieved. It has been a very difficult year, working day and night.
"We've stayed away from family and loved ones. We are human as well. Now all this ends. We are not afraid anymore after we get the second dose."
Dr Suresh Kumar, the medical superintendent at the LNJP hospital, told Sky News: "Today is a historic day and like a festival, we are feeling as if we have won a super world cup.
"But it has come with a lot of struggle. We have lost doctors and staff to the virus. But now we are ready to win the COVID war."
The two vaccines, the Oxford-AstraZeneca's "Covishield" and Bharat Biotech's "Covaxin", were approved for emergency use by the Central Drugs and Standards Committee (CDSCO) on 3 January.
Millions of doses of Covishield, manufactured by the Serum Institute of India at its Pune plant, and Covaxin, produced by Bharat Biotech in Hyderabad, were transported under security to various cities across the nation.
The approval of the latter has raised concerns amongst scientists and epidemiologists as third phase trails are still ongoing and its efficacy has not yet been published.
Prime minister Modi said: "The DCGI (Drug Controller General of India) gave approval after they were satisfied with the data of the two vaccines. So stay away from rumours."
Professor KS Reddy, president of the Public Health Foundation Of India (PHFI) – a non- profit organisation and a watchdog of public health – said: "Ideally at the best of circumstances one should see the phase three trials completed and efficacy data fully evaluated and out in the public domain through scientific publications as well as other scrutiny.
"However in this pandemic situation it was felt that given the large number of persons in India that need to be immunised the potential escalation of the epidemic due to mutants. I think the policy makers have taken the decision, I too wish the trial could have been completed earlier.
"But as far as the safety is concerned it has been adequately proven for Covaxin. But anyone who has doubts of the vaccine need not take it even if it is offered, they can decline it."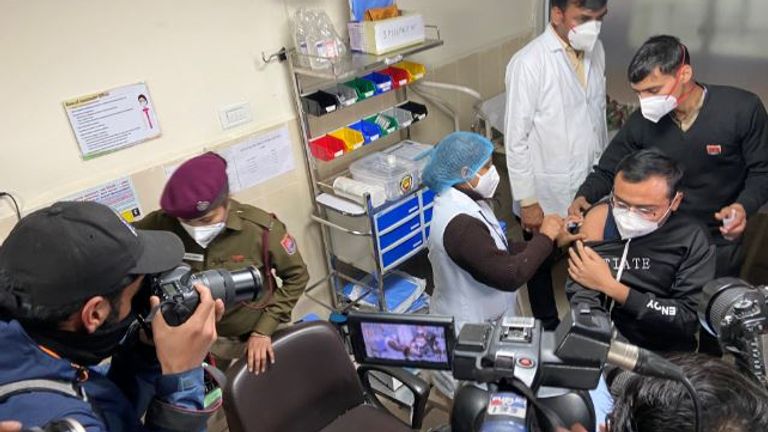 Indian Health Ministry spokesperson Rajesh Bhushan said: "There is no option for recipients to choose which vaccine they want to be inoculated with."
Preparations for these dry runs took place in more than 700 districts across the country with mock transportation and dummy injections by more than 150,000 health staff.
The country has 29,000 cold-chain points, 240 walk-in coolers, 70 walk-in freezers, 45,000 ice-lined refrigerators, 41,000 deep freezers and 300 solar refrigerators for storage.
Immunising a country that is almost 2,000 miles north to south and the same east to west with over a billion people will be a herculean task.
Reaching remote and rural areas where most of India lives and where the infrastructure is wanting will be a challenge.
Added to this is a second jab required to complete the cycle.
And then there are the many summer months where temperatures soar to 40C (104 F) or more in most parts of the country.
It has been a tragic winter for the Sharma household
Deviram Sharma, 65, died within four days of being admitted to a hospital with the virus.
His son Avneesh is donning a PPE suit to perform the last rites at Nigambodh Ghat – the largest Hindu crematorium.
Subscribe to the Daily podcast on Apple Podcasts, Google Podcasts, Spotify, Spreaker
Families have no time for mourning as farewells are hurried and from afar due to restrictions.
Traditional last rites are rushed under the overbearing shadow of the virus, the bereavement a mere formality.
Avneesh told Sky News: "It has jolted our family, it has shaken our roots, even I had to go on medication and am still feeling low myself.
"I hope and pray that this virus is removed through the use of vaccination and others don't have to suffer what our family has gone through."
With more than 10.5 million cases, India is the second worst affected country after the United States.
Almost 152,000 deaths have been reported so far and the need for a vaccine has never been as critical as now.
COVID-19: Indonesia vaccine rollout bucks trend by targeting younger generations | UK News
With shaking hands, broadcast live to the nation, a doctor administered Indonesia's first COVID-19 vaccination.
The recipient was President Joko Widodo, a man who hopes to get 181.5 million Indonesians vaccinated this year.
It's a huge challenge, almost three times the population of the UK and so far one of the largest rollouts in the world.
But the nation's vaccination drive, which started this week using CoronaVac, a jab from Chinese manufacturer Sinovac Biotech, bucks the current trend by injecting under-60s first.
You can find out more about Indonesia's COVID-19 vaccine drive on the Sky News Daily Podcast
Subscribe to the Daily podcast on Apple Podcasts, Google Podcasts, Spotify, Spreaker
Dr Siti Nadia Tarmizi, COVID-19 vaccination spokesperson for Indonesia's Ministry of Health, told Sky News: "18 to 59 is the age group that gets most infected by COVID-19 and mostly without symptoms. We know between 18 and 59 is a more productive age group, so if we are targeting this age group first, we will protect them from COVID-19, which means they can, of course, go to work.
"And then secondly, by protecting this age group, we will cut the transmission."
Indonesia has recorded more than 25,400 deaths and 880,000 infections making it Southeast Asia's worst outbreak.
Testing levels are low, so experts warn the actual infection rate could be much higher.
Starting with frontline workers, under-60s will be inoculated first not only because the government hopes protecting workers will boost the economy, but it's also waiting for more safety data about how CoronaVac impacts the elderly.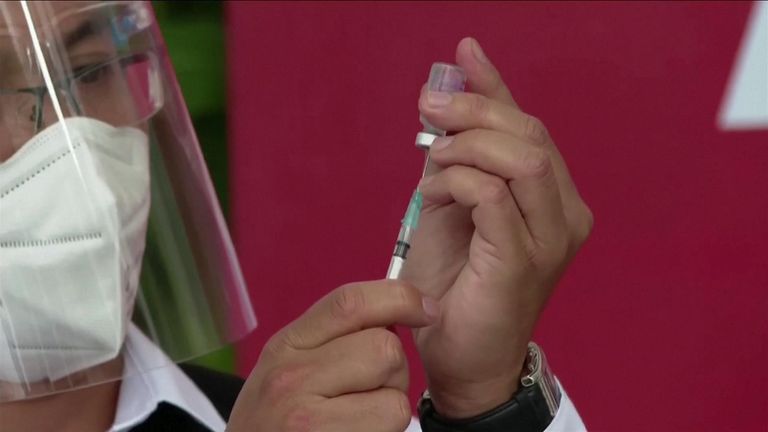 In Indonesia's capital city, Jakarta, where people who refuse the jab will face fines, some are wary.
"If I had the option to refuse the vaccine, I would say no," said Guntur Dwi Adiputra, "For sure I will be afraid to have it because I don't know the side-effects."
"I understand the perspective economic reasons, however, I feel that those people, productive people, they could wait because they're not the ones risking their lives first, the elderly are the ones at stake right now," added local resident Angel Utomo.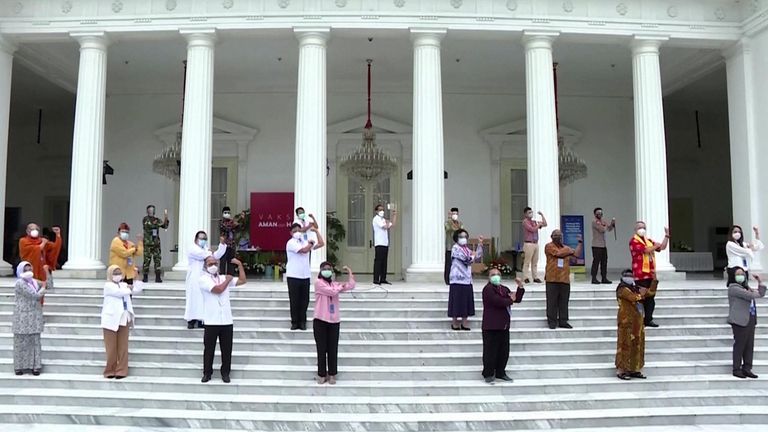 Indonesia is the fourth most populous country in the world and the pandemic has left many struggling financially.
Mohammed Santri's catering business previously sold more than 200 meals a day, but since the coronavirus outbreak it's dropped to just 10.
The family now runs it alone after all the paid staff had to be let go.
"I hope that the vaccination process will be implemented as soon as possible because when people are healthy and they can go back to work then I will receive orders again," Mr Santri said.
CoronaVac is easier for many developing countries to store than some of the other vaccines as it can be kept in the fridge.
Unlike the Pfizer and Moderna mRNA vaccines which have been given the green light in the UK, the Sinovac-made jab uses inactivated coronavirus.
Patients are injected with killed viral particles to expose the body's immune system to the virus and teach it to make antibodies.
Interim data in Indonesia put the efficacy at 65.3% but extended results from Brazil found it to be just 50.4% effective, barely over the 50% needed for regulatory approval.
Researchers at Sao Paulo's Butantan Institute who conducted the trials previously stressed it was 78% effective against mild to severe cases.
Sinovac Biotech is Indonesia's biggest vaccine supplier, and while the country is buying other brands, officials explained the Chinese could deliver fastest.
"I think the main reason why Sinovac is being used in Indonesia is that they committed to deliver this vaccine at the end of December 2020, while the others were still in the negotiation process," Dr Nadia said.
"We plan to have 181.5 million of the population vaccinated, which means we need like 426 million doses of vaccine which is a really huge number and it may not be able to be fulfilled by only having one vaccine type or vaccine factory."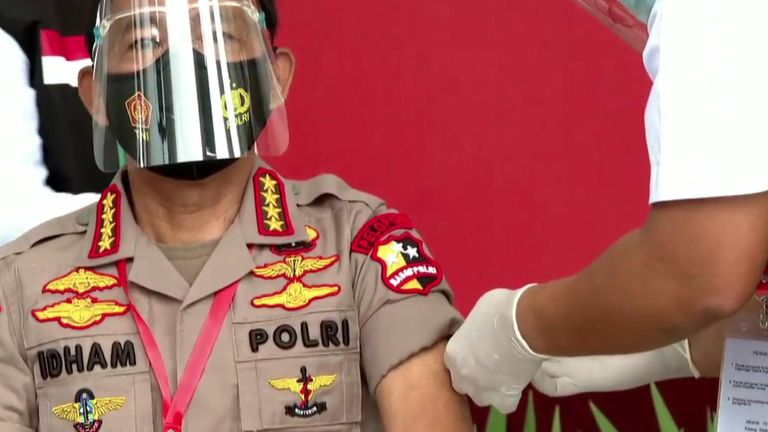 While many countries in the West are focusing on European and American-made vaccines, in Asia, nations including Indonesia, the Philippines and Thailand are all starting with Sinovac.
Dicky Budiman, an epidemiologist at Australia's Griffith University, said China has deliberately positioned itself to fill a gap in the market and supply developing countries which would otherwise face a long wait.
"Vaccine diplomacy has become one of the tools for big countries to improve and increase their power in the region. China will use this as a diplomatic power, that's for sure," he said.
But with more than 270 million people to protect and surging cases, it's a power game Indonesia's willing to play, with leaders hoping this will be a turning point in the fight against the pandemic