Trump tweetstorm rips his critics over indictments, fails to castigate Russia
President Trump's use of Twitter as a sledgehammer delights his base and drives his detractors crazy, especially in the press.
But even by Trumpian standards, his tweetstorm over the weekend was something to behold, coming as it did against the backdrop of Bob Mueller's indictment of 13 Russians for election meddling.
The New York Times said yesterday that Trump initially felt vindicated by Mueller's lack of any collusion charges against his campaign—though "unwitting" Americans were said to have cooperated with the Russians—but things changed as he watched cable news at Mar-a-Lago:
"The president's mood began to darken as it became clearer to him that some commentators were portraying the indictment as nothing for him to celebrate, according to three people with knowledge of his reaction. Those commentators called it proof that he had not won the election on his own, a particularly galling, if not completely accurate, charge for a president long concerned about his legitimacy."
There was a swipe at his national security adviser: "General McMaster forgot to say that the results of the 2016 election were not impacted or changed by the Russians."
There was the fact that the Russian hacking predated his political career: "Funny how the Fake News Media doesn't want to say that the Russian group was formed in 2014, long before my run for President. Maybe they knew I was going to run even though I didn't know!"
There was the dismissal of his own repeated insistence that the Russia probe was a hoax, that he never fully accepted Moscow's role in election interference and appeared to accept Vladimir Putin's denial when they met:
"I never said Russia did not meddle in the election, I said 'it may be Russia, or China or another country or group, or it may be a 400 pound genius sitting in bed and playing with his computer.' The Russian 'hoax' was that the Trump campaign colluded with Russia – it never did!"
And the president somehow suggests that the media, congressional and law enforcement pursuit of the Russian disruption was more important than the election hacking itself:
"If it was the GOAL of Russia to create discord, disruption and chaos within the U.S. then, with all of the Committee Hearings, Investigations and Party hatred, they have succeeded beyond their wildest dreams. They are laughing their asses off in Moscow."
Look, we know that the president is sensitive about the suggestion that the Russians were partially responsible for his election, and there's no evidence their shenanigans—including identity theft, impersonating Americans and manipulating Facebook—were able to change the outcome. So he dissects the indictments through that narrow lens.
There are two journalistic narratives right now, and they're not mutually exclusive. Some in the media did cast the Mueller charges as a victory for Trump, at least for now. Others looked more narrowly at his past criticism of the investigation as a witch hunt and said Mueller had knocked down his "hoax" narrative. A Politico headline, for instance, declared: "Worries About Trump Legitimacy Resurface With Russia Indictment."
I don't see how indicting 13 Russians with no conscious help from those in Trump's orbit casts doubt on the legitimacy of a candidate who fairly won the Electoral College.
The one tweet that really bothered me was this:
"Very sad that the FBI missed all of the many signals sent out by the Florida school shooter. This is not acceptable. They are spending too much time trying to prove Russian collusion with the Trump campaign – there is no collusion. Get back to the basics and make us all proud!"
I just don't think he should have dragged the Florida tragedy into it. The FBI's bungling of a warning about the shooter was indeed a terrible and tragic mistake. But the bureau is a large institution, and obviously it didn't botch that warning because too many agents were investigating the Russia matter.
By Sunday night he was back to his usual form, tweeting against the "insecure" Oprah for what he called her "biased and slanted" questioning of Trump supporters in a "60 Minutes" segment. Trump said he hopes she runs, but unfortunately for him, she's defied the media drumbeat and said she's not.
One thing the president hasn't done is denounced Moscow for its systematic effort to undermine American democracy. To me, this is a missed opportunity. Trump could get bipartisan support for a speech in which he vowed to retaliate, regardless of whether the hacking helped him or not. But because he views almost everything through the prism of his election, Trump has chosen not to address a conspiracy that his own Justice Department says was damaging to America.
Civilian deaths, Taliban attacks rising as full U.S. withdrawal from Afghanistan looms, report says
WASHINGTON — Civilian casualties and Taliban attacks in Afghanistan are mounting as the U.S. withdrawal nears completion and the Afghan military continues its collapse, according to a new quarterly report from a U.S. government watchdog that describes a country ravaged by Covid-19 and violence.
The report by the Special Inspector General for Afghanistan Reconstruction, or SIGAR, found a "dramatic increase in enemy-initiated attacks" from January through March of this year compared to the same time in previous years. There were 10,431 attacks this year, up from 7,620 last year and 6,358 in 2019.
Attacks have been increasing since the U.S.-Taliban agreement on Feb. 29, 2020, with more attacks in each three-month period since the agreement than in the same quarters in the previous year.
The number of attacks against the Afghan military and civilians has increased significantly this year, the report says, with many attacks coming during the Taliban offensive now sweeping across the country.
The Taliban launched an offensive in May after U.S. and coalition military forces began withdrawing. The offensive accelerated in June and July.
However, the report notes that Afghan forces have stopped reporting attacks as their situation deteriorates, and it says the U.S. stopped collecting attack data effective May 31 with the end of the U.S. training and advisory mission.
Civilian deaths were rising until the end of that reporting period. Resolute Support, the NATO mission in Afghanistan, reported 2,035 civilian casualties in April and May — 705 deaths and 1,330 injuries. That is nearly as many civilian casualties as in the first three months of this year combined, 2,149, and higher than in April and May of last year. According to Resolute Support, the top two causes of civilian casualties were improvised explosive devices and direct fire, and 93 percent of civilian casualties in April and May were from insurgents, largely the Taliban.
The Taliban have overrun Afghan military checkpoints and bases, district centers and a series of key border crossings, according to the SIGAR report. In some cases, the Afghan military forces, known as ANDSF, have fled.
"In some districts ANDSF forces put up some level of resistance and conducted a tactical (fighting) retreat, while in others they surrendered or fled in disorder," the report says, citing news reports that 1,600 ANDSF fled into Tajikistan this month to avoid Taliban advances in Badakhshan province.
At a briefing last week, the chairman of the Joint Chiefs of Staff, Army Gen. Mark Milley, said the Taliban control about half of the 419 district centers in Afghanistan and are pressuring 17 of the country's 34 provincial capitals.
"Particularly concerning was the speed and ease with which the Taliban seemingly wrested control of districts in Afghanistan's northern provinces, once a bastion of anti-Taliban sentiment," the SIGAR report says. At a news conference June 29, the former commander of the NATO Resolute Support Mission, Army Gen. Scott Miller, told reporters: "We should be concerned. The loss of terrain and the rapidity of that loss of terrain has to be concerning."
The SIGAR also found that most Afghan military forces "refuse to execute missions." Instead, the more highly trained and proficient Afghan special operators are used for basic tasks like route clearance, checkpoint security and quick reaction forces.
The Afghan air force is overtaxed now that U.S. air support has largely ended, according to the report. All Afghan air force aircraft are flying at least 25 percent over their recommended scheduled maintenance, the report found, and the readiness of most of the aircraft has plummeted since most U.S. support has withdrawn. The UH-60 Blackhawk fleet was at 77 percent readiness in May and dropped to 39 percent in June.
The U.S. military has carried out a handful of airstrikes against the Taliban this month, according to defense officials, but the aircraft fly in from neighboring countries now that nearly all U.S. military forces and equipment have left Afghanistan. Once the U.S. military mission officially ends on Aug. 31, the U.S. will still carry out strikes against Al Qaeda and Islamic State terrorists, but it will no longer carry out strikes against the Taliban.
Meanwhile, the report says, the Afghan public is coping with a 2,400 percent increase in Covid cases, the majority from the delta variant. According to the U.N., half of the population requires humanitarian assistance.
Clean energy, aging grid to get big boosts under infrastructure deal
WASHINGTON – The nation's aging power grid and burgeoning clean energy sector are set to get major boosts under a $550 billion bipartisan infrastructure deal reached by the Senate and the White House.
Although details of what's in the deal are still scarce, the agreement includes $73 billion to expand clean sources of energy and the ability to move it from place to place, in what the White House calls the "single largest investment in clean energy transmission in American history." It includes an additional $7.5 billion to build out electric vehicle charging stations across the U.S. as the nation seeks to wean itself from gas-guzzling cars and trucks.
At the same time, the deal will clear away major impediments to adopting clean energy and work to cut red tape that has complicated efforts to build sorely needed new power lines, according to a White House description of the agreement.
It's a far cry from the eye-popping numbers President Joe Biden initially proposed in March in his American Jobs Plan, which included $100 billion for the power grid, $174 billion for electric vehicles and $46 billion for clean energy manufacturing. But Democrats are expected to shoehorn much of the spending left out of the bipartisan deal into their separate, $3.5 billion spending bill they plan to pass without Republican support.
A look at the clean energy provisions in the bipartisan deal:
New transmission lines
Two of the biggest energy challenges – resilience and emissions – both depend on a common factor: the energy grid.
The more reliably interconnected the electricity network is, the better any region can handle disruptions that affect local own power-generating abilities. This year's electricity crisis in Texas illustrated how the state's isolation from other power sources has left it with insufficient backup if things go wrong.
Transmission lines are also critical to widespread adoption of renewable energy like wind, solar and geothermal. Fossil fuel plants like coal and natural gas can generally be built close to where the electricity will be used. But clean energy often must be transported long distances to communities from parts of the country where, for example, it's windy or sunny.
That requires new high-voltage transmission lines – and the White House says the $73 billion investment will include building "thousands of miles of new, resilient transmission lines" to help expand renewable energy.
'Grid deployment authority'
Another huge obstacle to construction new power lines is the endless red tape and finding sites where you can get permissions to build, power industry analysts say.
Unlike with interstate oil or gas pipelines, there's no single, federal authority you can apply to for permission to build power lines. Long-distance, high-voltage lines cross multiple states, municipalities and other jurisdictions that all may require different permits – or not grant them at all.
The bipartisan deal will create a new federal entity, called a Grid Deployment Authority, to "finance and encourage the development of high-voltage transmission lines," the White House says. Housed within the Energy Department, the authority will make use of existing public property –highways, roads and railways – to secure rights-of-way for new power lines.
Electric vehicles
The $7.5 billion for electric vehicle charger stations is the first such investment by the federal government, the Biden administration says. But it's less than 5 percent of the amount Biden initially said was needed to meet his goal of erecting a half-million charger stations across the country.
Consumers regularly cite "range anxiety" – the fear that an electric vehicle will run out of charge before they can recharge it – as a key reason they've waited to go electric. The White House says the funding will be focused on deploying chargers along highways, within communities and in places that are "rural, disadvantaged and hard-to-reach."
Other spending
The infrastructure deal also seeks to speed up development of smart grids, advanced transmission and "next-generation technologies," although it's not immediately clear exactly how much funding will be dedicated to those priorities or how it will be spent.
Notably, the White House singled out several technologies that would be prioritized that are generally considered "clean," but not "renewable." That means they produce less or no greenhouse gas emissions, but still use up a fuel that doesn't exist in endless amounts, like the sun and wind.
Among them: Advanced nuclear reactors, as well as carbon capture, an emerging but expensive technology that seeks to capture carbon dioxide emissions from burning coal or natural gas and store it before it can enter the atmosphere. The administration also said the deal includes "clean hydrogen," in which renewable electricity is used to create hydrogen gas that can then be burned with almost no emissions.
White House touts broadband part of new infrastructure deal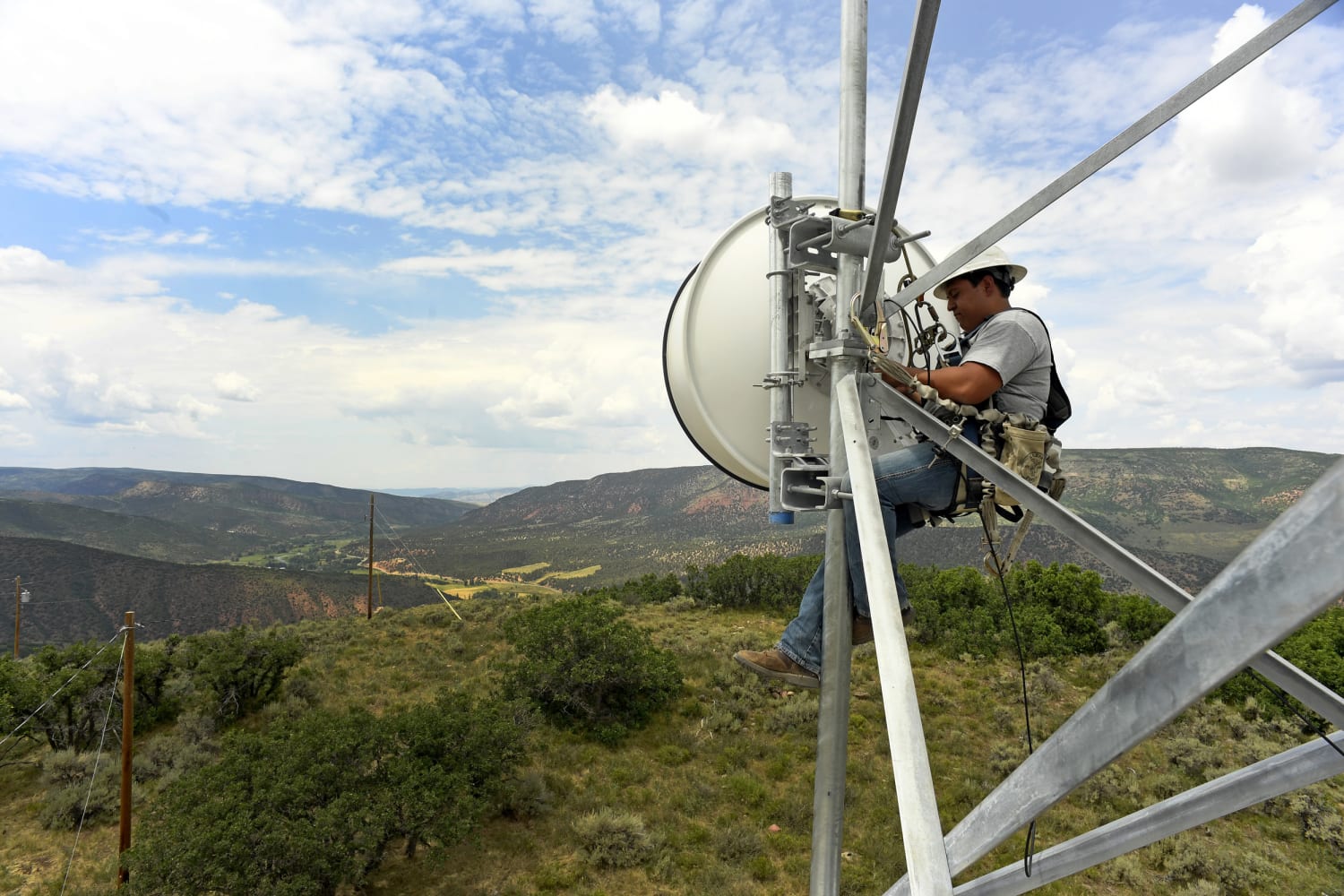 The White House announced Wednesday that its "once-in-a-generation investment in our infrastructure" would include a part dedicated to improving Americans' access to the internet.
Later, the Senate passed a critical test vote by 67-32, suggesting possible passage of the entire infrastructure bill in the coming days.
"This bipartisan deal is the most important investment in public transit in American history and the most important investment in rail since the creation of Amtrak 50 years ago," President Joe Biden said in a statement Wednesday afternoon. "It will deliver high speed internet to every American."
Neither precise details of the broadband section nor the text of the whole bill has been released yet. The White House said in a related statement that a $65 billion investment for broadband, out of $550 billion in new spending, would ensure that "every American has access to reliable high-speed internet," comparing it to the electrification of the country a century ago.
The National Telecommunications and Information Administration, part of the Commerce Department, published a comprehensive interactive online map last month. The document shows how poorer, more rural and tribal areas generally don't have affordable broadband access.
The Federal Communications Commission defines broadband as a download speed of 25 megabits per second and an upload speed of 3 Mbps. While 25 Mbps is generally sufficient for most uses, when such a connection is shared via a wireless connection and transmitted to multiple people using different devices, real-world speeds — particularly when videoconferencing is involved — are often slower and insufficient.
A draft copy of the 68-page broadband section of the infrastructure bill obtained by NBC News would establish a de facto minimum standard of 100 Mbps down and 20 Mbps up, and it would require that internet service providers have an eye toward even higher speeds, most likely through fiber optic service. In addition, it would require the federal government to establish a single website where consumers could determine whether they are eligible for low-cost broadband.
"The main takeaway for me is that it's oriented around future-proofing infrastructure, and that's a good thing," said Ernesto Falcon, a lawyer with the Electronic Frontier Foundation in San Francisco.
Vinhcent Le, a technology equity lawyer with the Greenlining Institute, an advocacy organization in Oakland, California, was part of a coalition of pro-consumer groups that lobbied the bipartisan working group in recent months.
"It doesn't rock the boat too much, but it does give things that advocates have been asking for: better mapping data and digital inclusion money, helping pay down the cost of broadband," he said. "It's going to help people get signed up."
Most major ISPs have low-cost programs, but critics have said that they aren't always widely known and that the speed floor has historically been too low.
In February, Comcast doubled the speed of its low-cost program, known as Internet Essentials, from 25 Mbps to 50 Mbps. Comcast, the country's largest internet service provider, owns NBCUniversal, the parent company of NBC News.
"We've always offered the same super fast speeds across an entire city when we build out and offer gig speeds across nearly our entire footprint of 55 million plus homes," Sena Fitzmaurice, a Comcast spokesperson, said by email. Fitzmaurice declined to comment on the White House announcement until legislative language has been released.
"We've been part of a coalition which has called for a permanent broadband program to help low-income households, and have been participating in the emergency program including allowing customers to use it to access any tier of broadband service," she said.
The White House is also pushing to pass the Digital Equity Act, a bill to create "a permanent program to help more low-income households access the internet."
NCTA, the lobbying organization for telecommunications companies, said it was generally in favor of the deal.
"Connecting every American to robust and reliable broadband infrastructure is a goal we share and our industry has spent decades building and upgrading networks that now reach 80% of U.S. homes with superfast gigabit speeds," Brian Dietz, a spokesperson for NCTA, said by email.
"While we still need to see the details of the bill, we are encouraged that the bipartisan infrastructure deal directly addresses two critical elements of reaching universal connectivity — dedicating funding first and foremost to those regions without any broadband service, and providing financial assistance to help low-income Americans subscribe to this critical service," Dietz said.