Trump honors heroes with Public Safety Officer Medals of Valor
President Trump on Tuesday presented the Public Safety Officer Medal of Valor to 12 "great heroes" who have risked "their lives to protect America's citizens and communities."
The award is the highest national honor a public safety officer — firefighters, law enforcement or emergency services officers — can receive, according to the U.S. Department of Justice.
Trump said the 12 officers awarded the honor on Tuesday have "earned an eternal place in the gratitude of our history and in our hearts."
Officers who went "above and beyond the call of duty" in various emergency situations to protect human life received the honors Tuesday from the president, including those who jumped into action during a terror attack more than two years ago.
Fourteen people were killed and 22 others injured in December 2015 when a husband and wife went on a deadly shooting rampage in San Bernadino, California.
Six public safety officers who responded to the terror attack were awarded a Medal of Valor.
Cpl. Rafael Ixco, San Bernadino Sheriff's Department
Det. Bruce Southworth, San Bernadino Sheriff's Department
Deputy Shaun Wallen, San Bernadino Sheriff's Department
Det. Brian Olvera, San Bernadino Police Department
District Attorney Investigator Chad Johnson, San Bernadino County District Attorney's Office
Officer Nicholas Koahou, Redlands Police Department
In February 2016, two officers, as Trump described, "braved smoke, fire, and the danger of explosion," 
when they responded to a fiery car wreck
in Tennessee, rescuing one man who was trapped inside his vehicle.
Lt. William Buchanan, Avery County Sheriff's Office in North Carolina
EMT Sean Ochsenbein, Putnam County Rescue Squad in Tennessee
Firefighter/Harbor Patrol Officer David Poirier, Jr., Redondo Beach Fire Departmet
A police chief in Kansas was awarded for his response to an active shooter alert in February 2016. During the shooting at a workplace with more than 150 employees on duty, the public safety officer 
rushed to the rescue
 without any backup. 
Chief Douglas Schroeder, Hesston Police Department
Engineer Steven Gunn, Peoria Fire-Medical Department
Patrolman Andrew Hopfensperger, Jr., Antigo Police Department 
Fox News' John Roberts contributed to this report.
Man ordered to pay mother £75m after assisting 'schemes' by billionaire father to hide divorce money | UK News
A man has been ordered to pay £75m to his divorced mother after helping his father hide money and assets from her, a court has ruled.
Temur Akhmedov, 27, worked as his fathers "lieutenant" against Tatiana Akhmedova, 48, according to a High Court ruling.
In 2016, Ms Akhmedova was awarded a 41.5% share of 65-year-old Farkhad Akhmedov's £1bn-plus fortune.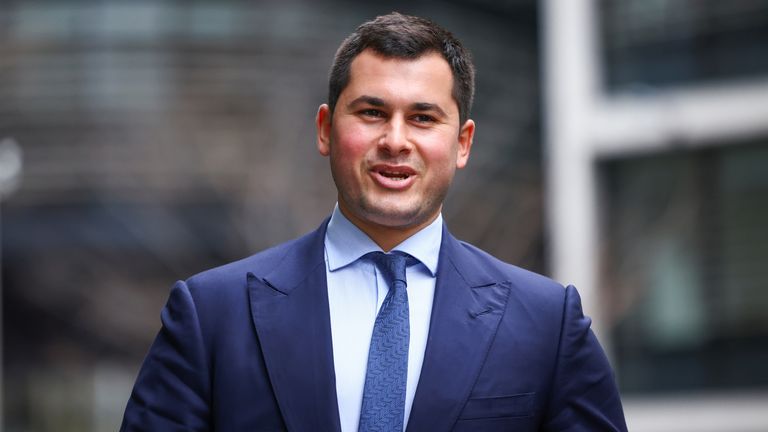 This amounts to about £453m, and is thought to be the biggest award of its type.
However, judges have heard that so far only about £5m has been received by Ms Akhmedova – and her Russian businessman ex-husband has not "voluntarily" paid a penny.
Ms Akhmedova is pursuing her former spouse in courts in multiple countries as she says he is hiding money from her, using their son to help him.
The court heard the billionaire had moved the ownership of his £340m superyacht Luna into a trust in Lichtenstein.
Mrs Justice Gwynneth Knowles made the ruling against the couple's son at the Family Division of the High Court in London, saying vast sums of money had been sent to him.
She said: "The wife has been the victim of a series of schemes designed to put every penny of the husband's wealth beyond her reach.
"Their eldest son, Temur, confirmed in his oral evidence that the husband would rather have seen the money burnt than for the wife to receive a penny of it.
"Regrettably, those schemes were carried out with Temur's knowledge and active assistance.
"I reject his case that he was a mere go-between for his father: the evidence indicated otherwise.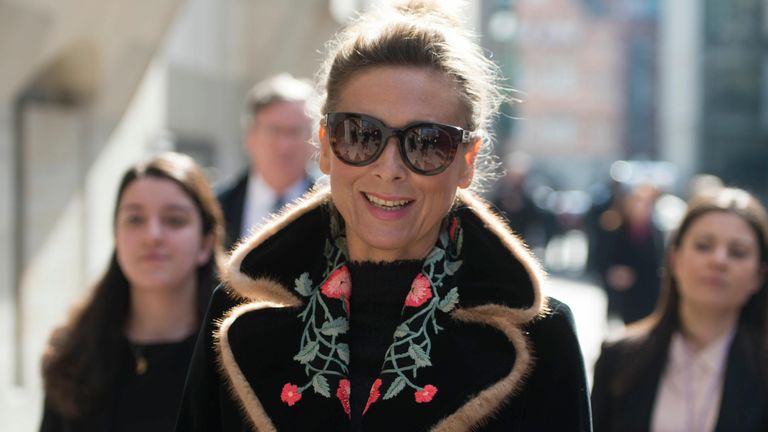 "Temur told me in his evidence that he had helped his father protect his assets from his mother's claims.
"He was, indeed, his father's lieutenant.
"Temur has learned well from his father's past conduct and has done and said all he could to prevent his mother receiving a penny of the matrimonial assets.
"He lied to this court on numerous occasions, breached court orders, and failed to provide full disclosure of his assets.
"I find that he is a dishonest individual who will do anything to assist his father, no doubt because he is utterly dependent on his father for financial support."
The younger Akhmedov's spokesman said: "Like millions of young people, Temur has been caught up in the break-up of his parents' marriage. He never sought to take sides or get involved but inevitably found himself sucked into the vortex of a bitter family dispute.
"His subsequent actions were only ever motivated by his desire to end the war between his parents.
"While he fundamentally disagrees with this judgment, he would consider it a price worth paying for should it lead to a reasonable settlement between the parents he loves."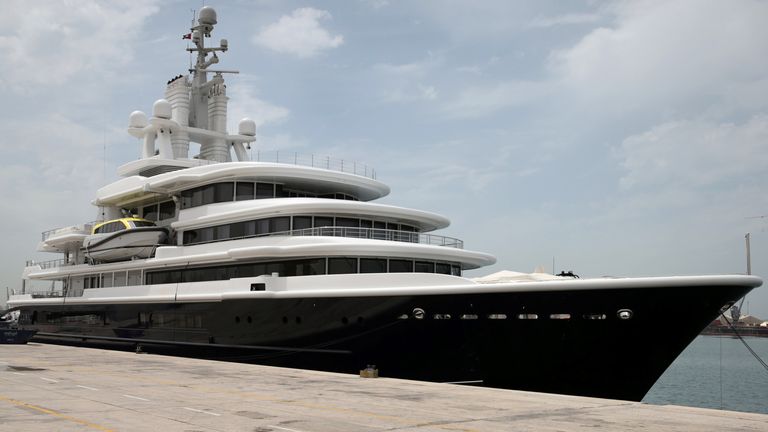 Ms Akhmedova said in a statement: "Today's judgment is the inevitable conclusion given Farkhad's failure to behave honourably in the first instance."
And her ex-husband Farkhad Akhmedov said: "Entirely predictably, given its original wrong and misguided judgment, the London court has ruled in favour of visiting 'the sins' of the father on an innocent and loyal son."
Number 10 rejects Juventus chair's claim Boris Johnson saw European Super League as 'attack to Brexit' | Politics News
The chairman of Italian football giants Juventus – one of the clubs who attempted a breakaway European Super League – has suggested Boris Johnson was so opposed to the plan because it was viewed as "an attack to Brexit".
Andrea Agnelli, one of the chief architects of the closed-shop competition for elite clubs, on Wednesday admitted the idea of a European Super League could no longer proceed.
It follows the decision by six English clubs – Arsenal, Chelsea, Liverpool, Manchester City, Manchester United and Tottenham Hotspur – to withdraw from the plan.
Spanish side Atletico Madrid and Italian rivals AC Milan and Inter Milan have also abandoned the scheme.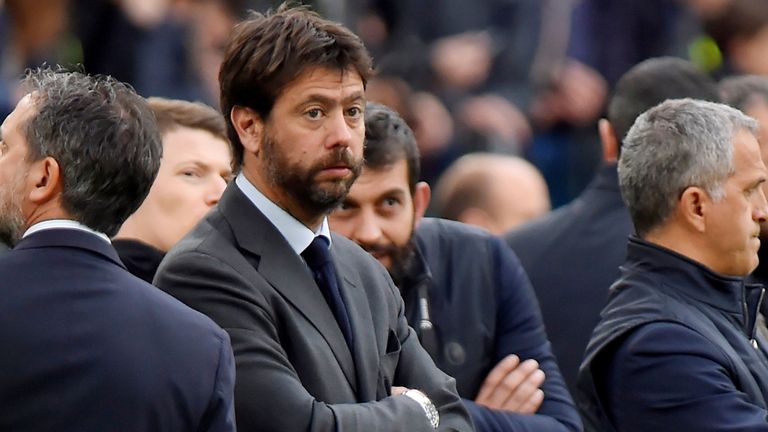 The project turned into a humiliating spectacle for the clubs involved, with their plans collapsing within 48 hours of them first being announced amid a furious backlash from fans and politicians across Europe.
Mr Johnson had vowed to explore "every possibility" to stop the "very damaging" European Super League, as he mulled what new or existing laws could be used to put a halt to the plans.
And Mr Agnelli suggested the UK government's intervention had pushed the six English clubs to withdraw.
"I have had speculation to that extent that if six teams would have broken away and would have threatened the EPL (Premier League), politics would have seen that as an attack to Brexit and their political scheme," he told Reuters.
Super League 'not up and running', says founder

However, Mr Agnelli added he remained "convinced of the beauty of that project", despite the likelihood it would no longer proceed.
Asked about the Juventus chairman's comments, Downing Street dismissed the suggestion that Mr Johnson's opposition to the European Super League was linked to Brexit.
The prime minister's official spokesman said: "I would reject that.
"The prime minister was very clear on why it was right for the government to step in and take action that contributed to these clubs stepping back from this proposal, which was the importance of football at the heart of communities up and down the country."
Speaking in the House of Commons earlier on Wednesday, Mr Johnson had told MPs that "one of the most worrying features about the European Super League proposals is that they would have taken clubs that take their names from great, famous British towns and cities, English towns and cities".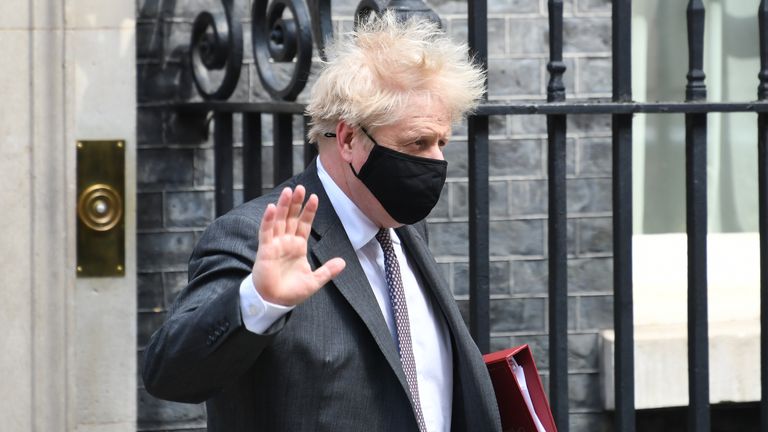 He added the new competition would have turned English clubs "just into global brands with no relation to the fans, to the communities that gave them life and that give them the most love and support".
He promised that a "root and branch investigation into the governance of football" – to be conducted by former sports minister Tracey Crouch – would look at "what we can do to promote the role of fans in that governance".
Conservative MP Saqib Bhatti has asked Mr Johnson to ensure that "football clubs must put fans at the heart of their decision-making".
Multi-millionaire, 90, conned out of £23m by phone scammers in Hong Kong | World News

A 90-year-old multi-millionaire has been conned out of £23m after falling prey to a phone scammer.
The conman allegedly told the woman, from Hong Kong, that her identity had been used in a serious criminal case in mainland China and that she should transfer her money to a new bank account so officials could investigate.
According to the South China Morning Post, she is the biggest known victim of a phone scam in Hong Kong history.
Police arrested a 19-year-old university student late last month in connection with the crime and officers froze bank accounts containing HK$9 million (£830,000), but the rest remains missing.
According to the Central District Crime Squad, the woman received a call from a man claiming to be a mainland law enforcement official in July last year.
He told her once she had transferred her money and the investigation had been completed, she would get it all back.
So rife are phone and internet scams in Hong Kong that in 2017 a dedicated unit, the Anti-Deception Co-ordination Centre, was established in order to to pool police resources for tackling the crimes.
The South China Morning Post said reports of phone scams alone had risen by 18% to 200 in the quarter of 2021 with fraudsters pocketing more than HK$350 million (£32m) so far this year.