Trump endorses recent GOP foe Mitt Romney for Utah Senate
President Trump gave his full backing to 2012 Republican presidential nominee Mitt Romney on Monday, saying Romney's bid for a Senate seat from Utah "has my full support and endorsement!"
The president's tweet suggested he may have buried the hatchet, at least temporarily, with the GOP foe who called Trump a "phony" and a "fraud" in 2016. Trump wrote Monday evening that Romney "will make a great Senator and worthy successor" to the retiring Orrin Hatch.
In response, Romney tweeted, "Thank you Mr. President for the support. I hope that over the course of the campaign I also earn the support and endorsement of the people of Utah."
Romney, who served as Massachusetts governor from 2003 to 2007, announced his Senate run on Friday. The 70-year-old is a heavy favorite to hold the seat for the Republicans.
Trump's endorsement of Romney marked another twist in the complex relationship between the two men. Romney was a vocal critic of Trump during the 2016 presidential campaign, labeling the businessman "a phony [and] a fraud [whose] promises are as worthless as a degree from Trump University."
In response, Trump tweeted reminders that Romney had sought his endorsement during Romney's failed run for the presidency four years earlier. In June of that year, Trump tweeted that Romney had "choked like a dog" in losing to former President Barack Obama.
After Trump's victory, Romney was rumored to be a contender to be secretary of state. In an unusually public interview process, Romney was seen dining with Trump in New York City and visiting the president-elect at his golf club in suburban New Jersey. Ultimately, Trump tapped Rex Tillerson for the post of America's top diplomat.
Since then, Romney has repeatedly criticized the Trump administration, particularly after Trump's response to the actions of white supremacists in Charlottesville, Va., last summer. Among the president's comments: "Especially in light of the advent of Antifa, if you look at what's going on there, you know, you have some pretty bad dudes on the other side also."
Romney also broke with the White House over Trump's endorsement of Alabama Senate candidate Roy Moore amid accusations of sexual misconduct against him. In the run-up to the December special election, Romney stated that Moore's election "would be a stain on the GOP and on the nation."
The Associated Press contributed to this report.
Belarus protests: Alexander Lukashenko in Russia for talks with Vladimir Putin following mass demonstrations | World News
Belarus' embattled president Alexander Lukashenko has landed in Russia for face-to-face talks with Vladimir Putin.
The meeting is the first between the two leaders since protests broke out in the Eastern European country over the controversial re-election of Mr Lukashenko for a sixth term last month.
Mr Putin has publicly supported the 66-year-old – dubbed "Europe's last dictator" – as the country's leader, despite claims Belarus' election on 9 August was rigged.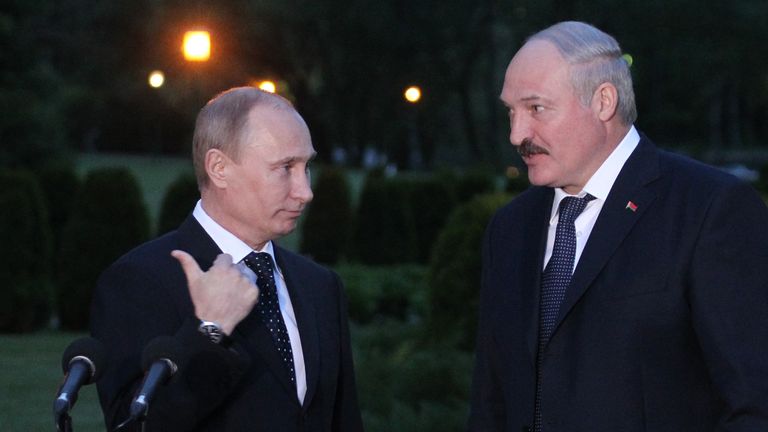 Mr Lukashenko is visiting Russia in a bid to secure more loans and political support as demonstrations against the extension of his 26-year rule enter a sixth week.
The talks will be held in the Black Sea resort of Sochi – a day after an estimated 150,000 people flooded the streets of the Belarusian capital, Minsk, demanding his resignation.
Belarus' interior ministry said 774 people were arrested in Minsk and other cities around the country for holding unsanctioned rallies on Sunday.
Moscow has promised to send military forces to intervene if the protests escalate.
Mr Lukashenko has dismissed protesters as Western puppets, and rejected demands from the US and the EU to conduct a dialogue with the opposition.
In a bid to win Moscow's support, Mr Lukashenko – who insists he won 80% of the election vote fairly – has tried to cast the protests as an effort by the West to isolate Russia.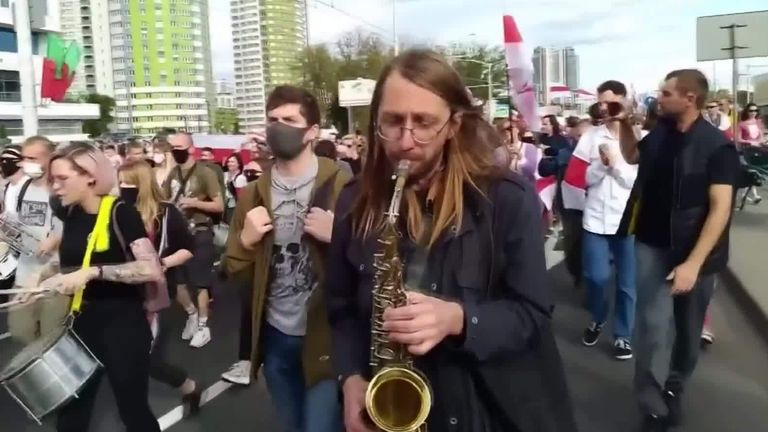 Mr Putin sees neighbouring Belarus as a key bulwark against NATO and a major conduit for energy exports to Europe.
Russia and Belarus have a union treaty envisaging close political, economic and military ties, but they have often engaged in acrimonious disputes.
Before the election, Mr Lukashenko repeatedly accused the Kremlin of pressing Belarus to abandon its independence.
But with the US and the EU criticising the election as neither free nor fair, and readying a package of sanctions, Mr Lukashenko now has to rely squarely on Russia's support.
The Kremlin is thought to fear the prospect of the protests forcing the resignation of Mr Lukashenko, fearing it could embolden Mr Putin's critics at home.
:: Subscribe to the Daily podcast on Apple Podcasts, Google Podcasts, Spotify, Spreaker
Several of Belarus's outspoken activists have been arrested or forcibly removed from the country.
Last week, opposition leader Maria Kolesnikova said she was forced into a van by masked men in Minsk and driven more than 200 miles to the Ukranian border.
The 38-year-old is in jail in the capital on a charge of undermining national security.
Moscow has also signalled it is ready to discuss the restructuring of Belarus' £772.6 million debt to Russia, a key issue in today's talks between the leaders.
Trump's UAE – Israel deal has shifted Middle East politics, but the core conflict remains | World News
At the White House today, Donald Trump is trying to get as close as he can to emulating a moment that happened 27 years this week.
On 13 September 1993 President Bill Clinton brought together two foes. On the White House lawn, Israeli Prime Minister Yitzhak Rabin and Yasser Arafat, the chairman of the Palestinian Liberation Organisation, shook hands.
It was seen, at the time, as an irreversible moment in peacemaking; the first face-to-face meeting between the Israelis and the Palestinians and an agreement on a framework that would lead to the resolution of the conflict between Israel and the Palestinians.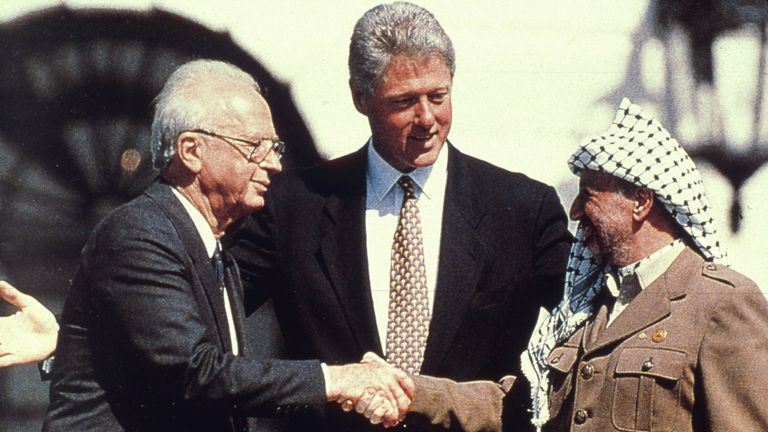 It didn't work. Years of renewed bloodshed followed which have morphed into low-intensity conflict, a dire equality imbalance and a political stalemate that endures to this day.
The Palestinians continue their struggle for a nation state – a largely peaceful struggle in the West Bank, less so in Gaza. The Israelis manage a status quo which, some argue, suits them just fine.
Enter Donald Trump. With no prospect of getting the Israelis and the Palestinians to repeat that historic handshake, but eager to be seen as the ultimate deal maker, he has pulled off a different feat. It's not one to be dismissed.
With his son-in-law Jared Kushner as the broker, he has persuaded two Gulf Arab countries to recognise the Jewish State of Israel.
Context is vital here. Until last month, only two Arab countries recognised Israel. Egypt signed a deal in 1979 and Jordan signed one in 1994.
However, the Arab Peace Initiative of 2002 was explicit that no other Arab countries would recognise Israel unless it withdrew fully from the Occupied Palestinian Territories (Gaza and the West Bank) and allowed the establishment of a Palestinian State with East Jerusalem as its capital.
That initiative held until last month when the United Arab Emirates agreed a normalisation deal with Israel.
In return, the Israeli Prime Minister, Benjamin Netanyahu promised to put on hold his plan to annex parts of the West Bank.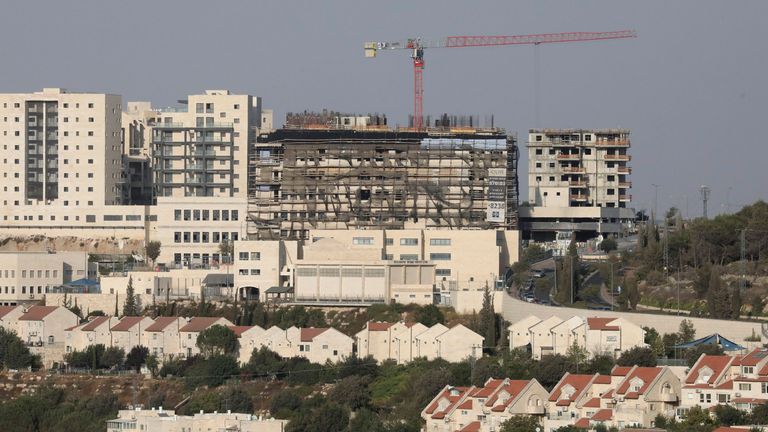 So, rather than demanding Israel reverse a fact on the ground in exchange for diplomatic ties, the UAE flipped the offer -if you don't follow through on annexation, we'll recognise you.
Bahrain then followed and other Arab countries may do too. It represents a paradigm shift in the geopolitics of the region and it strengthens the alliance against Iran – a common enemy for Israel and many gulf Arab nations.
The prospects for trade and tourism are huge. There'll be flights between the countries; embassies and ambassadors too.
It is a coup for President Trump. His administration has overseen a process in which the regional dial has moved. That is much more than his predecessor, Barack Obama, can claim.
He has brought Israeli-Arab hands together this week and it makes the perfect re-election image. Donald Trump the deal maker.
But peacemaker? What about the issue at the core of all this? The one that was supposed to be solved with that handshake in 1993?
Well, for the political protégés of Yasser Arafat, the deals amount to a deep betrayal by their Arab brethren. It represents the biggest crisis in the history of the Palestinian Authority.
The Palestinians have been left out. The Americans and the Israelis openly say they are fed up with waiting for the Palestinians to accept their vision for peace – one in which Israel does not need to withdraw from the West Bank and one in which the Palestinians don't get their own capital in East Jerusalem.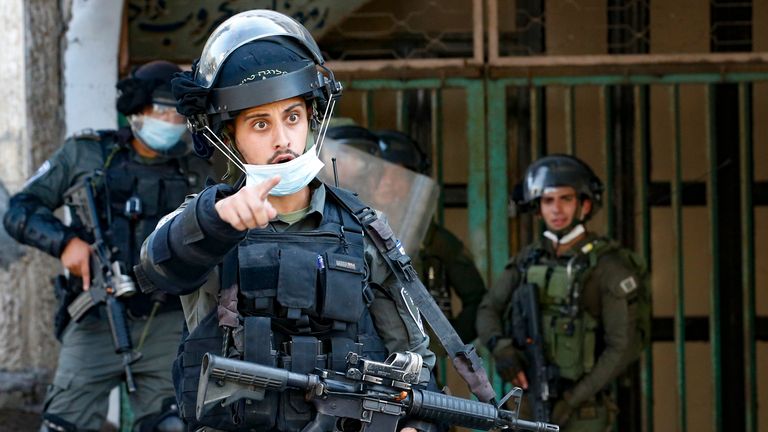 A drive though the West Bank, and it's extremely hard to see how, at the moment at least, an Israeli-Gulf accord does anything to bring resolution to the Palestinian issue.
Look at it through the hardened eyes of those living there – both Palestinians and Israeli Jewish settlers.
Khairi Hannoun is in his sixties. I met him a day after he was wrestled to the ground by an Israeli soldier.
With a flag and a walking stick, but nothing more, he had been protesting the continued expansion of illegal Israeli settlements into the West Bank.
He refused to move on and faced the consequences.
"They don't want to keep a single [Palestinian] citizen in this land," he told me when we met.
"The Israeli occupation differs from any other occupation worldwide. It is an occupation of substitution. This means they want to take over where you are and kick you out of this land. They don't have solutions. If they tell you they have a solution, they are lying."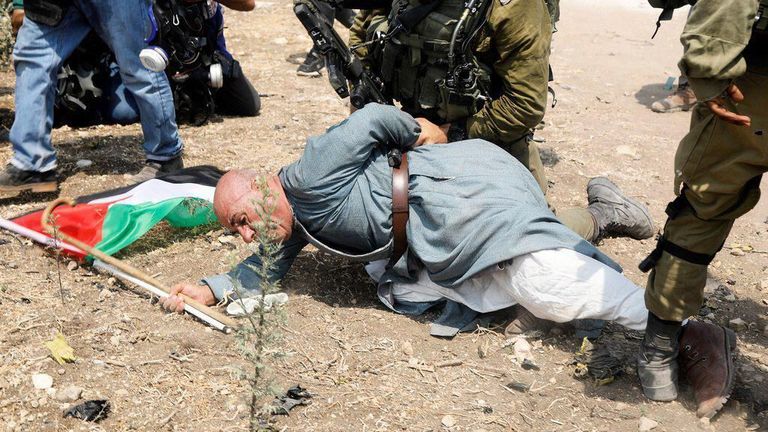 When I told the Israeli military I was interviewing Mr Hannoun they said they would send me a statement.
"Khairi Hannoun is known as an inciter. He has been a regular and reoccurring provocateur in the Judea and Samaria region [the Israeli name for the West Bank], regularly attacking soldiers and using violence against IDF troops, and has been incarcerated in Israeli prison over the years on at least seven occasions due to violence against IDF troops. Since 1979, he was incarcerated for a number of years in Israeli prison."
The Israeli security forces control over 60% of the West Bank and three quarters of a million Israeli Jewish settlers live in the area.
That is more than triple the number who were in the West Bank in 1993 when that White House handshake promised a peace which never came.
At a bus stop for the exclusive use of Israelis settlers, not Palestinians, I met Rachel Gordon, from London originally.
"When we moved here about 20 years ago, that Arab town was very very small and it's grown exponentially." she said, pointing to a nearby Palestinian town.
"But do you not see that you are being a bit hypocritical in the sense that you're saying the Arab town has grown, but your town wasn't here at all?" I asked, referring to the Israeli settlement she lives in.
"As far as I am concerned, it's Israeli territory and the whole of Israel belongs to the Jewish people," she said.
For decades the Palestinian quest has been their own state – with East Jerusalem as their capital and with Jewish settlers moving back out of the West Bank.
But is that still achievable? Or should Israel's deal with Gulf Arabs prompt a new Palestinian strategy?
"I think what we have to do as Palestinians is recognise that there is an apartheid one state reality. Accept that as a starting point but not accept that as our future," Dr Yara Hawari, a policy analyst at Al Shabaka, the Palestinian Policy Network told me.
"[The deal with the Gulf Arabs] really stresses the need for a recalibration of the Palestinian struggle… that we can't rely on people that we thought were allies, that we have to sort of seek out allyship, friendship, interconnectedness with other struggles, other peoples around the world."
There are hints of that with parallels drawn between injustices here and elsewhere. 'Palestinian Lives Matter' is a slogan you hear more and more.
Donald Trump's deal should not be dismissed. It represents a characteristic coach and horses through convention. It's changing the relationship between Israeli Jews and (some) Arabs and it has focused minds among Palestinians.
And so, one day we may be able to draw a line from this moment to peace in the Holy Land. But I can't quite see its outline yet.
Australia: Humpback whales spotted in crocodile-infested East Alligator River | World News
There are concerns for the safety of a number of humpback whales that have made a "wrong turn" and strayed into a crocodile-infested river in Australia.
At least three whales have been spotted in the East Alligator River in the Northern Territory's Kakadu National Park, around 12 miles (20km) from the river's mouth in the Timor Sea.
It is believed three whales initially entered the river and that one has remained, although it is not clear if the others have actually left or are merely staying underwater.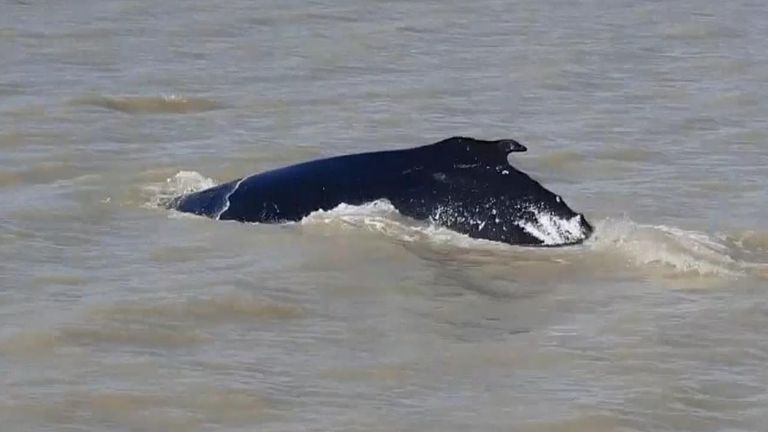 The unprecedented sighting has stunned locals and authorities, with scientists suggesting the whales may have just made a "wrong turn" while on their annual migration to Antarctica.
There have been no previous recorded sightings of whales in East Alligator River in the World Heritage-listed park.
Nor is it obvious what made the creatures, used to life in clear seas, venture so deep inland in a river with little visibility.
Marine ecologist Jason Fowler said he spotted three whales on 2 September while he was sailing with friends.
Mr Fowler said: "We happened to bump into some great big whales which completely blew me away.
"The water's incredibly murky. It's got zero visibility. So you can only see the whales when they're right on the surface."
He estimated there were two adults and a younger whale, that were around 10 metres (33ft) to 12 metres (39ft) long.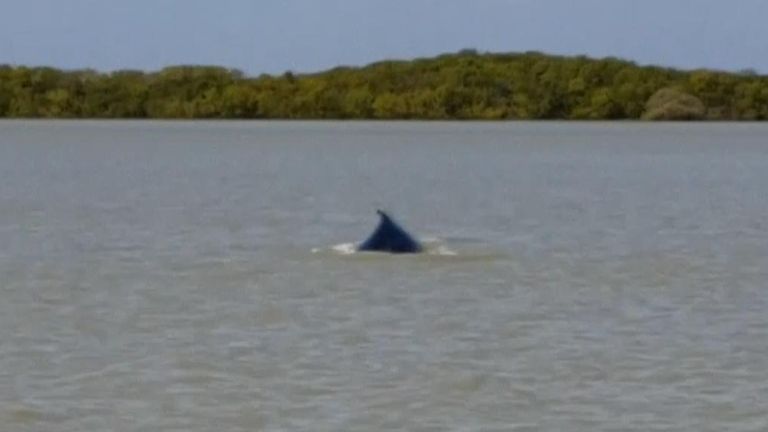 Their size makes it unlikely any crocodiles would try to attack them.
"The west Australian humpback whale population has absolutely exploded. It's the great conservation success story in the ocean," Mr Fowler added.
"There are so many humpbacks heading up the WA (Western Australia state) coast now, they're bound to end up in new places. What's incredibly weird is the fact that they're up a muddy, shallow river full of crocodiles – that's unheard of," he went on.
Despite the river's name, there are no alligators in Australia. It was named after its many crocodiles by European explorers who apparently could not tell the difference.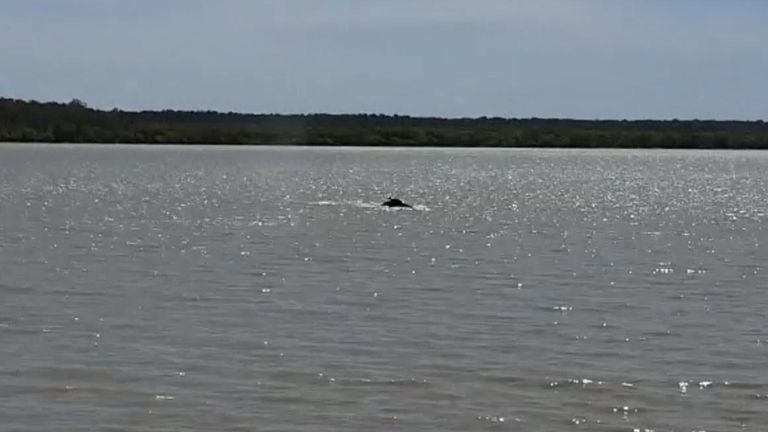 Whale and dolphin scientist Carol Palmer said there was at least one whale still in the river at the weekend.
"We don't know what's happened, but it's obviously made a wrong turn and ended up in the East Alligator River," Ms Palmer said.
"It's very tidal. It's quite shallow and we're all pretty keen to try to get this guy out," she added.
Options to persuade the whale to leave the river included using recorded whale calls or creating noise by banging the side of boats.
Mr Fowler said: "We spoke to the Aboriginal elders who speak for that bit of country in Kakadu and they said there's no name for whales. It's not recorded in their cultural history. They've never heard of this before."
A number of whales have found their way into the Thames River in London, including two last year.