Trump endorses recent GOP foe Mitt Romney for Utah Senate
President Trump gave his full backing to 2012 Republican presidential nominee Mitt Romney on Monday, saying Romney's bid for a Senate seat from Utah "has my full support and endorsement!"
The president's tweet suggested he may have buried the hatchet, at least temporarily, with the GOP foe who called Trump a "phony" and a "fraud" in 2016. Trump wrote Monday evening that Romney "will make a great Senator and worthy successor" to the retiring Orrin Hatch.
In response, Romney tweeted, "Thank you Mr. President for the support. I hope that over the course of the campaign I also earn the support and endorsement of the people of Utah."
Romney, who served as Massachusetts governor from 2003 to 2007, announced his Senate run on Friday. The 70-year-old is a heavy favorite to hold the seat for the Republicans.
Trump's endorsement of Romney marked another twist in the complex relationship between the two men. Romney was a vocal critic of Trump during the 2016 presidential campaign, labeling the businessman "a phony [and] a fraud [whose] promises are as worthless as a degree from Trump University."
In response, Trump tweeted reminders that Romney had sought his endorsement during Romney's failed run for the presidency four years earlier. In June of that year, Trump tweeted that Romney had "choked like a dog" in losing to former President Barack Obama.
After Trump's victory, Romney was rumored to be a contender to be secretary of state. In an unusually public interview process, Romney was seen dining with Trump in New York City and visiting the president-elect at his golf club in suburban New Jersey. Ultimately, Trump tapped Rex Tillerson for the post of America's top diplomat.
Since then, Romney has repeatedly criticized the Trump administration, particularly after Trump's response to the actions of white supremacists in Charlottesville, Va., last summer. Among the president's comments: "Especially in light of the advent of Antifa, if you look at what's going on there, you know, you have some pretty bad dudes on the other side also."
Romney also broke with the White House over Trump's endorsement of Alabama Senate candidate Roy Moore amid accusations of sexual misconduct against him. In the run-up to the December special election, Romney stated that Moore's election "would be a stain on the GOP and on the nation."
The Associated Press contributed to this report.
Several high-profile websites including HSBC, Airbnb and British Airways hit by outages | Science & Tech News

The websites of several high-profile companies including HSBC, Airbnb and British Airways appear to have been hit by outages.
A message on the BA website read: "Service Unavailable – DNS failure. The server is temporarily unable to service your request. Please try again later."
And a message on Airbnb's site said: "This site can't be reached."
HSBC's website had a similar message.
It is not known what has caused the issues.
And there are reports other airlines and major companies are also affected, as well as the 911 service on the east coast of the US.
UK sanctions Equatorial Guinea leader's son who bought Michael Jackson's $275,000 crystal-studded glove | World News
The UK government has sanctioned the son of Equatorial Guinea's president for misappropriating millions and spending it on luxury mansions, private jets and a $275,000 (£199,600) crystal-encrusted glove worn by Michael Jackson.
Teodoro Obiang Mangue, the son and vice president of Teodoro Obiang Nguema Mbasogo, participated in "corrupt contracting arrangements and solicit[ed] bribes, to fund a lavish lifestyle inconsistent with his official salary as a government minister", the Foreign Office said.
Foreign Secretary Dominic Raab announced new UK sanctions against Obiang and four other individuals involved in "serious corruption" in Zimbabwe, Venezuela, Iraq and Equatorial Guinea.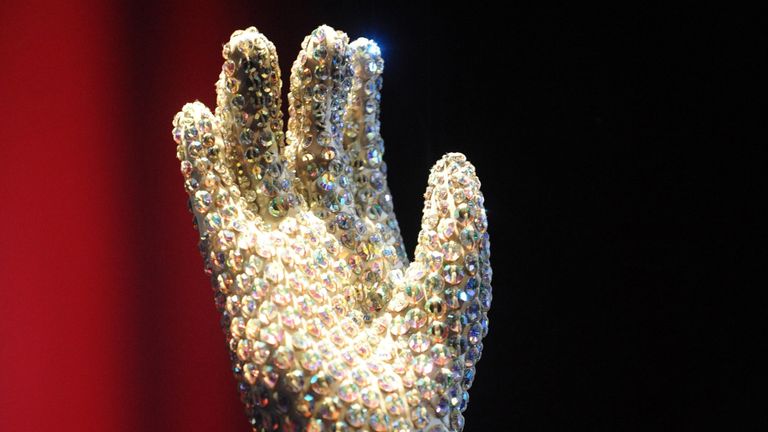 Obiang bought a $100m (£72m) mansion in Paris, a $38m (£28m) private jet, dozens of luxury vehicles – among them Ferraris, Bentleys and Astons Martins – as well as a "collection" of Jackson memorabilia, including a crystal-studded glove worn by the late singer during his 1980s Bad tour.
In 2013, the US government became embroiled in a legal battle to prevent the glitzy handwear from falling into Obiang's hands, claiming it was bought with "dirty money".
The UK will impose asset freezes and travel bans against the five individuals to ensure they are no longer able to channel their money through UK banks or enter the country.
Mr Raab said: "The action we have taken today targets individuals who have lined their own pockets at the expense of their citizens.
"The UK is committed to fighting the blight of corruption and holding those responsible for its corrosive effect to account.
"Corruption drains the wealth of poorer nations, keeps their people trapped in poverty and poisons the well of democracy."
The UK 🇬🇧 has today sanctioned five more corrupt individuals under our Global Anti-Corruption sanctions regime.

We will do all we can to fight the blight of corruption and pursue those that line their pockets at the expense of developing nations. https://t.co/hn8YQwjfFr

— Dominic Raab (@DominicRaab) July 22, 2021
According to UNICEF, a third of Equatorial Guinea's population does not have access to basic sanitation, and the World Bank estimates more than 76% of the population live in poverty. Meanwhile, investigations show that Obiang has spent over $500m since he was appointed government minister in 1998.
His father has ruled Equatorial Guinea since taking power in a coup in 1979, 11 years after independence from Spain.
Kudakwashe Regimond Tagwirei from Zimbabwe, Alex Nain Saab Moran and Alvaro Enrique Pulido Vargas from Venezuela, and Nawfal Hammadi Al-Sultan from Iraq will also face the same restrictions.
The measures follow the first tranche of UK sanctions which, in April, targeted 22 individuals involved in serious corruption cases in Russia, South Africa, South Sudan and Latin America.
Northern Ireland Protocol: 'We will not renegotiate,' Ursula von der Leyen tells Boris Johnson after UK demands changes to key part of Brexit deal | Politics News
The president of the European Commission has told Boris Johnson that the bloc "will not renegotiate" a key component of the Brexit deal the two sides negotiated.
Ursula von der Leyen and Boris Johnson spoke on the telephone on Thursday, a day after the UK formally made its pitch to change the Northern Ireland Protocol.
The protocol is a key part of the Brexit deal struck between London and Brussels and is designed to avoid a hard border on the island of Ireland.
Brexit minister: NI trade needs 'overhaul'

As part of the arrangement, Northern Ireland remains under some EU rules and there are checks on goods entering Northern Ireland from Great Britain.
Some opponents of the protocol, including Northern Ireland's Democratic Unionist Party, want it scrapped altogether.
Others argue that the issues can be fixed without ditching the protocol.
Brexit minister Lord Frost said the UK and the EU "cannot go on as we are" and there needs to be a "new balance" to post-Brexit trading arrangements between Great Britain and Northern Ireland to ensure the smooth movement of goods.
He admitted that the burdens imposed by the mechanism "have been a source of considerable and ongoing disruption to lives and livelihoods".
However, Lord Frost stopped short of entirely ripping up the document or calling for the Article 16 provision – which enables either the UK or the EU to suspend part of the arrangements in extreme circumstances – to be triggered.
Lord Frost said "it is clear that the circumstances exist to justify the use of Article 16" but that "it is not the right moment to do so".
But on Thursday Ms von der Leyen told the prime minister that while the EU will be "creative and flexible" over the protocol "we will not renegotiate".
The European Commission president said Mr Johnson "called to present" the UK's proposals.
"The EU will continue to be creative and flexible within the Protocol framework. But we will not renegotiate," she wrote on Twitter.
"We must jointly ensure stability and predictability in Northern Ireland."
According to Downing Street, the PM "set out that the way the protocol was currently operating was unsustainable" during the pair's conversation.
"Solutions could not be found through the existing mechanisms of the protocol," a statement from Number 10 said.
"That was why we had set out proposals for significant changes to it.
"He urged the EU to look at those proposals seriously and work with the UK on them.
"There is a huge opportunity to find reasonable, practical solutions to the difficulties facing people and businesses in Northern Ireland, and thereby to put the relationship between the UK and the EU on a better footing."
Business Secretary Kwasi Kwarteng told Sky News earlier on Thursday that the protocol was never "something that was going to last forever".
Irish minister: 'We don't want to renegotiate the NI Protocol'

"A deal is a deal but it wasn't something that was going to last forever," he told Kay Burley.
"Nobody thought the Northern Ireland Protocol was going to define the role of Northern Ireland within the UK forevermore, it was something that was flexible.
"You'll remember two years ago people said we were never going to get a deal from the EU but we did so.
"When people say they're not going to look at the protocol again, I say 'well, let's just see'."
According to the government's command paper, its proposals for the protocol include:
• Returning to a normal treaty framework similar to all other international agreements
• Exploring "exceptional arrangements" around data sharing and cooperation
• Introducing penalties to deter people looking to move non-compliant products from Northern Ireland to Ireland
• Streamlining trade and avoiding controls at Northern Ireland ports and airports
• Agreeing a standstill period including the suspension of all legal action by the EU and the operation of grace periods to allow continued trade of goods such as chilled meats including sausages
• Ensuring that the relationship between the UK and the EU is not ultimately policed by EU institutions including the European Court of Justice