Russian bots sow social upheaval across US using Facebook, Twitter, experts say
Russian bots aren't pro-Republican or pro-Democrat: they're simply anti-American.
That's the conclusion many are reaching in the wake of the indictments recently handed out by Special Counsel Robert Mueller against 13 Russian nationals and three Russian entities who allegedly enacted a sophisticated plot to wage "information warfare" against the United States.
Marat Mindiyarov, a former commenter at the Internet Research Agency, says the organization's Facebook department hired people with excellent English skills to sway U.S. public opinion through an elaborate social media campaign.
His own experience at the agency makes him trust the U.S. indictment, Mindiyarov told The Associated Press. "I believe that that's how it was and that it was them," he said.
While much of the attention has focused on the 2016 U.S. presidential election and the role played in it by the Internet Research Agency, one of the defendants named in the indictment, Russian social media bots also have been detected inserting discord into the Parkland, Fla., shooting debate on social media. Russian bots have reportedly been taking both sides in the debate.
Hamilton 68, a website built by Alliance for Securing Democracy, has tracked Twitter activity from accounts that have purportedly been involved with Russian dissuasion campaigns, according to a Wired report. The accounts put themselves into hashtags surrounding the Parkland shooting and mentioned topics such as Parkland, gun control, shooter Nikolas Cruz, the NRA and other related topics.
FACEBOOK, GOOGLE, TWITTER OPEN UP TO CONGRESS ABOUT RUSSIAN MISINFORMATION
Other websites, such as Botcheck.me, have also seen an increase in Russian bot activity following the Parkland shooting, using phrases such as "school shooting" and "gun control" and hashtags such as #guncontrol and #guncontrolnow.
"We worked in a group of three where one played the part of a scoundrel, the other one was a hero, and the third one kept a neutral position."

– Marat Mindiyarov, a former commenter at the Internet Research Agency
In an email to Fox News, Ash Bhat, co-creator of Botcheck.me, said the project's analysis "found that a majority of tweets tagged with #mueller over the weekend [Fri. and Sat.] came from automated accounts." For comparison purposes, the site also tracked #blackpanther (a hashtag surrounding a superhero movie) and "we found that only a single digit percentage were from these automated accounts."
Bhat added that Botcheck.me uses machine learning to build a statistical model using inputs like date, frequency of tweets, bio, follower counts and other stats to determine whether the account is a bot or a person.
The site has found that bots will promote certain hashtags over others, including #memonday, which relates to the recently released Devin Nunes memo. "We theorize that this might be because it lets these networks frame the public debate around the events. For example, debating gun violence vs. debating mental illness," Bhat told Fox News.
He also noted that @realdonaldtrump, @potus and @foxnews (the main Twitter handle for this website) are among the most tweeted-at accounts. @Realdonaldtrump and @potus are "usually in the top 3," he said, while @foxnews moves around often in the top 10. Bhat added that CNN's Twitter account also "tends to be in the top 10." 
INTERNET RESEARCH AGENCY INDICTED: WHO IS THE RUSSIAN COMPANY BEHIND THE FAKE FACEBOOK ADS?
"The most important principle of the work is to have an account like a real person. They create real characters, choosing a gender, a name, a place of living and an occupation. Therefore, it's hard to tell that the account was made for the propaganda."

– -Lyudmila Savchuk, former troll and researcher at the Internet Research Agency
Bigger than the election and the fight against it
The Internet Research Agency has also allegedly purchased online advertisements and created content for other contentious topics beyond the 2016 U.S. presidential election.
It reportedly used doctored videos to spread false reports about a supposed Islamic State attack on a chemical plant in Louisiana and a purported case of Ebola in the state of Georgia. Seeking to sow division and mistrust ahead of the U.S. election, the agency apparently whipped up a fake video of an African-American woman being shot dead by a white police officer in Atlanta.
The two primary social media companies that have been subject to the influx of bot accounts and propaganda, Twitter and Facebook, are attempting to fight back, with varying degress of success.
In September, the Jack Dorsey-led Twitter gave an update on how it is attempting to stop bots and misinformation on its platform. It said that it had built systems to identify suspicious log-in attempts, catching about 450,000 suspicious logins per day, using machine learning and automated processes. Thanks to the processes put in place, it saw a 64 percent "year-over-year increase in suspicious logins we're able to detect," but noted significantly more work needs to be done.
Bhat said that it is "impossible to say whether an account is 'Russian' with the data publicly available," adding that Twitter has access to IP logs and other information that has not been released publicly and could be used to determine an account's origin.
Data has not yet been released on how many people have seen or interacted with Russian bot accounts stemming from the Parkland shooting, but recently released data highlight how massive the issue has become.
At least 1.4 million people on Twitter interacted with Russian propaganda during the 2016 presidential election –double the number initially identified, according to a company blog post.
Twitter also said it notified all 1.4 million affected users that they saw propaganda, making good on a pledge the company made to U.S. lawmakers who are probing Russia's social media tactics.
Approximately 150 million Facebook users saw inflammatory posts created by the Internet Research Agency, according to a report from Engadget.
In response, Facebook created a tool to let both Facebook and Instagram users know if they saw one of these posts from January 2015 to August 2017.
Additionally, Facebook told legislators that the Internet Research Agency attempted to organize 129 events such as rallies, protests and other events across the U.S.
Approximately 338,300 unique Facebook accounts viewed the events, 62,500 marked they were attending one of the events and 25,800 accounts marked they were interested, the company said.
In September 2017, Facebook announced that it had uncovered approximately $100,000 in fraudulent ad spending tied to the 2016 U.S. election. According to a source familiar with the social network's thinking, Facebook's research links its September findings back to the Internet Research Agency.
Facebook's Chief Security Officer Alex Stamos wrote in early September the company "found approximately $100,000 in ad spending from June of 2015 to May of 2017 — associated with roughly 3,000 ads — that was connected to about 470 inauthentic accounts and pages in violation of our policies. Our analysis suggests these accounts and pages were affiliated with one another and likely operated out of Russia."
Additionally, Facebook said it found approximately $50,000 in "potentially politically related ad spending," that was spent on approximately 2,200 ads.
The Internet Research Agency's potential involvement with the fraudulent Facebook ad spending was first reported in September 2017 by both The New York Times and The Washington Post.
In an unclassifed report in January 2017, the Office of the Director of National Intelligence mentioned the potential involvement by the Internet Research Agency in the 2016 U.S. election.
"A journalist who is a leading expert on the Internet Research Agency claimed that some social media accounts that appear to be tied to Russia's professional trolls — because they previously were devoted to supporting Russian actions in Ukraine — started to advocate for President-elect Trump as early as December 2015," the report reads.
How the propaganda is being spread
While Russian officials scoff at the U.S. indictments handed out by Mueller, people who worked at the Internet Research Agency believe the criminal charges are well-founded.
The aim of the agency's work was either to influence voters or to undermine their faith in the U.S. political system, the 37-page indictment states.
Russia has repeatedly denied it was involved and Putin spokesman Dmitry Peskov told reporters Monday that while the indictment focuses on "Russian nationals," it gives "no indication that the Russian government was involved in this in any way."
Mindiyarov, who failed the language exam needed to get a job at the organization's Facebook desk where the pay was double that of the domestic side of the factory, said the content looked as if it were written by native English speakers. "These were people with excellent language skills, interpreters, university graduates," he said, "It's very hard to tell it's a foreigner writing because they master the language wonderfully."
The English test he took asked for a writing sample about Democratic presidential candidate Hillary Clinton's chances of winning the U.S. election, Mindiyarov recalled.
"I wrote that her chances were high and she could become the first female president," he told the AP.
Mindiyarov noted they received their wages in cash and operated in teams as they tried to foment public interest with fake discussions. There are also photo and video departments at the Internet Research Agency.
"We worked in a group of three where one played the part of a scoundrel, the other one was a hero, and the third one kept a neutral position," he said. "For instance, one could write that Putin was bad, the other one would say it was not so, and the third would confirm the position of the second while inserting some picture."
Another former Internet Research Agency worker, Lyudmila Savchuk, said her experience there corresponds with the allegations made by Mueller and his team.
"The posts and comments are made to form the opinion of Russian citizens regarding certain issues, and as we see it works for other countries, too," Savchuk told the AP.
"The most important principle of the work is to have an account like a real person," Savchuk added. "They create real characters, choosing a gender, a name, a place of living and an occupation. Therefore, it's hard to tell that the account was made for the propaganda."
Combatting the propaganda in the future
Though it's difficult to tell what account is a bot and what isn't, there are some steps the average social media user can take.
Accounts with no photos and user names with a series of letters and numbers are often accounts that should be looked at with a discerning eye, Eric Feinberg, a founding partner of deep web analysis company GIPEC.
"This could be a guide for people to look for when interacting with bots," Feinberg told Fox News, via email. "Review the account history and characteristics, including the speed and timing of tweets and posts, [as] many of these bot accounts recently joined Facebook and Twitter but have high amount of tweets and posts in [a] short period [of] time."
Additionally, RoBhat Labs wrote a blog post giving further guidelines on how to identify bots on Twitter, including ones it calls "high-confidence bot accounts," meaning accounts it is pretty certain are a bot.
"Behavior such as tweeting every few minutes in a full day, endorsing polarizing political propaganda (including fake news), obtaining a large follower account in a relatively small time span, and constant retweeting/promoting other high-confidence bot accounts are all traits that lead to high-confidence bot accounts,"  RoBhat Labs wrote in the post. "These are the accounts that we aim to classify and bring to the attention of the Twitter community."
Michael Balboni, president and managing director of RedLand Strategies, said the speed of social media posts can make it difficult to identify what is propaganda and what is not. "At the very least, in the shorter term, 'trending' will become an unreliable indicator of interest of a topic," he said.
Fox News' Christopher Carbone and the Associated Press contributed to this report. Follow Chris Ciaccia on Twitter @Chris_Ciaccia
COVID-19: China orders testing of 12 million Wuhan residents as more Delta variant cases identified | World News
China is conducting mass testing in Wuhan after it identified its first domestic cases of the Delta variant in the city where coronavirus was first detected in late 2019.
Wuhan, which gave the world its first glimpses of lockdowns and mass testing, had reported no local COVID-19 cases since mid-May last year.
But on Monday, authorities confirmed three new cases of the more transmissible variant in the Chinese city.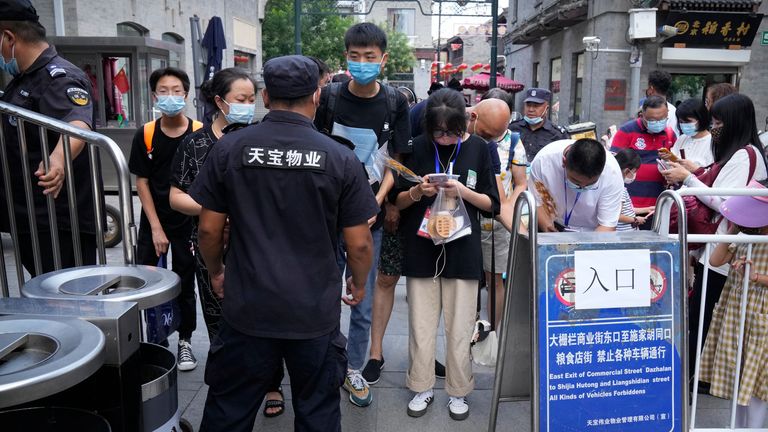 All of its 12 million residents will be tested for coronavirus.
"To ensure that everyone in the city is safe, city-wide nucleic acid testing will be quickly launched for all people to fully screen out positive results and asymptomatic infections," said Li Qiang, an official in the city, the capital of central Hubei province.
The new cases in Wuhan, along with infections in the nearby cities of Jingzhou and Huanggang since Saturday, were linked to cases found in Huaian city in Jiangsu province, said Li Yang, vice director of Hubei's provincial disease control centre.
The outbreak in Jiangsu is believed to have begun in the provincial capital of Nanjing, with the Delta variant mostly likely introduced on a flight from Russia, officials have said.
Since then numerous cities in southern China and a few in the north including Beijing have reported infections.
The number of locally transmitted cases in China since 20 July, when the first Nanjing infections were found, stood at 414 on Monday.
However, it is not clear if all of those cases were of the Delta variant, or if they were all linked to Nanjing, as some authorities have not disclosed conclusive results of their virus-tracing efforts.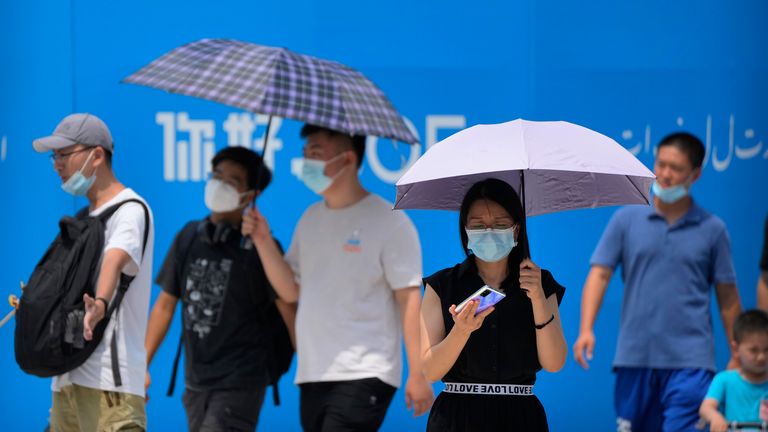 The Delta variant poses new risks to the world's second-largest economy as it spreads from the coast to inland cities.
On Tuesday, the National Health Commission said 90 new cases had been confirmed the previous day, 61 locally spread ones and 29 among people who had recently arrived from abroad.
Most of the local cases were in Jiangsu province, where an outbreak started at the airport in Nanjing, the provincial capital, and has spread to the city of Yangzhou, 65 miles away.
Authorities reported 45 new cases, five in Nanjing and 40 in the city of Yangzhou, which was conducting a second round of mass testing.
Five other provinces and the cities of Beijing and Shanghai reported new local cases in the single digits.
In Shanghai, the nation's largest city, a driver working at one of its two main airports tested positive. Beijing has reported a total of five cases in recent days.
Government-affiliated scientists have said Chinese vaccines are less effective against the new strains of the coronavirus but still offer some protection.
Only Chinese vaccines are currently being given in China, where authorities say more than 1.6 billion doses have been administered.
NATO and European Commission condemn deadly attack on tanker near Oman | World News
Foreign Secretary Dominic Raab has welcomed both NATO and the European Commission's condemnation of the deadly attack on an oil tanker off the coast of Oman.
The UK, US and Israel have blamed Iran for the attack, which killed two people – a Briton and a Romanian.
On Tuesday, NATO called on Iran to "respect its international obligations", while the EU Commission said they oppose "any action that would be detrimental to peace and stability".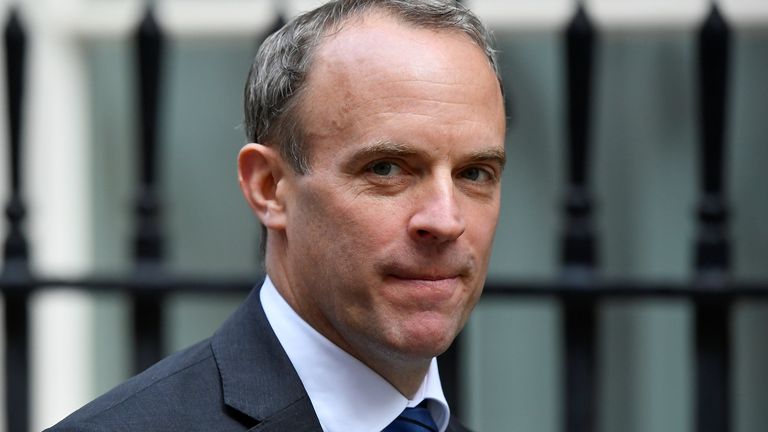 The Commission called the incident "unacceptable" but said the exact circumstances surrounding it "have to be clarified".
Posting on social media, Mr Raab said: "I welcome NATO joining the UK and international partners in condemning the unlawful attack on MV Mercer Street.
"We believe this was a deliberate, targeted attack by Iran – it must end its destabilising actions immediately."
I welcome @NATO joining the UK 🇬🇧 and international partners in condemning the unlawful attack on MV Mercer Street.

We believe this was a deliberate, targeted attack by Iran – it must end its destabilising actions immediately. https://t.co/aZGfjmgk4u

— Dominic Raab (@DominicRaab) August 3, 2021
Reports suggest explosive drones were flown into the MV Mercer Street tanker during the attack, which happened on 29 July.
According to Eikon's ship tracking, the Mercer Street was headed to Fujairah, a bunkering port and oil terminal in the United Arab Emirates, from Dar es Salaam in Tanzania.
The tanker is operated by Zodiac Maritime, which is based in London and owned by Israeli billionaire Eyal Ofer.
Releasing a statement on Tuesday, a NATO spokesperson said: "We join allies in strongly condemning the recent fatal attack on the MV Mercer Street off the coast of Oman, and express our condolences to Romania and the United Kingdom for the losses they have suffered.
"Freedom of navigation is vital for all Nato allies, and must be upheld in accordance with international law.
"The United Kingdom, the United States, and Romania have concluded that Iran is highly likely responsible for this incident. Allies remain concerned by Iran's destabilising actions in the region, and call on Tehran to respect its international obligations."
European Commission spokeswoman Nabila Massrali told reporters: "Of course we condemn the attack on the oil tanker which took place off the island of Masirah in Oman.
"A British citizen and a Romanian were killed and we would like to extend our sympathy to their friends and family.
"The exact circumstances of this attack have to be clarified and we take note of investigations carried out by the United States, the UK and Israel – this is an action that was against freedom of navigation in this area, and of course unacceptable.
"We oppose any action that would be detrimental to peace and stability in this area and the EU will continue to follow developments closely."
'Iran should face up to the consequences' – PM

On Sunday, Mr Raab accused Iran of carrying out a "deliberate, targeted" assault which constituted "a clear violation of international law".
US Secretary of State Anthony Blinken said he was considering "next steps" with the UK and other allies, with "an appropriate response… forthcoming".
Meanwhile, the head of the British armed forces, General Sir Nick Carter, held discussions with his Israeli counterpart at the weekend.
The government held a Cobra emergency meeting at the level of officials over the weekend in a sign of the serious focus on the tanker attack and how to respond, Sky News understands.
There has not yet been a Cobra attended by ministers, which is what happens in the gravest of crises.
Earlier this week, Israeli foreign minister Yair Lapid blamed "Iranian terrorism" for the attack.
Iran has not yet commented on the allegations.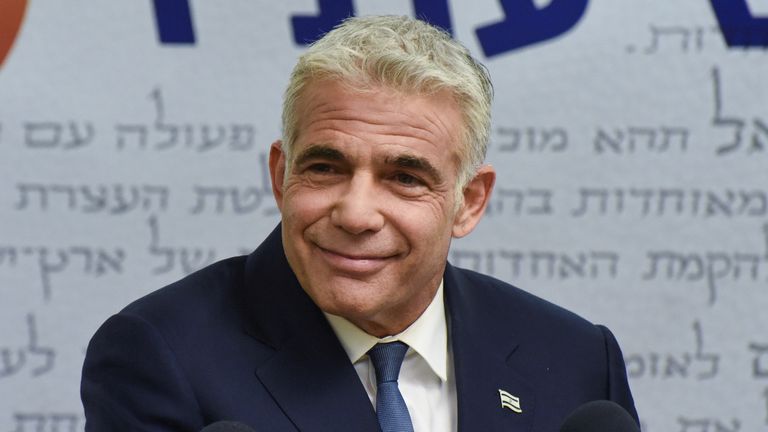 Lisa Nandy, Labour's shadow foreign secretary, said the UK government needs to take a hard line with Tehran.
She said: "The prime minister must make it clear to the incoming Iranian president that lawless actions will carry costs. This is the moment where Britain must show we are resolute in our determination to end this pattern of behaviour.
"The breakdown of a clear strategy to deal with Iran has not served the UK or our allies well in recent years. The foreign secretary must now make it a priority to pursue coordinated international efforts to tackle these actions by the Iranian government."
The incident has sparked concern that tensions are increasing in the region.
A UK source said crew members reported being targeted by "some sort of drone" on Thursday in the Arabian Sea before communications with the ship were lost.
If a drone attack is confirmed it would raise speculation about a possible link to a government or some kind of proxy group.
Iran in the past has repeatedly been accused of targeting tankers in the Gulf.
Heat dome: What is the extreme weather pattern causing record temperatures and wildfires? | Climate News
Heat domes are becoming a more regular weather phenomenon as entire regions deal with increasingly extreme heat and wildfires.
Villages in Turkey, Greece and Italy have been engulfed this July and August, and tourists evacuated by boat from beaches as temperatures reached 47C (116F).
In June, record temperatures hit North America, with more than 100 people dying in the northwestern US and Canada.
Both these extreme weather events were caused by heat domes.
Sky reporter at edge of Turkey wildfires


What is a heat dome?
It's when an area of high pressure stays over a large part of a region for days, or even weeks.
Like a lid on a saucepan, it traps hot air underneath, and can cause heatwaves with temperatures well above the norm.
How does a heat dome form?
Hot air expands vertically into the atmosphere then high pressure from above means it has nowhere to escape and pushes that warm air down.
As the warm air sinks, it compresses and heats up, which then traps more heat underneath.
The ground then heats up and loses moisture which makes it heat up even more, and means it is ripe for fires to start.
The dome of high pressure also pushes the clouds around it, keeping the heat in even more.
Usually, winds can move the high pressure around but as the dome stretches high into the atmosphere, the high pressure system becomes very slow moving, almost stationary.
What has caused the European heat dome?
Met Office spokesman Stephen Dixon told Sky News: "The jet stream has dipped south across western Europe and extended into northeast Europe, allowing a ridge to develop across southeast Europe.
"Within the ridge, the air has become warmer day-on-day."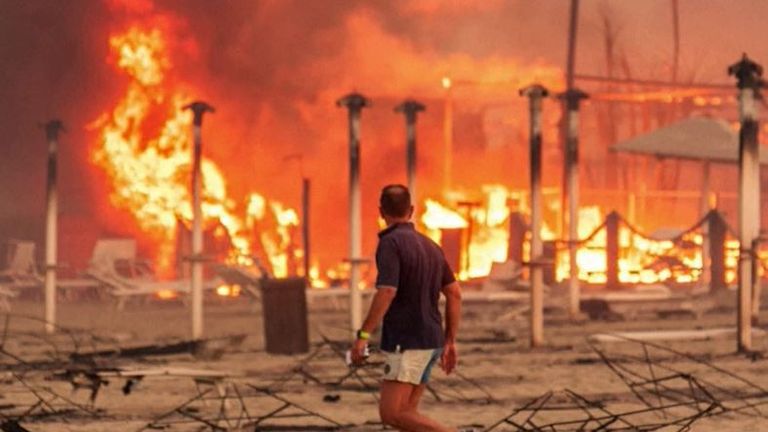 Warm air from a Saharan dust cloud has also contributed to the warmer than usual temperatures
The high pressure from the jet stream ridge and the Saharan warm air has been stuck over southeast Europe for a while, maintaining temperatures 10C to 15C above average.
Are heat domes rare occurrences?
They are quite common in temperate zones but they are getting more intense and regular in areas that do not usually see such extreme heat.
Scientists from the US National Oceanic and Atmospheric Administration (NOAA) found the main trigger is a strong change in ocean temperatures during the preceding winter.
Wildfires ravage Canadian town amid heatwave

For the US, this happens in the Pacific Ocean.
The NOAA scientists said it is like a swimming pool when the heater is turned on – "temperatures rise quickly in the areas surrounding the heater jets, while the rest of the pool takes longer to warm up".
They said the western Pacific's temperatures have risen over the past few decades compared with the eastern Pacific, "creating a strong temperature gradient – or pressure differences that drive wind – across the entire ocean in winter".
The gradient causes more warm air through convection, which is heated by the ocean surface and rises over the western Pacific, decreasing convection over the central and eastern Pacific.
Prevailing winds move the hot air east, towards the US, and the jet stream traps the air, moving it towards land where it sinks to cause heatwaves.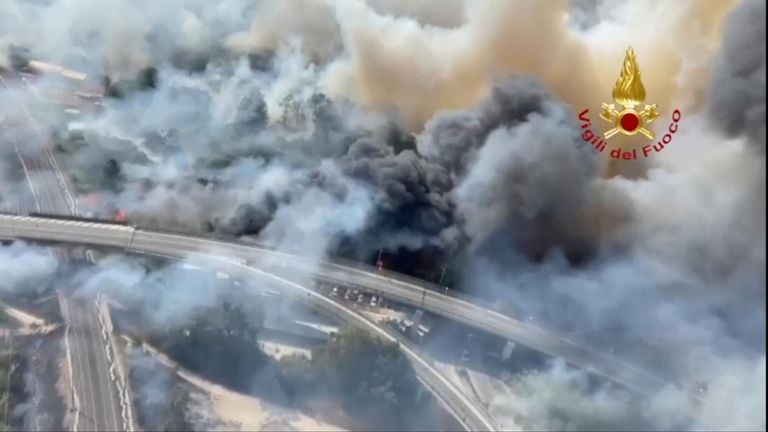 In Europe, the water temperatures are high, especially across the Baltic region where they are more than 6C above normal.
The Atlantic Ocean around the UK and Ireland was about 2-4C above the norm for the end of July.
But it is the Mediterranean, which is warmer than other European seas anyway, that is the most concerning, with sea temperatures nearly 3C above the long-term average.