Police: Angry mob killed suspects in murder of girl in India
GAUHATI, India –  Police say nearly 1,000 people dragged two suspects out of a police station and beat them to death in anger after the rape and killing of a 5-year-old girl in India's remote northeast.
Police officer Apur Bitin says 15 police officers were injured in Monday's mob attack in Tezu, a town in Arunachal Pradesh state.
Bitin said Tuesday the mob first demanded that the two accused be handed over to them. They later dragged the two out of the police lockup and attacked them and the heavily outnumbered police.
The girl had been killed in the nearby village of Namgo eight days ago.
Pema Khandu, the state's top elected official, ordered a magistrate to inquire into the matter.
Belarus protests: Great-grandmother forcibly arrested as women take to streets to demand Lukashenko's removal | World News
Hundreds of women have taken to the streets of Belarus' capital to demand authoritarian leader Alexander Lukashenko step down – with a great-grandmother who has become an icon of the protest movement among scores of people arrested.
Police blocked off the centre of Minsk and detained more than 80 demonstrators on Saturday, according to the Viasna human rights organisation
It was the latest in a series of major rallies that have rocked the country since early August, by far the largest and most persistent protest movement it has seen since it separated from the Soviet Union in 1991.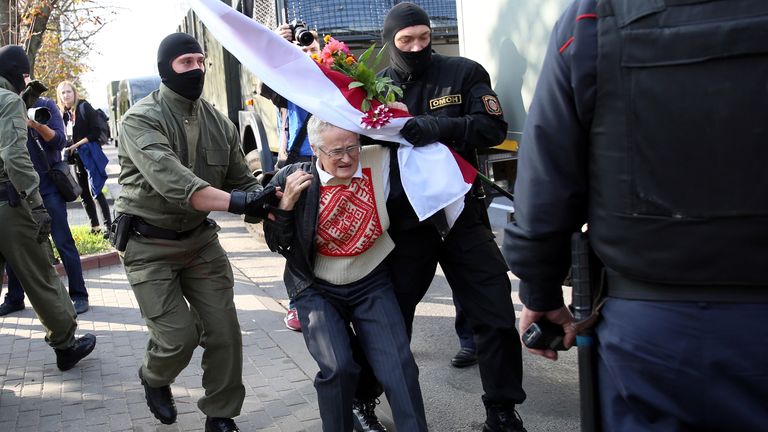 And among those arrested was Nina Bahinskaya, a 73-year-old great-grandmother who has become a hero of the opposition to the Belarussian president.
While Mr Lukashenko's officials say he won 80% of the vote in the 9 August election that triggered the protests, opponents and some poll workers say the results were manipulated.
He further angered opponents this week by taking the oath of office for a new term in an unexpected ceremony, and protesters on Saturday carried placards denouncing him as "the secret president".
Sviatlana Tsikhanouskaya, Mr Lukashenko's main election opponent, who went into exile in Lithuania after the election, praised the female demonstrators and derided the police in a statement.
She said: "What about the men themselves, who, hiding their faces, use force against women? Is it possible to live peacefully with such men?"
A large protest is also expected on Sunday, typically the day that sees the biggest demonstrations – attracting crowds estimated at up to 200,000.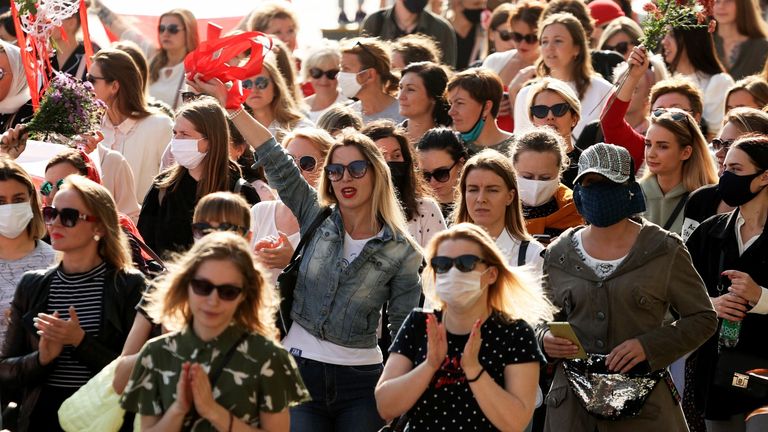 The election and Mr Lukashenko's defiance of the protesters have faced widespread condemnation from the West, and Ms Tsikhanouskaya this month urged the United Nations to send monitors to Belarus.
US President Donald Trump, however, has remained largely silent on the matter – prompting an attack from Democratic presidential contender Joe Biden.
"President Trump refuses to speak out against Lukashenko's actions or to offer his personal support for the pro-democracy movement," Biden said.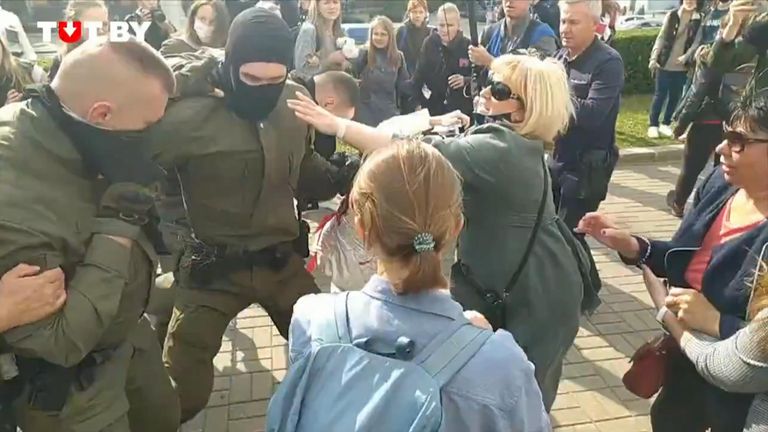 Mr Biden referred to the Belarussian politician's inauguration as a "sham ceremony".
The inauguration came on the same day that Mr Trump's refused to commit to a peaceful transfer of power should he lose November's US election.
"A president hiding in fear from his own citizens, refusing to accept the will of the people is a sign of a weak, illegitimate autocrat, not a strong leader," said Mr Biden.
Mr Lukashenko, a former collective farm manager, has been in office since 1994.
During the time since then, he has repressed opposition and independent news media and kept most of the country's economy under Soviet-style state control.
Mexican police and soldiers wanted over unsolved disappearance of 43 students | World News
Mexican authorities have issued dozens of arrest warrants for police and soldiers they believe were involved in the still-unsolved disappearance of 43 college students six years ago.
On 26 September 2014, students training to be teachers at a college in the southern state of Guerrero were allegedly kidnapped and turned over to a local gang.
Four months later, an investigation found the students had been burned in a huge fire at a garbage dump, with some remains thrown into a river.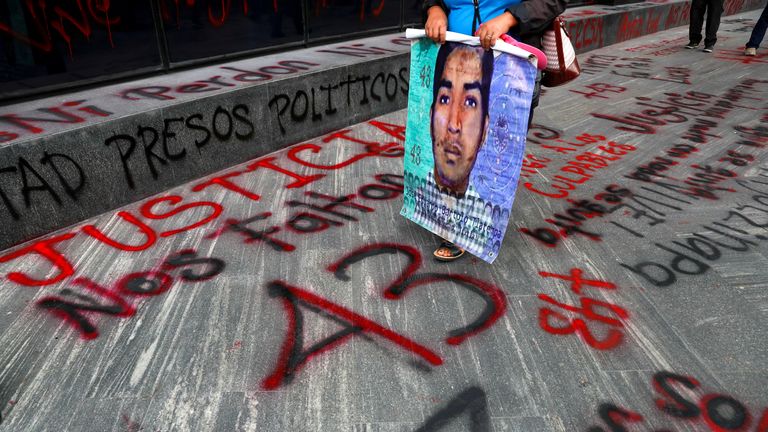 But many of the families did not believed the story and experts found holes in it, noting it failed to come up with any definitive account of what happened.
On Saturday, lead investigator Omar Gomez told reporters that warrants had been issued for the "material and intellectual authors" of the crime, including military members as well as federal and municipal police.
It marks the first time Mexican authorities have announced arrest warrants for military personnel in connection with the disappearance of the students.
The remains of only two of them have been found.
Many of the suspects initially arrested in the case were later released, and many claimed they had been tortured by police or the military.
In March, a judge issued an arrest warrant for Tomas Zeron, the former head of investigations for Mexico's attorney general's office, for alleged violations in the investigation of the case.
Zeron – who was at the centre of the earlier investigation – and five other former officials face charges including torture, forced disappearance and judicial misconduct.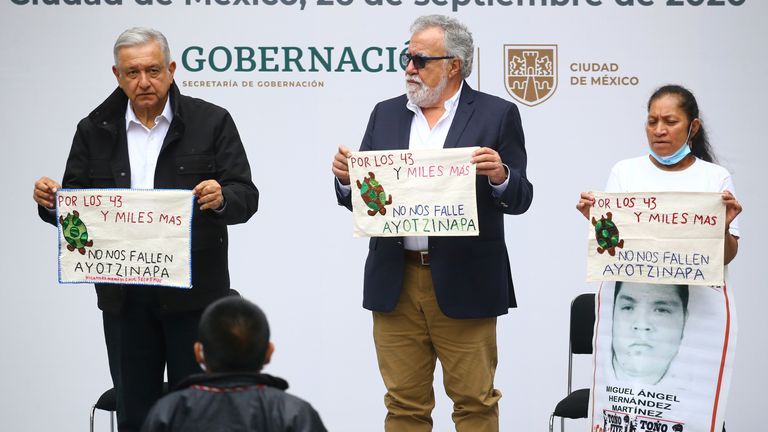 The unsolved disappearances have sparked outrage in the country over the years, with massive protests in 2014.
There has also been international condemnation of what is seen one of the darkest examples of the government's longstanding difficulty preventing violence or convicting criminals.
Family members of the victims have long accused Mexican authorities, including the military, of complicity.
The mother of one of the students, Maria Martinez Zeferino, said at Saturday's press conference in Mexico City that "the military participated".
"There were videos of it," she claimed.
Canadian man who claimed to be IS killer charged with lying about terrorism | World News
A Canadian man who claimed he was an Islamic State killer has been charged with lying about his terrorist activity.
The Royal Canadian Mounted Police (RCMP) said the charge against Shehroze Chaudhry stems from numerous media interviews in which he described travelling to Syria in 2016 and committing acts of extremism.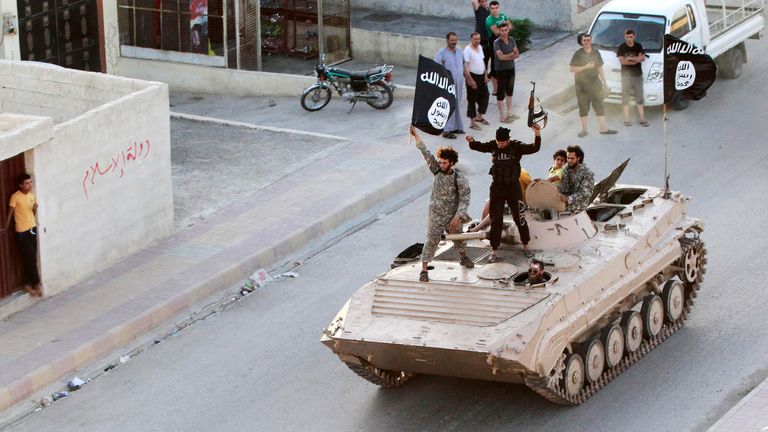 Chaudhry, 25, from Burlington, Ontario, reportedly portrayed himself as a former IS member living freely in Canada.
He has been posting on social media and telling reporters and others since 2016 that he was a former member of the jihadist group's religious police in Syria, according to Canadian media.
He claimed to have conducted at least two executions on the group's behalf and gained further notoriety by appearing on The New York Times' Caliphate podcast, describing in detail the grisly murders of innocent civilians, some blindfolded and tied-up – provoking outrage in the Canadian parliament.
He said he was known within the terror group by his jihadi alias, Abu Huzaifa al-Kanadi (Abu Huzaifa the Canadian), and that he started out in the Syrian city of Manbij.
Choudhry reportedly recalled witnessing violence such as regular public lashings, beheadings and crucifixions, and claimed he suffered from nightmares.
His media interviews led opposition politicians to question whether the federal government was doing enough to protect Canadians from IS fighters who have returned to Canada.
But now, the RCMP has accused him of perpetrating a hoax related to terrorist activity.
Superintendent Christopher deGale said in a statement: "Hoaxes can generate fear within our communities and create the illusion there is a potential threat to Canadians while we have determined otherwise.
"As a result, the RCMP takes these allegations very seriously, particularly when individuals, by their actions, cause the police to enter into investigations in which human and financial resources are invested and diverted from other ongoing priorities."
Chaudhry will appear in court on 16 November and, if convicted, could face up to five years in jail, CBC (Canadian Broadcasting Corporation) reports.
Federal police have also announced terrorism charges against an unnamed 30-year-old man from Alberta, who detectives allege joined IS in 2013 and committed acts of terrorism including kidnapping.