Ohio businessman, deported after 38 years in US, vows return
AMMAN, Jordan –  Amer Othman's life turned upside down in an instant.
The Ohio entrepreneur, who came to the United States 38 years ago and won praise for helping revive once-blighted downtown Youngstown, was arrested during what he thought was another check-in with immigration authorities. He was detained for two weeks and then deported to his native Jordan.
Othman's supporters in the U.S. view such treatment as a particularly egregious example of the Trump administration's ramped-up deportation campaign that potentially targets anyone lacking the right papers, including long-time residents with American spouses and children.
Recent cases include a Missouri college lecturer and a Connecticut couple running a nail salon who won last-minute reprieves through local politicians but remain at risk of expulsion.
Supporters of the crackdown say immigration rules must be enforced, regardless of family and community ties of those targeted.
Othman's battle to remain in the United States goes back to the mid-1990s, when immigration authorities refused to renew his green card, alleging his first marriage in 1980 had been fraudulent.
Othman denies the charge, noting that his ex-wife later retracted an initial statement she said was made under duress. A deportation order was issued in 2007, but Othman he didn't feel at immediate risk — until last summer — because of ongoing appeals.
Three weeks after his arrival in Jordan, the 57-year-old Othman still seems in shock.
Speaking at his sister's apartment in the capital, Amman, he said he'll fight to return to "my Youngstown."
He might sue the Immigration and Customs Enforcement agency, or ICE, which he said locked him up needlessly, treating him like a criminal. "What ICE has done is un-American," said Othman, whose second wife Fidaa and their four adult daughters are U.S. citizens.
"The American people are completely and absolutely different from that," Othman said. Tears welled up as he described wide community support, including from Rep. Tim Ryan, a Democrat, and Youngstown Mayor Jamael Tito Brown. "I love the American people. I love my community," he said.
Ryan was previously able to keep Othman in the country through private bills in Congress, the first submitted in 2013.
Othman's deportation marks the first time ICE acted against recommendations of the Judiciary Subcommittee on Immigration and Border Security to hold off on an expulsion while a case is being reviewed, Ryan said.
"Now, here we are with a new set of rules because of the Trump administration," he said.
Othman's lawyer, David Leopold, said the deportation was "beyond inexplicable." He accused the administration of "playing a numbers game, without any coherent strategy."
ICE did not respond to two emails requesting comment on the Othman case.
Dan Cadman, a former long-time immigration official and fellow at the Center for Immigration Studies, a group that advocates for more limits on immigration, said that "the answer in an orderly society cannot be to simply suspend or eliminate deportations."
"Justice is also due to the American people, not just to Mr. Othman and his family." he said. "At some point, the reckoning comes due and the bill must be paid. What is the purpose of having laws if they are to mean nothing?"
The Department of Homeland Security launched the crackdown a year ago, scrapping the Obama administration's instructions to limit deportations to public safety threats, convicted criminals and recent border crossers. This effectively made anyone without the proper papers vulnerable.
The shift is reflected in ICE statistics on deportations, including of those who have settled in the United States, or "internal removals," and those who recently crossed the border.
Internal removals increased from 65,332, or 27 percent of the total number of deportations, to 81,603, or 36 percent of the total, in a year. Within this category, deportations of those without a criminal record nearly tripled, from 5,104 to 13,744.
Othman, a descendant of Palestinian refugees from Jerusalem who fled to Jordan in the 1948 war over Israel's creation, said he arrived in California in 1979.
He briefly attended college, married a U.S. citizen in 1980, received a green card and divorced in 1982, he said. He moved to Youngstown, where he married Fidaa in 1988. The couple moved to Brazil for three years for business.
Upon his return to the U.S., he was told he had to apply for a new green card, but was ultimately turned down. In the meantime, he opened businesses in the Youngstown area.
In 2011, he opened the Downtown Circle, a convenience store and deli. Later, he added a bar and hookah bar, and bought another building in the area.
"Amer was the first private sector business guy to really put the flag in the ground in downtown," encouraging others, said Ryan.
Othman's legal troubles erupted anew in August when ICE told him he had 30 days to leave the country. His lawyer obtained an extension, and Othman walked out of the ICE office with a Jan. 7 departure deadline and an ankle bracelet to monitor his movements, he said.
Othman said he bought a plane ticket to Amman for Jan. 7, sold his home and taught his family how to run the businesses.
In early January, he held a news conference detailing the looming deadline. Amid widespread publicity, ICE told him later that day that the deadline was off and that he should instead report to ICE two weeks later. Elated, Othman thought he had won a reprieve.
On Jan. 16, he reported to the ICE office. To his shock, he was arrested and handcuffed. Feeling betrayed, he started a hunger strike.
Leopold said his client was locked up "like an animal for the sole purpose of publicly humiliating him before deportation."
In late January, Othman was driven to Cleveland airport for a flight to Chicago.
As his Amman-bound plane took off from Chicago, Othman looked at the city below, overwhelmed by mixed emotions.
"It was very sad for me to leave and just to know I have left my family behind me, my wife, my daughters, my businesses, my friends, my Youngstown," said Othman, who has since rented a furnished apartment in Amman and has been joined by his wife, who plans to travel back and forth.
"I thought I would never be back, even though in my mind, I'm going to fight as much as possible," he said.
__
Associated Press writers Dan Sewell in Cincinnati, Ohio, and Elliot Spagat in San Diego, California, contributed to this report.
COVID-19: Single-dose Johnson & Johnson coronavirus vaccine cleared in the US | US News

US regulators have approved Johnson & Johnson's single-dose COVID jab, enabling millions more Americans to be vaccinated and setting the vaccine up for additional approvals around the world.
The J&J vaccine is the third authorised in the US following ones from Pfizer/BioNTech and Moderna, both of which require two doses.
COVID-19 has claimed more than half a million lives in the US, and states are clamouring for more doses to stem cases, hospitalisations and deaths.
In a 44,000-person global trial carried out by Johnson & Johnson, the vaccine was found to be 66% effective at preventing moderate-to-severe COVID-19 four weeks after inoculation.
It was 100% effective in preventing hospitalisation and death due to the virus.
Both the Pfizer and Moderna vaccines, which are based on new messenger RNA technology, showed higher efficacy rates in pivotal trials that used two doses versus J&J's single-shot vaccine.
Direct comparison, however, is difficult because the trials had different goals and J&J's was conducted while more contagious new variants of the virus were circulating.
Dr William Schaffner, an infectious disease expert at Vanderbilt University Medical Center in Nashville, said: "It potentially could play a very substantial role if we have enough doses because it's only a single-dose vaccine and that will make it attractive to people who are difficult to reach.
"It's one and done."
Subscribe to the Daily podcast on Apple Podcasts, Google Podcasts, Spotify, Spreaker
President Joe Biden hailed the move but cautioned Americans against celebrating too soon.
"Things are still likely to get worse again as new variants spread," he said in a statement, urging people to continue washing their hands, wearing masks and maintaining social distancing.
"There is light at the end of the tunnel, but we cannot let our guard down now or assume that victory is inevitable," he added.
The US government, which has purchased 100 million doses of the J&J vaccine, plans to distribute about 3 million to 4 million next week. That would be on top of the around 16 million doses of the Pfizer and Moderna vaccines the government already planned to ship across the country.
So far, the US has distributed more than 90 million doses of COVID-19 vaccines, some of which have been used for second shots. About 14% of Americans have received at least one dose, according to US government data.
Plastic surgeon turns up for Zoom court hearing while in the middle of operating on a patient | US News

A Californian plastic surgeon is being investigated after he attended a virtual court hearing while operating on a patient.
Dr Scott Green reportedly turned up for the video conference – which concerned a traffic violation – while in an operating room and wearing surgical scrubs.
According to the Sacramento Bee, beeps of medical machinery could be heard during the Zoom call, and the patient's procedure was taking place just out of view.
A courtroom clerk asked Dr Green: "Are you available for trial? It kind of looks like you're in an operating room."
The doctor confirmed that he was in the middle of surgery, but urged the court to proceed.
Dr Green appeared to continue working with his head down while he waited for Thursday's trial to begin.
But when the judge entered the chamber, he said he was reluctant to proceed over concerns for the patient's welfare.
The doctor appeared to dismiss these concerns, replying: "I have another surgeon right here who's doing the surgery with me, so I can stand here and allow them to do the surgery also."
But the judge decided to postpone the hearing because it wasn't appropriate to conduct a trial under the circumstances – telling Dr Green he would rather set a new date.
The doctor apologised, but the judge interrupted him and said: "We want to keep people healthy, we want to keep them alive. That's important."
The Medical Board of California says it is looking into the incident, and expects surgeons to follow the standard of care when treating their patients.
Golden Globes: Criticism of elusive group behind awards 'mostly stems from jealousy', member says | Ents & Arts News
A member of the elusive group behind the Golden Globes has gone on the record about the way the organisation works – following a slew of accusations that votes can easily be influenced and that it prohibits new members from joining.
Husam Asi, a BBC Cinematic presenter, is a member of the Hollywood Foreign Press Association (HFPA), which organises and votes for the awards.
He told Sky News the claims were unfounded and "mostly stem from jealously" among journalists who do not get the same access to stars, or invitations to trips and parties as HFPA members.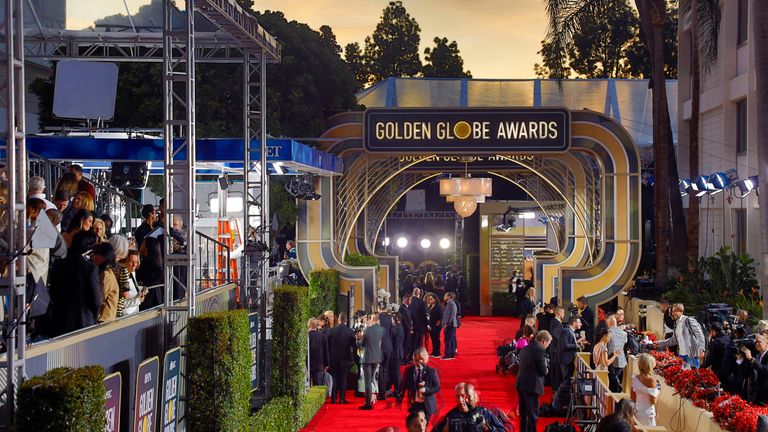 Last week, an investigation by the LA Times claimed HFPA members were "routinely granted exclusive access to Hollywood power players, invited to junkets in exotic locales, put up in five-star hotels and, as Globes nominations near, lavished with gifts, dinners and star-studded parties".
When asked if such access to Hollywood's top talent and invites to glamourous parties and dinners swayed HFPA members or coloured their votes, Mr Asi told Sky News: "I personally was never affected by those."
Mr Asi, who works in LA as a presenter and producer, acknowledged there is a need for more transparency around the organisation, its members and the selection process.
But he said the problem was industry wide – and questioned why Oscar members are not criticised for enjoying similar perks.
The Hollywood Foreign Press Association has fewer than 90 members, and critics say this makes it easier to influence.
Members are famously hard to get hold of, with only a handful willing to speak anonymously to the LA Times when the latest allegations emerged.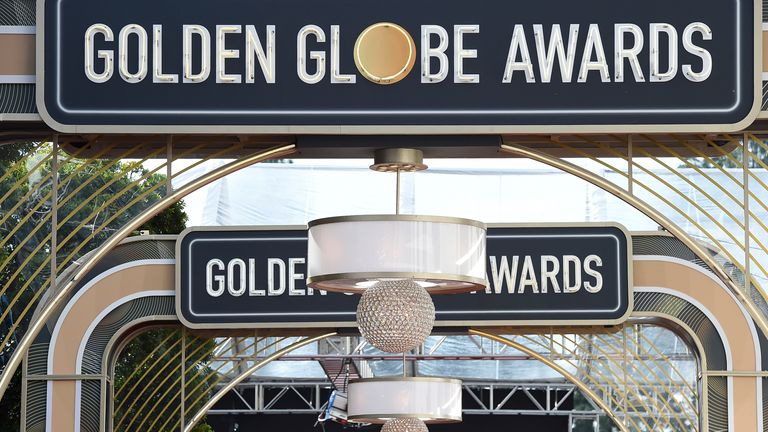 Kjersti Flaa, a Norwegian entertainment journalist denied membership to the HFPA, has a pending lawsuit accusing it of "institutionalising a culture of corruption".
She told Sky News her case relates to two areas: "anti-competition" and how the HFPA has "monopolised entertainment journalism" in LA.
Ms Flaa is also challenging them with regards to "the fair procedure" of how journalists are appointed members.
She said the HFPA tried to portray her as a "bad person and a disgruntled journalist" – but since filing the lawsuit, she claims other journalists have come forward with similar experiences.
"It's kind of a relief for me to see that it's not only me and my colleagues that have been treated badly, it's all over the place," she said.
Ms Flaa added that "everyone's afraid of retaliation", which is why it's been kept "under the lid for so long".
Subscribe to the Backstage podcast on Apple Podcasts, Google Podcasts, Spotify, Spreaker
The Golden Globes ceremony, though sometimes mocked for its self-congratulatory and boozy ceremonies, has become one of the most influential in the world.
As the first event in the annual awards season, it sets the tone for the highly prestigious BAFTAs and Oscars that follow. Yet each year, the nominations seem to cause a stir – with eyebrows raised at seemingly unpredictable and left-field choices and omissions.
Last year, there was disbelief that no female directors met the cut. Although three women have been nominated this year, allegations that the Globes are out of touch on other fronts have been raised once again.
It's been revealed the HFPA has no black members – a point the organisation has now vowed to change immediately. It told the LA Times this week: "We are fully committed to ensuring our membership is reflective of the communities around the world who love film, TV and the artists inspiring and educating them."
In a statement to Sky News, the Hollywood Foreign Press Association said it was common for entertainment journalists around the world to be invited to set visits, premieres and press. However, it also said "the notion that these visits have any influence over nominees for the Golden Globes is absurd and is strictly prohibited by our policies".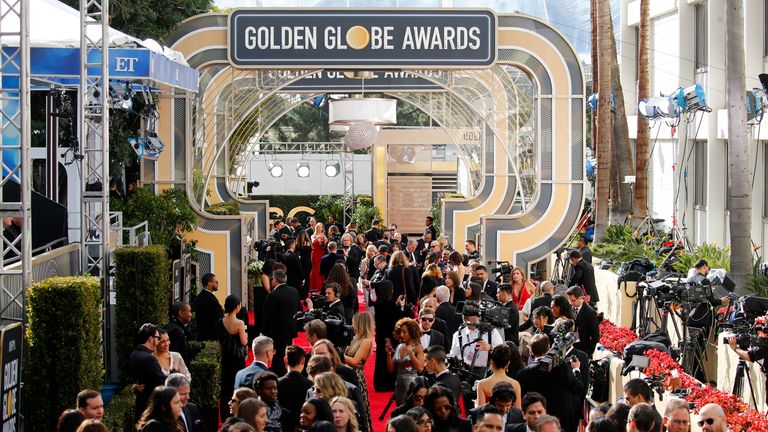 Critic and BAFTA member Jason Solomons has experience running awards ceremonies and told Sky News awards systems are "gameable" and are "open to strategy" – adding: "They're political. They can be influenced quite easily."
Mr Solomons ran the Critics' Circle awards in London and said there is always "an element of trading around this time of years to get big names to come to your red carpet or big awards ceremonies".
He also told Sky News that reports of studios trying to woo voters were nothing new and were part and parcel of the industry: "If you're a big entertainment company with a big budget who can influence those things, you're going to try and do it if it's within the rules."
The Golden Globes ceremony itself will be quite different this year due to the pandemic. The party atmosphere will be replaced by a bicoastal Zoom fest presented by Tina Fey in New York and Amy Poehler in LA.