Netherlands is turning into a 'narco-state', police warn
The Netherlands is becoming a "narco state" plagued with drugs, sex crimes and chat scams, according to a report by Dutch police.
Police union NPB has released a report that said law enforcement officers are becoming overwhelmed and unable to deal with their responsibilities to control crime.
Lack of capacity has meant only one in five cases are attended to by detectives, according to the report. It says police are forced to focus their attention only on violent crimes such as robberies or murders.
Other cases, including long investigations, are dropped or left to drag on for an unnecessarily long time.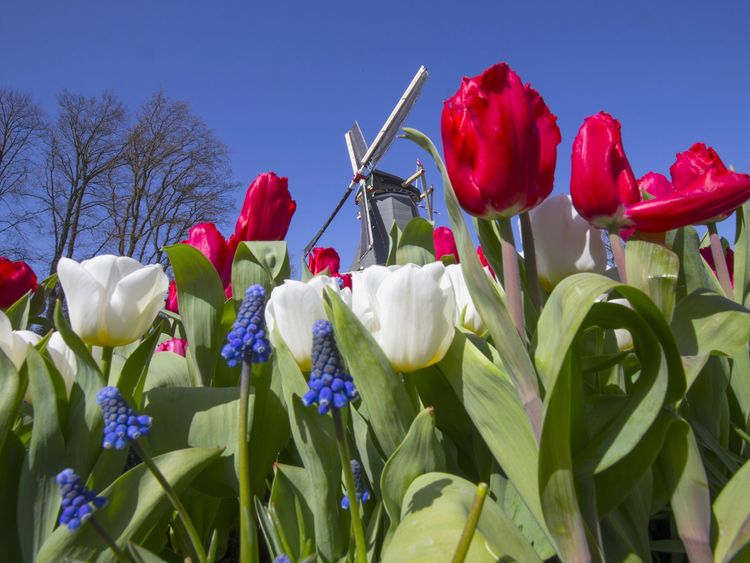 As a result criminals are allowed to turn into large-scale entrepreneurs, making lucrative investments in housing and hospitality.
"In the last 25 years I have seen small dealers grow into large entrepreneurs with good contacts in politics and into so-called respected investors", said one detective quoted in the English-language NLTimes website.
The report also estimates that just one in nine criminal groups can be adequately pursued by police forces given the current resources. Wide-ranging scams are also neglected, and organised criminal activity has been allowed to thrive.
The report says this has led to the development of a "narco-state" with a parallel economy being allowed to thrive alongside legal trade.
The Netherlands has a policy of tolerance regarding soft drugs, and is known for its coffee shops where the authorities allow sales of small quantities of cannabis.
It is against the law, however, to possess, sell or produce hard drugs, and police pursue arrests and prosecutions based on this.
Tuesday's report called for action from the Netherlands' national police, including a demand to hire 4,000 more detectives to allow for criminal activity to be followed more closely.
COVID-19: US president Joe Biden signs 10 executive orders to curb spread of coronavirus | US News

Joe Biden has signed 10 new executive orders in a bid to curb the spread of coronavirus across the United States.
On his first full day in office, the newly-inaugurated president launched new measures on vaccines, masks and testing.
He hit out at Donald Trump's handling of the pandemic, saying his predecessor lacked the "urgency, focus and co-ordination we needed".
"We have seen the tragic cost of that failure," Mr Biden said.
He warned that "things are going to continue to get worse before they get better", predicted the death toll will reach 500,000 next month and said the roll-out of vaccines in the US had been a "dismal failure" so far.
The US has seen the highest number of COVID-19 cases and deaths of any country in the world.
Mr Trump, who left the White House for Florida on Wednesday, was much-criticised for his handling of the pandemic.
He caught the disease in October, after hosting a reception where guests were seen not social distancing or wearing masks.
And when a US journalist said Mr Trump told him he knew how dangerous the virus was but liked "playing it down", former first lady Michelle Obama accused him of trying to "gaslight the American people by acting like this pandemic is not a real threat".
COVID-19: Coffins stacked high in crematorium of German town ravaged by coronavirus | World News
A crematorium is a sobering place to visit during a pandemic. Especially the one in the town of Meissen, eastern Germany, where coffins are stacked on top of each other in every available space.
Attached to each simple wooden casket is a small piece of paper giving the basic details about the body inside. The name of the deceased, date of birth and death.
And chalked on to the side of so many is the word COVID. We are standing amongst the victims of a virus which has hit Meissen hard.
In the basement, vast furnaces and workers are operating around the clock. They need to, such is the demand for cremations in a town which has experienced one of the highest COVID-19 rates in Germany.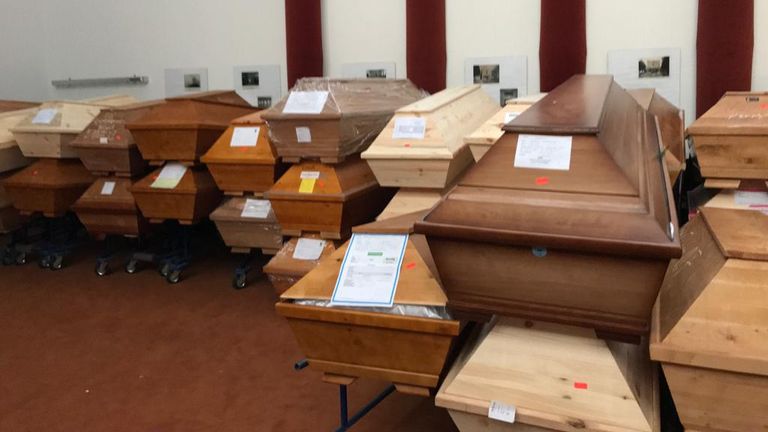 We watch coffin after coffin disappearing into the flames knowing that family members, unable to be with their loved ones as they passed away, will be desperate to collect the urn of ashes to mourn.
Crematorium director Jörg Schaldach speaks of sadness for the families.
"For us, the problem isn't storage. The problem is actually for the bereaved," he says.
"The ambulance leaves the yard and they never see their relatives again. There are no hospital visits. People understand that this is a crisis and they accept that. But the psychological aspect of parting is very, very difficult."
It is made all the more difficult by the fact that COVID restrictions mean normal funeral services aren't possible.
Even the chapel at the crematorium is now a storage facility for the dead. The chairs, which before COVID would have accommodated mourners, have been moved out to make way for coffins.
At this, Meissen's sole crematorium, they dealt with more than 1,400 bodies last month, double the number a year ago.
And Mr Schaldach worries that figure could be higher by the end of January.
The high COVID infection and death rate in Meissen has created nervousness amongst many residents, who ask why the town has been so hard hit.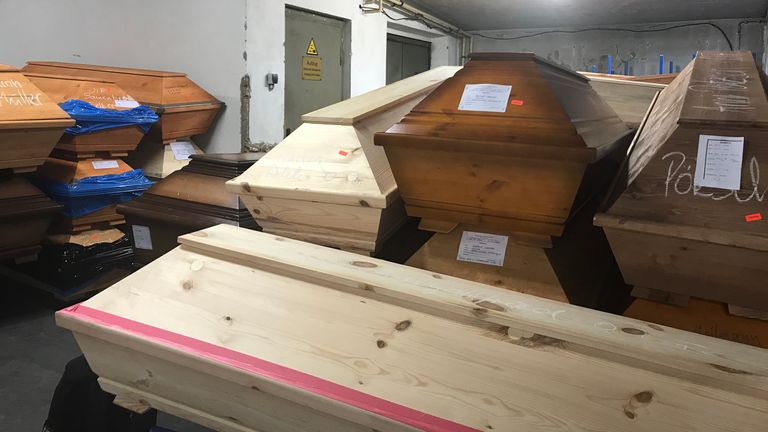 One elderly man said: "It's because the old live here in eastern Germany. The young are in the west. And COVID affects the old much more badly."
Another says: "We are near to the Czech border. There is high incidence there and traffic." He struggles to speak as he says it is so sad, so upsetting to see what is happening.
There is genuine fear and worry here. The crematorium sits in the middle of a residential area and it must be unnerving for people seeing the constant stream of hearses and vans arriving.
Mr Schaldach is hoping that tough lockdown restrictions the German government has decided to keep in place will make a difference.
He lives in the community where he works and feels the loss shared by so many here.
COVID rates are now falling in Germany, but he agrees with the government that there is no room for complacency.
Baghdad: At least 28 killed and dozens injured in twin suicide attack on Iraq's capital | World News
At least 28 people have died and dozens more are wounded after a double suicide attack in Iraq's capital.
According to police in Baghdad, the explosions hit a commercial area in the centre of the city.
Many of the wounded – of which there are at least 73 – are reported to be in a serious condition and there was widespread damage to buildings.
The bombings are the first in years to target Baghdad's bustling commercial area and all of the city's hospitals were mobilised to treat the injured, the health ministry said.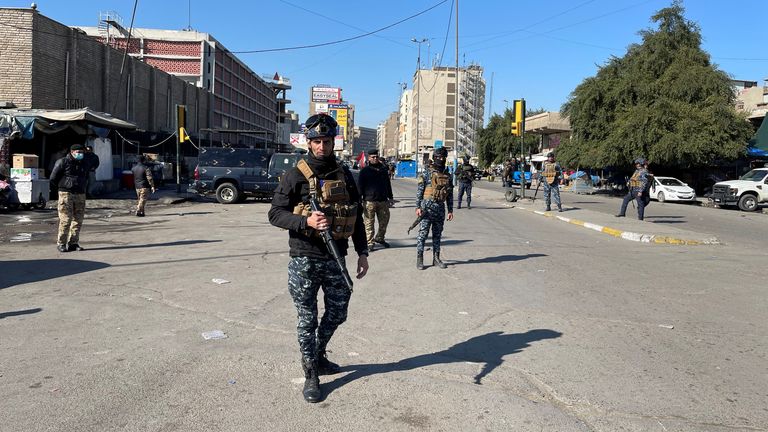 They come amid heightened political tensions as Iraq looks to have early elections in October, while also battling a severe economic crisis brought about by low oil prices.
It is not clear who is responsible for the blasts, which left blood smeared across the floors of the busy Bab al-Sharqi market and piles of clothes and shoes.
The attack occurred as security forces pursued two suicide bombers who detonated their explosives in the market near Tayaran Square, according to military spokesman Yahya Rasool.
Iraq has seen attacks by both the Islamic State group and militia groups in recent months.
Militias have routinely targeted the American presence with rocket and mortar attacks, especially the US Embassy in the heavily fortified Green Zone.
Attacks has decreased since an informal truce was declared by Iran-backed armed groups in October.
The Islamic State group has carried out similar attacks in the past but has rarely been able to target the capital since being dislodged by Iraqi forces and the US-led coalition in 2017.
The last deadly suicide blast in the Iraqi capital took place in January 2018, killing at least 27 people.
An attack like this is rare these days making it all the more concerning
Analysis: Mark Stone, Middle East correspondent
Violence and Iraq may seem to be tragically synonymous, but in fact an attack like this is rare these days making it all the more concerning.
While the country is still deeply divided and troubled, bloodshed of this magnitude has not been seen since January 2018 when 27 people were killed in an attack.
The images, most of which are too horrific to broadcast, show bodies lying all around Tayaran Square.
Victims, some alive, but others clearly not, are seen being lifted into vehicles. One video clip shows the decapitated head of man.
It was mid-morning when the bombs detonated. It was a cruelly intentional "double-tap" attack – the second bomb detonated amid the crowd as casualties were carried away.
No one has yet claimed responsibility. The Islamic State terror group is still a threat in parts of the country despite a continued effort by Iraq's security forces, with western coalition support, to defeat the group.