Mr T's latest Winter Olympics curling tip

Better known for his macho A-Team role, it appears these days Mr T is more "pumped" watching the Winter Olympics, and one sport in particular – curling.
The 65-year-old star, who rose to fame playing BA Baracus in the hit US TV drama series, has been following the Games closely and tweeting his thoughts throughout.
He has admitted watching events he never thought he would watch before, "like curling. You heard me, curling Fool!"
The celebrity has been rooting for the US teams, but has been impressed by athletes all-round, tweeting: "I like tough competition, but I also like to see good sportsmanship. Just do your best, give it all you got, and then shake hands when it's over."
He says you never lose if you try, in fact, he pities the fool who won't even try.
Here are some of Mr T's most enthusiastic tweets about the Winter Olympics in Pyeongchang, South Korea, so far, including one where he blamed the US men's curling team for losing because of "too much jibber jabber".
It all started when he watched curling for the first time…
I am really Pumped watching the Winter Olympics. I am watching events I never thought I would watch before, like curling. You heard me, curling Fool!

— Mr. T (@MrT) 11 February 2018
He quickly became impressed with the sport…
Curling is kind of different, but it's Exciting. It's not as easy as it looks. It takes some skills that's for sure. I like it!

— Mr. T (@MrT) 11 February 2018
Let me tell you something, you may not win, but you never lose if you try. Nothing beats a failure, but a try!
I Pity The Fool who won't even Try!

— Mr. T (@MrT) 13 February 2018
He was happy about how much he was learning from curling…
Canada defeated Norway in the semi-finals, and Won the Gold medal in the finals vs Switzerland in mixed doubles curling.. I really like curling and I'm learning a lot. #Hurryhard #curlingiscoolfool

— Mr. T (@MrT) 14 February 2018
He particularly enjoys the "little broom" which reminds him of his Swiffer Sweeper…
Like I said before, Curling is not as easy as it looks. I must be honest with you.. That little broom reminds me of my Swiffer Sweeper! I'm just saying…

— Mr. T (@MrT) 14 February 2018
But he still admits it's a delicate sport, not like when he was a bouncer…
Anyways, I see curling as a finesse sport, more straight and controlled strength. Not brute strength, like when I was a bouncer, oh no!

— Mr. T (@MrT) 14 February 2018
Mr T also thinks curling is less wear and tear than what he is used to, and therefore "chooses" curling. Is he hinting at a change of career, perhaps?…
I like curling, it's less wear and tear on the body. I wrestled, boxed, and studied martial arts. I have nothing else to prove. Therefore I choose curling. #curlingiscoolfool

— Mr. T (@MrT) 14 February 2018
He was really excited to settle down for the USA to take on Canada…
Getting comfortable on my couch preparing to watch Woman's Curling- Defending Olympic champion Canada takes on the US. Go USA Go!!

— Mr. T (@MrT) 17 February 2018
Come on Ladies we need more Offense! Let's go Nina! We can Win this!

— Mr. T (@MrT) 17 February 2018
But he wasn't mad at Nina after the loss…
That's alright Nina, you tried! Canada was the best tonight, Congrats. Hold your heads up high ladies, you're down but you're not out! #curlingiscoolfool

— Mr. T (@MrT) 18 February 2018
However, he was little less forgiving of the men…
Oh well, the US men's team lost to Norway. Too much jibber jabber. Just get set and throw the stone.. got to be more aggressive! Congrats to Norway! #curlingiscoolfool

— Mr. T (@MrT) 19 February 2018
No doubt he will continue to explore his new-found passion for curling, "You heard me, curling Fool!"
British Virgin Islands: Inquiry into claims of corruption and political interference – all with the public purse | World News
Claims of widespread corruption and fraud involving millions of pounds of public money are being investigated on the British Virgin Islands.
The governor of the islands, a British territory, has ordered an independent inquiry into the allegations and is supported by both the prime minister and the foreign secretary.
One of the claims is that $40m (£29m) set aside for struggling families during the COVID pandemic might have been channelled to political allies.
Announcing the Commission of Inquiry, Governor August Jaspert said there were "wide concerns over the possible mismanagement of some public projects".
He said successive audit reports had set out practices of "political interference, inflated pricing and conflicts of interest" and added: "These may have cost the public purse millions of dollars in recent years, with no sign of improvement.
"In the past months, the community has had many open and honest conversations about this. For the first time, many have felt confident to raise their voice. This is an important conversation for us to have, albeit difficult as those who speak up are too often silenced."
In a written statement to parliament, Foreign Secretary Dominic Raab said: "The UK is extremely concerned about the state of good governance in the British Virgin Islands.
"A consistent and deeply troubling array of concerns have been put to the governor by local institutions and the community.
"Successive attempts have been made to address these concerns through local institutions, many of which have done commendable work to bring them to light.
"However, the scope and seriousness of the concerns are now beyond local capacity to address."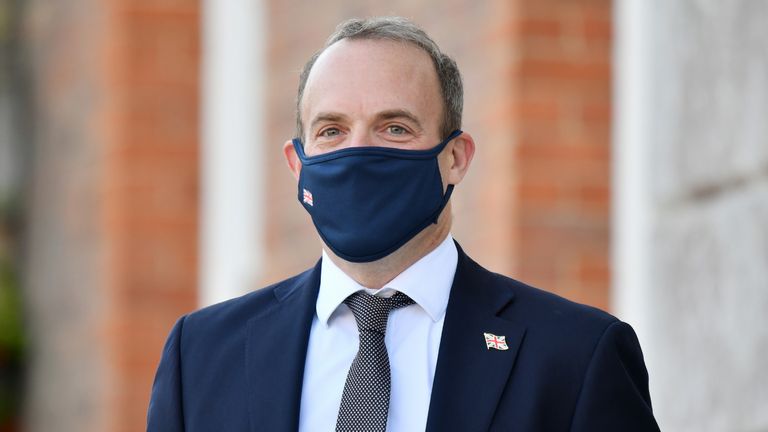 It is the first inquiry of its kind in more than 10 years – the last took place in 2008 to investigate corruption on Turks and Caicos.
It was felt that the British Virgin Islands themselves lack the ability to investigate allegations of this breadth, scope and seriousness.
Among the claims are ones of political interference in appointments and the criminal justice system – and the misuse of public money on infrastructure and transport projects including $7m (£5m) to an airline that did not exist and more than a million dollars spent on a school fence.
There have also been claims of intimidation towards people in the media and community leadership.
In November 2020, two tonnes of cocaine with a street value of almost £190m was seized, underlining the extent of criminal behaviour on BVI.
The inquiry is set to formally begin in the coming days and is expected last at least six months.
It will be led by the Right Honourable Lord Justice Gary Hickinbottom, an experienced High Court judge.
He will have the power to seize evidence and force witnesses to give evidence.
Alexei Navalny: Putin critic urges Russians to 'take to the streets' after 30-day detainment order | World News
Putin critic Alexei Navalny has urged Russians to "take to the streets" after a judge ordered that he be kept in custody for at least 30 days.
In a video clip released after the ruling, Mr Navalny said: "Don't be afraid, take to the streets. Don't go out for me, go out for yourself and your future."
The sentence came following an hour-long, ad-hoc hearing – held in a police station in Khimki, outside Moscow – on Monday afternoon. Mr Navalny described the proceedings as the "highest level of lawlessness".
The 44-year-old was originally detained on arrival at Moscow's Sheremetyevo airport on Sunday, after spending five months in Germany recovering from novichok poisoning.
Mr Navalny, who is one of President Vladimir Putin's most outspoken critics, blames Moscow for the attack that nearly killed him, although the Kremlin denies any involvement.
His detention was widely expected because Russia's prisons service said he had violated parole terms from a suspended sentence on a 2014 embezzlement conviction.
But it has drawn widespread condemnation from Western leaders, with the UN telling Russia to immediately let Mr Navalny go.
Moment Navalny is detained after landing in Russia

Boris Johnson called the arrest "appalling" and joined Foreign Secretary Dominic Raab in calling for Mr Navalny's immediate release.
He said: "It is appalling that Mr Navalny has been detained by the Russian authorities and he must be immediately released.
"Rather than persecuting Mr Navalny, Moscow should fulfil its obligation under international law to investigate and explain the use of a chemical weapon on Russian soil."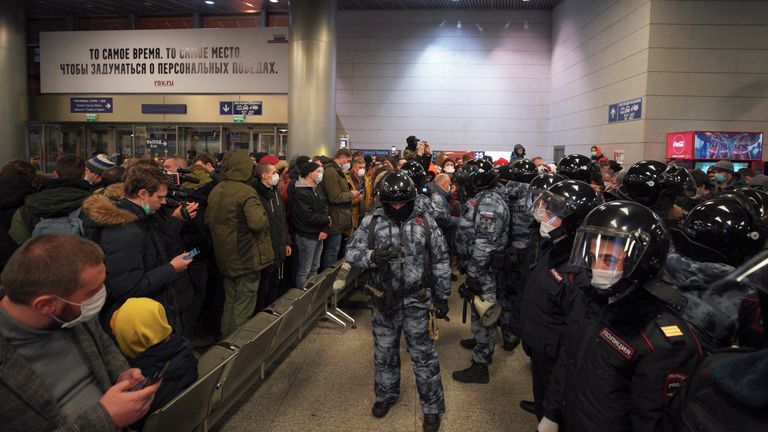 European Commission President Ursula von der Leyen further implored Russian authorities to release Mr Navalny and "ensure his safety".
In a statement shared on Twitter, she added: "Detention of political opponents is against Russia's international commitments.
"We will monitor the situation closely."
I condemn the detention of Alexei Navalny by the Russian authorities. They must immediately release him and ensure his safety.

Detention of political opponents is against Russia's international commitments. pic.twitter.com/RRATmAHVvn

— Ursula von der Leyen (@vonderleyen) January 18, 2021
Mike Pompeo, US secretary of state, said Washington "strongly condemns" the decision to arrest Mr Navalny and called his detention "the latest in a series of attempts to silence Navalny and other opposition figures and independent voices who are critical of Russian authorities."
He added on Twitter that he was "deeply troubled" by the move.
"Confident political leaders do not fear competing voices, nor see the need to commit violence against or wrongfully detain, political opponents," he said.
President-elect Joe Biden's pick for national security adviser also called on the Russian authorities to free him.
'They tried to kill me,' says Kremlin critic

"Mr Navalny should be immediately released, and the perpetrators of the outrageous attack on his life must be held accountable," Jake Sullivan said in a tweet.
Moscow has dismissed the criticism.
Russian foreign minister Sergei Lavrov said that Western countries' expressions of outrage were designed to distract their citizens from their own domestic problems.
Meanwhile, foreign ministry spokeswoman Maria Zakharova wrote on Facebook: "Respect international law, do not encroach on national legislation of sovereign states and address problems in your own country."
On leaving Berlin on Sunday, Mr Navalny said he didn't think he would be arrested as he had "every right" to return to his home country.
The arrest raises tensions in Russia as it approaches national parliament elections this year, in which Mr Navalny's organisation is expected to be active in trying to defeat pro-Kremlin candidates.
"This is a real act of bravery for Alexei Navalny to return to Russia, given that government agents already tried to kill him once," Human Rights Watch executive director Kenneth Roth tweeted.
"But he understandably wants to be part of the pro-democracy movement in Russia, not a dissident in exile."
Mr Navalny fell into a coma while aboard a domestic flight from Siberia to Moscow on 20 August.
He was transferred to a hospital in Berlin two days later.
Labs in Germany, France and Sweden tested the substance he was exposed to.
It was established he was poisoned with a Soviet-era novichok nerve agent – the same kind of substance used against Sergei and Yulia Skripal, a former Russian double agent and his daughter, in a 2018 poisoning in Salisbury.
COVID-19: Man 'lived in Chicago airport in secret for three months' – as virus made him 'too scared' to fly home | US News

A 36-year-old man lived undetected in a secure section of Chicago's O'Hare International Airport for three months because he was "too scared" to go home due to COVID-19, US prosecutors say.
Aditya Singh is charged with felony criminal trespass to a restricted area of an airport and misdemeanour theft.
According to police, he arrived in Chicago on a flight from Los Angeles on 19 October.
Mr Singh, who survived on food from other passengers, is unemployed and lives in the city of Orange, California. It was unclear why he was in Chicago.
Cook County Judge Susana Ortiz reacted with surprise when a prosecutor set out the allegations, according to the Chicago Tribune.
She reportedly told the court: "So if I understand you correctly, you're telling me that an unauthorised non-employee individual was allegedly living within a secure part of the O'Hare airport terminal from 19 October 2020 to 16 January 2021 and was not detected? I want to understand you correctly."
On Saturday, two employees from United Airlines were said to have approached Mr Singh and asked for his identification.
Assistant state attorney Kathleen Hagerty said he lowered his face mask before showing them an airport ID badge, which he had reportedly found, and was "scared to go home due to COVID".
The badge apparently belonged to an operations manager who had reported it missing on 26 October.
Assistant public defender Courtney Smallwood said Mr Singh does not have a criminal background and has a master's degree in hospitality – and said the unusual allegations were not violent, reported the Tribune.
If he is able to post the $1,000 (£738) for bail, Mr Singh will be barred from entering the airport.
Judge Ortiz added: "The court finds these facts and circumstances quite shocking for the alleged period of time that this occurred."
The Chicago Department of Aviation said that while the incident remains under investigation, it had been able to "determine that this gentleman did not pose a security risk to the airport or to the travelling public".