Minnesota's $5 billion case over 3M chemicals heads to trial
MINNEAPOLIS –  Minnesota officials will soon try to convince a jury that manufacturer 3M Co. should pay the state $5 billion to help clean up environmental damage that the state alleges was caused by pollutants the company dumped for decades.
The long-awaited trial begins Tuesday in Minneapolis. Experts say it could have wide-reaching implications if the state succeeds, in part because 3M and other companies legally dumped the chemicals for years in and outside Minnesota.
The case focuses on the company's disposal of chemicals once used to make Scotchgard fabric protector and other products. The company denies it did anything wrong or illegal.
The state alleges the chemicals damaged Minnesota's natural resources, including more than 100 miles of the Mississippi River, and contaminated drinking water, harmed wildlife and posed a threat to human health.
Here are some key details about the fight:
WHAT THE CASE IS ABOUT
The lawsuit focuses on 3M's disposal of perfluorochemicals, or PFCs, and their compounds. The company, which is based in Maplewood, Minnesota, began producing PFCs in the 1950s and legally disposed of them in landfills for decades. Along with Scotchgard, the chemicals were used in fire retardants, paints, nonstick cookware and other products.
The company stopped making PFCs in 2002 after negotiating with the Environmental Protection Agency, which said the chemicals could pose long-term risks to human health and the environment. But in 2004, trace amounts of the chemicals were found in groundwater near one of 3M's dumping sites east of St. Paul. The state and 3M reached a deal three years later requiring the company to spend millions to clean up landfills and provide clean drinking water to affected communities.
But it wasn't until 2010 that the state filed a lawsuit, alleging 3M researched PFCs and knew the chemicals were getting into the environment and posing a threat to human health. After years of delays, jury selection for a trial in state court is set to start this week.
The company has denied it did anything wrong, insisting it was acting legally at the time. In a statement last week, the company said: "3M believes that when we have an opportunity to share all the facts, discuss the science, and present the details of our position to the jury, people will conclude that the company acted responsibly."
___
WHY IT MATTERS
Low levels of PFCs have been found in the environment, humans and wildlife across the globe. At least two dozen lawsuits related to PFCs have been filed against 3M around the country, including one filed last week in Massachusetts over water contamination blamed on firefighting foam.
Experts say the outcome of Minnesota's case won't set a nationwide legal precedent for the other cases because the decision would only be applied in Minnesota. But they say there could be a ripple effect and attorneys are watching closely.
David Andrews is a senior scientist at Environmental Working Group, a nonprofit that conducts research to protect health and the environment. He said the case's impact would be huge if Minnesota wins and 3M is held accountable.
"The impacts would be enormous just because of the extent of contamination nationwide and how much work still needs to be done to really clean up the mess," Andrews told The Associated Press.
The company said it has already spent about $100 million on remediation and other projects just in Minnesota to reduce the presence of the chemicals in the environment. The company argues that levels of the chemicals in the environment and in the human body are declining.
___
WHAT TO EXPECT AT TRIAL
The trial is scheduled to begin Tuesday in Hennepin County District Court in Minneapolis. It's expected to last four to six weeks.
One key issue will be whether 3M's disposal of the chemicals has increased the rate of certain health issues, including cancer. A state expert is expected to testify that the pollution increased rates of cancer, low birth-weight babies and premature births in affected areas. But the Minnesota Department of Health has found no increase in such rates.
The company says there's no evidence the chemicals have impacted human health.
___
PROBLEMS ELSEWHERE
Since the Minnesota lawsuit was first filed back in 2010, concerns over PFCs have grown. In 2016, the EPA drastically reduced the recommended maximum levels of PFC concentrations for drinking water. As a result, about 15 million people learned their drinking water wasn't considered safe for long-term consumption. According to 3M, those recommendations are cautionary.
The Minneapolis Star Tribune reported that the EPA's advisory sent communities nationwide scrambling to install technology to treat water. Some of those communities have sued, and some are investigating to determine who or what produced the PFCs in their water, and what, if any, long-term effects they might face due to continued exposure.
US says China is committing genocide against Uighurs and other ethnic minorities | World News
The US State Department has declared that China is committing genocide and crimes against humanity in a campaign targeting Uighurs and other ethnic minorities in Xinjiang. 
In a statement, outgoing Secretary of State Mike Pompeo said: "I believe this genocide is ongoing, and that we are witnessing the systematic attempt to destroy Uighurs by the Chinese party-state."
The designation was made in the dying hours of the Trump administration. But the incoming Biden team had previously voiced its support for such a definition, labelling the repression of Uighurs genocide in August last year.
And although Joe Biden's nominee for secretary of state, Antony Blinken, has pledged to reverse a host of President Trump's foreign policy measures, he said that he agreed with Mr Pompeo's determination.
In his determination of crimes against humanity, Pompeo cited "the arbitrary imprisonment or other severe deprivation of physical liberty of more than one million civilians, forced sterilisation, torture of a large number of those arbitrarily detained, forced labour, and the imposition of draconian restrictions on freedom of religion or belief, freedom of expression, and freedom of movement".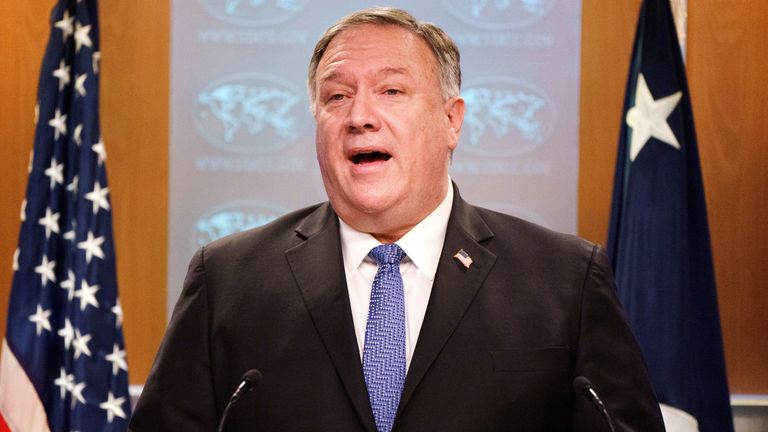 Beijing is likely to react furiously. At a press conference held last week in the Chinese capital, Communist Part official Xu Guixiang said: "This utterly untethered fabrication of 'genocide' regarding Xinjiang is the conspiracy of the century."
Analysis: Condemnation of China might be the only point of consensus between Biden and Trump
The US labelling China's treatment of Uighurs and other minorities as genocide is the most significant intervention on the issue. It might get lost in the pageantry of today's inauguration, and the pressing domestic concerns of the US, but it will reverberate for months and years to come.
China's reaction is guaranteed to be apoplectic. But it will seek to portray the genocide designation as motivated by politics, the last gasp of an outgoing administration and the personal vendetta of Mike Pompeo – public enemy number one in Chinese propaganda.
Critics elsewhere might agree with some of that. The Trump administration was not well known for its protection of minorities and human rights, whether at home or abroad. The US ignored calls to declare Myanmar's treatment of the Rohingya as genocide, for example.
And President Trump previously sidestepped human rights issues in his dealings with China, preferring initially to focus on trade. His former national security adviser John Bolton alleged that in July 2019 President Trump told Chinese President Xi Jinping that he was correct to build detention centres for Uighurs.
The designation isn't too much of a curveball for the Biden administration, which has voiced its agreement – perhaps the only point of consensus between two vastly different administrations. For all the division in the US, it is united on China.
But it might make things more difficult for America's allies. The British government narrowly defeated an amendment to legislation that would have added a genocide clause to trade bills, a clause aimed squarely at China. And the EU has recently concluded its own massive trade deal with China. The Biden administration may take a dim view of all that, and the genocide designation adds more moral heft.
In practical terms, the designation legally allows the US to take some new measures, although none of those are massive. The power is in the symbolism. And that symbolism may be most apparent in a year's time, when the 2022 Winter Olympics begin in Beijing.
It's hard to imagine Team USA competing in a country the US government accuses of ongoing genocide. Would other countries join that boycott?
Jailed Alexei Navalny releases investigation into Vladimir Putin's '£1bn palace' | World News
He may be behind bars, but the Kremlin has not succeeded in silencing Alexei Navalny.
On his first full day in Moscow's Matrosskaya-Tishina prison, Mr Navalny's team have released a huge video investigation into the construction and alleged slush fund behind what is known as "Putin's palace", a £1bn private residence on Russia's Black Sea coast.
Calling it "Putin's biggest secret", Mr Navalny and his team reveal new details about the sprawling complex near the resort town of Gelendzhik which has long been rumoured to belong to the Russian President.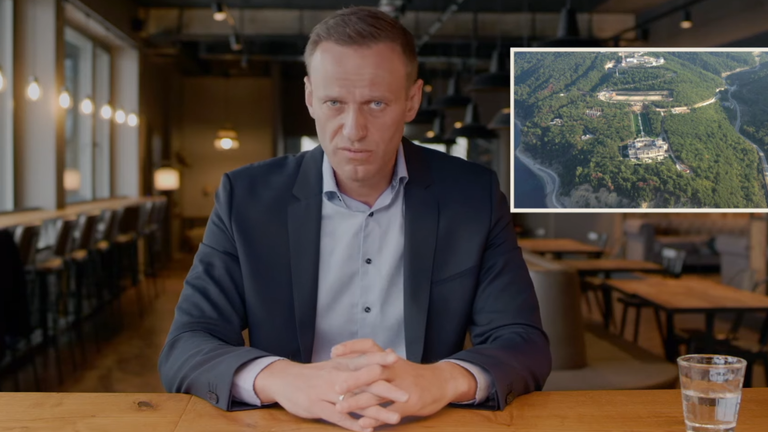 Drone footage over the grounds which the team says are 39 times the size of Monaco shows an underground ice hockey complex, 2500 square metre greenhouse and underground tunnel leading out to the Black Sea.
Architectural floor plans secured from a contractor shocked at the extent of the luxury reveal a lavish indoor theatre, fully-fledged casino and purple-tinted "hookah bar".
It is "the most expensive palace in the world", Mr Navalny says in the narration. "A new Versailles, new Winter Palace."
Mr Navalny says the idea for the investigation, which he presents from Germany, came during his time in intensive care.
He travels to Dresden to trace Vladimir Putin's path from lowly KGB operative on the wrong side of the Iron Curtain to the pinnacle of power in the Kremlin, showing how the friends he made in the 1990s have remained the principle beneficiaries of his kleptocratic regime to this day.
"Putin's personal money is kept by those he met thirty years ago," the investigation says. "In search of sponsors for the most corrupt ruler in the history of Russia, you need to go to his past."
He calls the Gelendzhik property the "biggest bribe in the world" and claims to have uncovered a scheme by which money for its construction is funnelled into offshore accounts by Putin's cronies as payment for lucrative state contracts he has handed them over the years.
"The standout for me is how bizarre and cuckoo-in the head our president is," says Vladimir Ashurkov, a close ally of Mr Navalny and executive director of his now disbanded Anti-Corruption Foundation. "Why do you need a billion dollar palace which you would never really use, as president?"
The Kremlin has denied that president Putin owns a palace in Gelendzhik.
The almost two hour video investigation ends with a plea to the Russian people to go out and protest. "If 10% of those who are disaffected take to the streets, the government will not dare falsify elections," Mr Navalny says.
It is a call he repeated in a video message from a Moscow police station on Monday, shortly before he was taken to jail. In a hastily convened court session inside the police station, a judge ruled that his detention should be extended for 30 days, until 15 February.
On 2 February a court will decide whether to convert a three and a half year suspended sentence he was serving for an alleged embezzlement charge into a custodial sentence on the grounds that he violated the terms of his parole whilst convalescing in Germany.
Navalny calls for protests over his arrest

Mr Navalny says all the various charges he has faced over the years are politically motivated.
His team are calling for a nationwide day of protest this Saturday. Mass gatherings are banned in Russia because of the pandemic and so far in Moscow, just two thousand people have registered as going on the Facebook page.
"The message about Putin's property will reach people in different formats and different channels," Mr Ashurkov says.
"It's unlikely that the regime will change tomorrow and we'll see hundreds of thousands of people on the streets but it's a campaign of constant pressure and history teaches us that the only constant throughout the decades is change."
Donald Trump's farewell address: 'Our movement is only just beginning' | US News

Donald Trump will say he will "pray for the success" of Joe Biden's administration in his farewell address later but that the political movement he created "is only just beginning".
Before he leaves office tomorrow, the outgoing president said everyone in the US had been "horrified" by the rioting at the Capitol in Washington DC earlier this month.
In extracts released by the White House, he said: "Political violence is an attack on everything we cherish as Americans. It can never be tolerated."
He added: "As I prepare to hand power over to a new administration at noon on Wednesday, I want you to know that the movement we started is only just beginning."
Live updates on the final preparations for Joe Biden's inauguration
Biden inauguration: Watch and follow events on Sky News from 1pm on Wednesday, with the ceremony starting at 4pm
Mr Trump also said he would pray for the success of the new administration in keeping America safe and prosperous, but he did not mention Joe Biden by name.
He went on: "Our agenda was not about right or left, it wasn't about Republican or Democrat, but about the good of a nation, and that means the whole nation."
He said his administration had "restored American strength at home – and American leadership abroad", and it "built the greatest economy in the history of the world".
Under his leadership, Mr Trump claimed the US had "revitalised our alliances and rallied the nations of the world to stand up to China like never before".
And he said: "As a result of our bold diplomacy and principled realism, we achieved a series of historic peace deals in the Middle East. It is the dawn of a new Middle East and we are bringing our soldiers home."
He also said he was "especially proud" to be the first president in decades who has "started no new wars".
Mr Trump will not attend tomorrow's inauguration – the first outgoing president to skip the ceremony since Andrew Johnson more than a century and a half ago.
Before leaving the state of Delaware where he was a senator for decades, Mr Biden addressed dozens of supporters in an emotional sendoff.
As the US exceeded 400,000 coronavirus deaths, the president-elect said: "These are dark times. But there's always light."