Michael Moore participated in anti-Trump rally allegedly organized by Russians
Michael Moore, the polemical filmmaker who has long accused President Trump of colluding with Russians, posted videos and pictures of himself participating in a protest in Manhattan that was allegedly organized by Russians in November 2016.
Prosecutors said Friday that the Russians indicted for meddling in the presidential campaign were also behind anti-Trump rallies that occured after the election.
The government alleged in an indictment signed by Special Counsel Robert Mueller that the defendants organized a Nov. 12 "Trump is NOT my President" rally in New York. Their "strategic goal" was to "sow discord in the U.S. political system," the indictment said.
On Nov. 12, Moore tweeted: "At today's Trump Tower protest. He wouldn't come down."
He attached a picture of himself posing with a large number of protesters.
Moore also posted a lengthy video on Facebook Nov. 12, in which he joined the protest and debated voters at Trump Tower.
Approximately 25,000 protesters turned out in New York on Nov. 12, chanting slogans rejecting the then-president-elect, NBC News reported at the time, citing New York Police Department officials.
Amid heavy police presence, protesters marched from Union Square to Trump Tower, the Guardian reported.
Moore has repeatedly claimed that President Trump inappropriately colluded with Russians.
Last year, Moore wrote on Facebook: "It doesn't take a rocket scientist to figure out what was going on: TRUMP COLLUDING WITH THE RUSSIANS TO THROW THE ELECTION TO HIM."
Former D.C. Guard official accuses Army generals of lying to Congress about Jan. 6 response
WASHINGTON — A former D.C. National Guard official is accusing two Army generals of lying under oath in congressional testimony about the military's response to the Jan. 6 attack on the Capitol.
Col. Earl Matthews wrote in a 36-page memo to the House select committee investigating the attack that Gen. Charles Flynn, who served as deputy chief of staff for operations on Jan. 6, and Lt. Gen. Walter Piatt, the director of Army staff, "repeatedly misrepresented, understated, or misled" the House Oversight Committee and the Pentagon inspector general.
Matthews, who on Jan. 6 was serving as the top attorney to Maj. Gen. William Walker, then the commanding general of the D.C. National Guard, alleged that Piatt misled Congress about the D.C. National Guard's "capability, readiness and motivation" to respond on the afternoon of the riot.
Matthews also alleged that the two generals "falsely claimed" that the National Guard didn't have the training and resources to move quickly in shifting from traffic control to civil disturbance operations, and he called them both "absolute and unmitigated liars" for their characterization of events.
"Flynn falsely stated that the Army Staff (which is supposed to be running the global operations of the U.S. Army) had to devote 30 to 40 officers and non-commissioned officers to get 154 ill-prepared DC Guardsmen to Capitol Hill," Matthews wrote in his memo. "This assertion constituted the willful deception of Congress. It is not just imprecision, it is lying. Senior Army officers lied about little stuff."
Matthews' memo was first reported by Politico.
Flynn and Piatt didn't respond to messages from Politico seeking comment.
Army spokesperson Mike Brady told NBC News that the service's "actions on January 6th have been well-documented and reported on, and Gen. Flynn and Lt. Gen. Piatt have been open, honest and thorough in their sworn testimony with Congress and DOD investigators."
"As the Inspector General concluded, actions taken 'were appropriate, supported by requirements, consistent with the DOD's roles and responsibilities for DSCA, and compliant with laws, regulations, and other applicable guidance," Brady said in the statement. "We stand by all testimony and facts provided to date, and vigorously reject any allegations to the contrary. However, with the January 6th Commission's investigation still ongoing, it would be inappropriate to comment further."
In his memo, Matthews said that the alleged lies "contributed to the deficiencies" in the Pentagon inspector general's report.
For example, the inspector general's report said then-Army Secretary Ryan McCarthy was on a key 2:30 p.m. ET call on Jan. 6 with Walker and other participants, including the chiefs of the Capitol Police and Washington's Metropolitan Police Department. The report, Matthews said, claims that McCarthy spoke for about five minutes on the call when in reality he was unavailable because he had gone to meet with acting Secretary of Defense Christopher Miller.
Despite the pleas of then-Capitol Police Chief Steven Sund, Piatt said on the call that he would not advise McCarthy to deploy the D.C. National Guard to the Capitol at that time, according to Matthews. Piatt said during the phone call that "the presence of uniformed military personnel could inflame the situation and that the police were best suited to handle the situation," Matthews wrote.
"Piatt and Flynn stated that the optics of having uniformed military personnel deployed to the U.S. Capitol would not be good," he continued.
The senior Army leaders recommended instead that National Guardsmen be used to relieve D.C. police officers of traffic duties to allow more of them to aid in the Capitol response.
The two leaders have denied saying on the day of the riot that the Guard should not be deployed to the Capitol.
Piatt wrote in response to a written question from Oversight Chair Carolyn Maloney, D-N.Y., in June, "At no point on January 6 did I tell anyone that the D.C. National Guard should not deploy directly to the Capitol."
Flynn, the brother of Michael Flynn, former President Donald Trump's ex-national security adviser, testified, "I never expressed a concern about the visuals, image, or public perception of sending the D.C. National Guard to the U.S. Capitol."
Megan Reed, a spokesperson for the inspector general, defended the office's report in a statement to NBC News.
"We stand behind the conclusions in our review of the Department of Defense's role, responsibilities, and actions to prepare for and respond to the protest and its aftermath at the U.S. Capitol campus on January 6, 2021," Reed said.
Mosheh Gains contributed.
Justice Department sues Texas over GOP-drawn voting maps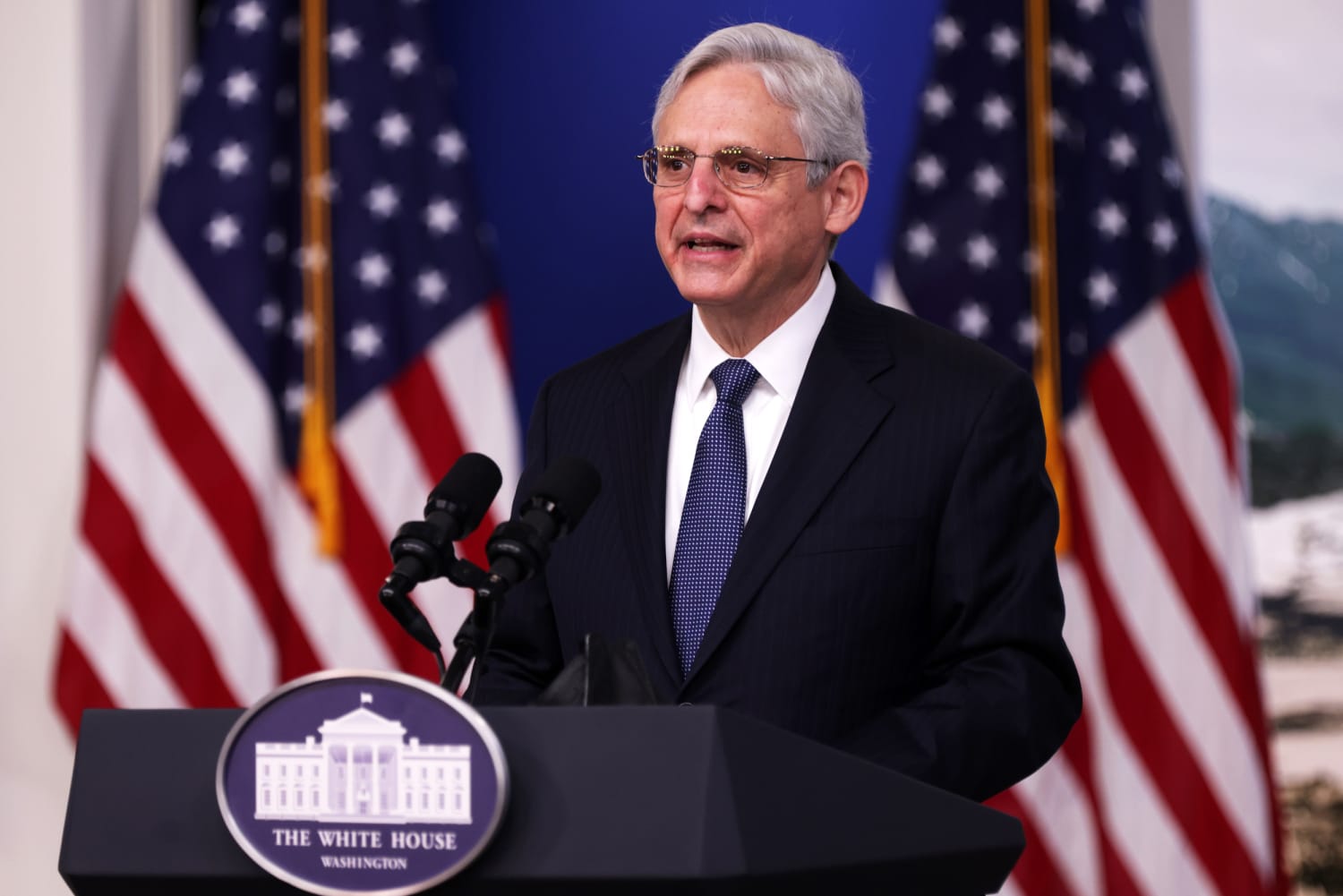 The Justice Department on Monday filed a lawsuit in federal court challenging Texas Republicans' plan for redrawing congressional and state legislative districts based on new Census figures.
The lawsuit alleges that the state's new maps, in violation of the Voting Rights Act, "deny or abridge the rights of Latino and Black voters to vote on account of their race, color, or membership in a language minority group," Attorney General Merrick Garland said in a press conference.
The maps were drawn withdiscriminatory intent in some places, in a rushed process, with an "overall disregard" for the fact that Texas' population growth was driven almost entirely by Black and Hispanic residents, Associate Attorney General Vanita Gupta said, speaking after Garland. The suit asks the court to stop the state from using the new maps.
"Our investigation determined that Texas' redistricting plans will dilute the increased minority voting strength that should have developed from these significant demographic shifts," Gupta said.
Texas was allocated two more Congressional seats after the 2020 Census, but did not draw a single new district with a majority of Black or Hispanic voters. The two new seats have white voting majorities, Gupta said.
This is the second lawsuit the Department of Justice has filed this fall against Texas. In November, the Justice Department sued Texas alleging that its new voting law, SB 1, made it harder to assist voters with disabilities or without English proficiency.
Throughout this year, Garland has urged Congress to pass new voting legislation, in particular restoring the parts of the Voting Rights Act that required jurisdictions with a history of discrimination to clear election changes through the Justice Department before enacting them. The Supreme Court gutted that provision in 2013, ruling that the formula for determining which jurisdictions were included was unconstitutional.
"I want to again urge Congress to restore the Justice Department's preclearance authority," the attorney general said Monday. "Were that preclearance tool still in place, we would likely not be here today, announcing this complaint."
Oh dear, Brussels! Bloc shoots itself in foot – Irexit leader handed thousands in EU cash
THE European Union is facing huge embarrassment after handing thousands of euros a month of its own cash to pay an Irexit leader to support an anti-vaccination Romanian MEP.

Source link