Lawyers for Hariri assassination suspect calls for acquittal
LEIDSCHENDAM, Netherlands –  Lawyers for one of four alleged Hezbollah members accused of involvement in the 2005 assassination of former Lebanese Prime Minister Rafik Hariri called Tuesday on judges at a U.N.-backed tribunal to acquit him, saying prosecutors have not presented enough evidence for a conviction.
"Even taken at its highest, the prosecution evidence is not sufficient" to convict Hussein Hassan Oneissi, his lawyer Vincent Courcelle-Labrousse told the Special Tribunal for Lebanon.
None of the four suspects is in custody and the trial at a courtroom just outside The Hague, Netherlands, is progressing in their absence. The Feb. 14, 2005, truck bombing in Beirut killed Hariri and 21 others and injured more than 220 passers-by.
Earlier this month, prosecutors wrapped up their case after four years. They called more than 260 witnesses and showed judges some 2,470 exhibits as they laid out their case that the four suspects plotted together to blow up Hariri with a massive truck bomb.
Defense attorneys have not yet presented any evidence. Lawyers for the three other suspects are not calling for acquittals at this stage of the trial.
All four suspects insist they are innocent and the Hezbollah militant group also denies involvement in Hariri's assassination.
The case against a fifth suspect was halted in 2016 after he was killed in Syria.
Oneissi is charged as an accomplice and co-conspirator in the plot. Prosecutors accuse him of organizing a video-taped false claim of responsibility intended to shield the true perpetrators of the devastating bombing.
No time frame has been given for judges to rule on Courcelle-Labrousse's motion for acquittal.
Winter Olympics 2022: US to stage diplomatic boycott of Beijing Games over China human rights abuses | US News
The US will stage a diplomatic boycott against the upcoming Beijing Winter Olympics to protest against human rights abuses in China.
Earlier this month, President Joe Biden said the move was something the administration was "considering" but it has now been confirmed by the White House press secretary.
Speaking to reporters, Jen Psaki said: "US diplomatic or official representation would treat these games as business as usual in the face of the PRC's egregious human rights abuses and atrocities in Xinjiang, and we simply can't do that."
US athletes will continue to compete, with Ms Psaki saying they will have the "full support" of the White House.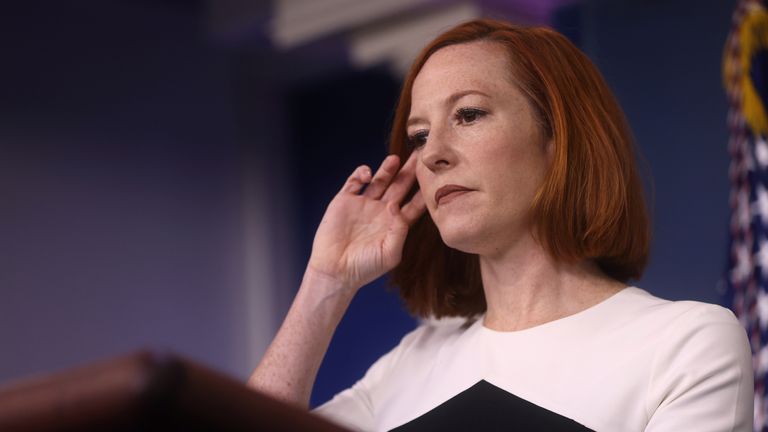 "We have a fundamental commitment to promoting human rights. And we feel strongly in our position and we will continue to take actions to advance human rights in China and beyond," Ms Psaki added.
Senate Foreign Relations Committee chairman Robert Menendez described the boycott as "a necessary step to demonstrate our unwavering commitment to human rights in the face of the Chinese government's unconscionable abuses".
He called on "other allies and partners" to take the same action against the Games.
Human rights advocates and lawmakers in the US have cited China's poor human rights record as justification for the boycott, adding the country is using the games to whitewash its ill-treatment of civil rights activists, political dissidents, and ethnic minorities.
Chinese Foreign Ministry spokesperson Zhao Lijian accused US politicians of grandstanding over the issue of not sending dignitaries to attend events that China hopes will showcase its economic development and technological power.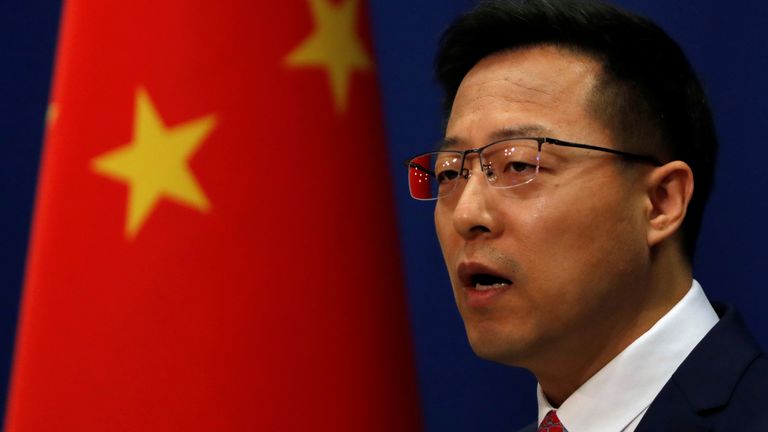 Speaking to reporters, Mr Zhao said: "Without being invited, American politicians keep hyping the so-called diplomatic boycott of the Beijing Winter Olympics, which is purely wishful thinking and grandstanding.
"If the US side is bent on going its own way, China will take firm countermeasures."
In a statement, the International Olympic Committee (IOC) said: "The presence of government officials and diplomats is a purley political decision for each government, which the IOC in its political neutrality fully respects."
It said it welcomed the decision to allow athletes to compete, saying it shows their participation is "beyond politics".
Later this week, Joe Biden is due to host a White House Summit for Democracy, which will see a virtual gathering of leaders and civil society experts from more than 100 countries.
The administration has said that Mr Biden intends to use the meeting on Thursday and Friday "to announce both individual and collective commitments, reforms, and initiatives to defend democracy and human rights at home and abroad".
Bitcoin 'flash crash' sees long positions worth $2bn closed by exchanges | Business News
A so-called "flash crash" for Bitcoin over the weekend has wiped out positions worth $2bn and left market experts pondering whether a wider reset for value has set in.
The world's largest cryptocurrency lost over a fifth of its value at one stage, taking the market capitalisation back below $1trn, after a broader flight from riskier assets kicked in on Friday.
Then, stock markets on Wall Street were among those hit in the wake of a weaker-than-expected report on the US labour market.
Experts also cited traditionally low trading volumes for crypto assets over weekends – a scenario that can exacerbate downward or positive value movements.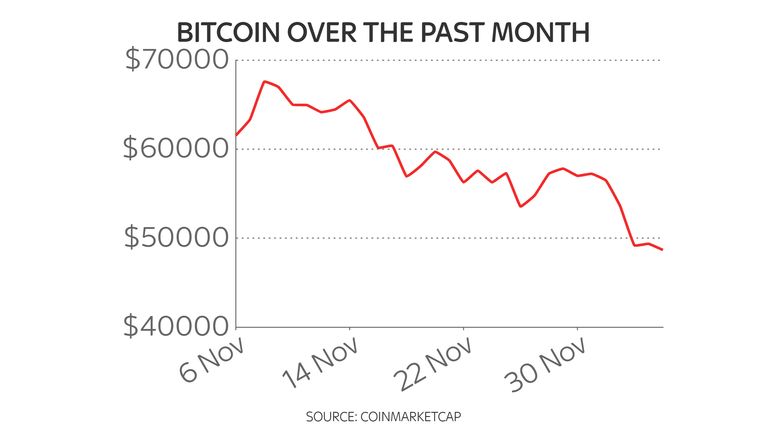 They said the weekend rout in Bitcoin's price and the amount invested in Bitcoin futures returned to levels last seen in October, just before a massive price surge that sent the token to an all-time high of $69,000.
The digital currency – which is no stranger to wild fluctuations in value – also started Monday on the back foot and was trading around the $47,000 mark on most exchanges.
Matt Dibb, from Singapore-based crypto fund distributor Stackfunds, said: "Our expectation is the rest of Q4 will be a hard month; we aren't seeing the strength in bitcoin that we generally see after one of these crushing days.
"Leverage markets have been completely reset, and open interest within leverage markets has completely reset."
Coinglass, the cryptocurrency futures trading and information platform, said that as prices fell on Saturday, investors who had bought bitcoin on margin saw exchanges close their positions, causing a cascade of selling.
A range of retail-focused exchanges closed more than $2bn of long bitcoin positions.
Susannah Streeter, senior investment and markets analyst at Hargreaves Lansdown, said of the plunge: "The cryptocurrency is highly sensitive to the fortunes of the stock market and traders were spooked by a stock sell off in the US, following some disappointing jobs figures.
"The sharp fall erased the last two months of gains, yet more evidence of the highly volatile nature of the asset.
"Crypto coins and tokens have been propelled higher in this era of ultra-cheap money and as speculation swirls about just when central banks will start further tightening mass bond buying programmes and start raising interest rates, they are likely to continue to be highly volatile."
Berlin techno music scene should be protected by Unesco world heritage status, say campaigners | World News

DJs and music fans are hoping to secure Unesco world heritage status for Berlin's techno culture amid ongoing fears it could struggle to survive.
Music fans from across the world still travel to the German capital to visit renowned clubs such as Tresor and Berghain – and a growing campaign is calling on the authorities to apply to Unesco to protect the countercultural genre.
Techno's popularity grew in Germany after the fall of the Berlin Wall with abandoned sites such as power plants and factories providing the setting for clubbers to musically express their freedom.
Although still seen as the world capital for the music genre, there are fears the COVID pandemic and the rising value of the city's real estate will threaten its existence.
Some estimates say around 100 clubs have closed in the last decade in a city which first adopted the techno sound after its emergence in Detroit in the 1980s.
Berlin's creative scenes are the 'city's currency'
Detroit DJ, Alan Oldham, who is now based in Berlin, said recognition from Unesco would help to protect key venues.
He told the Observer: "Unesco protection would go a long way towards maintaining that old spirit.
"Legacy venues like Tresor and Berghain for example would be protected as cultural landmarks.
"So many venues have closed in just the seven years I've lived here full-time.
"In other cities, it would be the natural club cycle at work, but Berlin is a different kind of place, where the club and creative scenes are the currency of the city."
Support has been growing for the campaign spearheaded by Berlin-based organisation Rave The Planet, which says the techno scene should be "protected by Unesco as an intangible cultural heritage".
If Unesco status is granted, clubs would get extra protection under planning laws and there would also be access to subsidies and other funding.