Georgia looks to drop electronic voting machines in favor of paper ballots
A unique effort is underway in Georgia to safeguard elections by taking voting machines back to the future.
"The most secure elections in the world are conducted with a piece of paper and a pencil," said Georgia State Rep. Scot Turner. "It allows you to continue into the future to verify the result."
Turner has proposed a bill that would retire Georgia's electronic touch-screen voting machines and switch to paper ballots that voters would fill out and then be counted by optical scan machines. The technology has been in use for decades to score standardized tests for grade-school students.
"You can try and hack these machines all day long," Turner said. "But that piece of paper that you can touch and feel and look at is going to give the voter the confidence that the election is actually being recorded the way it should have been."
But Georgia's top election official, Secretary of State Brian Kemp, also a Republican, said the electronic voting machines currently in use in Georgia are accurate and efficient and replacing them with paper would be a step backward.
"The fraud we see in Georgia is with paper ballots," Kemp said. "So, I would be very careful going back to the old days of the hanging chad."
Hanging chad is a reference to incompletely punched card ballots in Florida that put the outcome of the 2000 presidential race in limbo for 36 days. The delay prompted calls nationwide for upgrades in voting technology.
Georgia went to direct-recording electronic voting machines (DREs). Voters select candidates on a touch-screen computer, which records their choices on an electronic ballot.
Georgia is one of five states still using DREs statewide without a physical paper trail backup. A sixth state, Nevada, uses DREs with a paper trail statewide.
The rest of the nation uses a patchwork of voting systems that vary from state to state and, often, countsy to county.
"I don't know that there needs to be one specific way to cast a ballot and record a vote, but there are a number of best practices," said Jeh Johnson, who served as director of Homeland Security during the Obama administration.
Johnson said what's crucial is redundancy — having a backup system for recounting votes if there's a technical glitch or deliberate meddling.
"The cyber threat to our country is going to get worse before it gets better," Johnson said. "Bad cyber actors — whether they're nation states, cyber criminals, hacktivists, those who engage in ransomware — are increasingly aggressive, tenacious and ingenious."
Last year, DHS declared America's election systems as "critical infrastructure" — underscoring the importance of protecting how the nation conducts democracy. Solutions are likely to vary from region to region, just as voting technology varies. And experts say that diversity is part of the protection.
Fox News producer David Lewkowict contributed to this report.
9,000 children died at 'brutally misogynistic' homes for unmarried mothers in Ireland | World News
Unmarried mothers in Ireland faced a "brutally misogynistic culture" for decades, a minister has said after the publication of a report into the deaths of 9,000 children and babies.
A five-year investigation by a judicial commission of investigation details how the children died at 18 institutions for unmarried mothers and their babies between 1922 and 1998.
The commission's 3,000-page report confirms that 9,000 babies died – about 15% of all the children who were in the institutions – and a figure far higher than the national mortality rate at the time.
Irish Prime Minister Micheal Martin will make an official state apology to those affected.
He said the report describes "a dark, difficult and shameful chapter of very recent Irish history".
The Irish government will also provide financial recognition to the specific groups identified in the report, and push ahead with laws to support excavation, exhumation and, where possible, identification of remains at burial sites.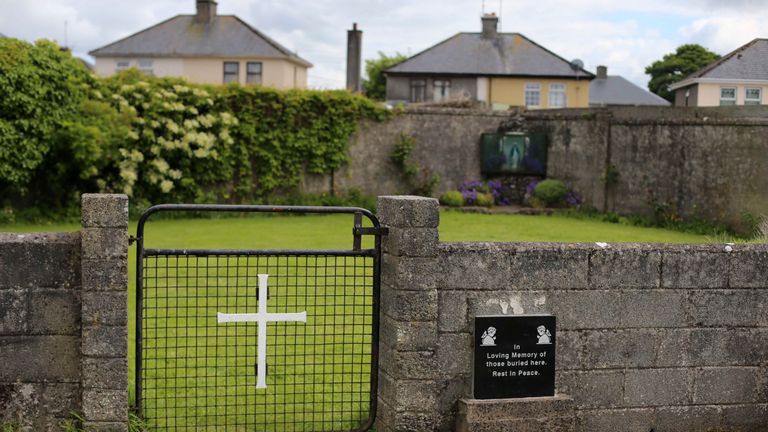 Additionally, the government has established a counselling support service for survivors, who were given access to it for the first time earlier on Tuesday.
Children's minister Roderic O'Gorman said the report, which contains 53 government recommendations, makes clear that unmarried mothers faced a "stifling, oppressive and brutally misogynistic culture" for decades.
Mother and baby homes were institutions where young pregnant women were sent, often under pressure from local clergy. There, they would give birth and eventually be separated from their children, who were offered up for adoption, sometimes in the United States.
Irish society in the mid-twentieth century was deeply intertwined with the teachings of the Catholic Church, and pregnancies out of wedlock were seen as scandalous.
There were about 56,000 unmarried mothers and about 57,000 children in the mother and baby homes investigated by the commission.
The greatest number of admissions was in the 1960s and early 1970s.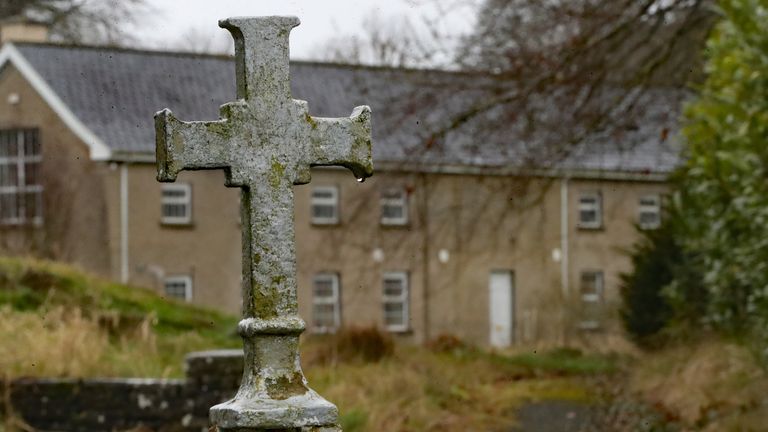 The commission said: "While mother and baby homes were not a peculiarly Irish phenomenon, the proportion of Irish unmarried mothers who were admitted to mother and baby homes or county homes in the 20th century was probably the highest in the world."
The investigation commenced after a local historian discovered the existence of a mass children's grave at the site of a former home, run by the Bon Secours nuns, in Tuam, Co Galway.
Through painstaking research, Catherine Corless established that 796 children had died at the home, and were interred in chambers in a former sewage tank. Local boys playing at the site had previously discovered human bones under a concrete slab.
The revelation shocked Ireland, and made international headlines. The Irish government was spurred into establishing the commission of inquiry.
Speaking to Sky News at the Tuam site, where the childrens' remains lie below a memorial garden, Ms Corless said that so many children died due to the attitudes towards unmarried mothers and their babies at the time.
"The Roman Catholic church created this culture of women being in sin if they had a child out of marriage", she said.
"That was strongly enforced in everyone's mind at the time, people were afraid of saying anything against the Church or the local priest.
"There was very little respect for illegitimate children at the time – there was a lot of neglect of the babies. I believe with a little bit of hygiene and a little bit of care, a lot of the babies could've been saved. It screams of pure neglect."
In the 1930s and 1940s, over 40% of children in the homes died before their first birthday, the commission found.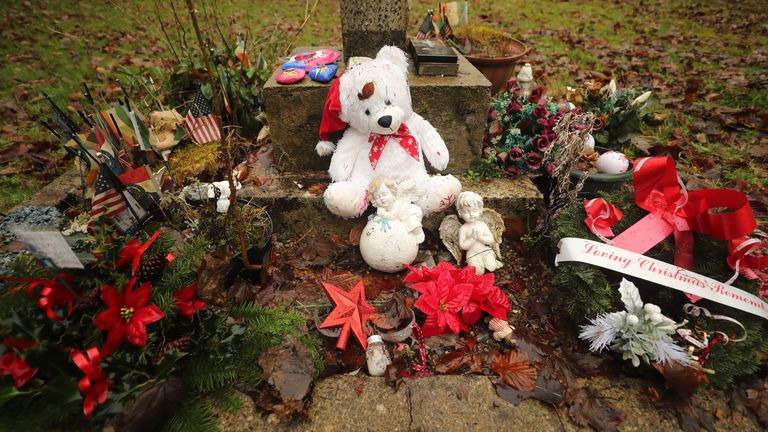 But it found little evidence that politicians or the public were concerned about the children, despite the "appalling level of infant mortality".
Some of the institutions investigated were owned and run by the local health authorities – including the county homes, Pelletstown, Tuam and Kilrush.
Others were owned and run by religious orders, for example the three homes run by the Congregation of the Sacred Hearts of Jesus and Mary – Bessborough, Sean Ross, Castlepollard (the Sacred Heart homes).
Many were in very poor physical condition, ,Kilrush and Tuam had "appalling physical conditions", the commission said.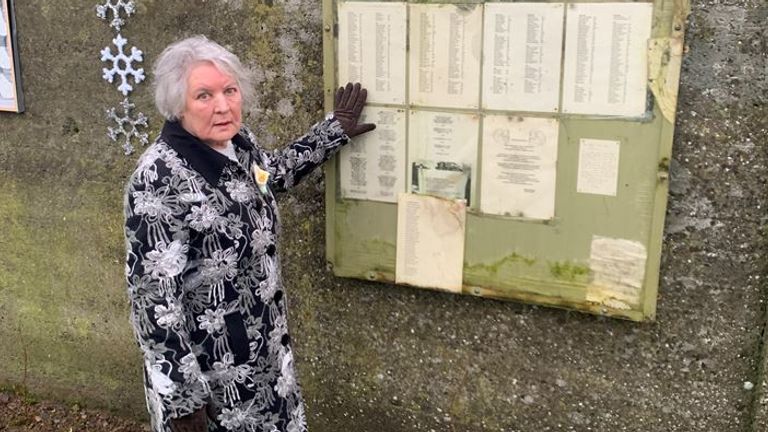 Winnifred Carmel Larkin, was born at the Tuam home in 1949, and remained there for five-and-a-half years before being fostered.
She remains angry at how her mother, who she hasn't seen since she was a baby, was treated.
Ms Larkin said: "Well it's our holocaust isn't it? They had the holocaust in Germany but the mother and baby homes were our holocaust."
She has never seen a photograph of her mother, or knows where she is buried.
"I was horrified," she said of discovering how mothers were treated at Tuam.
"Horrified that any human being could treat babies and mothers like that. The mothers walked in here and they were sinners. To give birth to a baby is the most previous gift any woman can have."
Trump says impeachment attempts are causing 'tremendous anger' – but he wants 'no violence' | US News

Donald Trump has warned that efforts to impeach him are causing "tremendous anger" – but stressed he wants "no violence" in the run-up to Joe Biden's inauguration.
Speaking to reporters for the first time since last week's deadly riots at the US Capitol, Mr Trump declined to answer questions on whether he would resign.
His remarks came as he left for a trip to the border wall in Texas.
"We want absolutely no violence," said the president.
"On the impeachment, it's really a continuation of the greatest witch-hunt in the history of politics, it's ridiculous – it's absolutely ridiculous.
"The impeachment is causing tremendous anger… and it's really a terrible thing that they're doing," said Mr Trump.
"For Nancy Pelosi and Chuck Schumer to continue on this path, I think it's causing tremendous danger to our country and it's causing tremendous anger."
Before he stepped on helicopter Marine one, he reiterated: "I want no violence".
Into The Grey Zone: The 'invisible' attacks that threaten to undermine democracies | World News

Invisible attacks by states like Russia, China and Iran risk unravelling the world's democracies "without a shot being fired", the defence secretary and the UK's military chief have warned.
There is also a threat that hostilities – from cyber hacks and disinformation to assassinations and sabotage – escalate, perhaps even triggering an "uncontrollable state of war", they said.
A new podcast series by Sky News explores how assaults in a grey zone between war and peace can weaken a target society from within by eroding trust in government and amplifying divisions on issues like politics, race, and even the coronavirus pandemic.
They take place deliberately below the threshold of war so as not to draw enough public attention to prompt an effective retaliation, according to interviews with current and former spies, hackers and soldiers for the Into The Grey Zone podcast.
The whole point is to cause harm to your enemy and gain an advantage without people feeling sufficiently threatened or realising they're under attack, they said. Left unchallenged, these "insidious, subversive" attacks could be just as damaging as a military invasion.
Lieutenant General Graeme Lamb, a former director of UK special forces, summed up the threat: "We're being boiled like a frog."
:: Subscribe to Into The Grey Zone on Apple Podcasts, Spotify, Spreaker