Central bank chief suspended in Latvia corruption scandal

Imagine the turmoil if Mark Carney, the Bank of England governor, had spent the weekend under arrest following allegations from a leading bank that he had been seeking and accepting bribes – all as payments from another top UK bank had been suspended while it was under investigation for laundering money including funds destined for North Korea's missile programme.
That, roughly, is what is currently happening in Latvia. Ilmars Rimsevics, the governor of the Baltic state's central bank, was arrested at the weekend on suspicion of demanding and receiving bribes worth more than €100,000.
Mr Rimsevics, who has held the post since 2001 and who also sits on the governing council of the European Central Bank, denies the accusations.
Latvia's anti-corruption agency announced on Monday it had launched criminal proceedings against him.
Meanwhile, ABLV, Latvia's third largest bank, stands accused by the US Treasury of widespread money-laundering.
The European Central Bank (ECB), which supervises Latvia's banking system, has suspended all payments by the bank in the meantime.
Among those on whose behalf ABLV is said to have managed transactions include North Korea's Foreign Trade Bank, a body the UN says helps finance the pariah state's nuclear missile programmes, while the bank is also alleged to have handled money from Ukraine, Russia and Azerbaijan obtained corruptly.
ABLV denies the accusations.
And, in a third development, the country's state police are separately investigating another senior official from Latvia's finance sector – as yet unnamed – on suspicion of accepting bribes from a Russian businessman.
What is particularly striking about the accusations against Mr Rimsevics is that they come from another Latvian bank, Norvik, which is controlled by the Russian businessman Grigory Guselnikov.
It says Mr Rimsevics has been demanding payments since 2015 and threatening tougher regulation if the money was not forthcoming.
In response, Latvia's prime minister, Maris Kucinskis, has suggested the allegations are "an attempt to disrupt the reputation of the Latvian state".
Mr Rimsevics, who has refused to step down but who was today suspended from his post, says he has received death threats.
It's all a mess – and one with potential to embarrass both the ECB and the European Commission.
The ECB, while responsible for regulating ABLV's financial stability, is resisting attempts for it to investigate the US allegations of money laundering.
As for Brussels, there is potential for embarrassment because the current commissioner for financial services is Valdis Dombrovskis, a Latvian who succeeded Britain's Lord Hill following the latter's resignation after the EU referendum.
Mr Rimsevics himself is, according to the Associated Press, "privy to the state secrets of Latvia, NATO and the EU" having held senior positions overseeing the country's banking system during the 25 years or so since it broke away from the old Soviet Union.
The problem for Latvia, a country of just two million, is that this is not the first time its banks have been accused of money-laundering.
Some of the money looted from the Russian state by corrupt officials in a fraud uncovered in the mid-2000s by Sergei Magnitsky, a lawyer later beaten to death in a Russian prison, passed through the Latvian banking system.
Most major banks stopped offering "Correspondent Banking" services – where a large international bank clears the foreign currency transactions of smaller banks through major financial centres – for Latvian banks years ago.
Numerous offshore companies named in the leaked Panama Papers had connections to Latvia. And as recently as March last year, the French national prosecutor called for the president of another Latvian bank, Rietumu Banka, to be jailed, amid allegations it had been laundering money illegally obtained by French nationals.
Yet Latvia has worked hard in recent years to clean up its act amid concerns that the loss of Correspondent Banking services had potential to hurt the country's businesses.
Many customers who were deemed to put the banks at risk of money-laundering have been dropped by the banks.
The timing of all these allegations, accordingly, looks rather unusual.
War crime allegations in Palestinian territories to be investigated by International Criminal Court | World News
An investigation into alleged war crimes in the Palestinian territories has been launched by the International Criminal Court (ICC).
Nearly a month after the court ruled that it did have the necessary jurisdiction, a formal inquiry has been launched.
The ICC's outgoing prosecutor, Fatou Bensouda, said her office had carried out a "painstaking preliminary examination" lasting "close to five years".
"In the end, our central concern must be for the victims of crimes, both Palestinian and Israeli, arising from the long cycle of violence and insecurity that has caused deep suffering and despair on all sides."
Ms Bensouda said the court's inquiry into events since 2014, will follow "the same principled, non-partisan, approach that it has adopted in all situations over which its jurisdiction is seized".
It was initially said that the actions of both Israel and armed groups in Palestine would be looked in to, but later reports said the investigation will focus on alleged Israeli actions.
Predictably, like February's announcement about jurisdiction, Wednesday's development was welcomed by the Palestinian Authority (PA), but rejected by Jerusalem.
Israeli Prime Minister Benjamin Netanyahu described the opening of an investigation as "the epitome of antisemitism and hypocrisy" and promised to reverse it.
Warning that Israel "is under attack tonight", he evoked memories of the Holocaust as he condemned the decision.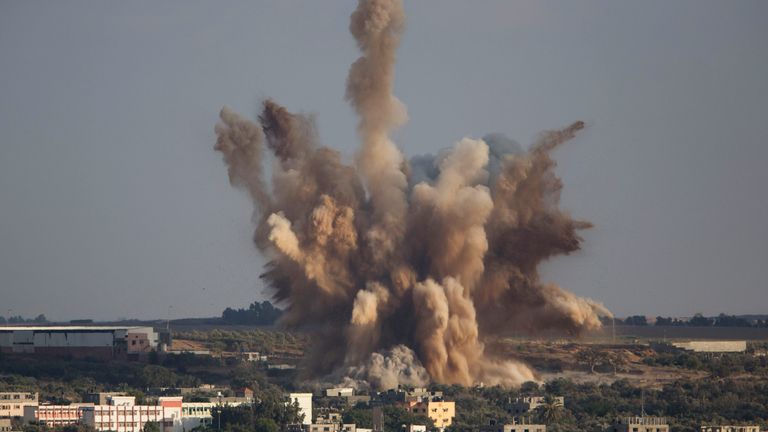 "The court set up to prevent the recurrence of the atrocities perpetrated by the Nazis against the Jewish people is now turning against the state of the Jewish people," he said.
In contrast, a PA foreign ministry statement called it "a long-awaited step that serves Palestine's tireless pursuit of justice and accountability, which are indispensable pillars of the peace the Palestinian people seek and deserve".
The US-based campaign group Human Rights Watch said the decision "moves Israeli and Palestinian victims of serious crimes one step closer to obtaining a measure of justice that has for too long eluded them".
Ms Bensouda, who will be replaced by British prosecutor Karim Khan in June, said in December 2019 that "war crimes have been or are being committed in the West Bank, including East Jerusalem, and the Gaza Strip".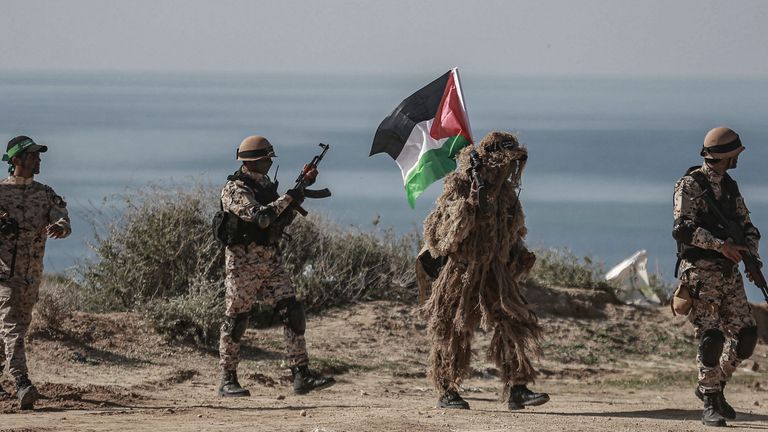 The Palestinians joined the court in 2015 and have long pushed for an investigation of Israel, which is not a member.
They especially want Israeli actions during its 2014 war against Palestinian militants in the Gaza Strip to be assessed, as well as Israel's construction of settlements in the occupied West Bank and annexed east Jerusalem.
Ms Bensouda has reportedly also vowed to look into the actions of Hamas, which fired rockets indiscriminately into Israel during the 2014 war.
'Terror motive' investigated after eight hurt in stabbing attack in Sweden | World News

Eight people have been injured in a Swedish town after a stabbing attack police say could be terror-related.
A man in his 20s attacked people in the town of Vetlanda, about 210 miles south of the capital Stockholm, on Wednesday afternoon.
Aftonbladet said the weapon used was a knife but the Associated Press reported it was an axe.
Police said people had been stabbed in at least five locations in the town of roughly 13,000 people, and some of the victims were in a serious condition.
The attacker's motive was not clear but Prime Minister Stefan Lofven said terrorism was possible.
He said: "In the light of what has emerged so far in the police investigation, prosecutors have initiated a preliminary investigation into terrorist crimes.
"We confront such heinous acts with the combined force of our society."
Sweden's domestic security agency SAPO is also working on the case, he said, adding: "They continuously assess whether there are reasons to take security-enhancing measures and are prepared to do so if necessary."
Regional police chief Malena Grann said: "We have started a preliminary investigation of attempted murder but there are details in the investigation that make us investigate possible terror motives."
Asa Karlqvist owns a flower shop in the town and told local newspaper Vetlanda-Posten: "We heard a scream from the street.
"Then we saw a man enter the store, shouting that he had been stabbed.
"Blood was pouring from his shoulder, so we got towels and applied pressure on the wound."
Meanwhile, the attacker is in hospital after being shot by police before he was arrested.
Local police chief Jonas Lindell said "it seems that the injuries are not life-threatening" but he did not give further details.
Police have not identified the attacker publicly but said he was previously known to them for minor crimes.
There is no indication that others were involved in the attack, they added.
'Virulent' outbreak of equine herpes forces European equestrian events to be axed | World News

A virulent outbreak of equine herpes in eastern Spain has forced European equestrian events to be cancelled across the continent.
The International Federation for Equestrian Sports said the move will see events axed in 10 European countries until 28 March.
The ban affects upcoming events in Spain, Portugal, Belgium, Italy, Austria, Poland, Netherlands, Germany and Slovakia.
The federation's general secretary, Sabrina Ibáñez, said an unspecified number of horses have already died from the outbreak.
"This was not an easy decision to block events in mainland Europe, particularly after the major disruption to the FEI Calendar caused by the COVID-19 pandemic.
"But this EHV-1 outbreak is probably the most serious we have had in Europe for many decades."
The outbreak appears to have originated in Valencia, Spain, and has been linked to subsequent outbreaks in three other European countries.
The federation is allowing horse jumping shows in Spain, Portugal, Italy and Belgium to go ahead as long as no new horses enter the events and no cases of the virus are detected.