Bad diagnosis, clerical errors, background check lapses led to missed warning signs before mass killings
Florida school shooter Nikolas Cruz has become the latest mass killer who was able to carry out his sick slaughter due in part to law enforcement's failure to heed warnings of disturbing behavior and because of lapses in the background check process.
The FBI admitted on Friday it received a call just over a month before Cruz opened fire at Marjory Stoneman Douglas High School on Valentine's Day, killing 17 people.
Attorney General Jeff Sessions said he ordered an "immediate review" after it emerged the bureau had not acted on a Jan. 5 call from a person close to Cruz who contacted the FBI through its Public Access Line tipline to express concerns about Cruz's erratic behavior and disturbing social media posts. The person said Cruz may have aspired to be a "school shooter."
Besides the tip last month to the FBI, the 19-year-old was also investigated by social services and mental health professionals in 2016 after disturbing Snapchat videos — which showed him cutting both his arms — were uncovered. But Cruz avoided hospitalization, according to a Florida Department of Children and Families report obtained by Fox News.
State investigators found Cruz to be low risk, and investigators felt he was unlikely to hurt himself or others because he had "services already in place," including receiving counseling from Henderson Behavioral Health.
Florida DCF closed the investigation into Cruz on Nov. 12, 2016 "based on his caregiver's protective capacity, in-home services through Henderson, and engagement in school."
During the DCF investigation, Cruz's adoptive mother told caseworkers that Cruz did not own a firearm. Cruz purchased a Smith & Wesson M&P 15 rifle in February 2017 from a licensed gun store located about three miles from the school, law enforcement officials said.
RECENT SCHOOL SHOOTINGS IN THE US
If Cruz wanted a handgun, however, the sale wouldn't have been allowed. Federal laws allow people as young as 18 to buy semi-automatic weapons from licensed dealers, while handgun purchases are restricted to those 21 and older.
Cruz had his gun for about seven months when he commented on YouTube that he was "going to be a professional school shooter." The FBI has said it investigated the incident, but was unable to identify the person who posted the comment despite Cruz using his actual name as his YouTube user name.
Here are some other recent mass murderers that have slipped through the cracks in the system:
DEVIN PATRICK KELLEY — SUTHERLAND SPRINGS, TEXAS
The man behind the massacre that killed 25 people at a Texas church in November 2017 had a history of domestic abuse. But Devin Patrick Kelley was able to purchase guns because information about his crimes was never entered into a federal database used for background checks.
Kelley purchased four guns, including the AR-15-style rifle and handguns found in and near First Baptist Church in Sutherland Springs, from licensed dealers in Texas and Colorado over a four-year span.
The 26-year-old passed required background checks because the Air Force never informed the FBI about his criminal conduct — which included an assault on his wife and her child that led to a court-martial, a year of confinement and a bad conduct discharge. Military rules require the information to be shared.
Kelley was convicted at a court-martial for choking his then-wife and fracturing her son's skull in 2012.
Besides the lapse by the Air Force, officials in Texas disclosed in records released Friday they didn't pursue a sexual assault investigation against Kelley in 2013, even though the woman reporting it signed a complaint detailing the alleged attack.
Authorities said the alleged victim was not given a forensic exam in June 2013 after reporting the assault, which she said had occurred three days earlier. The investigation was then listed as inactive because a detective at the Comal County sheriff's office couldn't contact Kelley, thinking he had moved.
The 2013 case remained inactive even after deputies were called to Kelley's home in February 2014 to investigate a separate domestic violence complaint against him.
"This was an error on the part of the sheriff's office," Comal County Sheriff Mark Reynolds told The Associated Press.
A 1996 law bans people convicted of even a misdemeanor-level domestic violence offense from owning guns.
KEVIL NEAL — RANCHO TEHAMA RESERVE, CALIFORNIA
The man who killed five people in a rural northern California community in November 2017 had violent squabbles with his neighbors and his wife, but was not arrested for previously violating a court order prohibiting him from having guns.
Police said at the time, neighbors repeatedly complained about Kevin Neal, 44, firing hundreds of rounds from his house — among other erratic and violent behavior. While authorizes responded to the home several times, Neal wouldn't open the door so they left, Tehama County Assistant Sheriff Phil Johnston said at the time.
"He was not law enforcement friendly. He would not come to the door," Johnston said during a news conference. "You have to understand we can't anticipate what people are going to do. We don't have a crystal ball."
FLORIDA SCHOOL SHOOTING AMONG 10 DEADLIEST IN MODERN US HISTORY
At the time of the 25-minute rampage, Neal was out of custody on bail after being charged in January 2017 with stabbing one of the neighbors he later killed. After the January assault, a judge barred Neal from having guns, according to court records. The records also show Neal was charged with illegally firing a weapon and possessing an illegal assault rifle on Jan. 31.
He was charged with five felonies and two misdemeanors. As part of a protective order that barred him from "owning, possessing, purchasing or attempting to purchase firearms," Neal was ordered to stay away from the two female neighbors he had threatened. Johnston initially said Neal "was not prohibited from owning firearms" but later acknowledged the protective order against him.
Neal certified that he surrendered his weapons in February, but authorities said they had recovered two homemade assault rifles and two handguns registered to someone else after the shooting rampage. After being pressed by reporters on why police did not act when Neal was in clear violation of his court order, Johnston replied: "The law is only for people who obey it."
DYLANN ROOF — CHARLESTON, SOUTH CAROLINA
A drug arrest in the months before Dylann Roof killed nine people at the Emanuel African Methodist Episcopal Church in Charleston, S.C. should have prevented him from using the pistol in that massacre, but a clerical error allowed the transaction to go through.
A jail clerk at the time made an error when entering the incorrect location for Roof's drug arrest in February 2015, which was not corrected in the state police database of arrests.
The FBI said at the time a background check examiner never saw the arrest report and couldn't find details when Roof wanted to buy a gun because the wrong arresting agency was listed in state criminal history records.
The background check found nothing after three days, and Roof was eventually allowed to buy the .45-caliber handgun authorities said was used in the June 17, 2015 shooting.
Fox News' Katherine Lam, Lucia Suarez and The Associated Press contributed to this report.
Multi-millionaire, 90, conned out of £23m by phone scammers in Hong Kong | World News

A 90-year-old multi-millionaire has been conned out of £23m after falling prey to a phone scammer.
The conman allegedly told the woman, from Hong Kong, that her identity had been used in a serious criminal case in mainland China and that she should transfer her money to a new bank account so officials could investigate.
According to the South China Morning Post, she is the biggest known victim of a phone scam in Hong Kong history.
Police arrested a 19-year-old university student late last month in connection with the crime and officers froze bank accounts containing HK$9 million (£830,000), but the rest remains missing.
According to the Central District Crime Squad, the woman received a call from a man claiming to be a mainland law enforcement official in July last year.
He told her once she had transferred her money and the investigation had been completed, she would get it all back.
So rife are phone and internet scams in Hong Kong that in 2017 a dedicated unit, the Anti-Deception Co-ordination Centre, was established in order to to pool police resources for tackling the crimes.
The South China Morning Post said reports of phone scams alone had risen by 18% to 200 in the quarter of 2021 with fraudsters pocketing more than HK$350 million (£32m) so far this year.
Indonesian navy submarine with 53 on board goes missing off coast of Bali | World News

Indonesia's navy is searching for a submarine with 53 people on board which has gone missing in waters north of the island of Bali.
The vessel was conducting a torpedo drill on Wednesday but failed to relay the results as expected, a navy spokesman said.
A search is under way for the German-made submarine, KRI Nanggala-402, and its crew.
Indonesia has asked authorities in Australia and Singapore for help with the hunt, the country's military chief told Reuters.
Syria's 'miracle baby' has cheated death several times – and brought together people across the world | World News
The Turkish doctors treating her are calling her the "miracle baby".
The survival of just one Syrian child refugee against tremendous odds has astonished medics around the world.
"She has cheated death at least three times," one of her doctors at Mersin Hospital, Dr Cagatay Demirci, told Sky News. "Each one of those times might be called a miracle."
Still only 18 months old, Dalal was rushed across the border from Syria's Idlib province to Turkey at the turn of the year with her life hanging by a thread.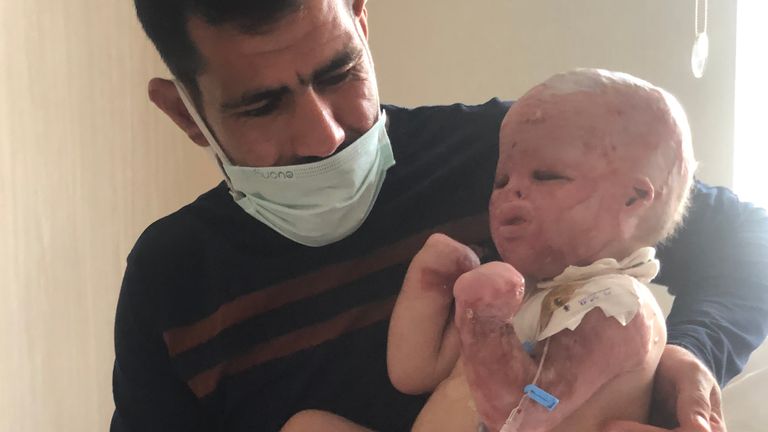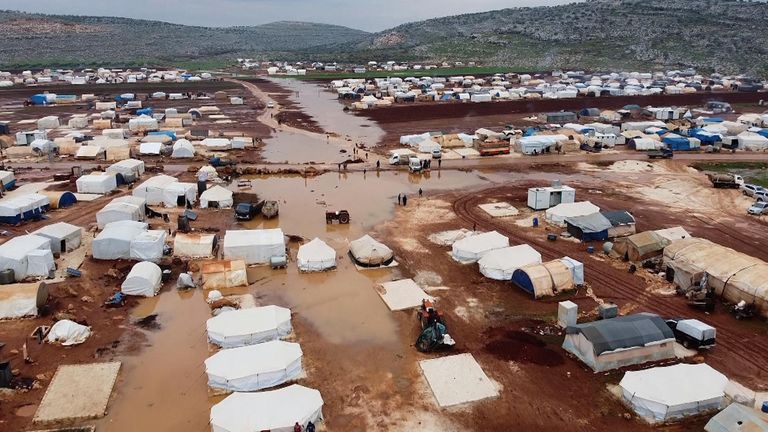 Dalal, along with her five siblings and parents, had been sleeping in their tent in Idlib when the stove they'd been using to keep warm set the shelter alight.
She was so badly burned the medics who first saw her initially concluded there was nothing they could do for her.
"Her skin was black like coal in many places," Dr Cagatay said. "It was dead."
But, not for the first time, Dalal proved the medics wrong.
"Our team went to work on her and did what we could but we left that night thinking she would not make it through the night. But when we came back in the morning, she was still here, still alive. And we thought ok, this baby wants to live!" he continued.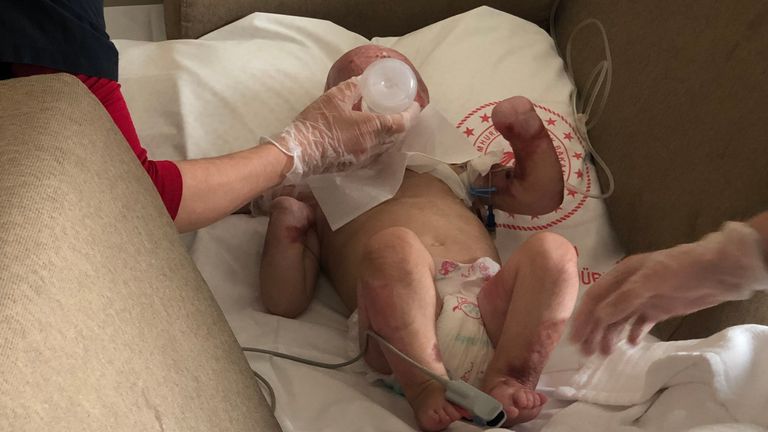 Mobile phone pictures of the incident on 10 January show a tremendous fire as people fought to pull the children to safety.
Dalal's elder sister, 10-year-old Yasmin, was the worst affected and died instantly but Dalal, then only 18 months, still had a pulse although she was badly burned.
An astonishing amount of her body had been burned – an estimated 90% – and she had inhaled a lot of searing hot air causing worrying damage to her lungs and windpipe.
However, because of her age, and because the family was in a camp near the Turkish border, she was considered an emergency case and rushed across.
She arrived alone in Turkey hours after the fire and was in surgery by 6am the morning after with a team of doctors at Mersin Hospital beginning the long fight to save her life.
Now more than three months on, she has proved an enduring symbol of survival and confounded doctors who've taken an interest in her case from around the world.
Sky News first reported on her case a few weeks after she'd been admitted to Turkey.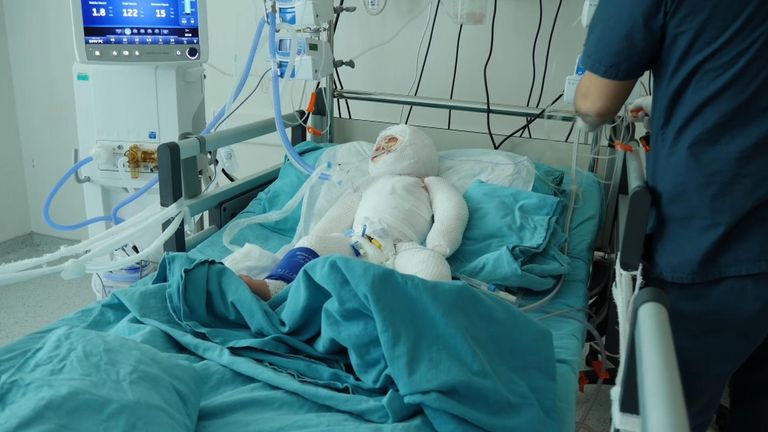 Then, her doctors gave her just a 10% chance of survival.
Virtually her entire body was swathed in bandages. She looked like a miniature mummy and her doctors were counting her life in hours and minutes. At the time, my team was unsure whether she'd still be alive by the time our report aired a few hours after filming.
But she's clung on.
She went on to get septicemia (serious bacterial blood poisoning) three times. Each time the medics thought she was not going to pull through. But each time she did.
She's already had dozens of surgical procedures to graft skin onto her leg and arm and her skull. Her blackened hands had to be amputated.
The Syrian child fighting for her life

"No doctor likes to do this, especially on a baby," said Dr Cagatay. "But our priority was to just keep her alive."
Her eyelids, her ears, her lips, her hair and skin on her skull had all melted away in the fire. The team spent hours and hours grafting skin. And somehow she's survived.
She still has no ears, and her face needs extensive reconstruction. The doctors estimate she will need probably another 10 years of plastic surgery. There is still a mountain of physical and emotional challenges ahead of her but the doctors are now so much more positive.
Talking directly to Dalal, Dr Cagatay said: "We should rename you. You are the miracle baby!"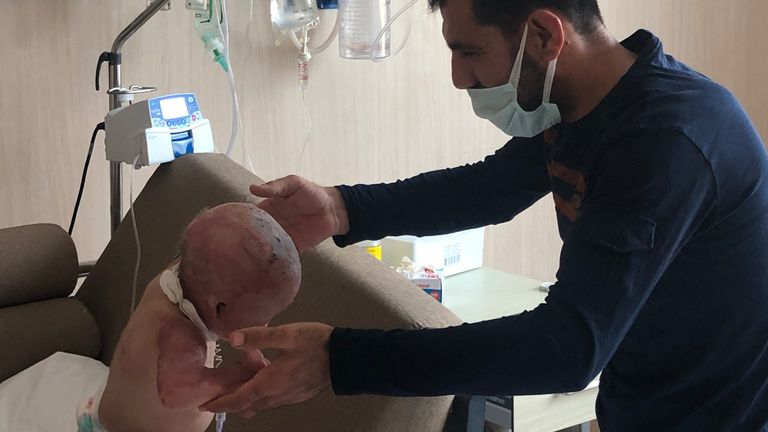 Dalal responded to the doctor's voice as soon as he entered her hospital room.
She listened to him intently and appeared to be reassured hearing the man who, along with his team, has pulled her back from the brink several times over.
During our filming of some of his operations on Dalal and her post-operative care, Dr Cagatay could be seen constantly talking to Dalal.
Despite her poor eyesight, Dalal seemed to recognise him – and there was an obvious bond between the two.
By the beginning of March, Dalal's father had managed to get permission to enter Turkey to see his terribly injured daughter.
He has been by her bedside ever since.
Dalal still has a tracheotomy helping her to breathe which means she cannot talk. Father and daughter now communicate with clicking noises – and we watched as Dalal reacted to her father's calls for "kisses" by clicking back.
She raised what was left of her hands so he could plant kisses on her and followed through by lifting her foot so he could kiss that too.
Her father played a nursery rhyme on his mobile phone and Dalal listened and appeared to try to swipe the device as she has seen her father do.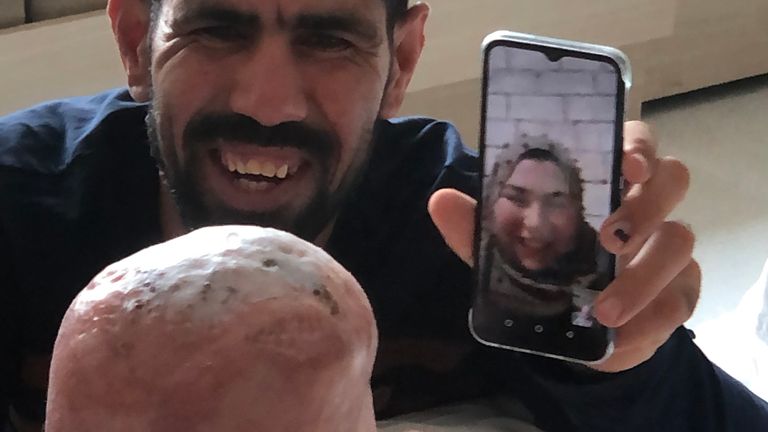 He telephoned Dalal's mother and her siblings, who are still in the refugee camp in Idlib province, and Dalal cocked her head as she saw her mother pop up on the screen.
She leaned forward, her arms outstretched and trying to reach her mother through the phone. It was an incredibly touching moment.
The Turkish authorities have granted Dalal and her father a "temporary protection order" which allows them to only remain in the country during her medical procedures but the rest of the family do not have this permission.
Her mother and the rest of her siblings are still in a tent in Tal al Karamah, north of Idlib city, with the family desperately trying to get permission to join them in Turkey. So far, the Turkish authorities have provided the life-saving medical treatment free but the reconstructive surgical costs will not be covered.
Her doctors believe reuniting with her family would be best for Dalal's recovery, which is by no means anywhere near over.
Thanks to Sky viewers who saw the initial report, some money has been raised through crowdfunding which was organised by a young, single mother in Surrey called Lisa Cavey.
"I cried when I first saw the report. I have a two-year-old myself, almost the same age as Dalal. And being a mother, I thought that could easily have been my daughter in different circumstances," she said.
"I just felt this was so wrong that this had happened and the family were in this situation through no fault of their own. I just had to act. The refugee crisis breaks my heart and I strongly believe people should not be living in tents in 2021."
She is using that money to help pay rent on a flat near the hospital.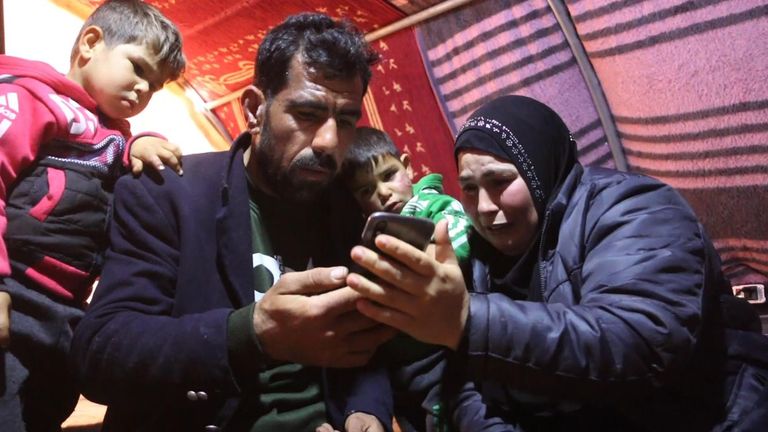 Dalal is likely to be discharged from the hospital within the next couple of weeks and then there will be another challenge for her to overcome – avoiding infection whilst her skin heals enough for the reconstructive surgery she will need for years to come.
Dr Aydin Yucel, who is also part of Dalal's medical team, told us: "It would not be good for Dalal to be returned to a tent in Syria. She needs a hygienic place to ensure she does not get infected."
Our report caught also the attention of medics in America and Britain who offered to help with specialist equipment – and who also frankly wanted to learn from the Turkish burns specialists in Mersin who find their wards now filled with Syrian victims of bombing, shelling and fires.
"We do roughly eight operations a day," Dr Cagatay told us. "And out of those I would say about five every day are Syrians who've been injured because of the war."
It probably makes the Turkish surgical burns team some of the most experienced specialist medics in the world.
Soon after the American and British doctors connected with the Turkish medical team, others joined too.
Now there are more than a hundred medical teams from around the world who are part of the WhatsApp communication group run by Dr Cagatay and Mersin Hospital.
They regularly exchange videos of Dalal, swap messages of advice, guidance and surgical know-how and are astonished at her endurance.
"They all feel they know Dalal," Dr Cagatay said.
They include doctors from Nigeria, Ghana, Ethiopia, Kenya, Tanzania, Morocco, Pakistan, Afghanistan, Palestine, Israel, Bhutan, Nepal, India, Indonesia, Australia, Singapore, China, Bangladesh, Georgia, Mexico, Belgium, Italy, Romania and Mozambique.
It's an astonishing line-up and collaboration – all brought together by one little girl whose plight really struck a chord.