UK woman arrested after leaving 'vile' note on parked ambulance responding to emergency call
A British woman was arrested Monday after she allegedly left a scathing note on an ambulance that was responding to an emergency call.
The crew was responding to a 999 call — the emergency service number in the United Kingdom — on Sunday about a person having difficulty breathing, West Midlands Ambulance Service said. The emergency crew arrived at the home in Stoke-on-Trent just after 11 a.m. and parked the ambulance at the closest spot available.
The crew discovered the "vile" note when they went back to the ambulance to bring the person to the hospital.
"If this van is for anyone but Number 14 then you have no right to be parked here. I couldn't give a s— if the whole street collapsed now move your van from outside my house," the handwritten note read.
Katie Tudor, a paramedic, tweeted an image of the note and said she was very upset about it.
"So upset to be sent this by one of our crews this morning! Along with this note left on their [ambulance], they received a load of verbal abuse!" Tudor wrote.
The image quickly circulated on Twitter and received thousands of comments. Eventually, Staffordshire police saw the Twitter post and took action after hearing about the details.
The woman who allegedly left the note, who was not identified, was arrested on suspicion of public order offenses.
"As a Trust we welcome Staffordshire Police's swift response to this incident and the arrest of the woman. We will continue to work closely with the police to ensure the perpetrator feels the full weight of the law," a West Midlands Ambulance Service spokeswoman said in a statement. "We have a zero-tolerance policy towards people who abuse our staff whilst trying to help patients in their hour of need. It is completely unacceptable and it must stop."
This isn't the first incident paramedics from West Midlands Ambulance Service have dealt with. Paramedics were reportedly told to move their ambulance last November in the midst of treating a heart attack patient, according to The Telegraph. 
Message in a bottle from 2018 found by teen after travelling 2,000 miles | Offbeat News
A message in a bottle that travelled more than 2,000 miles (3,200km) has received a response – three years after beginning its epic journey.
Sean Smith, who is now 16, had sent out the missive while on holiday in Rhode Island on Thanksgiving in 2018.
A note inside read: "It is Thanksgiving. I am 13 and visiting family in Rhode Island. I am from Vermont. If found email messageinabottle2018@gmail.com."
Fast forward to 2021, and the message was discovered by Christian Santos, a 17-year-old in the Azores, a small Portuguese archipelago.
He explained that he regularly picks up trash floating in the water in an attempt to help the environment – and decided to follow the instructions within the Powerade bottle.
Christian's email nearly fell on deaf ears because Sean had forgotten that he had sent out the bottle as a child, and couldn't remember the password to the email account.
Thankfully, Sean realised that his bottle had been found after a Facebook post was made by Christian's mother Molly.
The pair have now met on Zoom for the very first time, and plan to stay in contact.
"I think it's cool that somebody similar in age found it so far away and we were actually able to get in touch," Sean said.
COVID-19: Pregnant women and their unborn babies dying in Brazil as deaths set to pass 500k mark | World News
Brazil is likely to pass the awful mark of 500,000 COVID-related deaths in the next two days. Only the United States has a higher number of dead across the world.
Currently averaging 2,500 deaths a day, Brazil's P1 variant has long been identified as a highly virulent cause for concern, prompting travel bans to most countries.
But researchers in Sao Paulo, one of the worst-hit cities in the country, say the P1 variant has started infecting and killing pregnant women and their unborn children in startling numbers.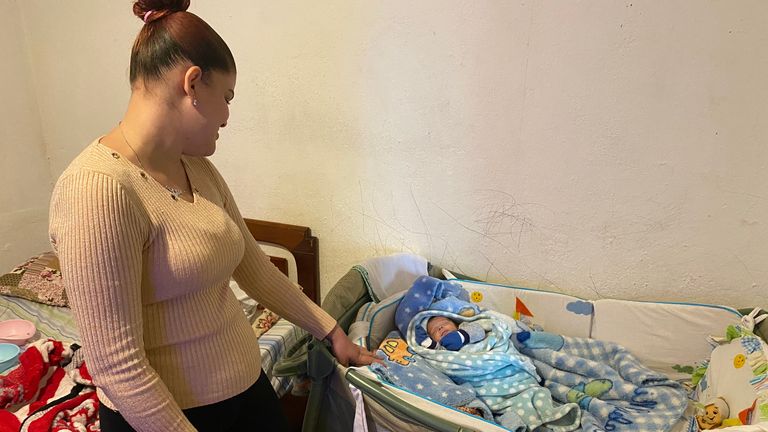 Currently 42 pregnant women die every week from COVID-19; many more women are being intubated and their premature children delivered by caesarean section without consultation with obstetricians, according to medical researchers at the Brazilian Obstetric Observatory.
Dr Rossana Pulcineli Vieira Francisco from the observatory said: "The virus transmissibility is higher with this variant and I think the big problem is that the health system for maternal care in Brazil is very bad.
"In some states the patient starts treatment in one hospital, a general hospital, and when her condition starts to worsen, and she needs to deliver the baby, she will be transported while intubated because they're not at the right hospital to do the delivery."
This, she believes, is part of the reason Brazil is seeing a higher rate of maternal mortality.
She says obstetricians and intensivists should be working together to find the right outcomes for mother and child, otherwise it will be very difficult to stop maternal mortality during COVID.
"I think we have more cases because of the variant, and because our maternal health system is very fragile, we have this result."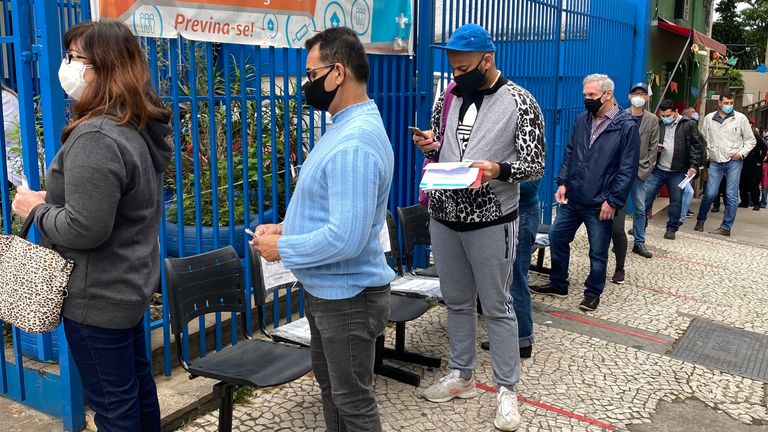 I asked her if it's a perfect storm.
"Yes", she replied, "and I think our only chance to stop this is the vaccine."
The data from her and her colleagues' research reveals that last year 10 pregnant women were dying each week from COVID-19.
This year, with the emergence of the new variant, the new figure is more than 40 per week.
Poor medical care and facilities already contributed to a high death rate for pregnant women in Brazil of 55 per 100,000 women. In Britain the figure is just 9.7.
But Dr Francisco says their research so far indicates that with COVID-19 as a factor the new number could double to over 100 per 100,000 by the end of the year.
The high overall transmission of the P1 variant (it accounts for nine in 10 coronavirus cases in Sao Paulo) combined with an overwhelmed health service, puts pregnant women at extreme risk.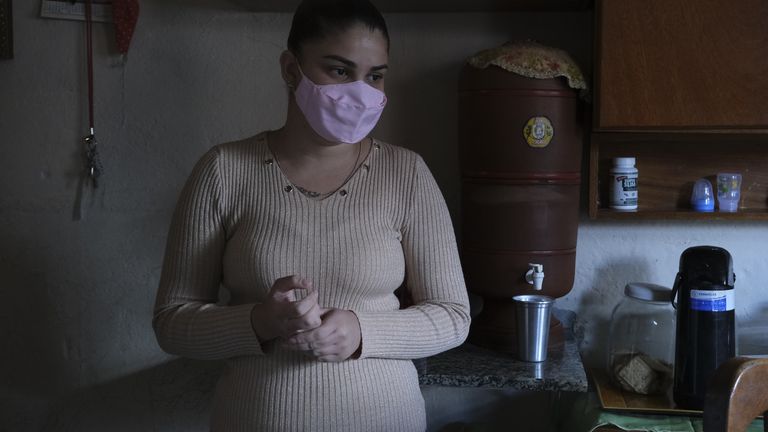 The practice of intubating pregnant women and delivering the baby while the mother is in a highly stressed condition is criticised by the researchers as a "bad outcome" for both the mother and her child.
For their part, doctors working in overstretched public hospitals prioritise the life of the mother over the child and without extensive experience of intubating anyone, let alone pregnant women, they have little choice but to deliver the baby while saving the mother.
In Jardim Almeida Prado, a poor neighbourhood in the south of the city of Sao Paulo, Thais Ferreira de Lomes looks down at her tiny three-month-old baby Ezequiel, who has just been released from hospital.
Ezequiel was born 12 weeks prematurely, after Thais was intubated.
Previously fit and healthy, like most people, Thais and her family thought she was in no danger when the first symptoms of COVID developed, but they were wrong.
When her kidneys failed, the doctors said she wouldn't live to see her third child.
She's still scarred by her near-death experience – her uncle had died of COVID when she first got sick.
"It was great to come home, see my family, and know that God gave me the opportunity to live again," she tearfully told me.
"Seeing so many people dying, so many people dying like my uncle died with COVID. Many people are dying with COVID."
Even though she is over the worst of her experience, she is scared for her and her children's futures, and worries Ezequiel might still get coronavirus.
"Even today I'm afraid because he's tiny, he was born prematurely. I told my mother-in-law that it's hard for me to look at him and not think that something might happen."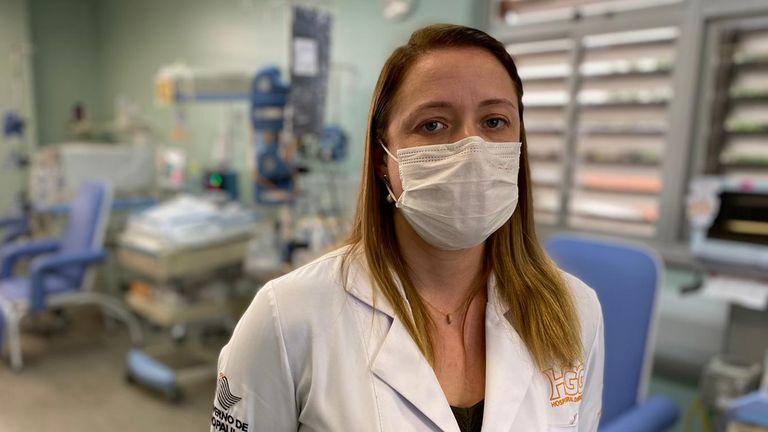 At the Graiau Hospital, the maternity ward and its premature babies section where Ezequiel was cared for, are currently free of COVID cases, but doctors and nurses have no expectation that it is going to stay this way – other hospitals in the city are still treating infants with COVID-19 and their sick mothers.
Dr Patricia Sella, the medical coordinator for gynaecology – and the doctor who treated baby Ezequiel – says she has no doubt that the P1 variant, sweeping across the country, is infecting young pregnant women like she hasn't seen before.
"In 2021 we observed an increase in pregnant women affected by COVID, likely because of the new strain.
"In 2020, in our hospital mainly, we had a very small number of pregnant women with COVID, but this year we have at least one pregnant woman hospitalised with COVID every week," she explained to me, standing in the hospital's neonatal intensive care unit.
She puts this down to the high infection rate of the P1 variant.
"So, actually, I think that with the change in the strain, we saw that the inflammatory process, [and] the vasculitis caused by the virus is much greater, right, and that ended up changing, bringing it to pregnant women.
"[Pregnant women] already have decreased lung compliance due to the pregnancy itself and the evolution of the pregnancy. With the COVID infection, this ends up getting worse.
"What we observed is that this strain ended up infecting pregnant women who do not have any other pre-existing conditions, so they do not have hypertension, and do not have diabetes during pregnancy. We observed that there was an increase and an increase in severity of the cases."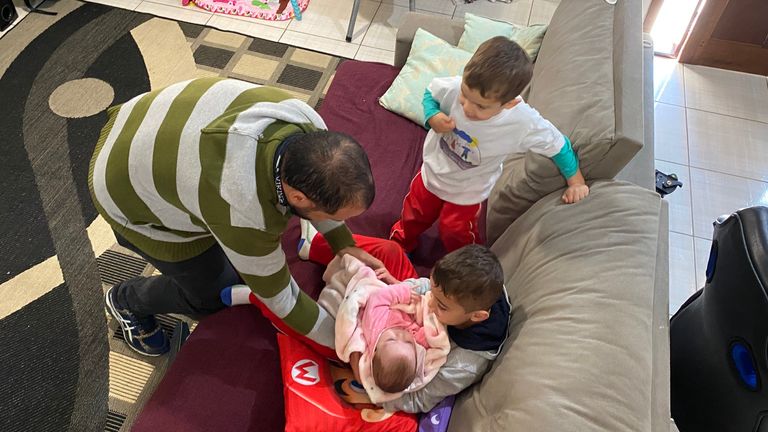 In the middle-class suburb of Jardim America, Douglas Silverio proudly shows off the latest addition to his family, three-month-old Maria Helena.
She has two elder brothers Pedro, five, and Bento, three, who run around their home playing with toys while their grandmother prepares lunch.
She now lives with the family because her daughter and the children's mother, Vanessa, is dead; killed by COVID-19.
Vanessa was just 33 when coronavirus struck.
Within five days she deteriorated and was intubated, and Maria Helena was delivered by caesarean section, coincidentally on her dad's birthday.
Vanessa never recovered.
"I told my sons, 'let's say goodbye to her'.
"Pedro, who is five years old, cried too, and he said, 'goodbye mother, you are going to heaven'.
"The youngest one did not understand what happened. And it was crazy, that was a crazy time, because we had prayed a lot for the baby, a lot of prayers from our family, but I was not ready to bury my wife in this process."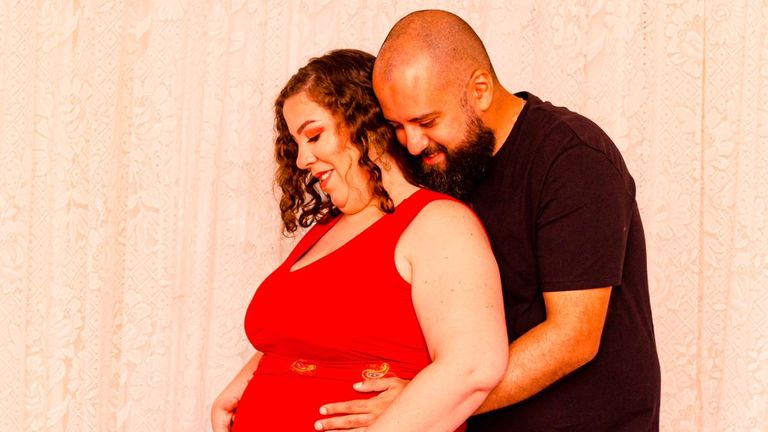 On the day Douglas held mass for his wife's death, baby Maria Helena was released from hospital.
He wants everyone to fear COVID and to listen to the warnings about the disease.
"I miss my wife. And she was my friend, we had a lot of plans together.
"I get scared when I see on the streets some pregnant women without masks. I say to them please take care of yourself."
The entire medical profession in Brazil now acknowledges that the only way to fight the virus and to stop the country being a petri dish for creating COVID-19 variants that will continue to threaten the world, is for the country's vaccination programme to speed up and reach all members of society.
The rollout is currently very slow and so far has only started to include 56-year-olds in Sao Paulo.
Many in the profession directly blame the country's president, Jair Bolsonaro, for the country's poor response to the pandemic.
He still refuses to take the vaccine, has continuously played down the danger of coronavirus and still discourages the use of face masks anywhere.
The identification of the virus as a specific threat to young pregnant women has set off the alarm bells here that COVID-19 variants are attacking younger and younger members of society, who were previously thought to be relatively safe from serious illness.
Johnson-Putin summit possible if Russia ends 'malign activity', defence secretary says | World News
A summit between Boris Johnson and Vladimir Putin might be possible if Russia's president ceases "malign activity" against the UK and its allies, the defence secretary has signalled.
Ben Wallace said it was important to offer a "path out, a path to improvement" and called a landmark meeting between Mr Putin and US President Joe Biden this week a "really welcome start".
But the senior minister told Sky News that Western powers would judge Moscow on what it does next before any warming of ties, which have been brought to a post-Cold War low by Russia's annexation of Crimea in 2014 and the Salisbury spy poisonings.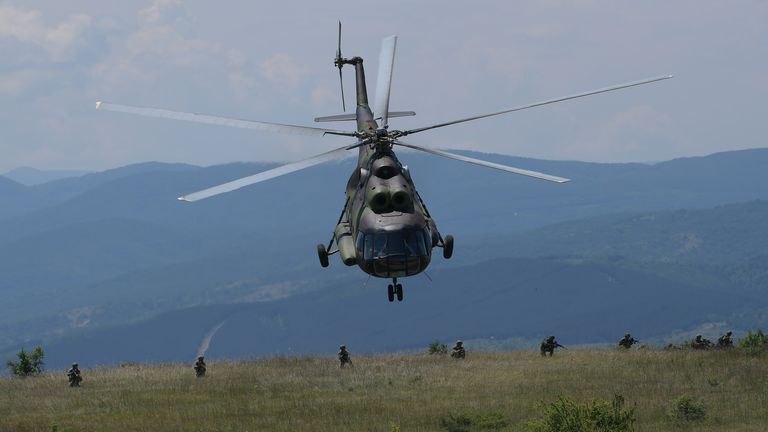 Asked if he thought the Kremlin might want relations with the UK to improve, the defence secretary said: "I hope so. But we will judge them on their actions. Diplomacy is only valuable if the actions that follow actually make a difference."
He said he remained concerned about an incident last month when the Russia-backed regime of Belarus forced a civilian airliner to land and seized a journalist on board.
Mr Wallace, who spoke on a two-day trip to Serbia this week, the first by a British defence secretary, also pointed to the poisoning of Russian opposition leader Alexei Navalny.
"We, unfortunately, still see malign activity. But I think we will judge President Putin by his actions," he said.
As to whether there was a chance of a UK-Russia summit, Mr Wallace indicated it was a possibility if the Russian president showed some positive signs of change.
"Boris Johnson is clearly open to meet anyone where there is an important step to be made and stepping towards normalising relations with Russia will obviously and hopefully come, but it comes following certain actions," he said.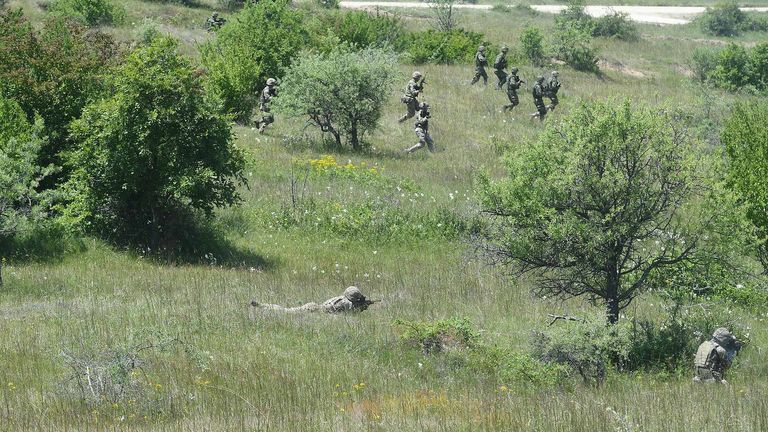 "Crimea is still illegally occupied in Ukraine and there are still things to resolve."
Pressed again on whether he hoped such a summit could possibly happen, the defence secretary said: "I don't want a permanent friction between Russia and the West. That is not in anybody's interest.
"It is not in the interests of the Russian people, it's not in the interests of the economy of Russia, it's not in the interests of my population and constituents either.
PM on 'disappointing' Russia relationship

"Listen, no one wants conflict. No one wants friction but that is not cost-free, you have to lift that based on behaviours."
He said the Kremlin must recognise and respect "other people's sovereignty and the international rule of law" before any improvement in relations, such as a lifting of sanctions, could happen.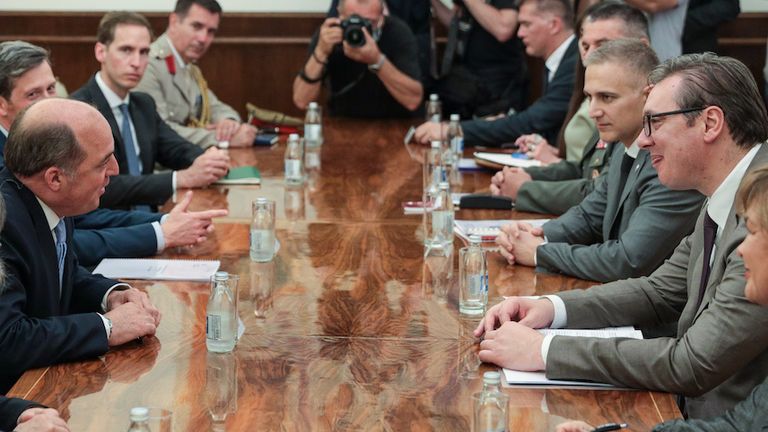 "But we've always got to offer people a path out, a path to improvement and I think that bilateral between President Biden and President Putin is a really welcome start," Mr Wallace added, referring to the summit in Geneva on Wednesday.
He was speaking on the sidelines of a multinational military exercise at a base in the south of Serbia, about six miles from the border with Kosovo.
Troops, equipped with armoured vehicles, a helicopter and a small drone, practised how to respond to a terrorist attack on a convoy and deal with rioting civilians, as Mr Wallace, Serbian defence minister Nebojsa Stefanovic and other officials watched from a stand.
'Mr Putin, are you a killer?'

With 70 British soldiers involved, the UK was the largest foreign contributor to the exercise – dubbed "Platinum Wolf" – which takes place across two weeks and, as well as Serbian forces, includes troops from eight other nations, such as France and the United States.
The visit by Mr Wallace is evidence of the UK's desire to strengthen ties with a country it once bombed as part of a NATO mission during the Kosovo War more than 20 years ago, but which it previously fought alongside during both world wars.
"The Balkans matter for the security of Europe," Mr Wallace said. "It's always mattered. That is why 80 years ago we were standing on hills together side by side pushing back the Nazis. That importance, that geographic importance, that strategic importance still matters today."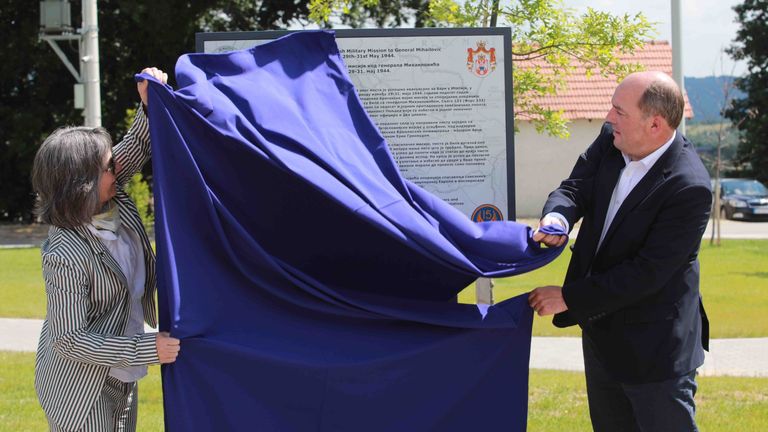 Underlining the challenges in this region, at the same time as British troops train with the Serbian military, forces from Serbia are conducting an exercise with their Russian and Belarussian counterparts in Russia.
Asked whose forces Serbia liked training with more – British or Russian – the Serbian defence minister told Sky News: "We are militarily neutral, so we don't have to prefer to train with either, we can choose both and that's our advantage.
He added: "We get the best from East and West in training capabilities, in learning about the tactics… As a militarily neutral country we want to work with everyone in order to get our army as professional as possible."