Polish PM Mateusz Morawiecki defends 'Jewish Holocaust perpetrators' comments
Polish Prime Minister Mateusz Morawiecki has attempted to downplay his claim that Jews were among the perpetrators of the Holocaust.
During the Munich Security Conference, Mr Morawiecki defended a law which would see jail terms handed down for people who suggested the country was complicit in the Nazi genocides from 1941 to 1945.
And while responding to a direct accusation that Poles had collaborated with the Gestapo, he claimed there were "Jewish perpetrators" just as there were Polish ones.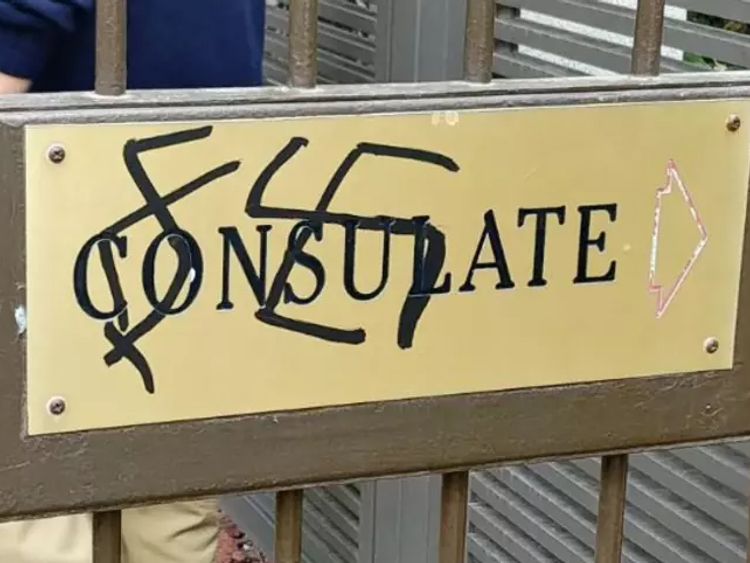 Israeli Prime Minister Benjamin Netanyahu described Mr Morawiecki's comments as "outrageous", "unacceptable", and tantamount to denying the Holocaust which involved the systematic murder of around two-thirds of the Jewish population of Europe.
The Polish government has defended its Prime Minister's comments, saying he did not intend to deny the Holocaust nor allege that Jewish victims bore responsibility for "Nazi German-perpetrated genocide".
Mr Morawiecki's spokeswoman said his remarks "should be interpreted as a sincere call for open discussion of crimes committed against Jews during the Holocaust, regardless of the nationality of those involved in each crime."
She added: "Each crime must be judged individually, and no single act of wickedness should burden with responsibility entire nations, which were conquered and enslaved by Nazi Germany."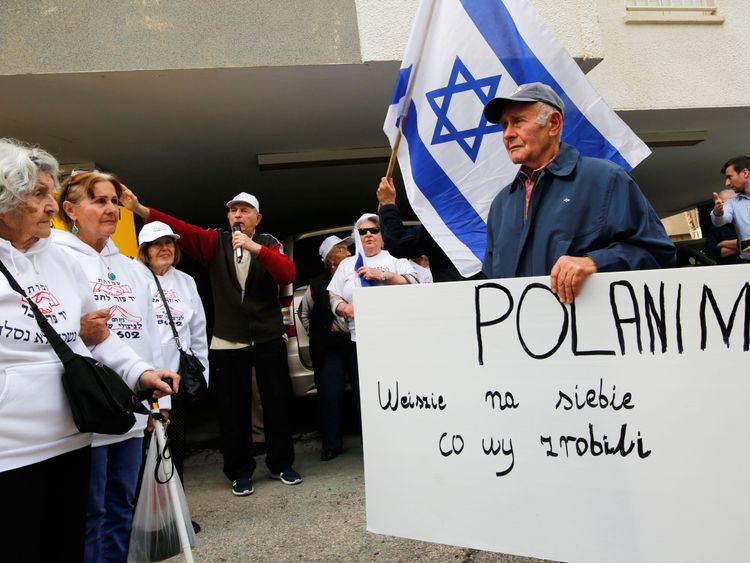 The majority of the Jews murdered across the continent resided in pre-war Poland, and the Nazi death camps operated in occupied Poland included Auschwitz, Treblinka, Belzec and Sobibor.
Thousands of Poles risked their lives to protect Jewish neighbours during the Second World War and many resisted the Nazis alongside Britain's armed forces.
Polish airmen were famously among the most successful who flew for the Royal Air Force during the Battle of Britain.
However, research published following the collapse of the Soviet Union revealed that thousands who remained in Poland also killed Jews and actively collaborated with the German occupiers, contrary to the national narrative of Poland as a victim.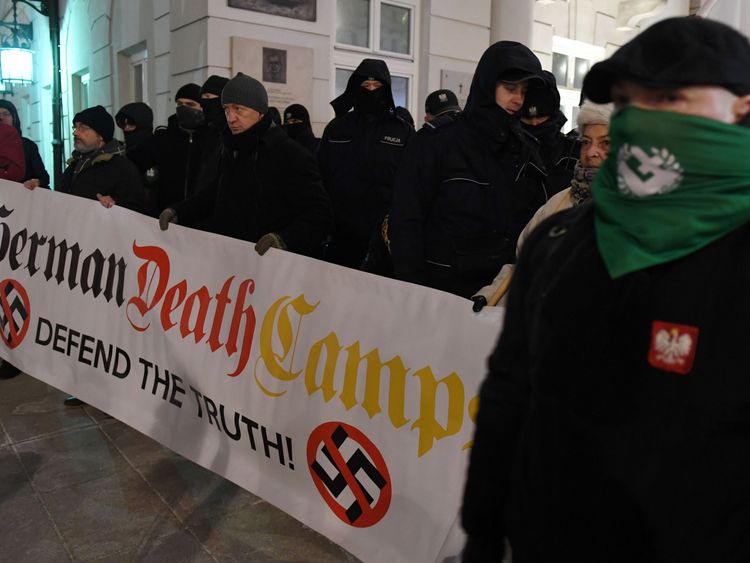 The criminalisation of the description of Auschwitz as a Polish death camp has received support from the far-right in Poland.
Poland's ultranationalist party, the National Revival of Poland – which is considered an anti-Semitic organisation by international institutions, including the US State Department – has demonstrated in favour the law.
Protesters attended the Polish embassy on Sunday to criticise the Mr Morawiecki's comments.
COVID-19: New York returns to 'life as we know it' as state hits 70% adult vaccination target | World News
New York is returning to "life as we know it" after at least 70% of adults in the state have received at least one COVID jab, its governor has said.
Andrew Cuomo announced on Tuesday he is lifting virtually all remaining COVID-19 restrictions for businesses and social settings.
It comes on the day the US, the worst-affected country during the global pandemic, hit another grim milestone as the number of people who have died passed 600,000 from more than 33 million cases.
Latest COVID news from the UK and around the world
Today New York State reached our goal of 70% adult vaccination.

That means we can return to life as we know it.

Effective immediately, state-mandated COVID restrictions are lifted across commercial and social settings. pic.twitter.com/sMdqkSJ6h5

— Andrew Cuomo (@NYGovCuomo) June 15, 2021
Addressing an invited audience at the World Trade Centre, Mr Cuomo said: "What does 70% mean? It means that we can now return to life as we know it."
COVID restrictions are being lifted across more than a dozen commercial and social settings, including childcare, camps, food services, offices, real estate, amusement, gyms and more, Mr Cuomo said.
The state is immediately lifting restrictions that limited the size of gatherings and forced some businesses to follow cleaning protocols, take people's temperatures or screen them for recent COVID-19 symptoms.
Firms no longer have to adhere to social distancing rules or limits on the number of people allowed inside.
But for the time being, masks will still need to be worn in schools, subways, large venues, homeless shelters, hospitals, nursing homes and prisons.
Fireworks displays will be held across the state on Tuesday evening to honour essential workers, Mr Cuomo said, with bridges, along with the Empire State Building, lit blue and gold.
Good morning California.

It's reopening day.

We've administered over 40 million vaccines.

Now…

No more social distancing.

No more capacity limits.

No more colors or county tiers.

And if you're vaccinated—no more masks.

It's a good day.

— Gavin Newsom (@GavinNewsom) June 15, 2021
Mr Cuomo said: "It's our way of saying thank you all across the state. I'll tell you how to honour essential workers. You get vaccinated so you don't need the essential workers again."
Half of all 20 million residents in New York are fully vaccinated, according to government figures released on Monday, while about 58% of residents of all ages have at least one dose of the COVID-19 vaccine.
The city has been averaging around 450 new coronavirus cases a day over the last week, the lowest level since the pandemic began.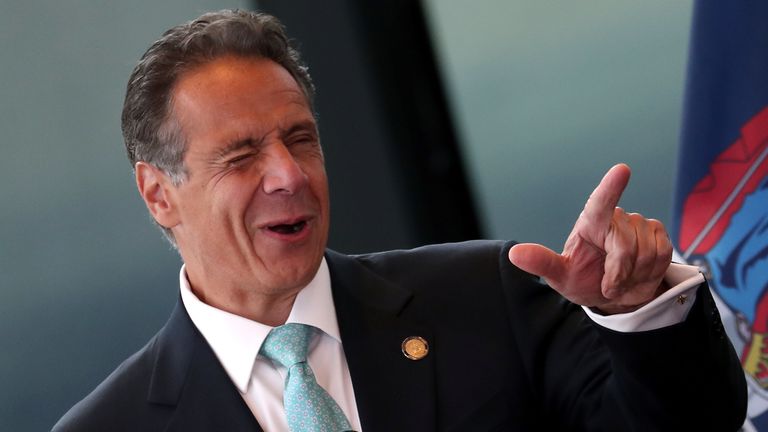 Vaccination rates are particularly low in parts of the state that were hit hard by the winter coronavirus surge, including parts of New York City and rural counties in western and central New York.
California, the most populous US state and the first to impose a coronavirus lockdown, has also dropped state rules on social distancing and limits on capacity at restaurants, bars, supermarkets, gyms, stadiums and other places, governor Gavin Newsom said on Tuesday.
Passing 600,000 means the US death toll is now more than the population of cities such as Baltimore or Milwaukee and about equal to the number of Americans who died of cancer in 2019.
Worldwide, about 3.8 million people have died from COVID-19.
Climate protester parachutes on to pitch at Euro 2020 game | World News
A climate change protester parachuted into the stadium and landed on the pitch before Germany's Euro 2020 game against France.
He appeared to parasail from the roof on to the turf at the Allianz Arena in Munich using a bright yellow parachute with the slogan "Kick out oil Greenpeace" written on it.
The man was quickly met by security staff and given medical attention on the side of the field.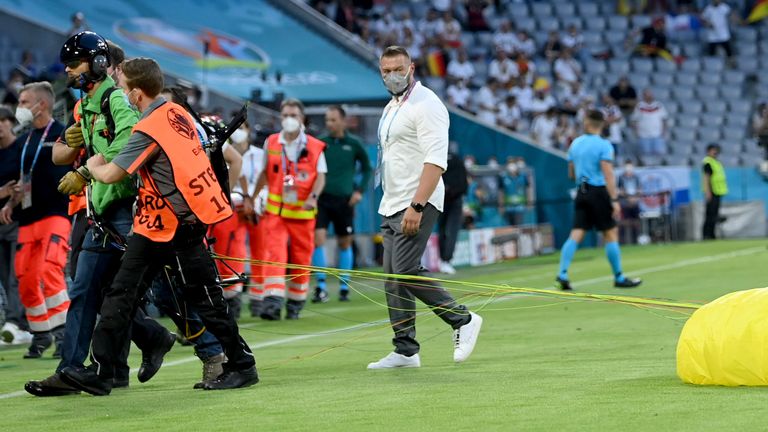 Kick-off in the group F match was not delayed and the game started as scheduled at 8pm UK time.
Joe Biden hails breakthrough as US agrees truce in 17-year trade fight with EU | Business News
Joe Biden has hailed a "major breakthrough" after the US and EU agreed to a truce in a near 17-year aviation trade dispute that will phase out billions of dollars in punitive tariffs.
The row, centred on the rivalry between aeroplane makers Airbus and Boeing, has spiralled into a series of tit-for-tat measures taking in a range of industries from motorcycle makers to cheese.
Resolving the dispute – which has also dragged in Britain's Scotch whisky sector – leaves the two sides free to work together to challenge China over what they see as unfair practices.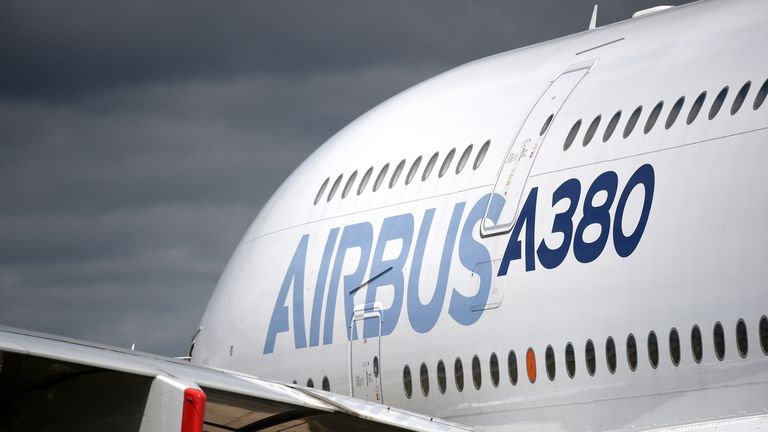 Mr Biden has been seeking to reset his relationship with allies after the Trump era during visits to the UK and Europe this week.
He said: "I've been making the case that the US and Europe – and democracies everywhere – are stronger when we work together to advance our shared values like fair competition and transparency.
"Today's announcement demonstrates exactly how that can work in practice."
The trade dispute between the two sides dates back to cases brought by each of them inn 2004 alleging that they had unfairly subsidised Airbus – in Europe – and Boeing – in the US.
After years of legal wrangling at the World Trade Organisation, it resulted in the US imposing heavy tariffs on aircraft as well as other products ranging from cheese to wine and single-malt whisky.
The EU meanwhile imposed duties on billions of dollars' worth of American imports from motorbikes to jeans and bourbon whiskey.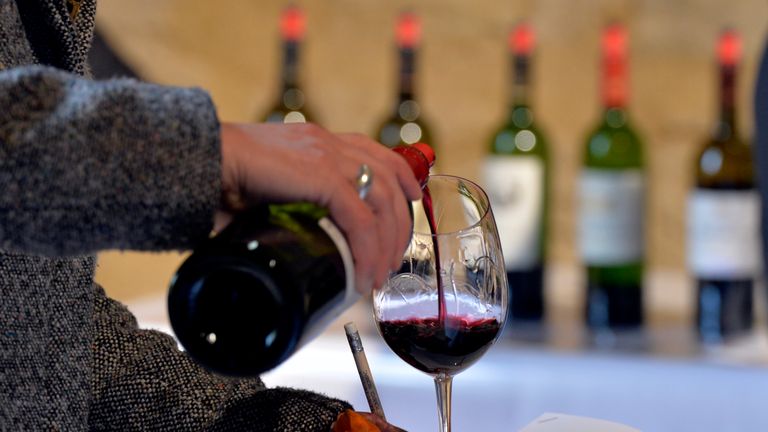 All told the tariffs cover trade worth $11.5bn and businesses have paid an estimated $3.3bn in duties.
But as relations with the White House thawed after Mr Biden's accession, the two sides agreed in March to a four-month suspension of the charges.
There was a similar pause between the UK and the US – whose scotch industry had been caught up in the dispute as some Airbus parts are made in the UK and it was still a member of the EU when the row began.
Mr Biden said that Washington and Brussels have now agreed to suspend tariffs for five years and "committed to ensure a level playing field for our companies and our workers".
He added: "Significantly, we also agreed to work together to challenge and counter China's non-market practices in this sector that give China's companies an unfair advantage."
The two sides will continue to work to reach agreement on the overarching subsidies dispute.
US trade representative Katherine Tai said: "Today's announcement resolves a long-standing irritant in the US-EU relationship.
"Instead of fighting with one of our closest allies, we are finally coming together against a common threat."
Britain said it hoped for a similar deal within days.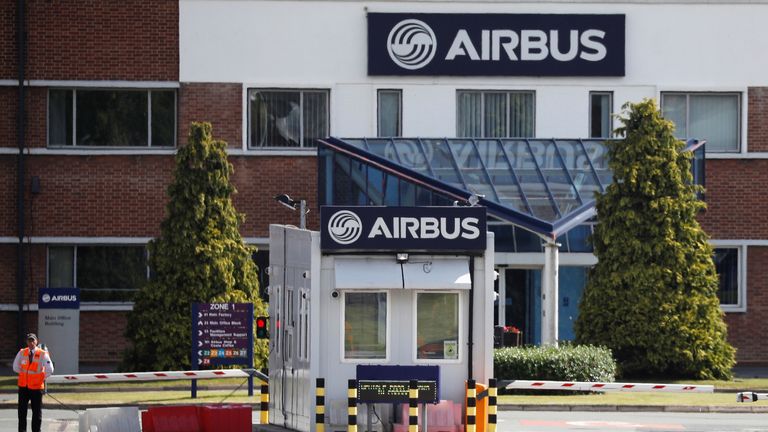 A separate dispute over tariffs imposed by Donald Trump on steel and aluminium imports still lingers – and may prove harder to resolve as they are backed by many US metal producers and workers.
Analysis:
By Adam Parsons, Europe correspondent
In the eyes of European leaders, Joe Biden has three great things going for him.
Firstly, he's seen as a pragmatist, who's been around the block and knows that you have to earn trust through the familiar routine of give and take.
Secondly, he's reckoned to be open-minded about the rest of the world, and keen to resume America's traditional role as the fulcrum of global diplomacy.
Sources say he has come across as a thoughtful statesman, which has gone down well.
And thirdly?
Well, as far as the European Union, or NATO for that matter, is concerned, his real superpower is not being Donald Trump.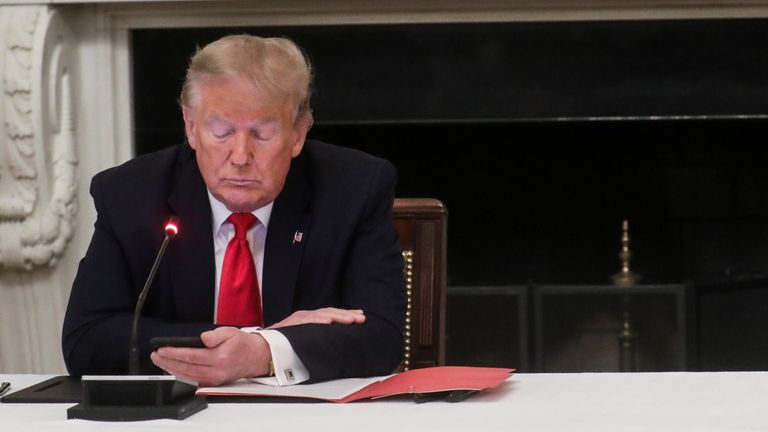 Gone – at least for the moment – are the diplomatic grimaces and the head-shakes.
Trump was supposed to be the arch deal-maker, but Biden's first visit to Europe has ended with a plan to end the Boeing-Airbus stand-off, which has been rumbling on for nearly two decades.
There's even been a smidgeon of progress around steel and aluminium tariffs, which had appeared to be an almost unpickable knot.
But there is one big challenge yet – will Biden stand up to Vladimir Putin, in the resolute way that European leaders have demanded?