Militants in army uniforms ambush Iraqi troops near Baghdad, 27 dead
Militants disguised as Iraqi soldiers ambushed parliamentary troops Monday north of Baghdad, leaving at least 27 dead, officials said. It is unclear who was behind the attack.
The attack comes days after NATO Secretary-General Jens Stoltenberg announced that the alliance will expand its military training mission in Iraq and help the conflict-ravaged country develop new academies and schools for its armed forces.
NATO already has a small team of military and civilian personnel in Iraq and uses mobile teams to train national forces in de-mining, countering home-made bombs and dealing with explosives. The allies have also trained Iraqi troops in neighboring Jordan.
"We will scale up," Stoltenberg said after talks with NATO defense ministers in Brussels, though he declined to say how many personnel the effort would involve or where it would operate. He said the mission would not be used for combat, but rather to train Iraqi officers so they in turn can train their own troops.
The Associated Press contributed to this report
Yemen: Criticism as UK announces it will cut aid to war-torn country by more than half | Politics News
The UK government has announced it will cut the aid it provides to Yemen by more than half.
Foreign Office minister James Cleverly revealed at a virtual United Nations pledging conference that the UK's contribution in the next financial year will be "at least £87m", taking its contribution since the conflict began to more than £1bn.
This is a fall of 59% from 2020/21, when the figure stood at £214m.
Yemen: The analysis of a war crime

It follows the government's decision to cut foreign aid across the board by billions of pounds – from 0.7% of gross national income to 0.5%.
"The UK remains steadfast in our support to Yemeni people as one of the biggest donors of lifesaving aid and through our diplomatic efforts to bring peace," a Foreign Office spokesperson said.
"Since the conflict began, we have supported millions of vulnerable Yemenis with food, clean water and healthcare, and will continue to do so. We are using our UN Security Council seat and working with our allies to push for a lasting resolution to the conflict. Yemen's leaders must meaningfully engage with the UN to agree a ceasefire."
Mr Cleverly told the conference that the UK's contribution would "prioritise those most vulnerable and at highest risk" and provide at least 1.6 million people with access to clean drinking water and support 400 clinics to provide healthcare and feed 240,000 of the most vulnerable Yemenis every month.
The UN has launched an urgent appeal for more funding for aid in Yemen to avert a looming famine – which would drastically worsen the already devastating impact of the civil war.
The UK government's decision drew swift criticism.
Labour's shadow foreign secretary Lisa Nandy said it was a "deeply depressing statement of intent from the government".
She added: "Despite all the talk of Global Britain this is us abandoning our moral obligations, pulling further away from our allies and stepping back just as the USA steps up."
This is a deeply depressing statement of intent from the Government. Despite all the talk of Global Britain this is us abandoning our moral obligations, pulling further away from our allies and stepping back just as the USA steps up. https://t.co/FHZFBrFaYZ

— Lisa Nandy (@lisanandy) March 1, 2021
Conservative MP Jeremy Hunt, a former foreign secretary, said he was "deeply disappointed" with the decision.
"Abandoning a forgotten country and people is inconsistent with our values, weakens our moral authority and reduces our influence," he said.
"We should be increasing the scale of our support in the face of such suffering; to cut it at this moment of extreme peril is incomprehensible."
Deeply disappointed to hear UK govt is halving aid to Yemen. Timing is inexplicable with the UN warning only last week that Yemen faces the worst famine the world has seen for decades. In their words it is 'falling off a cliff'. Thread… https://t.co/JN3DoXbSh7

— Jeremy Hunt (@Jeremy_Hunt) March 1, 2021
Labour's Sarah Champion, chair of the Commons International Development Committee, slammed the move as "utterly appalling".
"It sends a message that the UK is turning its back on the world's worst humanitarian crisis," she said.
"This is completely at odds with the government's assertions that the UK should be a global leader, especially in the year with the G7 and COP presidencies.
"It is an astonishing move, particularly as the UK has the power – as penholder within the UN Security Council for Yemen – to lead the way to create a political solution to the conflict."
Speaking to Sky News before the decision was announced, former international development secretary Andrew Mitchell said: "Any cut, let alone one of nearly 50%, will mean that four million Yemenis – mainly children – will continue the slow, agonising and obscene process of starving to death."
He also predicted the government would have the greatest difficulty pushing its wider foreign aid cut through parliament.
"We are a generous country and every single elected member of the House of Commons promised in their manifesto just over a year ago not to cut the 0.7% spending on development," said Mr Mitchell.
FC Barcelona: Arrests after police raid Camp Nou stadium | World News
Police have made a number of arrests after searching the offices of Spanish football giants FC Barcelona.
No details have been released about how many people have been detained or their identities, with a Catalan police spokeswoman only revealing that the raid followed an investigation by the force's financial crimes unit.
Officials at Barcelona confirmed the club's Camp Nou stadium offices had been searched.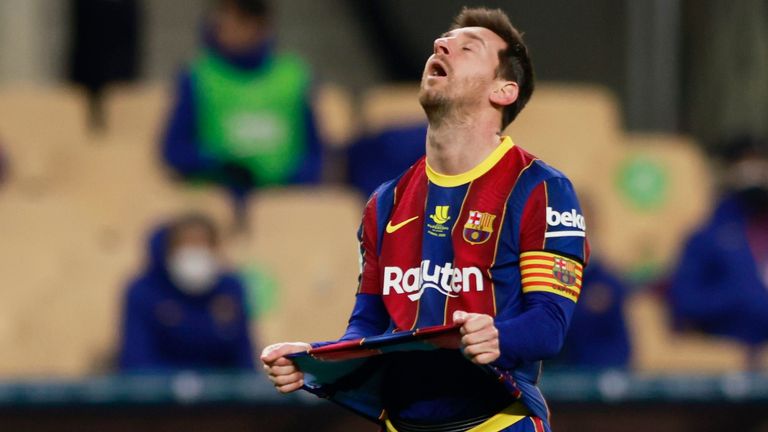 In a statement, the La Liga side – currently second in the table – said they had offered up their "full collaboration to the legal and police authorities to help make clear facts which are subject to investigation".
"The information and documentation requested by the judicial police force relate strictly to the facts relative to this case," the club added.
"FC Barcelona express its utmost respect for the judicial process in place and for the principle of presumed innocence for the people affected within the remit of this investigation."
Reports say Monday's raid stems from the so-called "Barcagate" affair, in which officials were accused of a smear campaign on social media against current and former players who were critical of the Catalan club and its then president Josep Maria Bartomeu.
The revelations led to protests from supporters and to several board members resigning while increasing the pressure on the unpopular Mr Bartomeu, who eventually stepped down in October after facing a vote of no confidence following six years in the role.
It comes amid a disappointing season for Barcelona thus far – they are staring down the barrel of an early exit from the Champions League after a 4-1 defeat in the first leg of their last-16 tie with French champions PSG last month.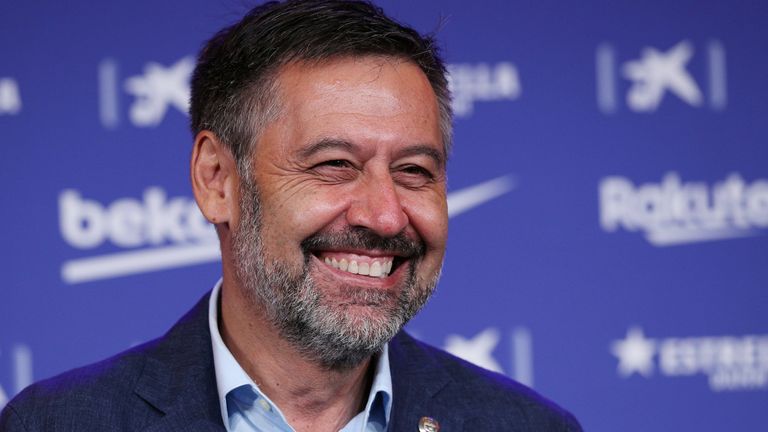 The club's members will vote to elect a new president in next Sunday's election, which was postponed from January due to COVID-19 restrictions in Catalonia.
There are three candidates on the final ballot – Victor Font, Joan Laporta and Toni Freia.
Responding to news of the raid, Mr Freia, a former director under Bartomeu, tweeted: "Too many people want to cause damage to Barcelona. We won't permit it. You'll never walk alone."
Alexei Navalny: 'Psychological torture and self-isolation' inside Putin critic's Russian prison | World News
Barring the golden domes of its church, Correctional Facility No 2 (IK-2) in the town of Pokrov, 60 miles east of Moscow, is utterly unprepossessing. 
Corrugated iron fencing topped with barbed wire and punctuated by watchtowers surround a cluster of buildings in various shades of grey.
Typical of Russia's penal colonies and home for the foreseeable to the country's most famous political prisoner.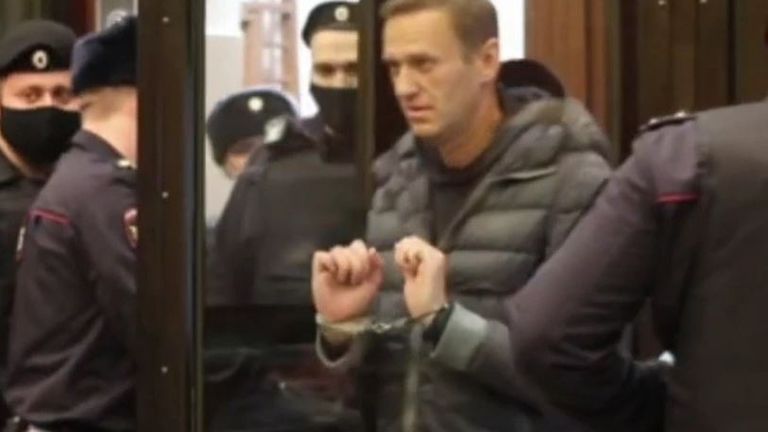 "No one is going to beat or torture Navalny but the administration will try to isolate him from the other prisoners and minimise all contacts," says Vladimir Pereverzin, a former manager at oil firm Yukos, who served just over seven years in Russia's penal colony system, some of it in the Vladimir region.
"The living conditions were awful," he says. "The windows were in a terrible state, snow would come into the rooms. It was a while ago but even if they've renovated doesn't mean it'll be easier to live there."
Alexei Navalny was transferred out of Moscow's infamous Matrosskaya Tishina jail on Thursday and his team had raised the alarm, worried that his transfer to an unknown corner of Russia's penal colony system might take several weeks with no word on his whereabouts.
But on Sunday, a public monitoring commission said he had arrived at IK-2 and was in quarantine.
"They make it as hard as possible in the quarantine cell," says Konstantin Kotov, who spent nearly two years in IK-2.
"They'll always threaten to send you back there if you misbehave. You're prohibited from talking to each other and there are special guards who monitor that.
"There are also no letters, no communications at all with the outside world."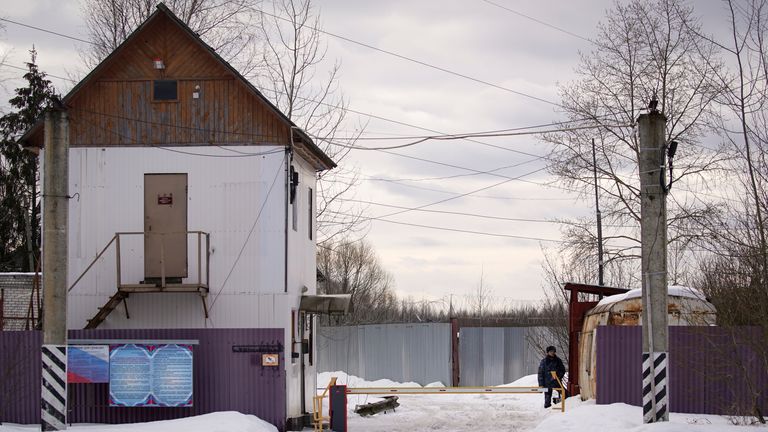 Kotov is an opposition activist who was jailed for repeated participation in unauthorised protests around the 2019 Moscow city elections.
He describes a routine of endless rules, relentless scrutiny and psychological torture. Failure to address the guards in the correct way or to make the bed properly could mean time in self-isolation.
Inmates would have just five or six minutes to eat. Guards would shout and make them run the short journey from their barracks to the canteen, bent double in an attempt to humiliate them.
But it was the social isolation which affected him most.
"The other prisoners were not allowed to speak to me, just to make my life more difficult," he recalls. "First I would ask them questions and they never answered, I thought maybe they were just in a bad mood. But then one of the guards hinted that they had a special request not to speak to me.
"I think Navalny will get the same treatment."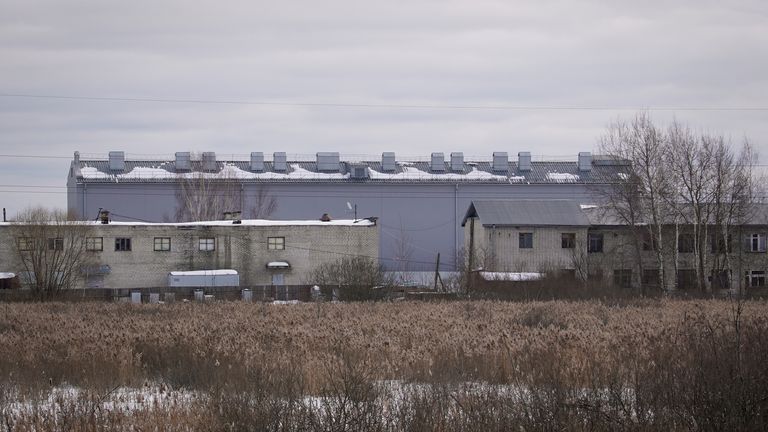 IK-2 houses just under 800 inmates in 12 different units – 10 with normal conditions, one with eased conditions, and one with strict conditions.
The head of Russia's Federal Prisons' Service, Alexander Kalashnikov, told Interfax that Navalny would be safe in jail.
"He will be held in absolutely normal conditions. His routine, supervision, and control will be guaranteed 100%," Mr Kalashnikov said.
According to Kotov, relatives are allowed to visit once every two months for up to four hours.
There is also the possibility of an extended three-day visit where a prisoner stays with family members in a special room with a kitchen – but Kotov never saw that request granted.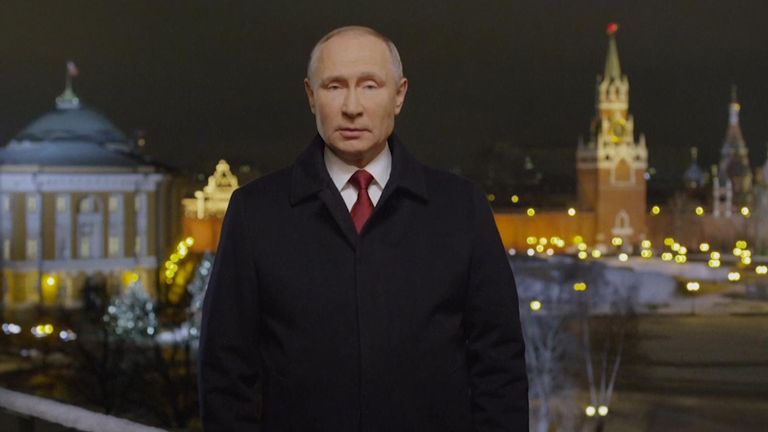 Subscribe to the Daily podcast on Apple Podcasts, Google Podcasts, Spotify, Spreaker
"To find how a society lives you have to see how their prisons operate," Vladimir Pereverzin said by phone from Berlin, where he now lives in exile.
"Russia is like a big colony and Putin is the head of the prison.
"There are laws, there is a constitution, there is criminal law, but nobody follows it. The colony is the same."