Kate Middleton criticized for wearing green to BAFTA's despite all-black Time's Up-inspired dress code
Fans have a royal bone to pick with Kate Middleton.  
The pregnant duchess was criticized on Sunday for walking the red carpet in a flowy green gown at the British Academy Film Awards after attendees were encouraged to wear all black in support of the Time's Up movement. The all-black dress code first came up during the Golden Globes in January.
Middleton, who is expecting her third child with Prince William, had a black velvet ribbon underneath her bust. She accessorized with a black clutch and heels along with emerald jewelry.
The British royal family generally steers clear of getting involved with political issues of any kind. Members of the royal family are encourage to stay neutral and don't vote in the elections.
However, some viewers took to social media to criticize the 36-year-old duchess for not showing support for the women's movement. Many people said Time's Up isn't about politics, but rather about raising awareness about sexual harassment and assault against women.
"Disappointed in #KateMiddleton #DuchessofCambridge not wearing black to the #EEBAFTAs It's not a political thing. Its a woman thing! #TimesUp #StandTogether," one woman tweeted.
Another person wrote, "I know the Royals aren't supposed to get involved with 'protests' or anything… but would it really have been THAT bad for Kate Middleton to wear black???"
"Kate Middleton shuns #timesup black dress code, clearly not a woman's woman!" read another tweet.
Some people came to Middleton's defense and said the duchess was just following royal protocol. Actress Allison Janney also addressed the green dress controversy, saying she "would never judge anyone's choice."
"I think she looked absolutely beautiful, and I'm so happy for her, and I think she's an extraordinary woman. And I'm so happy to see she's pregnant again," Janney said, according to Digital Spy. "She can wear whatever she wants to wear."
Breonna Taylor: Family of black woman shot dead by US police to get $12m in settlement | US News
The family of Breonna Taylor, a black woman shot dead during a US police drug raid, is to receive $12m (£9.3m) from the city of Louisville in Kentucky.
As part of the financial settlement over a civil lawsuit brought by her mother Tamika Palmer, police practices will be reformed, including how warrants are handled by officers.
Ms Taylor, a 26-year-old emergency medical technician, was killed in March when police burst into her apartment at night using a so-called "no knock" arrest warrant that did not require them to announce themselves.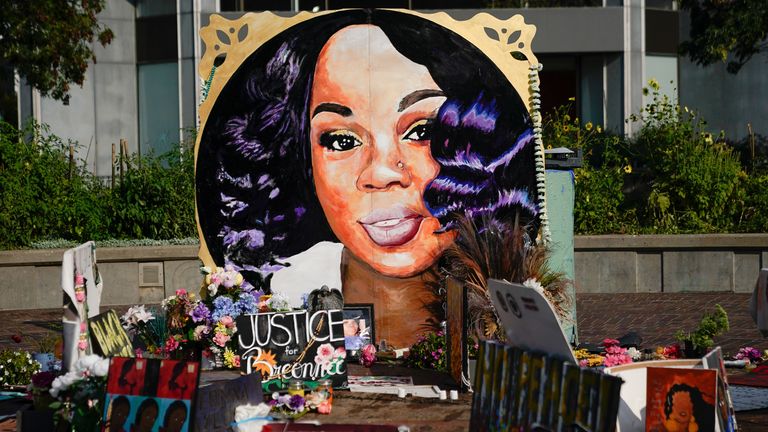 Police typically use them in drug cases over concerns that evidence could be destroyed if they announce their arrival.
Ms Taylor was woken from her bed before being shot several times.
Police found no drugs at her home and the killing sparked months of protests in the city.
There were also nationwide calls, including from TV host Oprah Winfrey and basketball star LeBron James, for the officers involved to be charged.
Ms Palmer filed a lawsuit in April against three Louisville officers, accusing them of wrongfully causing her daughter's death.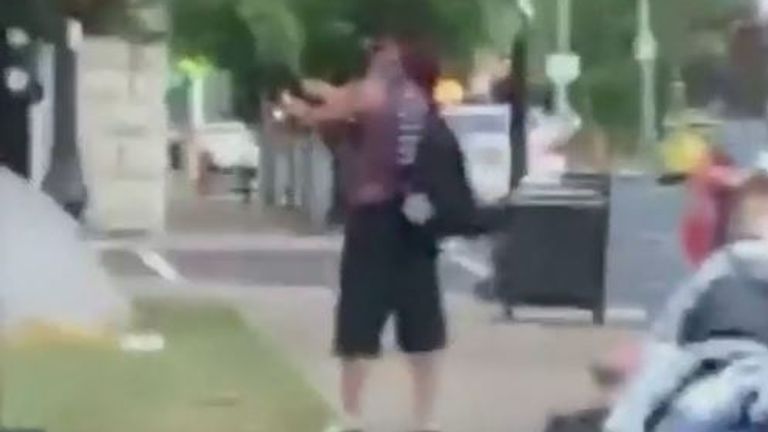 The lawsuit alleged police used flawed information when they obtained the "no knock" warrant to enter the apartment, used excessive force and the search was grossly negligent.
Officer Brett Hankison, who shot 10 rounds blindly into the apartment, was sacked in June.
Officer Myles Cosgrove and Sergeant Jonathan Mattingly, who also opened fire, have been placed on administrative leave, along with the detective who requested the warrant.
None of the officers involved in the case have been charged.
:: Subscribe to Divided States on Apple podcasts, Google Podcasts, Spotify, and Spreaker
Ms Taylor's boyfriend, Kenneth Walker, was in the apartment with Ms Taylor and fired a single shot that struck an officer in the leg.
Mr Walker said he did not hear police announce themselves and said he thought he was guarding against an intruder.
The warrant was one of five issued as part of an investigation into drug suspect Jamarcus Glover, who was a former boyfriend of Ms Taylor's.
Louisville has already taken some reform measures, including passing 'Breonna's Law' that bans the use of no knock warrants.
Kentucky's attorney general Daniel Cameron is investigating police actions over the 13 March shooting.
It is also being looked into by the FBI.
UAE and Bahrain sign historic diplomatic normalisation accords with Israel | World News
The foreign ministers of the United Arab Emirates (UAE) and Bahrain have signed historic diplomatic normalisation deals with Israel at a ceremony at the White House.
In an event overseen by President Donald Trump, the Emirati foreign minister Sheikh Abdullah bin Zayed Al Nahyan and Bahrain's foreign minister Dr Abdullatif bin Rashid Al-Zayan signed the accords with the prime minister of Israel, Benjamin Netanyahu.
The agreements, details of which are still being negotiated, represent the first time in a quarter of a century that any Arab country has given diplomatic recognition to the Jewish State. Jordan and Egypt signed deals with Israel in 1994 and 1979 respectively.
The moves, which signal a significant shift in regional geopolitics, should see the opening of embassies in the respective countries, as well as flights, tourism and trade links.
Defence ties are also expected to be put in place quickly, with the possible sale of Israeli fighter jets to the Gulf Arab nations.
The deals strengthen the regional alliance against Iran – a common enemy for both sides.
The Abraham Accords, as they have been named, are framed by the Trump administration as a "pathway to peace" for the region and proof of Mr Trump's credentials as a deal maker.
The images of the signings and the apparent shift in regional alliances they represent are sure to be used by Mr Trump and his re-election team.
There was a clear desire by the Trump administration to conduct today's ceremony before November's election. As a consequence, much of the details of the alliances have yet to be finalised.
:: Subscribe to the Daily podcast on Apple Podcasts, Google Podcasts, Spotify, Spreaker
The UAE, and then Bahrain, agreed to normalise relations and recognise Israel after the Israeli prime minister pledged to suspend plans to annex parts of the Palestinian West Bank.
The move by the Gulf Arab countries breaks a key Arab convention, outlined in the Arab Peace Accord of 2002, that no Arab country would recognise Israel until it withdrew fully from the Occupied Palestinian Territories (Gaza and the West Bank) and allowed the establishment of a Palestinian state with East Jerusalem as its capital.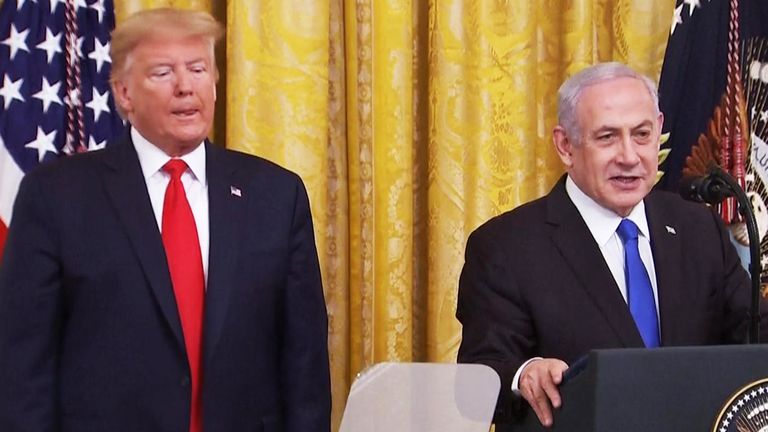 The Palestinian leadership see the deals as a betrayal.
Donald Trump's administration and the Israelis say the accords mark a turning point and will prompt the Palestinians to accept the reality of the situation as it is now.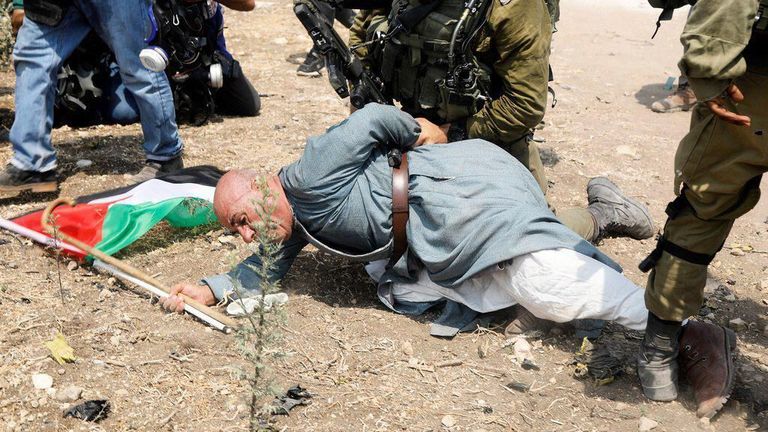 The Trump peace plan for the Israel-Palestinian conflict, unveiled in January, envisages a future Palestinian state but on less land than it currently has, which would not be contiguous, and without East Jerusalem as its capital.
In the hours before the signing ceremony, the UAE minister of state for foreign affairs, Anwar Gargash, told a Zoom briefing with journalists that the Palestinian issue was still a central concern.
He said that a two state solution was still the objective and that his country's decision to normalise ties with Israel had "broken the psychological barrier".
He suggested that Arab countries now have more leverage against the Israelis on the Palestinian issue.
Amazon rainforest: Farmers are losing everything to deforestation fires as experts warn it is reaching tipping point | World News
The Brazilian government must send more firefighters and firefighting equipment to help try and stem enormous blazes ripping through the Amazon rainforest, say politicians in Para State.
The plea comes as leading aid agencies, including the World Wildlife Fund, issue a stark warning that the fires this year could be even worse than the 2019 outbreak.
Brazil's National Institute for Space (INPE) registered 20,670 square kilometres of burned area in the Amazon in August alone. That is 27 square kilometres per hour.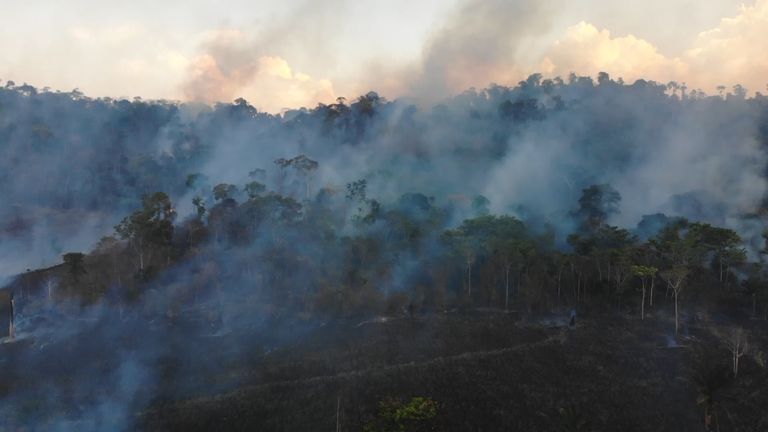 Sky News witnessed ten fires in just one small area of the APA Triunfo do Xingu national park.
And just five firefighters have been deployed to the municipality of Sao Felix do Xingu, which, at over 84,000 square kilometres, is larger than Scotland.
There are major concerns for the health of people living in the region because of the spread of thick smoke for miles around.
The rivers of the Amazon, the forests surrounding them and the communities living there are shrouded in smoke 24 hours a day in some parts – and have been for weeks.
The main town of Sao Felix do Xingu is enveloped in choking smoke throughout the day and night but is most noticeable in the morning light when the streets are filled with great clouds of smoke and ash.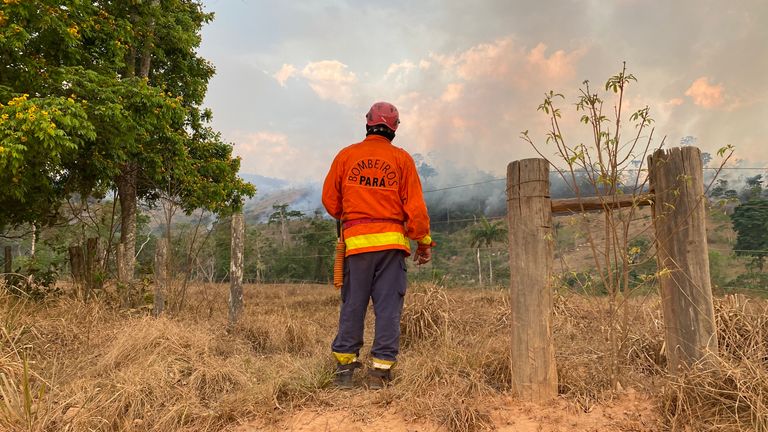 Residents wear masks to protect themselves from the spread of COVID-19, which remains at epidemic proportions in the country, but they also wear the masks to help them breathe in the smog.
The government of President Jair Bolsonaro consistently denies that the Amazon is on fire, despite evidence from its own environmental agencies.
The mayor of Sao Felix do Xingu won't openly criticise the powerful ranchers or the Brazilian government, but she says they need help immediately. The fires this year, she says, are unprecedented. She blames the changing climate.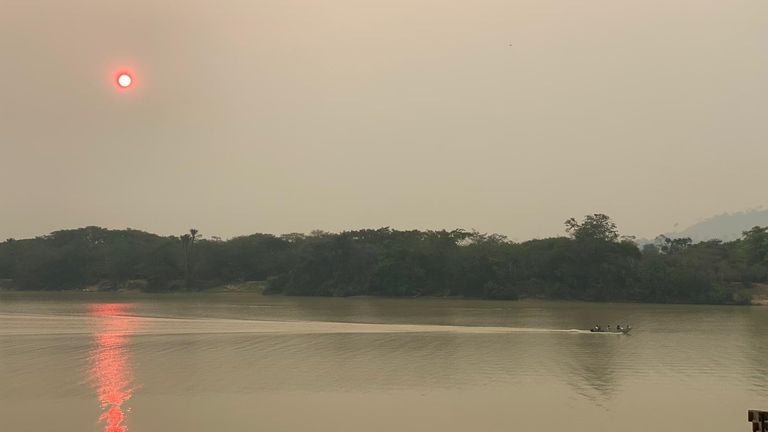 "It is a very big concern," says Minervinha Barros, "and we are going through a pandemic, which aggravates it."
She says the city is not usually affected by this level of smoke. "It is rare, because usually in July it already rains but this year the rains are delayed."
Para State is the most deforested part of the Amazon and is home to enormous cattle ranches and farms often accused of starting the fires to burn off crop land and to clear the rainforest to make more land.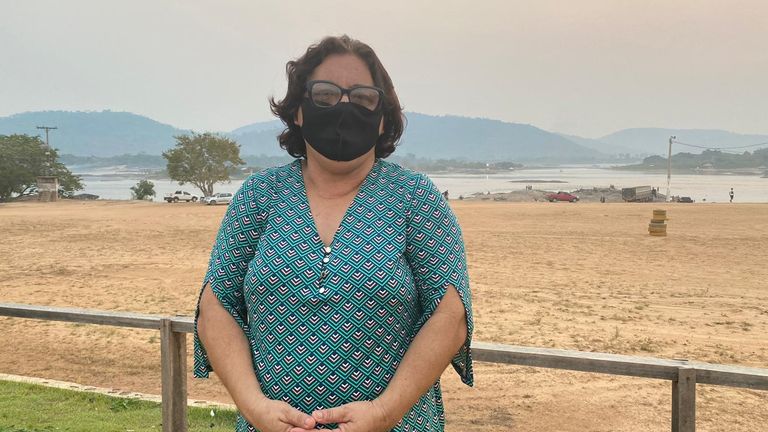 Sky News drove through ranches full of cattle grazing beneath rainforest covered mountains on fire, pumping enormous clouds of smoke and ash into the air.
The fires are fanned by strong winds, scorching temperatures and a drought. There has been no significant rainfall here for months.
Uncontrolled fires are wreaking havoc on small scale farmers, particularly those attempting to produce rainforest-friendly, sustainable crops like cocoa, used to make chocolate around the world.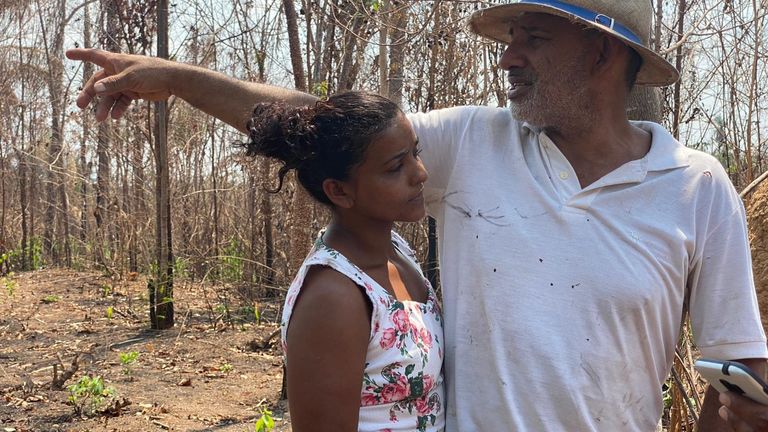 Sky News joined Cristovao Costa as he surveyed the wreckage of his crop. He spent two days fighting fires engulfing his farm. The fires started in a neighbouring ranch, and he's lost everything.
Walking through the still smouldering remains of his cocoa plantation he said he was considering giving up.
He said: "It made me so sad that I didn't even want to continue, you know? It's so sad to look at your things and see them in this state."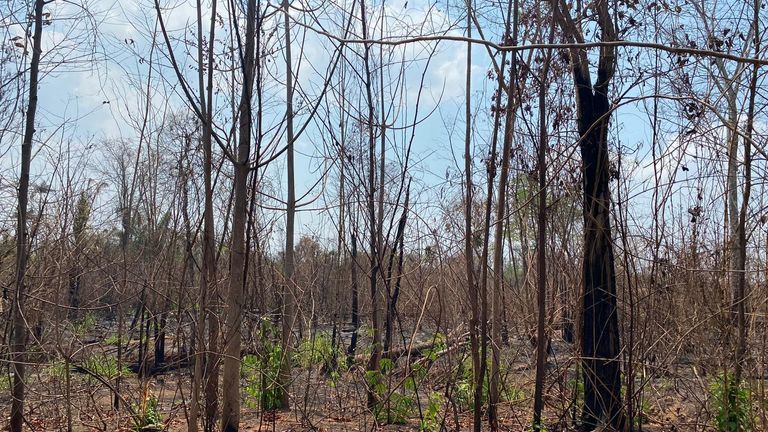 Three years of work to bring to market his first crop of cocoa beans disappeared in 24 hours.
Mr Costa is heartbroken and he is furious with the president and his supporters who deny the problems being faced in the Amazon basin.
He said: "He is a liar because the Amazon always burns, and it's ending everything. This is just people talking, there is nothing to it … it is a big lie!"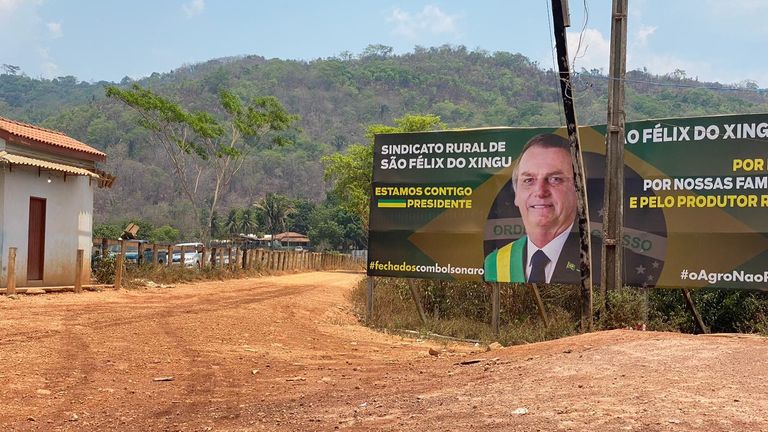 He says the international community are complicit in its destruction.
"Do not say it's just the Brazilian people, many foreigners are involved with Brazilians, taking advantage of Brazilian lands for profit," he said.
Mr Costa, 52, and his wife, Suianni, 36, were not on the farm when they received frantic phone calls from his neighbour calling him home.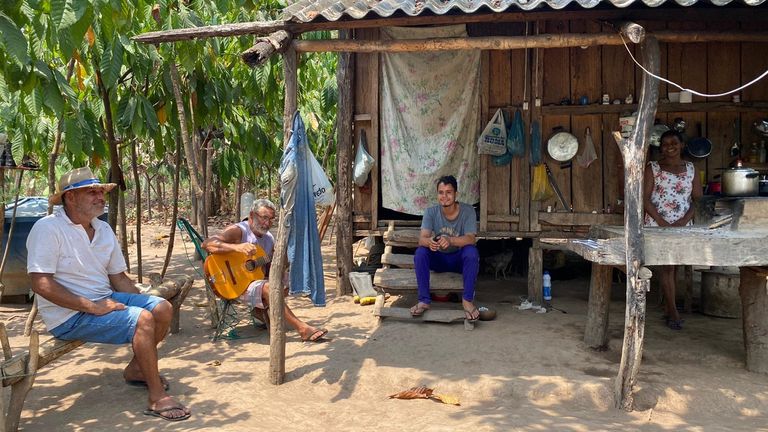 They say it was the worst journey of their lives.
"When he got on the boat to cross, the desperation was enormous," Suianni says looking at her husband.
"When he looked over here and he saw the smoke, he thought the dream is over. When we arrived it already was (burnt), we were crying all the way here. I thought our little home had caught fire."
Their humble home survived.
Sustainable farmers like Mr Costa and his neighbour, Raimundo Freire, 56, believe the land can be farmed while preserving the rainforest, but they struggle to get their voices heard in parts of the Amazon that have already been replaced by farmland and now fires.
He said: "So, many times when you think there is no fire, suddenly the fire is back. Sometimes there is a lot of dry wood that nobody sees, the embers stay there and when it gets hot it lights up again, then suddenly we have a new fire hotspot."
The need for yet another concerted effort to save the rainforest and to change farming behaviour in the region is being led by the WWF, which is warning the forest is reaching the tipping point where it can't be saved.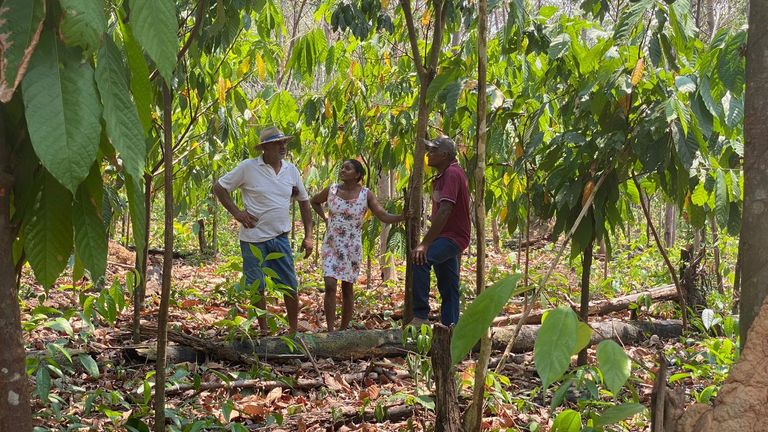 "Deforestation also helps drive climate change, sparking wildfires, as well as those deliberately set, during the longer and hotter dry season," Mike Barrett, executive director of science and conservation said.
He added that scientists believe it could take less than 5% further deforestation in the Amazon before it is lost.
The organisation's latest Living Planet Report argues that the global food system is broken and calls for new laws to be introduced in the UK.
To stop the destruction of the environment, they say, we need to change the way we produce and consume food.
"Until there is no economic incentive for habitat destruction, it will carry on, meaning the food we eat in the UK could be leading to the Amazon burning.
"We need new laws in the UK to make importing products that cause deforestation illegal – removing that financial incentive," Mr Barrett says.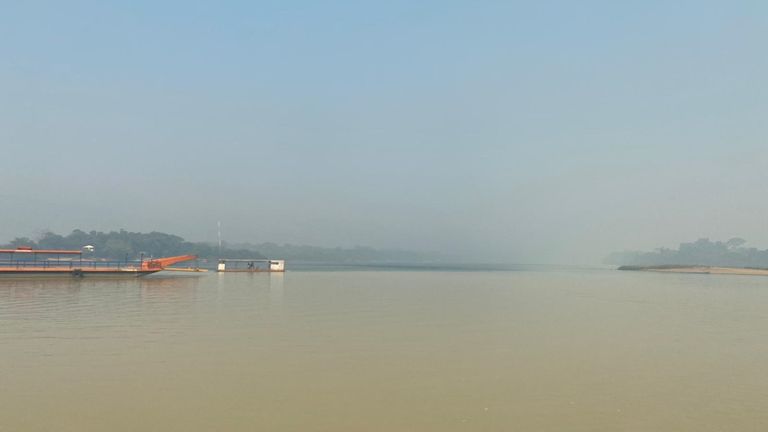 The conflict between continuing deforestation and protecting the forest is at its most acute in this part of the Amazon.
The longer it goes on, it is widely acknowledged, the hotter the temperature will get.
Eventually, it is feared, it could reach a point where there is no more forest and no farms either.