ISIS claims responsibility for deadly Orthodox church attack in Russia
ISIS claimed responsibility Monday for the deadly attack on Orthodox churchgoers in Russia that left at least five women dead.
In a statement posted on an ISIS-affiliated website, the group said a Muslim fighter attacked a "a Christian temple" in Kizlyar, located in a predominantly Muslim region of Dagestan situated between Chechnya and the Caspian Sea.
The authenticity of the statement couldn't be confirmed, but the website is regularly used by ISIS to post statements.
Russian investigators said Monday they were examining all possibilities as to what motivated the attack.
"Investigators are looking at various theories of the incident, trying to find out the attacker's motives," Russian Investigative Committee Spokeswoman Svetlana Petrenko told the TASS news agency. "A terror attack is among possible theories."
Authorities said the gunman, 22-year-old Khalil Khalilov, opened fire on people leaving the church after they finished celebrating the end of the Russian festival of Maslenitsa, a holiday which marks the start of Lent for Russian Orthodox Christians. Khalilov was shot dead by police while trying to leave the scene, and his wife has been detained for questioning.
Russian television station REN-TV posted surveillance video showing the Khalilov walking with the gun along main streets of the city.
Four women were killed at the church, while four others, including police and National Guard officers, were injured, according to TASS. Another woman later died at the hospital.
RUSSIA CHURCH SHOOTING KILLS 5 AFTER GUNMAN OPENS FIRE ON PEOPLE LEAVING SERVICE
"The victims remain in the same condition, two women are seriously injured, and they are in intensive care," Kazanfar Kurbanov, the chief doctor at the Dagestani emergency medicine center, told TASS.
All of the victims had gunshot wounds, and one of the injured women had her arm cut off Sunday, the news agency reported.
The Dagestan region has dealt with an Islamist insurgency that spread into the area following two separatist wars in neighboring Chechnya.
The region also is where Boston Marathon bomber Tamerlan Tsarnaev visited in January 2012, when he was under surveillance by Russian officials.
The Associated Press contributed to this report. 
Alexei Navalny: Putin critic accuses Kremlin of 'highest level of lawlessness' at first hearing | World News
Putin critic Alexei Navalny has accused the Russian government of the "highest level of lawlessness" at his first hearing since his arrest.
Mr Navalny was detained at Moscow's Sheremetyevo airport on Sunday, after spending five months in Germany recovering from novichok poisoning.
The 44-year-old, who is one of Vladimir Putin's most outspoken critics, blames Moscow for the attack that nearly killed him, although the Kremlin denies any involvement.
He appeared at an ad-hoc hearing – held in a police station in Khimki, outside Moscow – on Monday afternoon.
In a video posted to Twitter by his spokeswoman Kira Yarmysh, Mr Navalny said: "I don't understand what's going on. A minute ago, I was brought from cell here to meet my lawyers.
"I came here and here is the Khimki court session taking place. Some strangers are filming me on camera… Why the court session is taking place in police station I cannot understand. Why was no one was informed?
"I have seen a lot of jokes about judicial system here… It's not possible what is happening here. It's the highest level of lawlessness. I cannot call it any other word."
Moment Navalny is detained after landing in Russia

Mr Navalny's detention was widely expected because Russia's prisons service said he had violated parole terms from a suspended sentence on a 2014 embezzlement conviction.
But it has drawn widespread condemnation from leaders from Europe and the US.
Earlier, Dominic Raab joined those calling for Mr Navalny's immediate release.
The UK foreign secretary said: "It is appalling that Alexei Navalny, the victim of a despicable crime, has been detained by Russian authorities. He must be immediately released.
"Rather than persecuting Mr Navalny, Russia should explain how a chemical weapon came to be used on Russian soil."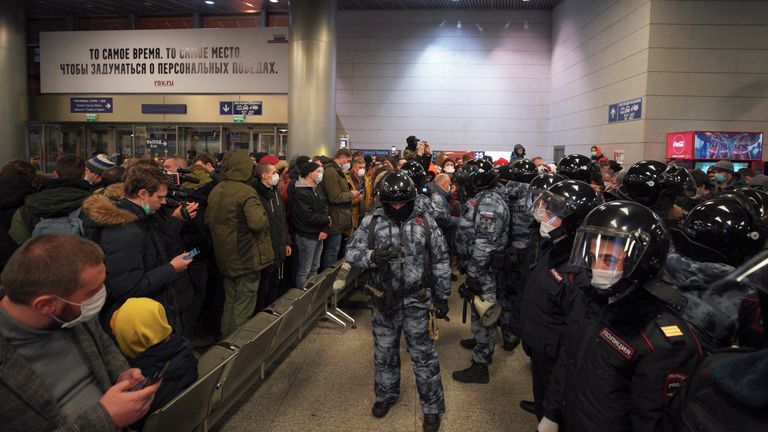 European Commission President Ursula von der Leyen said Russian authorities should immediately release Mr Navalny and "ensure his safety".
In a statement shared on Twitter, she added: "Detention of political opponents is against Russia's international commitments.
"We will monitor the situation closely."
I condemn the detention of Alexei Navalny by the Russian authorities. They must immediately release him and ensure his safety.

Detention of political opponents is against Russia's international commitments. pic.twitter.com/RRATmAHVvn

— Ursula von der Leyen (@vonderleyen) January 18, 2021
Mike Pompeo, US secretary of state, said Washington "strongly condemns" the decision to arrest Mr Navalny and called his detention "the latest in a series of attempts to silence Navalny and other opposition figures and independent voices who are critical of Russian authorities."
He added on Twitter that he was "deeply troubled" by the move.
"Confident political leaders do not fear competing voices, nor see the need to commit violence against or wrongfully detain, political opponents," he said.
President-elect Joe Biden's pick for national security adviser also called on the Russian authorities to free him.
'They tried to kill me,' says Kremlin critic

"Mr Navalny should be immediately released, and the perpetrators of the outrageous attack on his life must be held accountable," Jake Sullivan said in a tweet.
Moscow has dismissed the criticism.
Russian foreign minister Sergei Lavrov said that Western countries' expressions of outrage were designed to distract their citizens from their own domestic problems.
Meanwhile, foreign ministry spokeswoman Maria Zakharova wrote on Facebook: "Respect international law, do not encroach on national legislation of sovereign states and address problems in your own country."
On leaving Berlin on Sunday, Mr Navalny said he didn't think he would be arrested as he had "every right" to return to his home country.
The arrest raises tensions in Russia as it approaches national parliament elections this year, in which Mr Navalny's organisation is expected to be active in trying to defeat pro-Kremlin candidates.
"This is a real act of bravery for Alexei Navalny to return to Russia, given that government agents already tried to kill him once," Human Rights Watch executive director Kenneth Roth tweeted.
"But he understandably wants to be part of the pro-democracy movement in Russia, not a dissident in exile."
Mr Navalny fell into a coma while aboard a domestic flight from Siberia to Moscow on 20 August.
He was transferred to a hospital in Berlin two days later.
Labs in Germany, France and Sweden tested the substance he was exposed to.
It was established he was poisoned with a Soviet-era novichok nerve agent – the same kind of substance used against Sergei and Yulia Skripal, a former Russian double agent and his daughter, in a 2018 poisoning in Salisbury.
Samsung boss Lee Jae-yong back behind bars over corruption scandal | Business News
Samsung boss Lee Jae-yong has been sent back to jail after receiving a two-and- a-half year sentence over his involvement in a major corruption scandal.
The 52-year-old, South Korea's most powerful businessman, was convicted at a retrial on charges of bribery, embezzlement and concealment of criminal proceeds worth about 8.6 billion won (£5.7m).
It leaves Lee sidelined for the time being from major decision making at the company, one of the world's largest makers of computer chips and smartphones.
Shares dipped 3%.
Lee had previously served a year behind bars for bribing an associate of former president Park Geun-hye before an appeals court suspended the jail term in 2018.
A year later, the supreme court ordered a retrial. Time served will count towards the latest sentence.
Lee's lawyer Lee In-jae said: "This case involves the former president's abuse of power violating corporate freedom and property rights… The court's decision is regrettable."
The Samsung vice chairman's sentence complicates the process of inheritance from his father, who died in October.
Analysts said the court's decision was unlikely to affect day-to-day operations at the company though large-scale decisions with longer term impacts – such as takeovers and major personnel changes – could be impacted.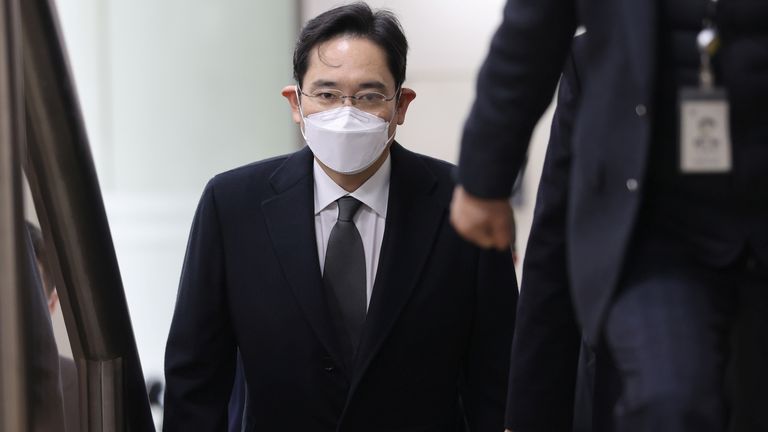 Samsung has performed robustly in the latest financial year, with its semiconductor business rebounding thanks to strong demand for PCs and servers during lockdowns.
Meanwhile sanctions against Huawei have hindered a company that is one of Samsung's biggest rivals in smartphones, smartphone chips and telecoms equipment.
Samsung said earlier this month that it was on course to report a 26% rise in operating profit to 9trn won (£6bn) for the last quarter.
China gold mine blast: 12 trapped workers still alive following explosion last week | World News

Twelve miners are still alive a week after an explosion trapped 22 workers underground at a Chinese gold mine, state media says.
Rescue teams are desperately trying to bring them back to the surface following the blast in Shandong province in eastern China on 10 January.
According to China's Xinhua News Agency, a note passed through a rescue shaft on Sunday night said that while 12 of the workers were still alive, the fate of the other 10 remained unknown.
The rescue shaft had been used to pass food and supplies to the group while they wait.
The handwritten message said that four of the miners had been injured and the health of the others was declining, due to the lack of fresh air and an influx of water.
It added that the group needed medical supplies and drugs, and ended with: "Keep on with the rescue efforts. We have hope, thank you."
Managers of the operation at the Qixia gold mine, which had been under construction at the time, were arrested and detained, after failing to report the incident for more than a day.
They have since been removed from their posts, along with the mayor of the nearby city of Yantai.
More than 300 people are part of the rescue effort above ground, with teams drilling a new shaft to try and reach the chamber and expel deadly fumes.