Fergie's national anthem at NBA All-Star Game draws laughs
Former "Black Eyed Peas" singer Fergie sang the national anthem at the NBA All-Star Game Sunday night — and even the all-stars couldn't hide their laughter.
The singer's rendition of America's beloved "Star-Spangled Banner" had her own notable spin on it, which one Twitter user said was "in the key of 'Happy Birthday Mr. President.'"
Another user compared it to someone's "drunk mom acting sexy."
Golden State Warrior Draymond Green was spotted on camera openly laughing at the "Fergalicious" singer's song and struggling to keep a straight face.
Other players looked equally confused during the anthem, and a slew of celebrities also appeared dumbfounded.
Some online compared Fergie's performance to that of nine-time Olympic gold medalist Carl Lewis's performance at the 1993 NBA Finals. Some have dubbed his rendition of America's anthem as one of the worst in history.
COVID-19: Explosion at coronavirus testing centre near Amsterdam appears intentional, police say | World News

A coronavirus testing location close to the Dutch capital of Amsterdam appears to have been intentionally targeted after an explosion before the site opened, police have said.
The blast in the town of Bovenkarspel, north of the capital, caused no injuries but shattered windows.
The explosive "must have been placed" there, a police spokesman said.
COVID-19: Palestine's vaccine rollout criticised as footballers and ministers get VIP treatment | World News
Coronavirus vaccines meant for Palestinian medical workers have been administered to VIPs including ministers and the national football team, the country's health ministry has admitted.
The Palestinian Authority (PA), which runs parts of Gaza and the West Bank, confirmed details of the jab rollout after criticism from human rights and civil society groups, who urged an investigation.
Live COVID updates from the UK and around the world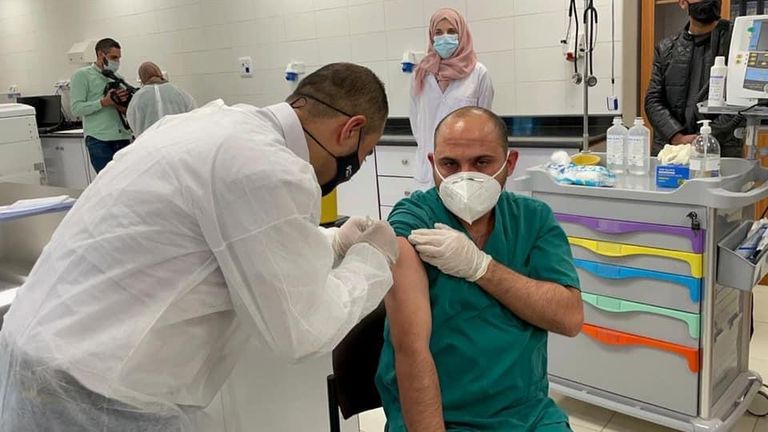 In a statement, the health ministry said 10% of the 12,000 doses it received were given to the football team, ministers, presidential guards, and members of the Palestine Liberation Organisation's executive committee.
Another 200 doses went to the Jordanian royal court, after a request from Amman.
But defending the programme, it said the other 90% went to health workers treating COVID-19 cases in intensive care units and emergency departments, and health ministry staff.
Several Palestinian human rights and civil society groups had claimed the rollout was not transparent.
"The incoming information and testimonies point to ongoing cases where vaccines are obtained by several parties, in disregard of the principle of priority in distribution," the groups said in a joint statement earlier this week.
The West Bank and Gaza, home to a combined 5.2 million Palestinians, have received around 34,700 coronavirus vaccine doses to date.
Palestinian President Mahmoud Abbas – who last month announced the first elections in 15 years – has long faced accusations of nepotism and cronyism.
The health ministry said the ministers and security officials who received vaccines were "in direct contact with the president and the prime minister".
Others who got the jab were election officials – and the country's football team needed vaccination certificates because they were travelling abroad "to represent Palestine in a match".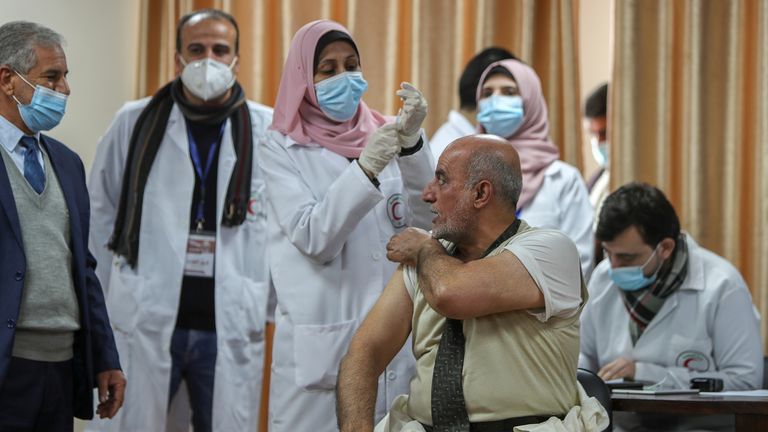 A 12-day lockdown for the West Bank was announced on Saturday after a surge in coronavirus cases.
On Tuesday, minister of health Dr Mai al-Kaila said there were 1,626 new cases in West Bank – which represents a continued upward trend – and 14 deaths recorded in same 24-hour period.
In Gaza, 98 new cases and two new deaths were reported in the last 24 hours.
Vaccine donations have come from Israel and Russia, as well as 20,000 sent by the United Arab Emirates to Gaza.
The numbers lag far behind Israel, which has vaccinated more than one-third of its nine million people in one of the world's fastest roll-outs.
Jabs cause 94% drop in infections in Israel

Palestinians have accused Israel of ignoring its duties as an occupying power by not including them in its inoculation programme.
But Israeli officials have said that under the Oslo peace accords, the PA health ministry is responsible.
The Covax scheme, the global initiative to get vaccines to poorer nations, has yet to provide any for Palestinians but a delivery is expected this week.
Australia's attorney general reveals he is named in historical rape allegation | World News

Australia's attorney general Christian Porter has identified himself as the cabinet minister named in a historical rape allegation.
Mr Porter told a news conference in the city of Perth that he knew the woman as a teenager but that the alleged rape "simply did not happen".
He said: "I can say categorically that what has been put in various forms in allegations simply did not happen.
"Nothing in the allegations that have been printed ever happened."
The allegation was contained in an anonymous letter sent to the prime minister's office in February.
The letter contained a statement from the complainant alleging a rape had occurred in the state of New South Wales in 1988, before Mr Porter entered politics.
The woman, who has not been publicly named, reported the allegation to police before taking her own life last year at the age of 49.
This week, New South Wales Police said there was "insufficient admissible evidence" to investigate and that the case was closed, the Australian Broadcasting Corp reported.
Mr Porter said he had waited until the police case was concluded before speaking, adding: "Staying silent, following the rules – a very difficult decision. I have been subject to the most wild, unrestrained allegations in Australian politics."
Before a story last week by the ABC, "nobody in law enforcement or the law or politics or the media ever put any substance with any specific allegations to me at all", he said.
But he also said he had been aware of a "whispering campaign" over the past few months.
Mr Porter was emotional as he said he would be taking a "short period of leave" to "assess and hopefully improve" his mental health.
He refused to stand down from his post, however, saying: "If that happens, anyone in public life is able to be removed simply by the printing of an allegation. Every child we raise can have their lives destroyed by online reporting alone.
"My guess is that if I were to resign, and that were to set a new standard, there would be no need for an attorney general because there would be no rule of law left to protect in this country."
On Monday, Australian Prime Minister Scott Morrison said he had forwarded the anonymous letter to the police, discussing the allegation with the federal police commissioner before deciding not to take any further action.
He said: "We can't have a situation where the mere making of an allegation and that being publicised through the media is grounds for… governments to stand people down simply on the basis of that."
But it comes just two weeks after Mr Morrison apologised in parliament to a former government staffer who said she was raped by a senior colleague in a minister's office two years ago.
Brittany Higgins had initially not gone to the police because she was worried about her employment, but she reactivated her complaint after quitting her job in January.
The alleged rapist in this case has not been publicly named, but was fired for breaching security by taking Ms Higgins into a minister's office after a night of heavy drinking.
Three other women have made sexual misconduct allegations against this man since she went public.