Fergie's national anthem at NBA All-Star Game draws laughs
Former "Black Eyed Peas" singer Fergie sang the national anthem at the NBA All-Star Game Sunday night — and even the all-stars couldn't hide their laughter.
The singer's rendition of America's beloved "Star-Spangled Banner" had her own notable spin on it, which one Twitter user said was "in the key of 'Happy Birthday Mr. President.'"
Another user compared it to someone's "drunk mom acting sexy."
Golden State Warrior Draymond Green was spotted on camera openly laughing at the "Fergalicious" singer's song and struggling to keep a straight face.
Other players looked equally confused during the anthem, and a slew of celebrities also appeared dumbfounded.
Some online compared Fergie's performance to that of nine-time Olympic gold medalist Carl Lewis's performance at the 1993 NBA Finals. Some have dubbed his rendition of America's anthem as one of the worst in history.
Canadian man who claimed to be IS killer charged with lying about terrorism | World News
A Canadian man who claimed he was an Islamic State killer has been charged with lying about his terrorist activity.
The Royal Canadian Mounted Police (RCMP) said the charge against Shehroze Chaudhry stems from numerous media interviews in which he described travelling to Syria in 2016 and committing acts of extremism.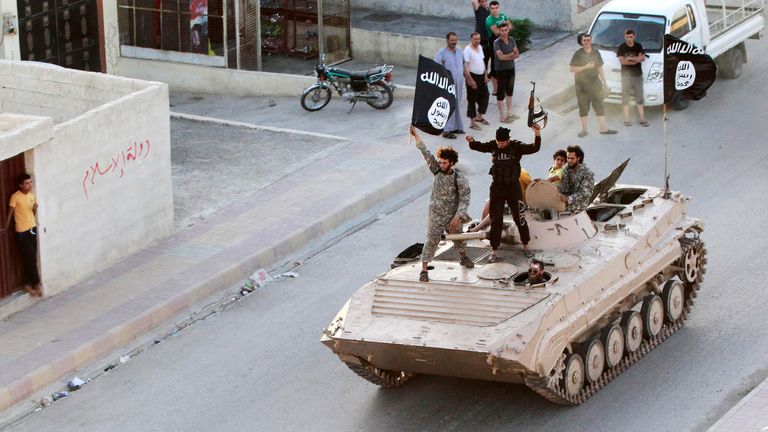 Chaudhry, 25, from Burlington, Ontario, reportedly portrayed himself as a former IS member living freely in Canada.
He has been posting on social media and telling reporters and others since 2016 that he was a former member of the jihadist group's religious police in Syria, according to Canadian media.
He claimed to have conducted at least two executions on the group's behalf and gained further notoriety by appearing on The New York Times' Caliphate podcast, describing in detail the grisly murders of innocent civilians, some blindfolded and tied-up – provoking outrage in the Canadian parliament.
He said he was known within the terror group by his jihadi alias, Abu Huzaifa al-Kanadi (Abu Huzaifa the Canadian), and that he started out in the Syrian city of Manbij.
Choudhry reportedly recalled witnessing violence such as regular public lashings, beheadings and crucifixions, and claimed he suffered from nightmares.
His media interviews led opposition politicians to question whether the federal government was doing enough to protect Canadians from IS fighters who have returned to Canada.
But now, the RCMP has accused him of perpetrating a hoax related to terrorist activity.
Superintendent Christopher deGale said in a statement: "Hoaxes can generate fear within our communities and create the illusion there is a potential threat to Canadians while we have determined otherwise.
"As a result, the RCMP takes these allegations very seriously, particularly when individuals, by their actions, cause the police to enter into investigations in which human and financial resources are invested and diverted from other ongoing priorities."
Chaudhry will appear in court on 16 November and, if convicted, could face up to five years in jail, CBC (Canadian Broadcasting Corporation) reports.
Federal police have also announced terrorism charges against an unnamed 30-year-old man from Alberta, who detectives allege joined IS in 2013 and committed acts of terrorism including kidnapping.
Coronavirus: Two million global deaths 'not impossible' even with vaccine, warns WHO | World News
The number of global coronavirus deaths could reach two million before a vaccine is found and widely used, the World Health Organisation has warned.
It comes as the death toll in the nine months since the coronavirus emerged in Wuhan, China, nears one million.
Dr Mike Ryan, director of the WHO's emergencies programme, said the figure could be higher without concerted action to curb the pandemic.
"It's certainly unimaginable," he told a briefing. "But it's not impossible, because if we look at losing a million people in nine months and then we just look at the realities of getting a vaccine out there in the next nine months, it's a big task for everyone involved.
"There's the issue of funding these vaccines. There's the issue of distributing these vaccines and then the issues of acceptance.
"And beyond that, with the work we still have to do in controlling this disease. And remember, we have things we can do now to drive transmission down and drive down the number of deaths."
Dr Ryan said there was a "worrying" spike of COVID-19 infections across Europe, which have triggered local lockdowns.
These are in part due to improved and rigorous testing, he added.
"But what is worrying to us is an increase in hospitalisations and an increase in bed occupancy for hospitalisations and also in ICU. We're at the end of September, not even towards the end of September, and we haven't even started our flu season yet," he said.
"So what we are worried about is the possibility that these trends are going in the wrong direction. Now, on the other hand, we are in a much different situation now than we were in a few months ago. We have tools in place to be able to reduce transmission and to save lives."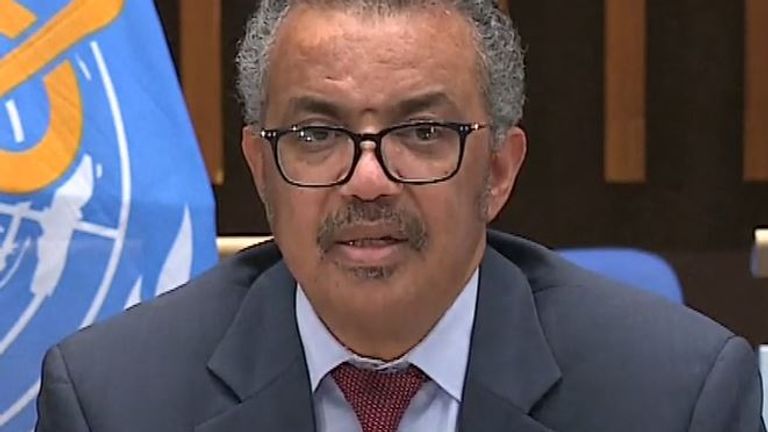 Infections have risen to almost 32.5 million, according to Johns Hopkins University, which has been tracking the coronavirus outbreak.
Many countries are experiencing a second surge as winter approaches.
It is unknown what impact the cold months will have on the disease, and how it will interact with other seasonal respiratory viruses.
Charlie Hebdo: Terror investigation after attacks near magazine's former offices in Paris | World News
French terrorism authorities are investigating an attack that wounded two journalists near the former offices of satirical newspaper Charlie Hebdo in Paris.
Emergency services were called to the scene in Rue Nicolas Appert, in the 11th arrondissement, near the Richard Lenoir Metro station, at around 11.40am local time.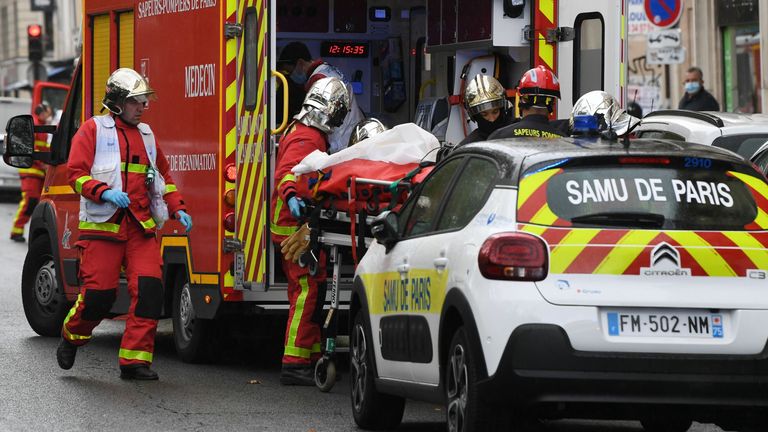 Prime Minister Jean Castex, who went to the scene, said two people who work for documentary film company Premieres Lignes were seemingly attacked at random while they were having a cigarette break.
One witness told Europe 1 radio: "I was in my office. I heard screams in the road. I looked out of the window and saw a woman who was lying on the floor and had taken a whack in the face from what was possibly a machete."
Kader Alfa, another witness, told Associated Press: "I saw a guy that was in his 30s or 40s with an axe in his hand who was walking behind a victim covered in blood…I can't tell you how many victims there was, I just saw one."
Paul Moreira, who is the founder of Premieres Lignes, confirmed two of his colleagues were injured.
He said: "It's somebody who was in the road with a meat cleaver who attacked them in front of our offices. It was chilling."
Mr Castex said the main attacker had been arrested, a second person was in custody and that the victims' injuries were not believed to be life-threatening.
"This attack happened in a symbolic place at the same time as the trial of the terrible attacks on Charlie Hebdo," he added.
He promised the government's "unfailing attachment to freedom of the press, and its determination to fight terrorism".
A blade found at the scene was described by police sources as a machete or a meat cleaver.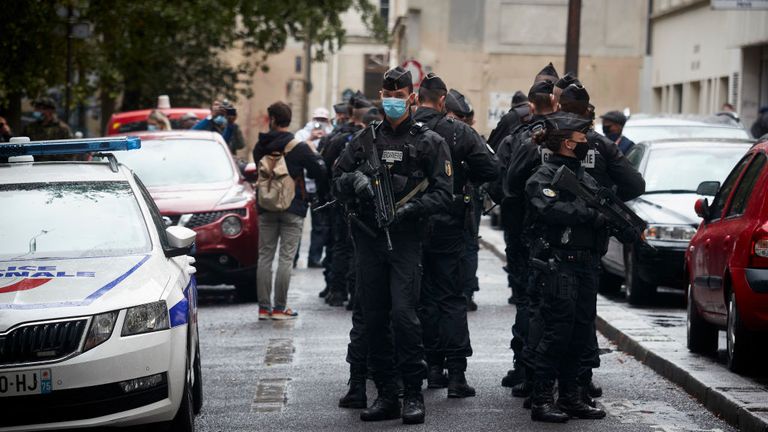 Europe 1 Radio quoted police officials as saying the main suspect was 18 and was known to security services.
The incident comes three weeks after 14 people, who have suspected links to homegrown Islamist militants, went on trial following the Charlie Hebdo attack in the same street.
A total of 12 people died and 11 people were injured after two brothers, Saïd and Chérif Kouachi, stormed the offices of the satirical weekly newspaper with guns and began shooting in January 2015.
The brothers escaped and were later shot dead by police after a stand-off.
The motive for the latest stabbing is unclear, and it is not known whether it is linked to Charlie Hebdo, which has now moved out of the area.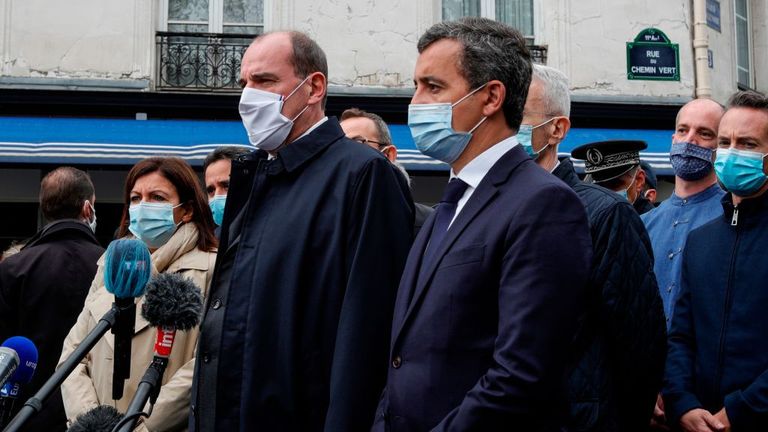 On the opening day of the trial, the magazine re-ran a series of cartoons depicting the Prophet Mohammed, which Muslims consider blasphemous.
The trial, which will see the attackers' widows testify, was still set to go ahead this afternoon.
The writers of Charlie Hebdo showed their solidarity with the victims of the attack on Friday.
They posted on Twitter: "Charlie's entire team provides support and solidarity to his former neighbours and colleagues @PLTVfilms and to those affected by this heinous attack."
Toute l'équipe de Charlie apporte son soutien et sa solidarité à ses anciens voisins et confrères @PLTVfilms et aux personnes touchées par cette odieuse attaque.

— Charlie Hebdo (@Charlie_Hebdo_) September 25, 2020
Since the Charlie Hebdo mass shooting, France has faced several other terrorist attacks.
In November 2015, there were a series of bombings in Paris and a mass shooting at the Bataclan music venue during an Eagles of Death Metal concert. A total of 130 people died and more than 400 were said to be injured.
Eight months later, in July 2016, an Islamist militant drove a truck through a crowd celebrating Bastille Day in Nice, which killed 86 people and injured more than 450.