Connecticut woman caught defecating in cul-de-sac 3 times, police say
A Connecticut woman was nabbed after a police camera caught her defecating in the middle of a cul-de-sac three separate times in a month, state police said.
Holly Malone, 43, was arrested last week during an unrelated traffic stop after police connected her car to a vehicle seen on camera, FOX61 reported. Malone told authorities she was defecating in the streets because she couldn't make it to a bathroom in time.
The pooping incidents began on Nov. 7 when residents reported finding human feces and toilet paper on the road in East Grandby.
The alleged serial street pooper struck again on Nov. 16, prompting police to install a motion activated camera to nab the perpetrator.
The camera recorded Malone's vehicle after another pooping incident on Dec. 5.
Malone confessed to the incidents after she was taken into custody, according to FOX61. She said she was lactose intolerant and didn't avoid dairy despite her allergy. She called her actions "stupid."
The 43-year-old apologized, FOX61 reported. She was charged with breach of peace and creating hazardous condition and released on bond. Malone is scheduled to be arraigned March 1.
Egypt: Dozens of 3,000-year-old coffins and mummies discovered in ancient temple | World News
Dozens of wooden coffins and mummies dating back over 3,000 years have been discovered in an ancient temple near Cairo.
Egypt's former antiquities minister, archaeologist Zahi Hawass, revealed details of the treasures found in the vast Saqqara necropolis south of Cairo.
Experts found a four-metre long papyrus that included texts of the Book of the Dead, which is a collection of spells aimed at directing the dead through the underworld in ancient Egypt.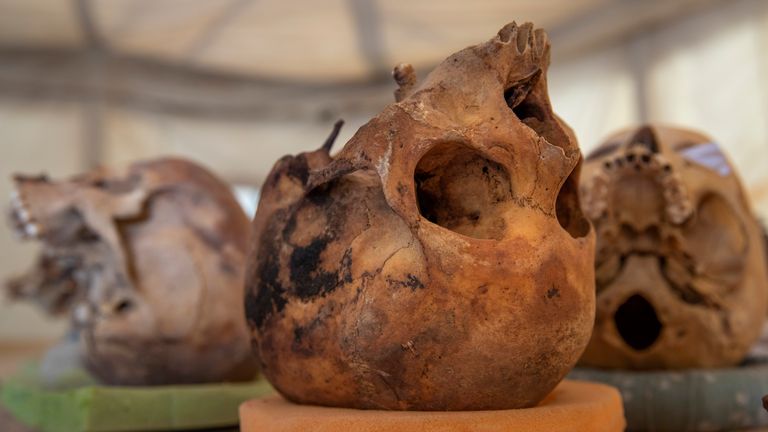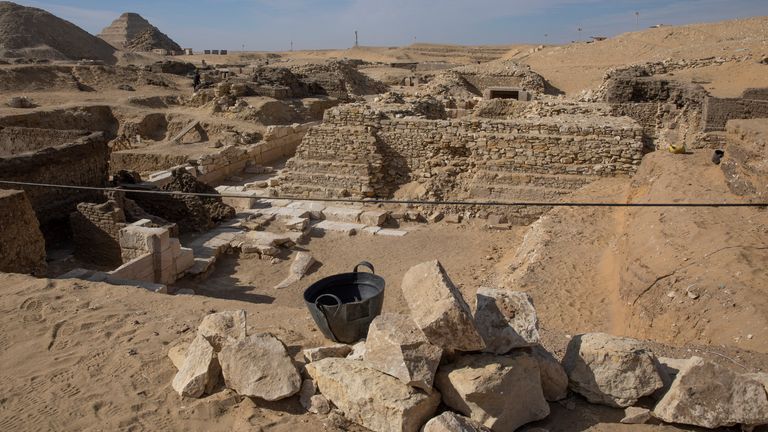 At least 22 burial wells were also discovered, containing 54 wooden coffins dating back to the New Kingdom that ruled Egypt between about 1570 BC and 1069 BC.
Ancient games, statues, and masks were also found.
On a nearby site, archaeologists unearthed the temple of Queen Neit, wife of King Teti, the first king of the Sixth Dynasty that ruled Egypt from 2323 BC until 2150 BC.
Mr Hawass, known for his Indiana Jones hat and TV specials on Egypt's ancient sites, said: "All these discoveries will rewrite the history of Saqqara and the New Kingdom."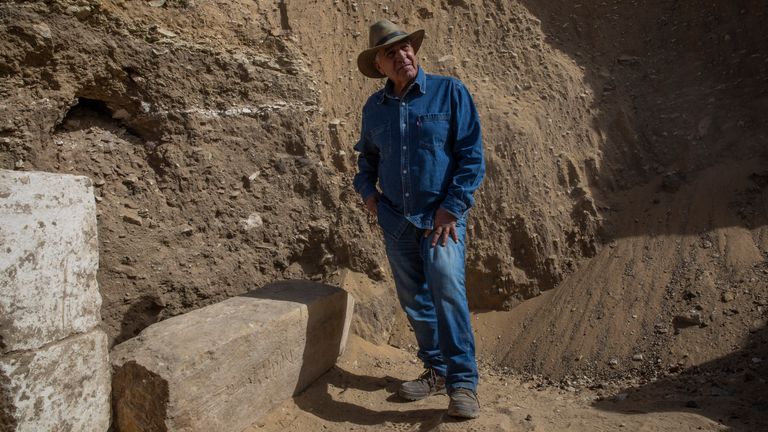 The discovery was the result of cooperation between the Antiquities Ministry and the Zahi Hawass Centre at the Bibliotheca Alexandrina.
The Saqqara site is part of the necropolis at Egypt's ancient capital of Memphis that includes the famed Giza pyramids.
It comes just two months after about 100 ancient coffins and around 40 golden statues dating back more than 2,500 years were found in the Pharaonic necropolis.
Joe Biden to blitz controversial Donald Trump policies hours after entering Oval Office | US News
In his first hours as president, Joe Biden is set to roll back some of the most controversial decisions of his predecessor and to address the coronavirus pandemic.
A 10-day blitz of executive actions is then expected as Mr Biden moves to redirect the country in the wake of Donald Trump's presidency, without waiting for Congress.
Ron Klain, his incoming chief of staff, listed some of the main changes that will come in:
• End restrictions on immigration to the US from some Muslim-majority countries
• Move to rejoin the Paris climate accord
• Make mask-wearing compulsory on federal property and during interstate travel
• Extend the pause on student loan payments
• Extend actions meant to prevent evictions and foreclosures for those struggling during the pandemic
• Introduce a directive to speed up the reuniting of families separated at the US-Mexico border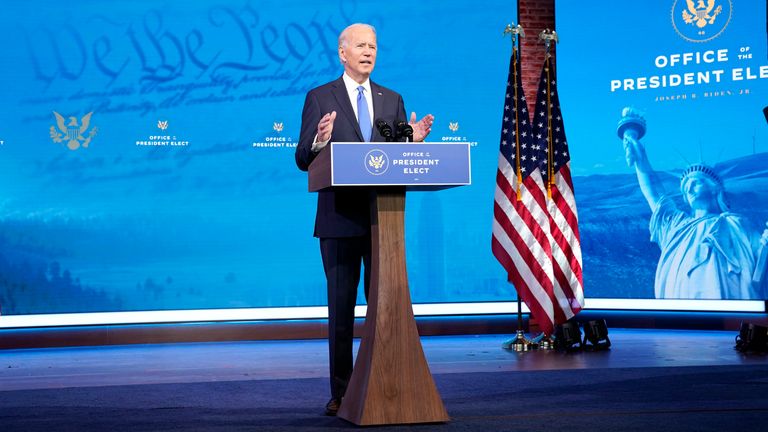 "These executive actions will deliver relief to the millions of Americans that are struggling in the face of these crises," Mr Klain said in the memo.
"President-elect Biden will take action – not just to reverse the gravest damages of the Trump administration – but also to start moving our country forward."
"Full achievement" of Mr Biden's goals will require Congress to act, Mr Klain wrote, including the $1.9trn (£1.46trn) virus relief bill he outlined on Thursday.
Mr Klain said Mr Biden would also propose a comprehensive immigration reform bill to lawmakers on his first day in office.
On Thursday, the new president's second day in office, Mr Biden is also expected to sign orders related to the COVID-19 outbreak aimed at reopening schools and businesses and expanding virus testing.
More actions will be added, Mr Klain said, once they clear legal review.
Incoming presidents traditionally move swiftly to sign an array of executive actions when they take office.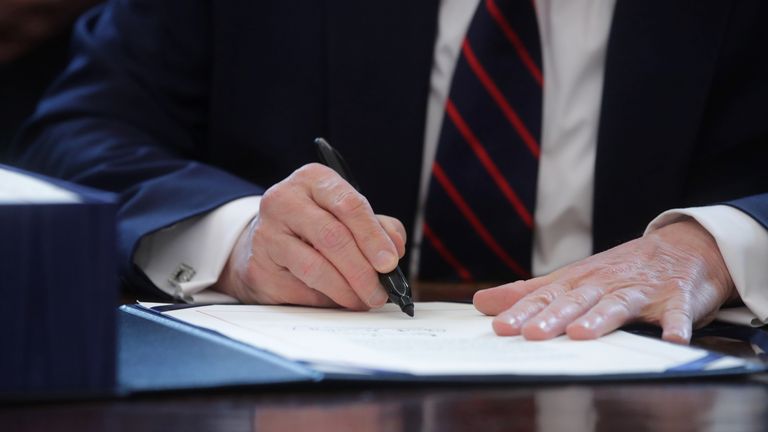 Mr Trump did the same, but he found many of his orders challenged and even rejected by courts.
Mr Klain maintained that Mr Biden should not suffer similar issues, saying "the legal theory behind them is well-founded and represents a restoration of an appropriate, constitutional role for the president".
Australian Open: Quarantined British tennis star Heather Watson forced to train in hotel room | UK News
British tennis player Heather Watson has been forced to train for the upcoming Australian Open in her hotel room, after a passenger on her plane to Melbourne tested positive for COVID-19.
The 28-year-old is among 47 players competing in the first grand slam of the year who must now quarantine for 14 days following positive coronavirus tests on two different chartered flights.
Watson shared a short video on Twitter, showing her repeatedly running between her hotel room door and window as she completed a 5km run in an attempt to keep up her training.
In a separate message she confirmed that one person on her flight from Abu Dhabi had tested positive for COVID-19 on landing, meaning that all passengers now needed to quarantine.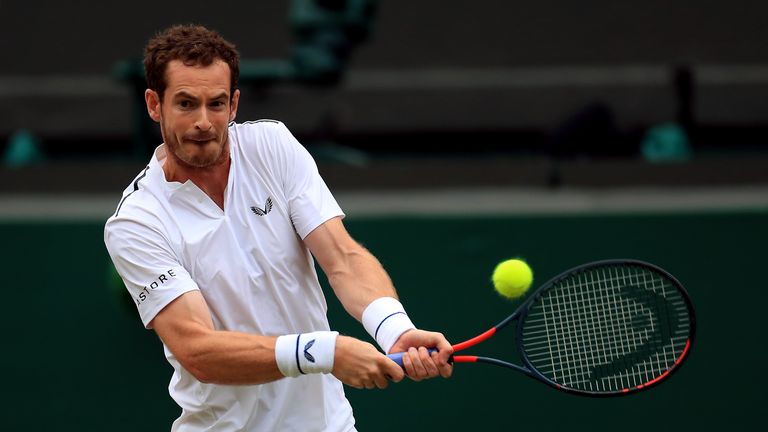 Three people on another chartered flight from Los Angeles carrying 24 players also returned positive swabs upon their arrival in Melbourne. None of those who tested positive were players.
Grand slam champions Victoria Azarenka, Angelique Kerber, and Bianca Andreescu – whose coach Sylvain Bruneau revealed he was the source of one of the three positive tests – are also among those being forced to stay in their rooms.
El Salvador's Marcelo Arevalo who was also on the LA flight shared a video showing him hitting shots against his mattress in his hotel room due to his enforced quarantine.
The world's top players began arriving in Australia on a series of charter jets on Thursday ahead of a two-week quarantine period, during which they will be allowed out of their rooms to practice for five hours a day.
However, those players and support staff on the affected flights will now be confined to their rooms for a fortnight.
The players should be out of isolation before the week of warm-up events begins on 31 January, with the competition – which has already been pushed back three weeks – due to start on 8 February.
Australian Open tournament director Craig Tiley has said players will be supported in any way possible, including with the delivery of exercise equipment to their rooms.
Reports have also emerged of a positive test among the cohort of top players and their practice partners who are quarantining separately in Adelaide.
Meanwhile, former world number 1 Andy Murray's participation at the first major of the year remains in doubt after he tested positive for COVID-19.
Subscribe to the Daily podcast on Apple Podcasts, Google Podcasts, Spotify, Spreaker
He had been due to fly to Australia on an official tournament flight but is now isolating at his home in Surrey.
The fact the Australian Open has been allowed to go ahead has been hugely controversial given Victoria's strict approach to tackling coronavirus and while thousands of Australians remain stranded overseas because of a limit on numbers allowed into the country.
So far Australia has seen 909 deaths with coronavirus, while the UK has the fifth highest death rate in the world with 88, 747 deaths.