Boyfriend of woman killed by ex-lover saves her son by jumping from balcony, report says
The 4-year-old son of a California woman who was gunned down by her ex-lover was reportedly saved when the woman's new boyfriend grabbed the preschooler and jumped with him from a second-floor balcony to dodge a barrage of bullets.
The gunman, identified as Bradley Thomas Woss, was found dead Sunday morning at Indian Hills Golf Club in Jurupa Valley, Calif., Redlands police said. Authorities said Woss, 33, died from an apparent self-inflicted gunshot wound.
Police were hunting Woss after he allegedly shot and killed ex-girlfriend Kacey McKinney on Feb. 13. Woss and the 31-year-old woman reportedly got into an argument over her new relationship just before shots were fired. The couple had broken up about two years ago, family told CBSLA.
McKinney was pronounced dead at the scene.
McKinney's son and her current boyfriend fled the apartment building during the deadly shooting by jumping from the second-floor apartment balcony. Woss allegedly fired at the two while they fled.
The boyfriend, who was not identified, suffered minor injuries from the jump. It's unclear if the 4-year-old was injured, but a witness told Redlands Daily Facts that he saw a firefighter comforting the child after the deadly shooting.
Friends described McKinney as an "amazing person" who will be "missed so much."
"She was an amazing person. Anyone who knows her knows her piercing beautiful green eyes and her beautiful smile. Her wonderful laugh," Andi Kameradt, a friend of McKinney's, told CBSLA. 
The hellish fight to keep children alive in a Yemeni hospital | World News
Warning: This report contains distressing images of seriously malnourished children.
If there is a hell, it could well be in a small hospital in north Yemen. There is misery and desperation in every corner you look.
They thought in Yemen, it couldn't get any worse after six years of civil war. They were wrong. A collision of factors has created what charity workers are calling the 'perfect storm'.
War, malnutrition and now a global deadly pandemic have created a torment from which many Yemenis simply will not recover.
Even the tough medics of the Abs Children's Hospital struggle to maintain their composure in the avalanche of unrelenting wretchedness here.
We watch as the teams work on baby after baby. The other mothers crowd round as word got out about the struggle to save a tiny little new born, little more than a month old.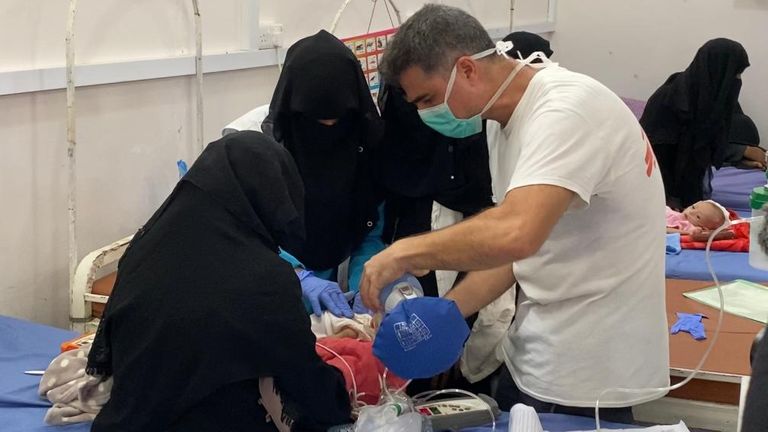 One doctor whose name I only know as Javier, cradles the baby's head in one hand.
The mask he is using to try to pump oxygen into little Taif's small lungs almost covers her entire face. He holds the baby's right hand, her fingers curled around his whilst he uses two digits from his other hand to push gently on her heart to keep it beating.
"It's a very low heartbeat," he tells us. We could see the heart monitor flickering between numbers, signalling life – death – life again – death.
Javier's constant pushing keeps nudging Taif into this world, this world where her four siblings go to sleep hungry every night and where her mother Randah struggles to produce enough breast milk to feed her little one because she's so undernourished.
The doctors keep working on her, determined not to give up. Nurses flutter round with injections of stimulants and fresh machines to suck mucus out of her lungs.
But everyone present knows it is a hopeless battle. They shine the light from a mobile phone across her eyes. There's no response. There's no heartbeat either.
They knew this before they even checked but seem reluctant to accept what seems obvious to everyone witnessing this titanic struggle to save this minuscule human.
Javier silently packs up his stethoscope and heart cables. "She's passed away," he says matter-of-factly but his eyes betray much more turmoil than is immediately apparent.
Dr Izzedine Mohammed is struggling to hold back his emotions. "I have to deal with this every day…this is my life…every day. And this is what is disturbing us the most…because it's a preventable death. It's not an inevitable death…it's something we can prevent by only giving food."
The rest of the hospital quietly disperses. The mothers return to their own babies, struggling against the odds to survive here. Everyone of them must be thinking that could be their baby next.
Hunger is ravaging the country like never before. It should shame the world community that in the year 2020, babies and toddlers are dying from starvation here.
Take a moment to process that. There are children with so little food that they're susceptible to every single infection or disease going. Children with so little nutrition, that from the moment they're born, they're struggling to survive a mountain of disadvantages including what many believe is an entirely preventable conflict.
Children in Yemen are so weak from hunger, a bout of diarrhoea will kill them within days. And these same children are so fragile they stand little chance in the midst of a global pandemic which is wiping out richer, stronger, much more privileged human beings around the planet.
Everywhere we look we see tiny, skeletal bodies laying on every bed in the main children's hospital in Abs, in Hajjah Governorate. And there's not a bed that doesn't contain a tragic tale.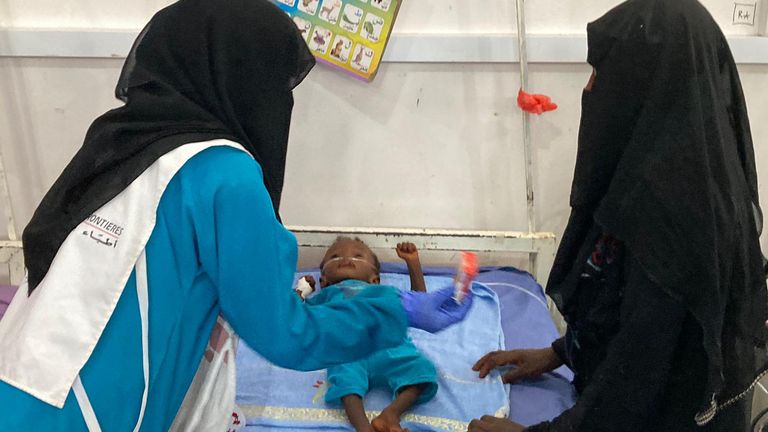 They are scraps of humanity, wriggling in pain. Most are too weak to even cry. Those who do yelp or cry out in agony are the healthier ones.
Yet make no mistake, no-one but no-one is healthy in here. There are even some children hanging from hammocks underneath the beds.
The medics from Medecins Sans Frontieres buzz around, moving briskly from bed to bed and critical case to critical case.
These are dedicated people, the guardian angels of this area, desperately trying their best to save lives in the most horrendous of circumstances and fighting a tide of despair every hour and every day.
Many of the people they are caring for have moved several times to escape the fighting. Nearly all the country is dependent on aid.
The United Nations believes 80 per cent of the country needs help just to make it through the day. Whole families, whole communities, whole villages have moved several times – exchanging one set of desperate circumstances and abject poverty for another.
"This is malnutrition (which has caused this)," Dr Ali Mohammed, the hospital supervisor tells us, his voice filled with frustration whilst pointing to a small boy with a wizened, scrunched up body which makes him look so much older than his two years.
Zaid Mohammed was born with cerebral palsy to his young, twenty-something year-old mother (many Yemenis just don't know their exact age) whilst they were living in a rough makeshift camp filled with hundreds of displaced people from their village.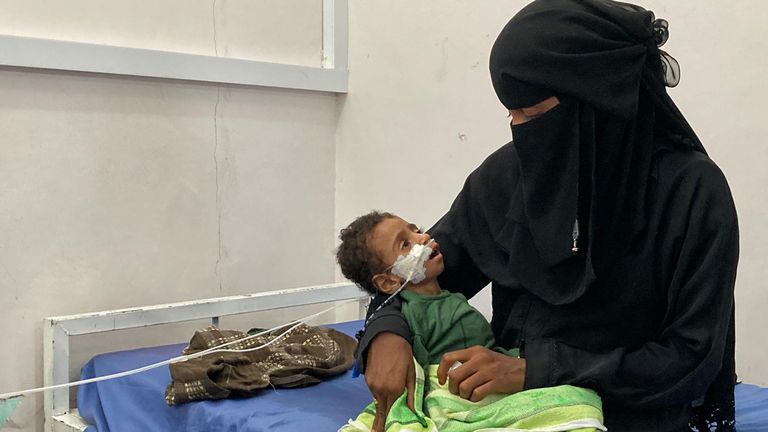 His father, Mohammed Ali took three days to build the mud and straw room that the family normally sleeps in. The simple structure is held together by discarded bits of plastic. The family have to queue up outside a charity water tank where they, like everyone else in this camp, have water rationed to three cartons per family.
Zaid has spent most of his 24 months in and out of hospital but his condition is the worst it's ever been, brought on by malnutrition which has led to infections and weakened his already feeble body.
His mother, Zahra, is beside herself. She looks exhausted. Her eyes are red. "I haven't slept for two years," she says, "And until now we haven't had any help – no bread or tents from anyone. Our life is very difficult."
Zaid's father is sleeping outside on the hospital pavement until his son can leave hospital. They are still optimistic he will leave hospital but nothing is certain. Each child is hovering between life and death. Survival – or not – can turn in an instant.
The little boy's every breath looks painful as flies gather at his mouth. His body has been craving food for so long without getting enough, it is finally rejecting it. "He can't keep anything down," his exasperated mother tells us. Sustenance is administered via a nose drip.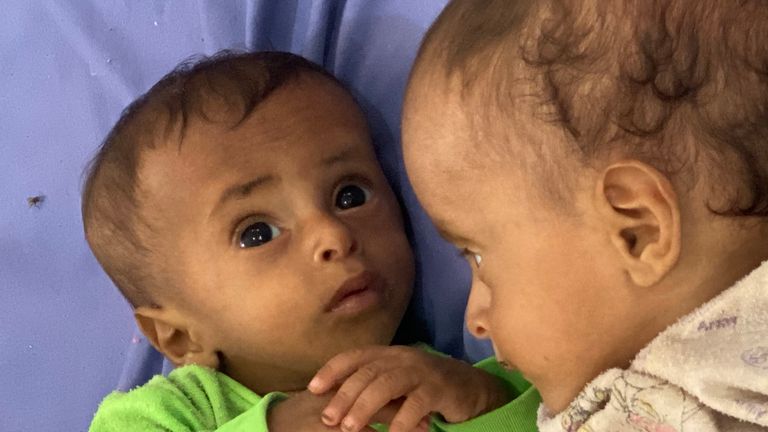 Yemen, now one of the world's poorest countries, is strategically important, sitting on the Bab al-Mandeb strait which links the Red Sea with the Gulf of Aden and through which much of the world's oil supplies pass.
But it's been devastated by a protracted war which has its roots in the Arab Spring uprising which saw the toppling of the country's long-time authoritarian leader Ali Abdullah Saleh.
Yemen's most recent history is as bloody and brutal as it is complex. In brief, the Arab Spring rebellion saw Saleh forced to hand over power to his deputy Abdrabbuh Mansour Hadi whose Government continues to be internationally-recognised and is supported by a coalition of powerful countries headed by Saudi Arabia and backed by Britain, America and the United Arab Emirates. But from the onset, President Hadi struggled to contain a range of problems including al Qaeda and ISIS attacks, widespread poverty and corruption.
These weaknesses were exploited by the rebel Zaidi-Shia Houthi movement which took control of swathes of the north including the capital Sana'a, setting up its own rival authority, multiple checkpoints and quickly winning military and logistical support from Iran.
Despite the Saudi-led coalition establishing air dominance and delivering a blistering number of attacks over the past five years killing thousands of civilians killed and mounting a siege of the north restricting aid to the territory, neither side has secured victory.
Both sides are accused of war crimes and crimes against humanity with the Houthis regularly accused of recruiting and coercing children into the conflict, laying landmines in civilian areas and carrying out indiscriminate shelling of civilians and residential areas.
Yemen was already broken but the coronavirus pandemic has only added further misery and seen international donations plummet amid the global economic uncertainty.
The tighter restrictions on vital food imports has led to high increases in prices and further exacerbated the severe hunger suffered by millions of families.
Little baby Taif is now one of Yemen's many dead. Her family joins the thousands grieving for lost loved ones. And there will be many who believe her death – and so many others – is only because of political inaction.
Alex Crawford's team: Middle East editor Zein Jafar, producer Ahmed Baider and cameraman Kevin Sheppard
Joe Biden: 'We can't allow the Good Friday Agreement to become a casualty of Brexit' | US News
US presidential candidate Joe Biden has weighed into the controversy over the UK's new Brexit bill, warning of its implications for a future UK-US trade deal.
The Democrat challenger added to concerns among senior US politicians that changes associated with the Internal Market Bill will undermine the Good Friday Agreement.
Mr Biden tweeted: "We can't allow the Good Friday Agreement that brought peace to Northern Ireland to become a casualty of Brexit."
We can't allow the Good Friday Agreement that brought peace to Northern Ireland to become a casualty of Brexit.

Any trade deal between the U.S. and U.K. must be contingent upon respect for the Agreement and preventing the return of a hard border. Period. https://t.co/Ecu9jPrcHL

— Joe Biden (@JoeBiden) September 16, 2020
"Any trade deal between the US and UK must be contingent upon respect for the agreement and preventing the return of a hard border. Period."
The intervention came after an awkward day of diplomacy in Washington DC for the UK's foreign secretary Dominic Raab.
A UK-US trade deal was prominent in his diary of engagements in the US capital but so was Brexit, international agreements and law-breaking.
His day started positively enough.
"We trust the UK, I am confident they'll get it right," said his host Mike Pompeo, the US secretary of state, describing the 'special relationship' as "stronger than ever".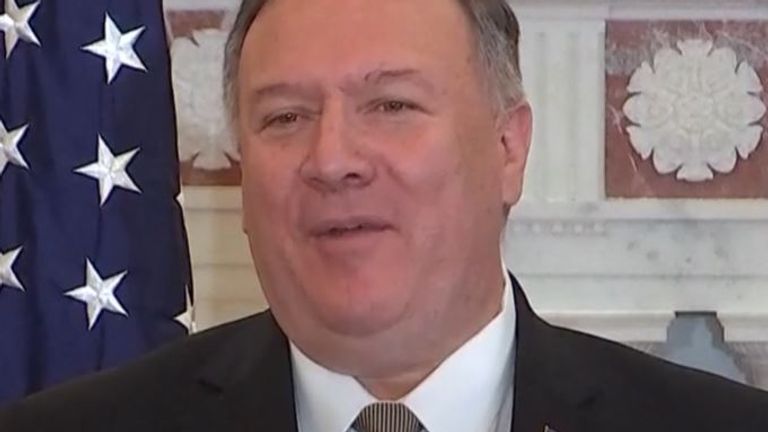 They were welcome words, no doubt, amid the diplomatic warmth of a morning audience in the US State Department. An afternoon chill delivered a contrast.
The UK foreign secretary attended a scheduled meeting with Nancy Pelosi, the Democratic speaker of the House of Representatives, who was already on record as having expressed incredulity at the UK's actions over Brexit, stating it could rule out a UK-US free trade agreement.
Her views matter. Any UK-US trade deal would need Democratic votes to get through Congress.
Speaker Pelosi repeated her warning to Mr Raab in their face-to-face meeting.
In a statement afterwards, she said: "If the UK violates its international agreements and Brexit undermines the Good Friday accord, there will be absolutely no chance of a US-UK trade agreement passing the Congress."
:: Subscribe to Divided States on Apple podcasts, Google Podcasts, Spotify, and Spreaker
It's clear is that America's political establishment has its own reading of events and has other, influential voices in its ear – not least the Irish lobby in the United States.
In his State Department news conference, Mr Raab insisted the threat to the Good Friday Agreement came from the EU's "politicisation" of the issue.
In his meeting with Speaker Pelosi, he sought to reassure her that the UK government wouldn't undermine the Good Friday Agreement and would never erect a hard border in Northern Ireland.
UK officials point out the issue won't be solved in the United States, but at the table with the European Union.
Their Brexit journey will, however, bring them back across the Atlantic soon enough. How negotiations unfold with the EU will dictate how tough a sell they have in the US.
NYC mayor orders 500 staff, including himself, to take unpaid leave as budget crisis worsens | US News
New York City mayor Bill de Blasio will furlough himself and almost 500 staff members for a week to close a budget gap created by the coronavirus pandemic.
Everyone at the mayor's office in City Hall will be placed on unpaid furlough for a week at some point between October and March 2021, it was announced on Wednesday.
A total of 495 staff members will be affected, according to The New York Times.
Due to the economic shutdown arising from the coronavirus outbreak, the city has lost $9bn (£6.9bn) in revenue and has made $7bn (£5.4bn) of cuts to the city's annual budget.
Mr de Blasio has said the week-long furlough will save around $1m (£770,000) – and it may serve as a useful symbol while he continues negotiations regarding broader payroll savings with labour unions representing employees.
He said "it was not a decision I made lightly", adding: "To have to do this is painful for them and their families, but it is the right thing to do at this moment in history."
Alongside the furloughs being made, the budget for the mayor's office will be 12% smaller this year.
Mr de Blasio said there are no planned pay cuts for any New York City employees, but added: "We never know what the future brings."
He has warned that 22,000 employees in the city may lose their jobs if savings aren't found in negotiations with labour unions.
The mayor added: "We're going to be in a horrible budget situation for years, so this borrowing capacity is to give us a fallback no matter what happens up ahead."
When asked whether furlough could be applied to the city's entire workforce of over 320,000, Mr de Blasio said: "Everything's on the table. We're talking to labour about any and all ways to save money."
He is also seeking more borrowing power from state lawmakers in Albany – the capital city of New York state – who have so far been resistant towards the idea.