Airbnb crackdown on traffickers turning its rental homes into 'pop-up brothels'

Airbnb is cracking down on traffickers who turn its rental homes into "pop-up brothels" to sexually exploit vulnerable women and girls.
The short-term home rental company said it is working with anti-trafficking charity Polaris to train its staff and develop new ways to spot signs of exploitation.
MPs launched an inquiry last year after reports of temporary brothels springing up across Britain at tourist resorts and sites such as the Lake and Peak Districts.
Nick Shapiro, global head of trust and risk management at Airbnb, said the US firm is aiming to "spot and stop potential exploitation ahead of time".
He told the Thomson Reuters Foundation: "Exploitation and trafficking are still all too common in today's society, but we are eager to use our global reach to help assist in the effort to end it once and for all."
In the US, at least 2,680 slavery victims were trafficked at hotels and motels – mostly for sex work – between January 2015 and September 2017, according to Polaris.
Airbnb said it already screens all of its hosts and guests and trawls through photos to check for signs of exploitation.
The US firm, which was founded in 2008, is now valued at about $31bn (£22m) and operates in nearly 200 countries.
The company's anti-slavery push follows similar action by ride-hailing app Uber, which last month said it would teach its drivers how to spot traffickers and their victims when they book a car.
A spokesman for Polaris, which runs the US National Human Trafficking Hotline, said working with Airbnb offered "new ways to scale up the fight against trafficking".
About 25 million people globally were estimated to be trapped in forced labour or sexual exploitation in 2016, according to the United Nations' International Labour Organisation and human rights group Walk Free Foundation.
Scientists set out 10 golden rules for reforestation amid tree planting warnings | UK News
Ten "golden rules" for reforestation have been set out by scientists as they warned poorly executed tree planting schemes can harm the environment.
Planting trees to reduce carbon emissions can be presented as an "easy answer" to tackling the climate crisis, but it can cause more problems than benefits, experts have said.
The researchers from the Royal Botanic Gardens, Kew (RBG Kew) and Botanic Gardens Conservation International (BGCI) are urging a "right tree in the right place" approach to make sure restoring forests benefits people and the planet.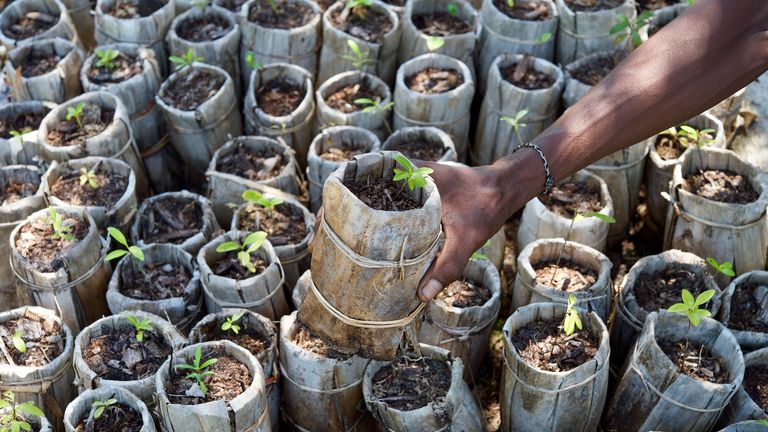 Conservation partnership coordinator at RBG Kew Dr Kate Hardwick said: "When people plant the wrong trees in the wrong place, it can cause considerably more damage than benefits, failing to help people or nature."
A study by the scientists found in some cases, tree planting schemes did not increase the amount of carbon being stored in the landscape and could hit wildlife and people's livelihoods.
Planting large areas with only a few, non-native, species can push out the wildlife, reduce the amount of carbon being stored in soils and the forests, and reduce the land available for crops – potentially causing more deforestation elsewhere.
Allowing areas of forest to naturally regenerate is cheaper and can create up to 40 times more potential for carbon storage than plantations while picking the right trees and places for planting can help restore nature and boost people's livelihoods.
The 10 golden rules, set out in a paper published in the Global Change Biology journal, focus on protecting existing forests first, putting local people at the heart of projects, and using natural regrowth of trees where possible.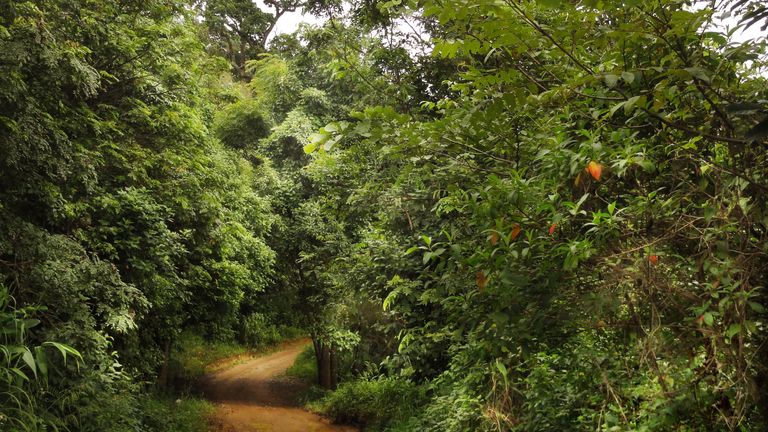 Dr Paul Smith, secretary-general at BGCI, said the rules highlighted that planting trees was highly complex.
"There is no universal, easy solution to a successful reforestation initiative given the extraordinary diversity of trees, forest types and the unique cultural and economic environments each forest is in.
"However, there are successful examples that we can learn from and develop further to build on current public and private interest in the topic," he said
A virtual conference next month has been organised by RBG Kew and BGCI, with Sky Zero as its headline sponsor.
It will bring together a series of interesting global perspectives to debate and challenge the myth that "all tree planting is good" and to discuss best practice for protecting and restoring the world's forests.
Subscribe to the Daily podcast on Apple Podcasts, Google Podcasts, Spotify, Spreaker
The conference will be opened by The Prince of Wales and it is hoped the discussions will raise the standard of reforestation globally ahead of the UN conferences (COP15 and COP26) later this year on new global biodiversity and climate change agreements.
COVID-19: Luxembourg live music experiment could help 'prepare for return to live events' | Ents & Arts News

A live music experiment is set to take place in Luxembourg, with organisers saying it is hoped the shows could help pave the way for the return of gigs.
Five test concerts with strict health measures and restrictions are due to take place at the Rockhal arena in February.
Live events have been cancelled around the world since the COVID-19 pandemic took hold at the beginning of 2020. While some artists have come up with innovative ways to perform to fans – with many streamed gigs held and The Flaming Lips even holding "space bubble" shows at the weekend – venues in many countries remain closed and the industry is struggling.
It is hoped the Because Music Matters shows in Luxembourg, organised by the Arena Resilience Alliance (ARA), a lobby group established by the European Arenas Association, could help to create a model to bring live events back.
Capacity will be limited to 100 people per night, with masks compulsory and strict social distancing enforced. The gigs will be seated, with fans placed around a central 360° stage.
Those who attend will be tested for COVID-19 prior to the event and again seven days later.
Each night will feature different music, including piano techno, electro-house and metal.
Olivier Toth, chief executive of Rockhal and co-founder of the ARA, said the shows are an "important step forward in testing the safety measures we can employ to support our back-to-business strategies".
Fellow ARA co-founder Robert Fitzpatrick, who is also chief executive of the Odyssey Trust, owners of the SSE Arena in Belfast, said he believes international collaboration can help venues get back to business.
"As the advocacy platform for European arenas, the ARA is proud to provide an opportunity for the industry to come together with key EU decision-makers to prepare for a return to live events, whilst working to protect the health and wellbeing of our communities and the sustainability of our industry, which will be central to the economic and societal recovery of countries across Europe," he said.
Subscribe to the Backstage podcast on Apple Podcasts, Google Podcasts, Spotify, Spreaker
"Together, we can build regional and national frameworks, with international collaboration that will help us get back to business."
The shows will take place from 10-14 February and will be hosted in conjunction with the national health inspection authority.
The ARA will also host a virtual conference on 18 February looking into how arenas and large venues across Europe are preparing for a safe and sustainable reopening.
As well as the impact of the pandemic, UK musicians are now facing the added problem of touring visas for Europe following Brexit.
Earlier in January, stars including Liam Gallagher and Sir Elton John were among dozens of music artists who signed a letter calling on the government to resolve the "gaping hole where the promised free movement for musicians should be".
Grindr faces £8.6m fine for sharing user data with advertisers without permission | Business News
Grindr is facing a fine of £11.7m (£8.6m) for its handling of personal user data, Norway's privacy watchdog has announced.
The country's Data Protection Authority (DPA) said it had notified the gay dating app of a draft decision to issue the penalty which, it said, was equal to 10% of its annual global revenue.
The watchdog said its proposed fine followed a complaint that personal information was shared with advertisers for marketing purposes without user consent.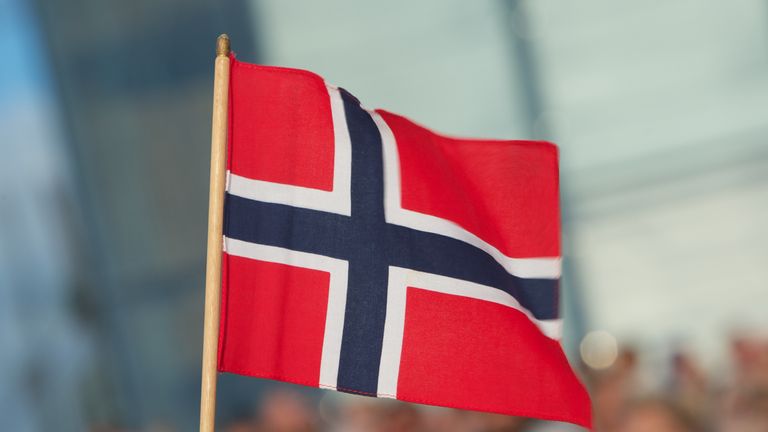 Norway's Consumer Council had alleged last year that Grindr and five partner companies had violated the European Union's GDPR privacy rules, to which the country is tied.
The DPA said the data included GPS location, user profile information and even the fact that users are on Grindr, which could reveal their sexual orientation and therefore merit special protection.
Grindr's spokesman for Norway told local broadcaster NRK that the company looked forward to dialogue with the authorities but gave no further reaction.
Under the country's rules, Grindr has until 15 February to give a formal response to the finding ahead of a final regulatory decision.