Afghan official: Bodies found of 9 people abducted last year
KABUL, Afghanistan –  An Afghan official says that bodies of nine civilians abducted by militants early last year have been found in the country's eastern province of Nangarhar.
A district governor says the bodies, including three of tribal leaders, were found dumped in a common grave over the weekend.
Sayed Rahman Mohmand of Kot district says the locals found the bodies in neighboring Achin district.
The nine were abducted by militants in early 2017 in Kot and nothing was known about their fate till now.
Mohmand says the Islamic State group was behind the abduction and the killings, though the militant group has not claimed responsibility for the deaths.
Both the Taliban and IS are active in eastern Afghanistan.
Denmark's Christian Eriksen given CPR after collapsing on pitch in match against Finland | World News
Denmark's Christian Eriksen has been given CPR after collapsing in his country's European Championship game against Finland.
Teammates of the Inter Milan and former Spurs player were in tears as medical staff tried to resuscitate Eriksen on the far touchline.
He was seen to collapse about 40 minutes into the game with no other players near him at the time.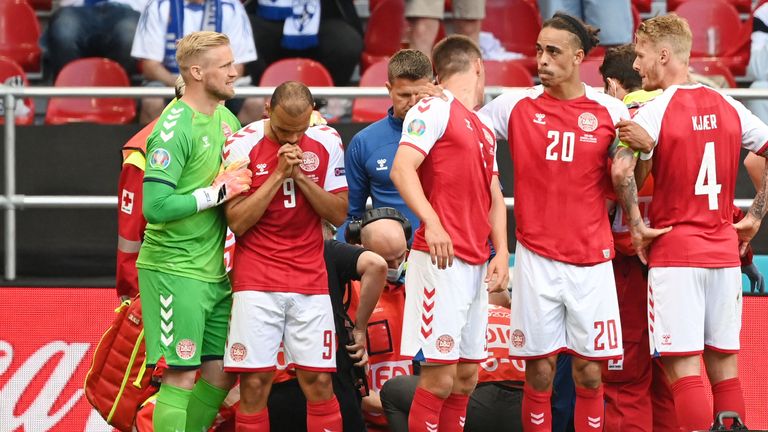 A barrier was erected while he received medical treatment and his teammates also shielded him from view.
He appeared to be having heart massage as well as several electric shocks to the chest from medical staff.
The 29-year-old received treatment for about 10 minutes before being taken off the pitch on a stretcher.
The BBC were showing the game live but have now cut to the studio.
Fabrice Muamba, whose heart stopped for more than an hour while playing in a match between Bolton and Spurs in 2012, tweeted: "Please God".
Saudi Arabia Hajj: Number allowed to take part in annual pilgrimage severely limited for second year running | World News
Saudi Arabia is limiting the number of Muslims who can take part in the annual pilgrimage to Mecca and Medina – called the Hajj – for a second year, because of COVID-19.
Only 60,000 of its own citizens and residents will be able to join the event, the state Saudi Press Agency (SPA) reported on Saturday.
That figure will be higher than last year, when barely 1,000 were allowed to go, but still many times less than the two million-plus who normally visit Islam's holiest sites for the Hajj, including many Britons.
Only people aged between 18 and 65 who have been vaccinated or immunised against the virus, and are free of chronic
diseases, will be able to join the pilgrimage in mid-July this year.
The kingdom's health minister. Tawfiq al Rabiah, said: "The decision (was made) to guarantee the safety of Hajj amid uncertainty over the coronavirus.
"Despite the availability of vaccine, there is uncertainty over the virus and some countries still record high numbers of
COVID cases.
"The other challenge is the different variants of the virus, hence came the decision to restrict Hajj."
The minister said only those who had received Pfizer, Astrazeneca, Moderna and Johnson & Johnson vaccines will be able to take part in the Hajj.
Saudi Arabia's decision is likely to be met with disappointment by many Muslims, who consider it a once in a lifetime duty for every able-bodied believer who can afford it.
The week-long Hajj and the lesser, year-round umrah pilgrimages together earned the kingdom about $12bn a year before the pandemic, according to official data.
In 2020, two-thirds of those who took part were foreign residents of Saudi Arabia from among the 160 different nationalities that would have normally been represented at the event. One-third were security personnel and medical staff who were Saudi citizens.
The COVID-19 pandemic is not the first time the event has been affected by illness, with a malaria outbreak in 632, cholera outbreaks in 1821 and 1865 and more recently Middle East respiratory syndrome, or MERS, prompting concerns and controls.
Saudi Arabia had closed its borders for months to limit the spread of the virus and, so far, it has largely escaped the worst of its effects.
About 462,000 cases of the virus have been reported, along with 7,500 deaths, and some 15.4 million vaccine doses have been administered in the country of over 30 million people.
Agnes Chow: Hong Kong pro-democracy activist released from prison | World News
Hong Kong pro-democracy activist Agnes Chow has been released from prison after serving more than six months behind bars.
The 24-year-old was jailed in December last year for taking part in unauthorised assemblies during huge anti-government protests in 2019.
The rallies sparked a crackdown on dissent across the region.
A crowd of journalists greeted Ms Chow as she left the Tai Lam Center for Women, in Tuen Mun, in the New Territories, Hong Kong on Saturday.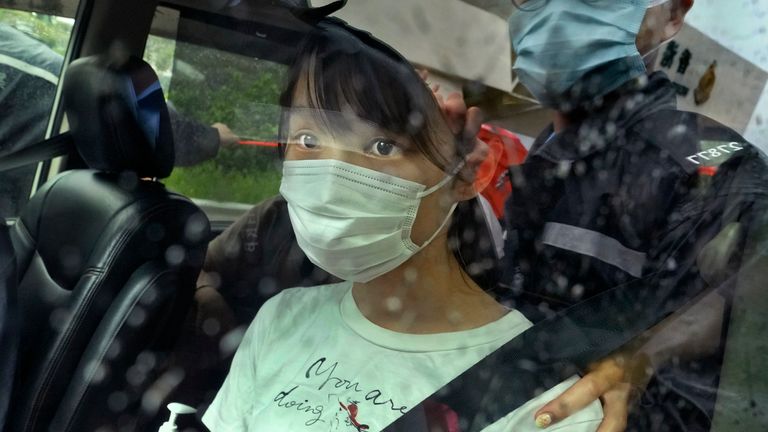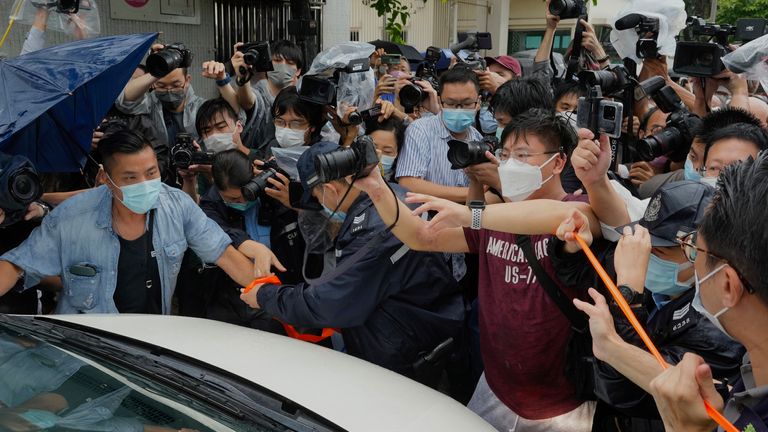 Only a small group of supporters stood outside for her as she left the maximum-security women's prison, which is thought to be a reflection on the government's threats to jail those it deems to be in violation of a sweeping national security law imposed on the territory by Beijing a year ago.
Ms Chow rose to prominence during the "Umbrella Movement" of 2014 when she, and activist Joshua Wong, led a student protest against proposed reforms to Hong Kong's electoral system which would have allowed Beijing to choose candidates.
Subscribe to the Daily podcast on Apple Podcasts, Google Podcasts, Spotify, Spreaker
Mr Wong is currently serving time in prison for taking part in the same unlawful anti-government rally and for taking part in a vigil to remember the Tiananmen Square protests of 1989.