Son of George Soros donated $650G to Dem campaigns, groups last year, data show
The son of liberal billionaire financier George Soros donated $650,000 to Democratic campaigns and committees last year, according to Federal Election Commission records.
Alexander Soros, Soros's son and managing partner of Soros Brothers Investments, has quietly stepped up as a major liberal donor but has remained relatively obscure due to his father garnering much of the media attention in the family.
Alex's generous contributions spanned across a number of liberal party committees and campaigns, including two donations totaling $203,400 to the Democratic Congressional Campaign Committee's (DCCC) recount and building funds, while providing an additional $33,900 to the committee during the primary period.
Alex also gave large amounts to the Democratic Senatorial Campaign Committee (DSCC). Like his contributions to the DCCC, Soros gave the DSCC $203,400 for its recount and headquarters account, with another $33,900 going towards the primaries.
The Democratic National Committee's (DNC) building account additionally received six figures from Soros. Alex poured $101,700 into the DNC's headquarters account and $33,900 was provided to the committee for the general election.
Soros also gave thousands to the campaigns of Democratic Sens. Claire McCaskill (Mo.), Bob Casey (Pa.), Amy Klobuchar (Minn.), Kirsten Gillibrand (N.Y.), Jon Tester (Mont.), and Chris Murphy (Conn.), among others.
Alex has posted pictures of himself on social media day drinking with Democratic leadership, including Sen. Chuck Schumer (D., N.Y.), the Daily Caller reported last year.
"Always great to catch up with senator @chuckschumer who has seized the moment as the head of the #democrats in the #senate and masterfully helped preserve the assault on our nations values and #democracy! Thank you Chuck! #chuckschumer #legend #opposition  #dumptrump,", Soros's Instagram caption reads.
During the 2016 election cycle, Alex increased his contributions to Democrats by millions of dollars by pouring $4.5 million into liberal committees. This was a drastic shift from the 2014 election cycle, when Soros gave $88,000 to Democratic committees.
Alex did not return a request for comment on his contributions by press time.
'Terror motive' investigated after eight hurt in stabbing attack in Sweden | World News

Eight people have been injured in a Swedish town after a stabbing attack police say could be terror-related.
A man in his 20s attacked people in the town of Vetlanda, about 210 miles south of the capital Stockholm, on Wednesday afternoon.
Aftonbladet said the weapon used was a knife but the Associated Press reported it was an axe.
Police said people had been stabbed in at least five locations in the town of roughly 13,000 people, and some of the victims were in a serious condition.
The attacker's motive was not clear but Prime Minister Stefan Lofven said terrorism was possible.
He said: "In the light of what has emerged so far in the police investigation, prosecutors have initiated a preliminary investigation into terrorist crimes.
"We confront such heinous acts with the combined force of our society."
Sweden's domestic security agency SAPO is also working on the case, he said, adding: "They continuously assess whether there are reasons to take security-enhancing measures and are prepared to do so if necessary."
Regional police chief Malena Grann said: "We have started a preliminary investigation of attempted murder but there are details in the investigation that make us investigate possible terror motives."
Asa Karlqvist owns a flower shop in the town and told local newspaper Vetlanda-Posten: "We heard a scream from the street.
"Then we saw a man enter the store, shouting that he had been stabbed.
"Blood was pouring from his shoulder, so we got towels and applied pressure on the wound."
Meanwhile, the attacker is in hospital after being shot by police before he was arrested.
Local police chief Jonas Lindell said "it seems that the injuries are not life-threatening" but he did not give further details.
Police have not identified the attacker publicly but said he was previously known to them for minor crimes.
There is no indication that others were involved in the attack, they added.
'Virulent' outbreak of equine herpes forces European equestrian events to be axed | World News

A virulent outbreak of equine herpes in eastern Spain has forced European equestrian events to be cancelled across the continent.
The International Federation for Equestrian Sports said the move will see events axed in 10 European countries until 28 March.
The ban affects upcoming events in Spain, Portugal, Belgium, Italy, Austria, Poland, Netherlands, Germany and Slovakia.
The federation's general secretary, Sabrina Ibáñez, said an unspecified number of horses have already died from the outbreak.
"This was not an easy decision to block events in mainland Europe, particularly after the major disruption to the FEI Calendar caused by the COVID-19 pandemic.
"But this EHV-1 outbreak is probably the most serious we have had in Europe for many decades."
The outbreak appears to have originated in Valencia, Spain, and has been linked to subsequent outbreaks in three other European countries.
The federation is allowing horse jumping shows in Spain, Portugal, Italy and Belgium to go ahead as long as no new horses enter the events and no cases of the virus are detected.
US police uncover 'possible plot' by militia group to breach Capitol on Thursday | US News
Police say they have intelligence showing a "possible plot" by a militia group to breach the US Capitol on Thursday.
A US Capitol Police statement did not name the organisation but called it "an identified militia group".
It follows an advisory sent to members of Congress by the acting House sergeant-at-arms earlier this week, saying Capitol Police had "no indication that groups will travel to Washington DC to protest or commit acts of violence".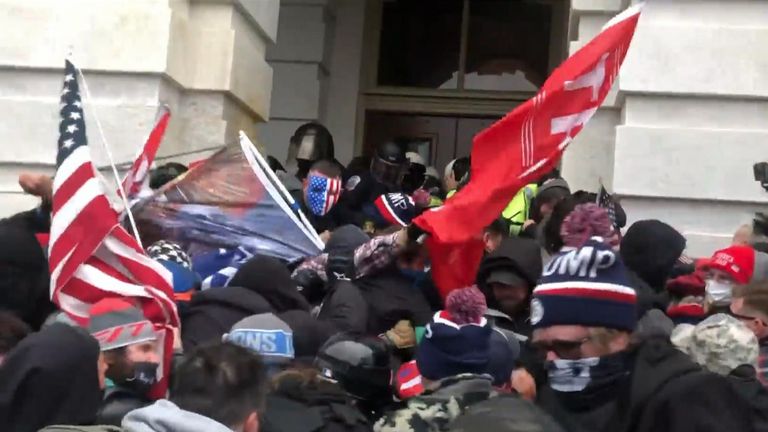 "The United States Capitol Police Department is aware of and prepared for any potential threats towards members of Congress or towards the Capitol complex," the agency said in a statement.
"We have obtained intelligence that shows a possible plot to breach the Capitol by an identified militia group on Thursday March 4."
The statement said the agency was "taking the intelligence seriously" but provided no other specific details on the threat.
It comes at the same time the acting police chief is testifying before a House subcommittee.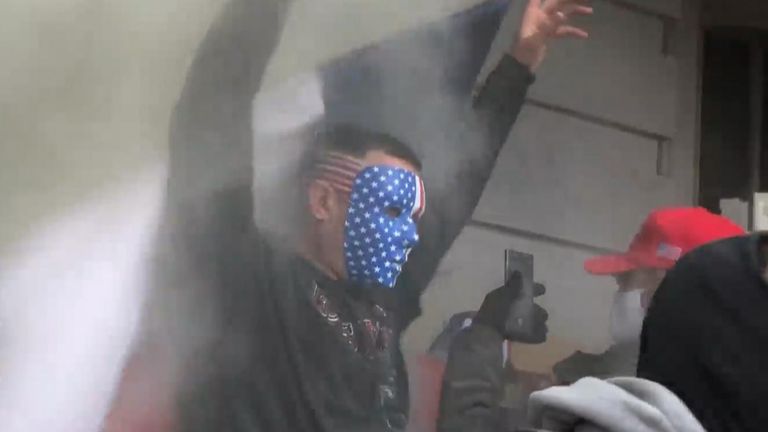 The threat comes nearly two months after thousands of supporters of then-President Donald Trump stormed the Capitol in a violent insurrection as Congress was voting to certify Joe Biden's electoral win.
So far, around 300 people have been charged with federal crimes for their roles in the riot and five people, including Brian Sicknick a Capitol Police officer, died.
The threat appears to be connected to a far-right conspiracy theory, mainly promoted by supporters of QAnon, that Trump will rise again to power on 4 March, which was the original presidential inauguration day, until 1933 when it was moved to 20 January.
Capitol Police say it had stepped up security around the complex since January's insurrection, adding physical security measures such as fencing topped with razor wire and members of the National Guard, who remain at the complex.