Sacred Tibetan Jokhang temple damaged by fire
A sacred Buddhist site in Tibet has been damaged by fire.
The Jokhang Temple in Lhasa is one of the most important sites in the region.
The fire broke out at the UNESCO World Heritage Site at around 6.40pm local time on Saturday, according to state media.
Xinhua news agency said no casualties had been reported.
The extent of the damage to the site, which has more than 1,300 years of history, remains unclear.
"The fire was quickly extinguished, there were no casualties and order is normal in the area," said the state-run Tibet Daily.
But on Twitter, which is blocked in China, some said photos and posts about the fire were being censored.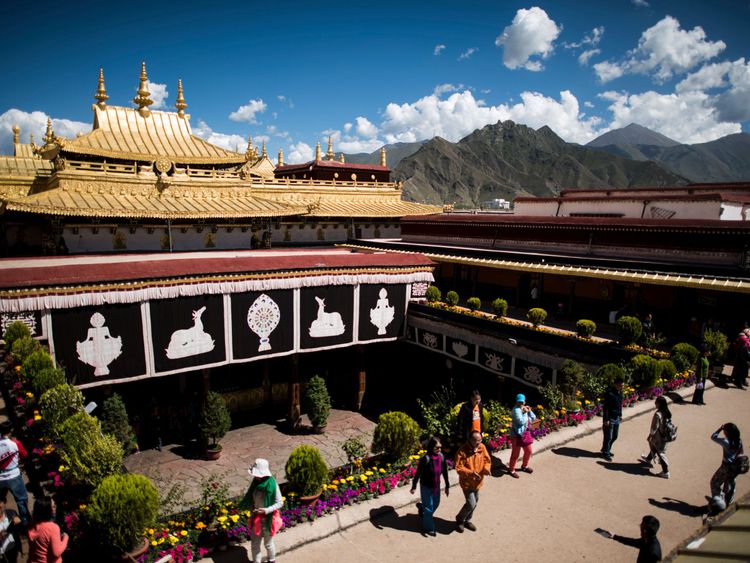 Robert Barnett, a US-based expert on Tibet, tweeted: "Sources in Lhasa claim police have threatened anyone distributing pictures or unofficial news about the fire; locals afraid to talk.
"Official information extremely limited, raising concern about extent of damage.
"Access to area round temple said to be restricted."
Footage sent anonymously to the New York Times showed the temple's roof covered in flames and men in military uniforms responding to the fire.
Tibet has been ruled by China since the 1950s.
Sine then, China has been accused of trying to repress the nation's Buddhist culture.
But Beijing says its rule has brought economic growth to Tibet and that Tibetans still have extensive freedoms.
Iran set to enrich uranium to highest level ever – after 'attack' at nuclear facility blamed on Israel | World News
Iran says it will increase its enrichment of uranium to 60% purity – its highest figure ever – bringing it closer to the levels needed for a nuclear weapon.
It comes after an "attack" at the Natanz nuclear facility in the country which Iran has blamed on Israel as an act of sabotage.
France says it is co-ordinating a response to Iran's latest move with world powers, adding that it was a "serious" development.
Sunday's incident at Natanz was initially described by Iran as a blackout in the electrical grid feeding above-ground workshops and underground enrichment halls, but later officials called it an attack.
Israel is suspected of carrying out the assault that damaged centrifuges, though it has not claimed it.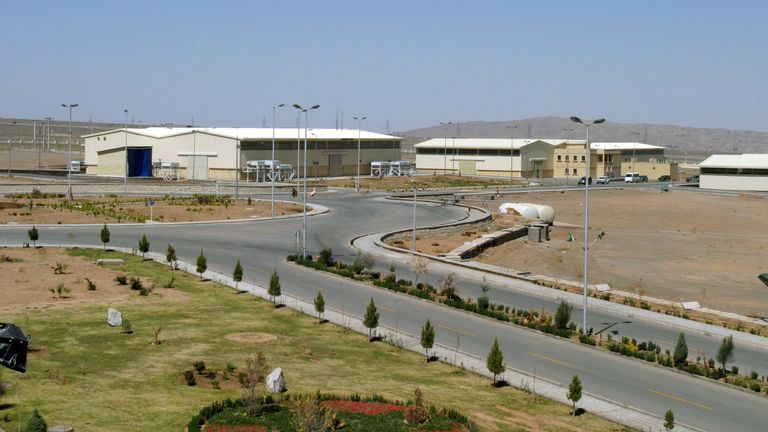 News of Tehran's intent to increase the purity of nuclear material comes as the Biden administration looks to revive the 2015 deal which limited Iran's ability to create enriched uranium.
The US president's predecessor Donald Trump abandoned the deal three years ago.
Iran expects to produce uranium enriched to 60% purity next week, said Kazem Gharibabadi, its ambassador to the UN nuclear watchdog, the International Atomic Energy Agency.
Also, Iran's chief nuclear negotiator, Abbas Araqchi, said his nation would activate 1,000 advanced centrifuge machines at Natanz, which suffered the explosion on Sunday.
The 2015 Iran deal limited the purity level to which Iran can enrich uranium hexafluoride to at 3.67%.
A level of about 90% is needed for nuclear weapons.
Talks are due to continue in Vienna, Austria, to try and revive the 2015 agreement.
White House Press Secretary Jen Psaki has called the enrichment plan from Iran "provocative", and said it called into question how seriously Tehran was taking the talks.
Discussions between Iran and global powers to revive the deal last week were "constructive".
Iran has said it never sought to obtain or develop nuclear weapons, and that it only wants nuclear technology for civilian purposes like medicine or energy.
Western intelligence services believe Iran had a secret nuclear weapons programme until 2003, although Israel suspects that this it is continuing in some form.
St Vincent: Water supplies running short on Caribbean island hit by volcano eruption | World News
Clean water supplies are running short on the Caribbean island of St Vincent after ash from a volcanic eruption contaminated reservoirs.
The blast from La Soufriere volcano rocked the eastern Caribbean island last week, sending an ash cloud six miles into the air.
Up to 20,000 people had to be evacuated from the island's northern region in the shadow of La Soufriere, with 3,000 more forced to move to 80 government shelters.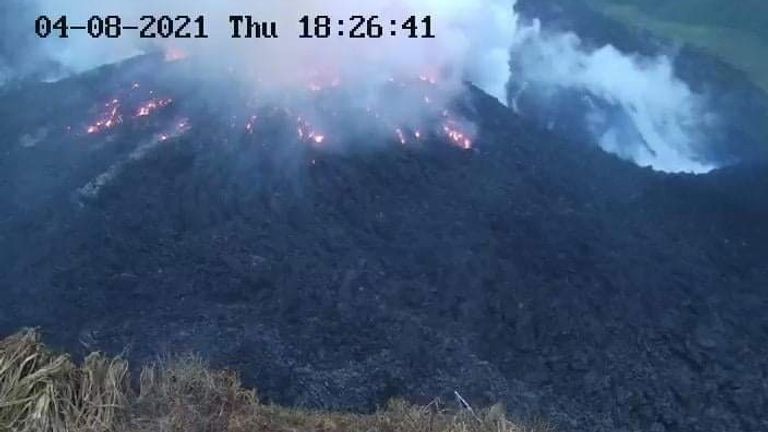 Although no casualties were reported since the first huge blast on Friday, falling ash and pyroclastic flows (fast-moving lava, ash and hot gases) have destroyed crops and contaminated water reservoirs.
Prime Minister Ralph Gonsalves told local NBC Radio he thought the country would need "hundreds of millions of dollars" to recover from the eruption.
He said: "We have to get stuff rolling in to people."
Mr Gonsalves said some people have refused to leave communities closest to the volcano and he urged them to evacuate.
Garth Saunders, water and sewer authority minister, said efforts were under way to move water trucks to the hardest-hit areas but he warned: "What we are providing is a finite amount. We will run out at some point."
The prime minister said people in some shelters need food and water, and he thanked neighbouring nations for shipments of items including cots, respiratory masks and water bottles and tanks.
In addition, the World Bank has given $20m (£14.5m) to the government of St Vincent as part of an interest-free catastrophe financing programme.
Ash rains down on St Vincent after eruption

Adam Billing, a retired police officer who lived and tended to his crops on land near the volcano, said he had more than three acres of plantains, tannias, yams and a variety of fruits, and estimates he lost more than $9,000 (£6,600) worth of crops.
"Everything that (means) livelihood is gone. Everything," said Mr Billing.
The volcano had seen persistent low-level eruption since December and volcanologists say activity could continue for weeks.
Another blast was reported on Tuesday morning, sending a further large plume of ash into the air.
A previous eruption in 1902 killed 1,600 people.
COVID-19: Whistleblower claims WHO tried to force him to change report about Italy's pandemic protocols | World News
Prosecutors in Italy are urging the World Health Organisation to assist them in their investigations into Italy's response to the COVID-19 pandemic.
So far, the WHO has failed to answer any of a series of questions sent from the prosecutor's office in Bergamo, one of the hardest-hit communities in the country.
The investigators are particularly surprised the health body instructed staff not to cooperate, claiming they had immunity from questioning; but they allegedly went even further by writing to the Italian health ministry urging them to tell the investigators to ease up the pressure on the WHO.
This, according to documents obtained by the prosecutors, which they showed to Sky News.
March 2020: Italy's COVID crisis

It comes as a former WHO employee, who is assisting the investigation, says the organisation tried to force him to change a key report that noted that Italy had not updated its pandemic response protocols since 2006.
Dr Francesco Zambon has now resigned his position as a coordinator, a senior post at the WHO, after 13 years of service, claiming his employers failed to follow its own "whistleblower" guidelines by ignoring his demands for a full investigation into his claim of interference by seniors.
Early last year Italy was the epicentre of the coronavirus outbreak, weeks before the rest of the developed world.
The chaotic scenes of overwhelmed hospitals in northern Italy prompted the World Health Organisation to provide real time analysis to help governments around the world to prepare.
Dr Zambon, with a team of nine scientists, was tasked with sending a detailed plan to all nations on how to cope, based on Italy's response. It was the first time this type of report had ever been attempted.
The report "An unprecedented challenge: Italy's first response to COVID-19" was produced in record time.
After an internal WHO review, it was published and distributed on 13 May – but was unexpectedly withdrawn the next day.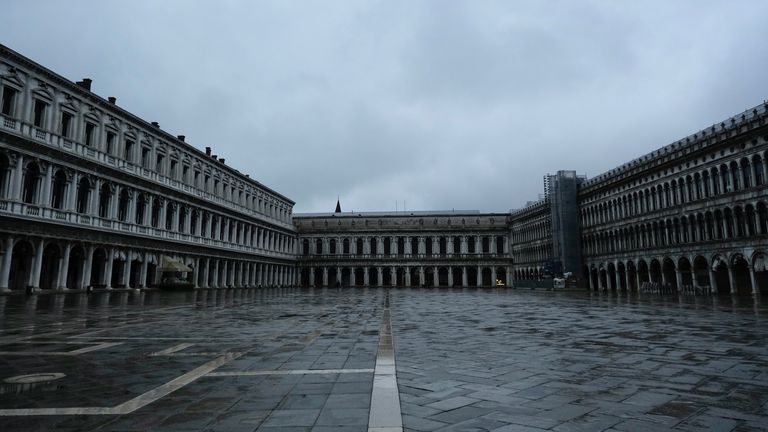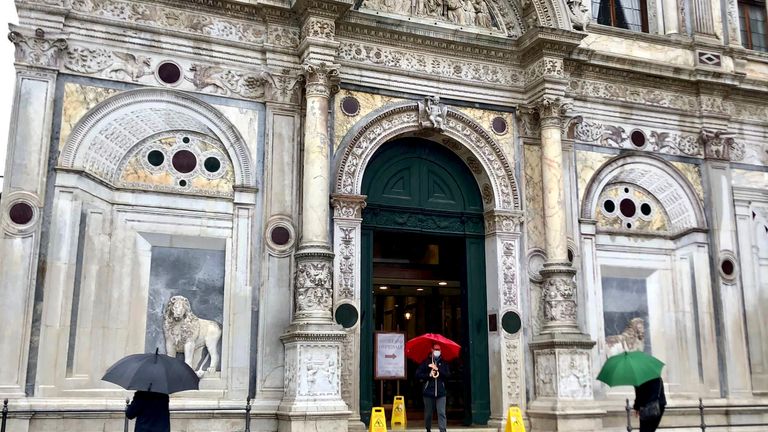 There are conflicting testimonies over why the report was pulled, one reason given was a date error in the timeline for the development of the pandemic in China, which was rectified in a matter of hours, according to Dr Zambon.
Despite the correction, the report was never republished.
Dr Zambon maintains the real reason for the report being withdrawn was that his team identified the Italian government's failure to update its pandemic protocols for 14 years.
WHO officials have denied this, but prosecuting investigators in Bergamo have since obtained emails and WhatsApp messages that back up Dr Zambon's central claim that he was told to change that section of the report.
In response to Sky News, the World Health Organisation says the report was a "regional document prematurely published by the WHO Regional Office for Europe (EURO).
"The data and information contained in the report had not been fact-checked and contained inaccuracies and inconsistencies. It should not have been published and it was withdrawn by EURO (under the authority of the Regional Director, EURO)."
Italy was not unique in being ill-prepared, or for failing to update its protocols – many other countries found themselves in a similar position.
The Bergamo prosecutors have told Sky News that in itself, this oversight is not hugely important and would not have been a central part of their investigation, until they discovered evidence of interference in the composition of the report.
Dr Zambon says the affair has undermined the World Health Organisation's reputation, and by pulling the report, it undermined the ability of governments around the world to react to the pandemic more successfully.
"They could have had what we didn't have, time," he told me at his home in Venice.
"We [in Italy] didn't have time to prepare, but this report would have allowed them to buy time, which was by far the most important route for getting better prepared for the pandemic."
"I think that the problem here is about the lack of independence and lack of transparency of the World Health Organisation.
"The mandate of the organisation is to preserve, to promote the health of the citizens of the entire world… and the story that happened in a year shows that the organisation is bound by personal interests, by governments' interest, and by financial powers," he said.
We met Bergamo's chief prosecutor and the assistant prosecutor, who is in direct charge of the investigation, at their offices in the centre of the city.
It is clear they are perplexed by the attitude of the WHO and are determined to get to the bottom of its apparent reluctance to assist in their investigation into why so many people died.
Antonio Chiappani, the chief prosecutor, said Bergamo-style investigations will likely be set up in countries across Europe, and those investigations too will want assistance from the WHO.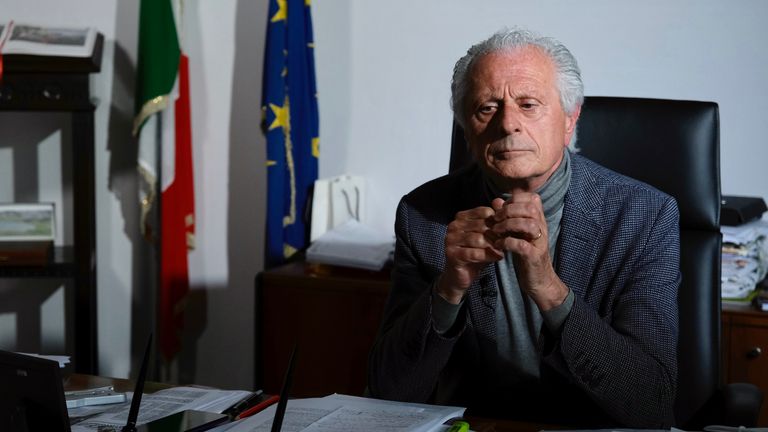 For now they remain confused and suspicious, and are talking to Dr Zambon.
"The problem for us is still not knowing why there was this pandemic explosion here," Mr Chiappani told me.
"They [the World Health Organisation] are turning this investigation into, I am not saying a plot, but something political and also international and that was not our intention.
"This is what I did not understand: why they did not intend to help us to clarify, to understand both the good things and any mistakes especially for the future and not only for the Italian future, but for the future of other nations that a few months later had the same problems…"
When asked why it was hesitant to cooperate with the prosecutor's office, the World Health Organisation clarified to us: "It is WHO practice to always assist local authorities in such matters as appropriate.
"WHO is currently reviewing a request for international judiciary assistance from the Office of the Public Prosecutor in Bergamo."
The prosecutors say the testimony of Dr Zambon, and any evidence he possesses, continues to be part of their investigation to bring some answers to the families of those who died.
Preliminary findings into that investigation are expected next month.