Auburn player Anfernee McLemore suffers gruesome leg injury
Auburn starting forward Anfernee McLemore suffered a horrific leg injury and had to be stretchered off the court during Saturday's game against South Carolina.
McLemore, who has starred for the Tigers in his sophomore season, was attempting to pull down a defensive rebound when his Auburn teammate Desean Murray tumbled into the back of his left leg. The contact caused McLemore's foot to turn sideways.
WARNING: GRAPHIC FOOTAGE
The ferocious 6'7 rim protector was heard screaming almost immediately after the injury, as horrified teammates and opponents watched on.
McLemore remained on the ground for several minutes before he was carried out.
His coach, Bruce Pearl, and South Carolina coach Frank Martin came out to check on him.
McLemore sat up on the stretcher to wave to the crowd before heading to the locker room.
Shortly after the game, the 220-pound frontcourt star tweeted out an update on his injury.
"Thank you Auburn Family for all the love and support!" he wrote. "Doctors said I dislocated my ankle, fractured my tibia, and will need surgery for some torn ligaments. Not to worry, I'll be back in 4-6 months. War Eagle everybody."
McLemore has started 21 of 27 games for the 10th-ranked Tigers this season. He has averaged 7.7 points and 5.3 rebounds a game this year.
McLemore had one point and five rebounds in 13 minutes against the Gamecocks before the injury.
Joe Biden to blitz controversial Donald Trump policies hours after entering Oval Office | US News
In his first hours as president, Joe Biden is set to roll back some of the most controversial decisions of his predecessor and to address the coronavirus pandemic.
A 10-day blitz of executive actions is then expected as Mr Biden moves to redirect the country in the wake of Donald Trump's presidency, without waiting for Congress.
Ron Klain, his incoming chief of staff, listed some of the main changes that will come in:
• End restrictions on immigration to the US from some Muslim-majority countries
• Move to rejoin the Paris climate accord
• Make mask-wearing compulsory on federal property and during interstate travel
• Extend the pause on student loan payments
• Extend actions meant to prevent evictions and foreclosures for those struggling during the pandemic
• Introduce a directive to speed up the reuniting of families separated at the US-Mexico border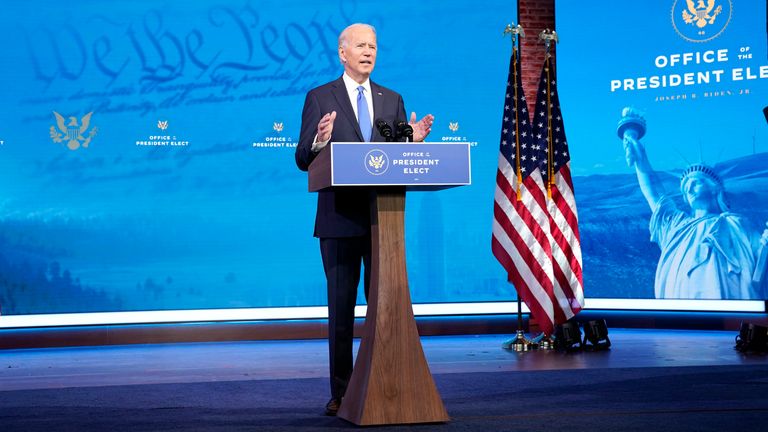 "These executive actions will deliver relief to the millions of Americans that are struggling in the face of these crises," Mr Klain said in the memo.
"President-elect Biden will take action – not just to reverse the gravest damages of the Trump administration – but also to start moving our country forward."
"Full achievement" of Mr Biden's goals will require Congress to act, Mr Klain wrote, including the $1.9trn (£1.46trn) virus relief bill he outlined on Thursday.
Mr Klain said Mr Biden would also propose a comprehensive immigration reform bill to lawmakers on his first day in office.
On Thursday, the new president's second day in office, Mr Biden is also expected to sign orders related to the COVID-19 outbreak aimed at reopening schools and businesses and expanding virus testing.
More actions will be added, Mr Klain said, once they clear legal review.
Incoming presidents traditionally move swiftly to sign an array of executive actions when they take office.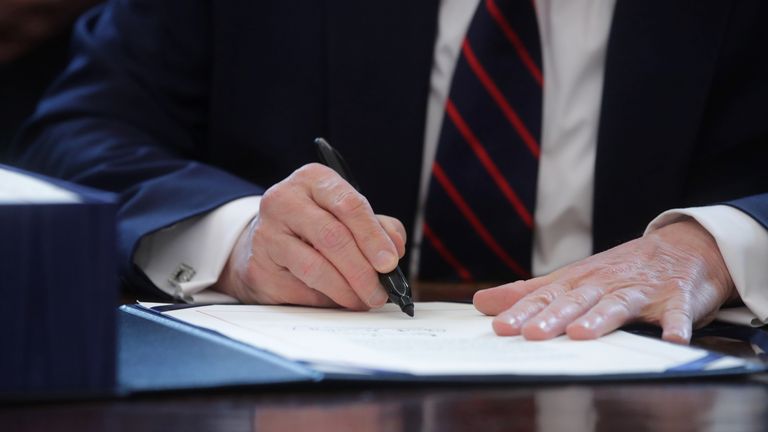 Mr Trump did the same, but he found many of his orders challenged and even rejected by courts.
Mr Klain maintained that Mr Biden should not suffer similar issues, saying "the legal theory behind them is well-founded and represents a restoration of an appropriate, constitutional role for the president".
Australian Open: Quarantined British tennis star Heather Watson forced to train in hotel room | UK News
British tennis player Heather Watson has been forced to train for the upcoming Australian Open in her hotel room, after a passenger on her plane to Melbourne tested positive for COVID-19.
The 28-year-old is among 47 players competing in the first grand slam of the year who must now quarantine for 14 days following positive coronavirus tests on two different chartered flights.
Watson shared a short video on Twitter, showing her repeatedly running between her hotel room door and window as she completed a 5km run in an attempt to keep up her training.
In a separate message she confirmed that one person on her flight from Abu Dhabi had tested positive for COVID-19 on landing, meaning that all passengers now needed to quarantine.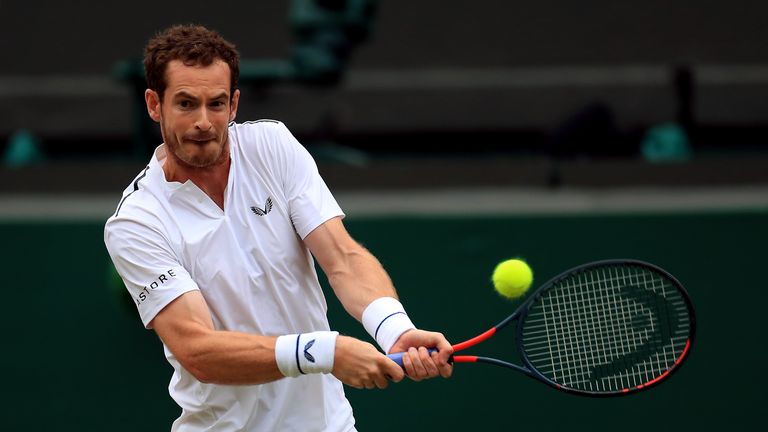 Three people on another chartered flight from Los Angeles carrying 24 players also returned positive swabs upon their arrival in Melbourne. None of those who tested positive were players.
Grand slam champions Victoria Azarenka, Angelique Kerber, and Bianca Andreescu – whose coach Sylvain Bruneau revealed he was the source of one of the three positive tests – are also among those being forced to stay in their rooms.
El Salvador's Marcelo Arevalo who was also on the LA flight shared a video showing him hitting shots against his mattress in his hotel room due to his enforced quarantine.
The world's top players began arriving in Australia on a series of charter jets on Thursday ahead of a two-week quarantine period, during which they will be allowed out of their rooms to practice for five hours a day.
However, those players and support staff on the affected flights will now be confined to their rooms for a fortnight.
The players should be out of isolation before the week of warm-up events begins on 31 January, with the competition – which has already been pushed back three weeks – due to start on 8 February.
Australian Open tournament director Craig Tiley has said players will be supported in any way possible, including with the delivery of exercise equipment to their rooms.
Reports have also emerged of a positive test among the cohort of top players and their practice partners who are quarantining separately in Adelaide.
Meanwhile, former world number 1 Andy Murray's participation at the first major of the year remains in doubt after he tested positive for COVID-19.
Subscribe to the Daily podcast on Apple Podcasts, Google Podcasts, Spotify, Spreaker
He had been due to fly to Australia on an official tournament flight but is now isolating at his home in Surrey.
The fact the Australian Open has been allowed to go ahead has been hugely controversial given Victoria's strict approach to tackling coronavirus and while thousands of Australians remain stranded overseas because of a limit on numbers allowed into the country.
So far Australia has seen 909 deaths with coronavirus, while the UK has the fifth highest death rate in the world with 88, 747 deaths.
Donald Trump like a 'mob boss' but he shouldn't be prosecuted, says ex-FBI boss Comey | US News
Donald Trump needs the same level of affirmation as a toddler – but prosecuting him would only give him the attention he craves, says former FBI chief James Comey.
Mr Comey, who was controversially fired by the president in 2017, told Sky News launching a criminal case could lead to several more years of the "Donald Trump show".
He said it could overshadow efforts by Joe Biden to unite America and is "probably what [Trump] would want the most".
"I have never seen an adult with a greater hunger for affirmation than Donald Trump," he told Sky News.
"I've seen it in two-year-olds and three-year-olds. Affirmation is like air, he needs it constantly.
"I'd like to see some of the lights go out and he can stand on the front lawn at Mar-a-Lago and shout at cars in his bathroom and none of us will hear it."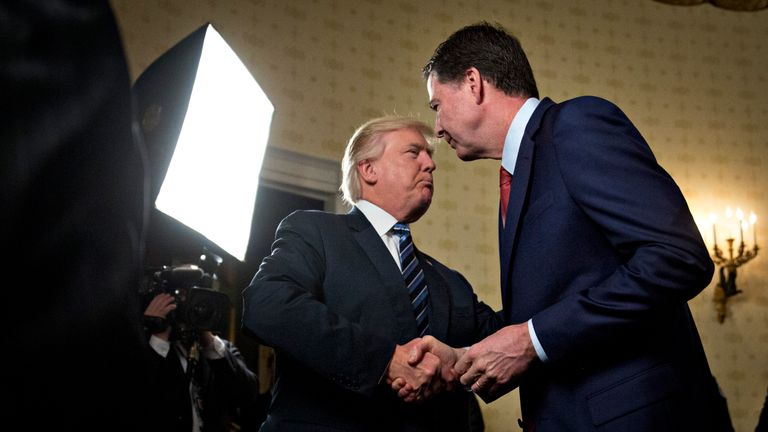 As president, Mr Trump is "constitutionally immune" from prosecution – but that ends in days, raising the possibility he could in future be charged if crimes were committed before or during his term.
Mr Comey agrees, though, with this week's historic second impeachment of the president.
"I don't think that anybody can disagree, there has to be the letter 'i' tattooed on him again, and ideally I'd like to see him convicted by the US Senate and barred from ever holding public office again," said Mr Comey.
The 60-year-old was fired by the president while the FBI was investigating Russian meddling in the 2016 presidential election – and is now a vociferous critic of Mr Trump.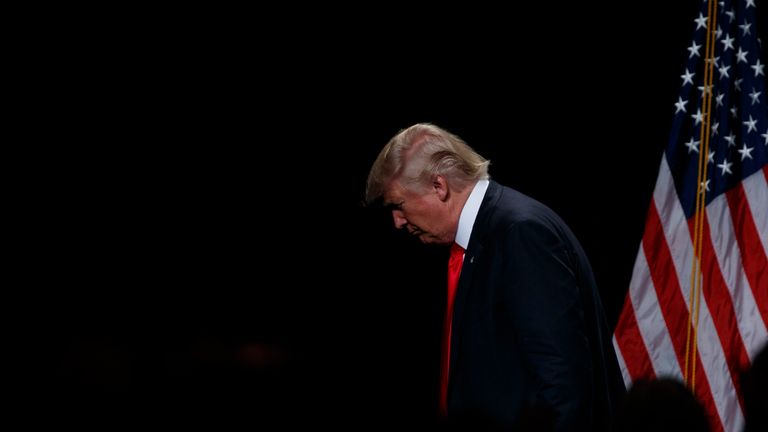 He said the outgoing president was "the dictionary definition of a demagogue", who "aimed not just to lie to people but really to destroy the notion that the truth exists".
"There's a menace to him in private that you don't pick up in public," added Mr Comey.
"But I have felt it sitting close to him, that constantly reminded me of a mob boss because I've known mob bosses and helped put them in jail.
"That menace coupled with that hunger for affirmation is a really dangerous recipe."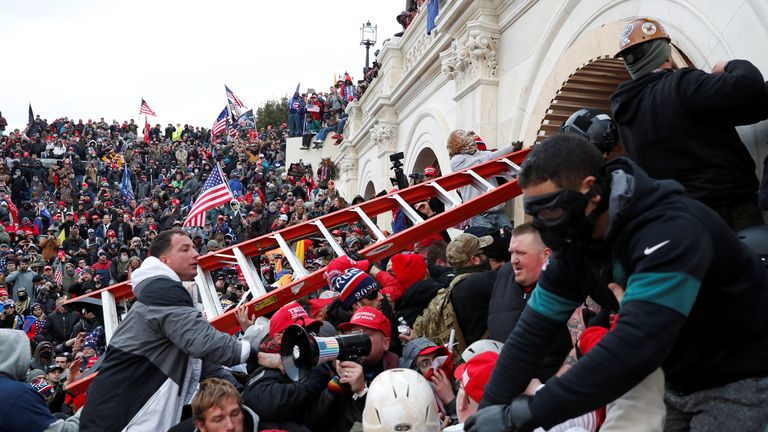 Mr Trump has just a few days left before Joe Biden's inauguration on Wednesday – but it has not stopped politicians voting to impeach him on charges of inciting the deadly riots at the US Capitol.
The storming of the building – the heart of US democracy – on 6 January caused widespread shocked America, with Trump supporters running amok and five people left dead.
Mr Comey told Sky News the danger remains and that he is worried about the potential threat from "armed, disturbed people" on inauguration day.
Many Trump supporters believe his unsubstantiated claims of fraud in November's election and the FBI has identified more than 200 people threatening violence in "concerning online chatter".
Mr Comey said the danger had "to be taken very, very seriously", and that people involved in the previous chaos must be dealt with "swiftly and severely".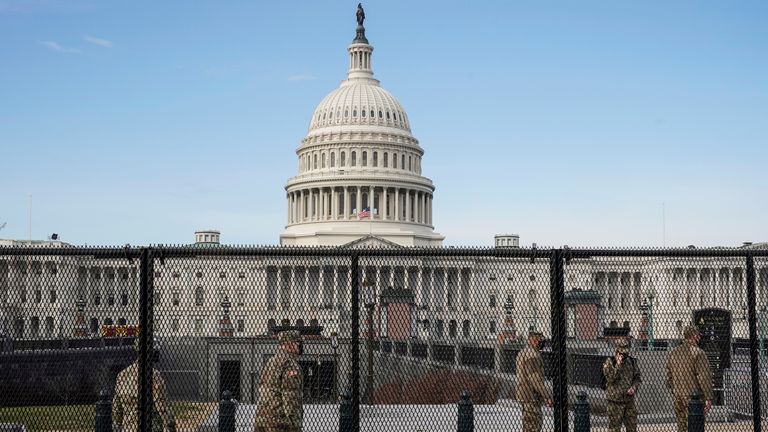 "I'm worried because there are armed, disturbed people who are in this state of mind where they believe their country is being taken from them," said Mr Comey.
"So it's a threat law enforcement in the States has to take very seriously.
"At the same time, I know that we have the capability, investigative and the tactical capability on scene, to protect these locations and so I am optimistic that the threat will be neutralised, but it has to be taken very, very seriously."
The National Guard has also been descending on Washington to guard government buildings ahead of inauguration, when officials say 21,000 will be on hand.
Police were hugely outnumbered by the Capitol rioters and have been criticised over how it easy it was for the mob to seize control.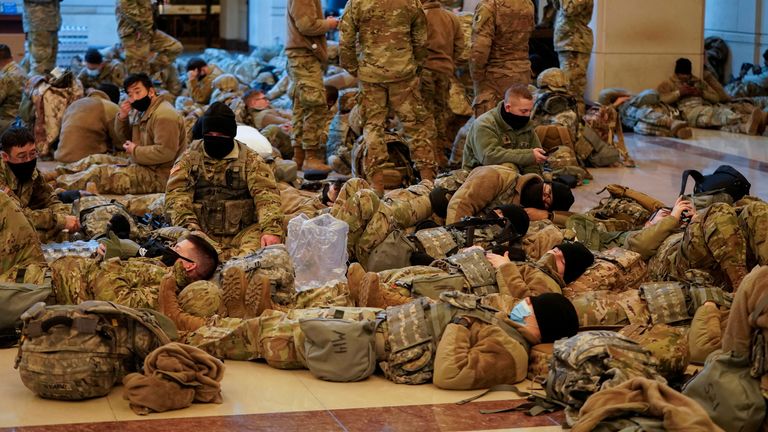 Mr Comey told Sky News he was "sickened" by the violence and angry at the failure to defend the building, despite the obvious threat.
"I was angered by the apparent failure to defend a hill, it [the Capitol] sits on a hill with 2,000 officers assigned to it on a daily basis, the failure to defend the hill. It just mystifies and angers me.
"It is going to be important for our country to understand that failure."
He added: "9/11 we were told was a failure of imagination, we didn't anticipate the way the terrorists might come at us; this didn't require imagination.
"This was all over the internet and the group literally walked slowly down Pennsylvania Avenue towards the Capitol so it was just a failure and we need to know why at all levels so that we don't let it happen again."
Mr Comey has just released a new book, Saving Justice: Truth, Transparency, and Trust, described as a "clarion call for a return to fairness and equity in the law".