Strong quake rumbles near Mexico City
A 7.5 magnitude quake shook southern Mexico on Friday, a prolonged rumble that rocked buildings across Mexico City.
According to the Reuters news service, the epicenter was close to the Pacific coast in the southern state of Oaxaca, and had a depth of 26.7 miles (43 km), based on data from the U.S. Geological Survey. The area is already reeling from a September earthquake's impacts.
Reuters said Oaxaca's civil protection service indicated that no damage had been reported so far.
In Mexico City, tall buildings swayed for more than a minute as seismic alarms sounded throughout the city, and tremors were felt as far away as Guatemala to the south, the news agency said.
'Many hundreds' killed by Eritrean soldiers in Ethiopian massacre, Amnesty International says | World News
A massacre in which Eritrean soldiers killed "many hundreds" of people in the Ethiopian city of Axum may amount to crimes against humanity, an Amnesty International report has said.
The report describes what could be the deadliest massacre in the ongoing crisis in Ethiopia's Tigray region, with soldiers in late November gunning down civilians as they fled, and lining men up to shoot them in the back.
It said there were "hundreds, if not thousands" of men lined to be beaten, while soldiers also stopped those grieving from burying their dead.
"Eritrean soldiers deliberately shot civilians on the street and carried out systematic house-to-house searches, extrajudicially executing men and boys," the report said.
"The massacre was carried out in retaliation for an earlier attack by a small number of local militiamen, joined by local residents armed with sticks and stones."
Eritrea has long been an enemy of the Tigray region's now-fugitive leaders, however its government says reports on the massacre are "outrageous lies".
The federal government in Ethiopia has also previously denied the presence of soldiers from Eritrea, but on Thursday said the Ethiopian Human Rights Commission was investigating "allegations relating to incidents in the city of Axum" with unnamed human rights experts.
Daniel Bekele, the commission head, later said the Amnesty report "should be taken very seriously" as his team's own findings "indicate the killing of an as yet unknown number of civilians by Eritrean soldiers" in Axum.
Even senior members in the Ethiopia-appointed interim government in Tigray have acknowledged the presence of Eritrean soldiers in the region, along with widespread allegations of looting and killing.
Tens of thousands have left everything behind to flee to safety in Sudan

In November, Sky News visited the Ethiopia-Sudan border, where tens of thousands of people were attempting to flee conflict in Tigray.
Some described leaving behind all their clothes and money in a bid to escape.
Thousands of civilians have been killed since the violence started last year – but no one knows quite how many as the region has been largely cut off.
Humanitarian groups believe people might be starving to death due to access being largely restricted.
Amnesty has now called for a United Nations-led international investigation and full access to Tigray for human rights groups, journalists and humanitarian workers.
It says the "mass execution" in Axum may also amount to crimes against humanity.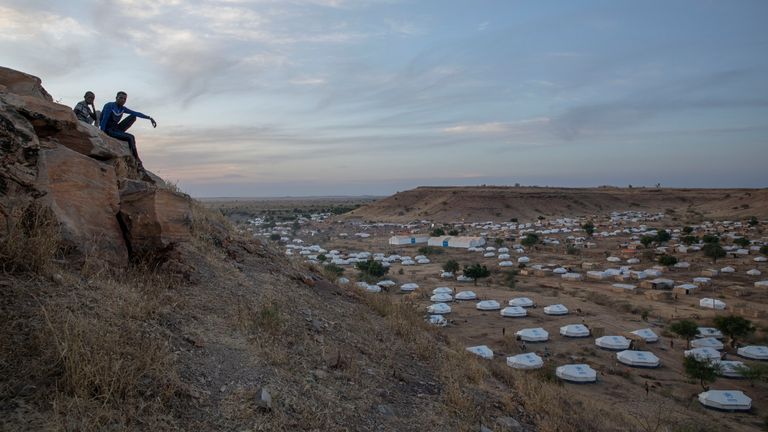 According to witnesses quoted by Amnesty, both Ethiopian and Eritrean soldiers took over Axum, but it was the Eritreans who carried out the massacre.
They described how bodies were left in the streets for days after and how many of the injured died from a lack of care.
"Gathering the bodies and carrying out the funerals took days," Amnesty said. "Most of the dead appear to have been buried on 30 November, but witnesses said that people found many additional bodies in the days that followed."
COVID-19: Briton jailed for breaking Singapore quarantine order to see fiancee | World News

A British man has been jailed for two weeks for sneaking out of his Singapore quarantine hotel room to visit his fiancee.
Nigel Skea was also fined 1,000 Singapore dollars ($753) for breaking coronavirus rules in the city-state.
Skea, 52, left his room at the five-star Ritz-Carlton Millenia Singapore hotel without wearing a mask on three occasions in September to visit his then fiancee – now wife – Agatha Maghesh Eyamalai in a nearby room.
On Monday he pleaded guilty to breaking the country's coronavirus quarantine order.
Eyamalai admitted one charge of aiding Skea and was sentenced to a week in jail.
Skea is the first Briton to be jailed in Singapore for breaking coronavirus rules. A handful of others have had their work passes revoked and paid fines.
Mother rescues children from fire by dropping them from window | World News

A woman has rescued her four children from a burning building by dropping them from a window.
The family was in a five-storey building in Istanbul's Esenler district when the fire took hold on Wednesday.
As black smoke billowed from the window of their third-floor apartment, bystanders were heard screaming, some of them shouting at her not to drop the children.
The Daily Sabah reported that volunteers had stretched out a blanket as a makeshift net to catch the children as they were dropped out of the window, one by one.
Each child was carried to an ambulance after they landed on the blanket.
A witness told the newspaper: "First, black smoke started to come out. Then, the children started shouting from the windows and we opened the blankets.
"A woman threw the children down from above, so we caught four kids with blankets."
The mother was taken to hospital as a precaution but all five members of the family were uninjured, according to news reports.
Two other children and two adults were also rescued from the building.
The blaze is thought to have started in an electrical panel, and it was extinguished by firefighters.