Strong quake rumbles near Mexico City
A 7.5 magnitude quake shook southern Mexico on Friday, a prolonged rumble that rocked buildings across Mexico City.
According to the Reuters news service, the epicenter was close to the Pacific coast in the southern state of Oaxaca, and had a depth of 26.7 miles (43 km), based on data from the U.S. Geological Survey. The area is already reeling from a September earthquake's impacts.
Reuters said Oaxaca's civil protection service indicated that no damage had been reported so far.
In Mexico City, tall buildings swayed for more than a minute as seismic alarms sounded throughout the city, and tremors were felt as far away as Guatemala to the south, the news agency said.
Belarus: Tens of thousands march through Minsk against President Lukashenko as hackers leak police details | World News
Tens of thousands of people marched through the Belarusian capital Minsk on Sunday, calling for the resignation of president Alexander Lukashenko in the sixth straight weekend of protests.
It comes as hackers leaked the personal details of more than 1,000 senior police officers, pledging that "no one will remain anonymous, even under a balaclava" amid reports of violent crackdowns targeting the protesters.
At least 10 people were detained on Sunday, according to Russian news agency TASS, which quoted a police spokesperson.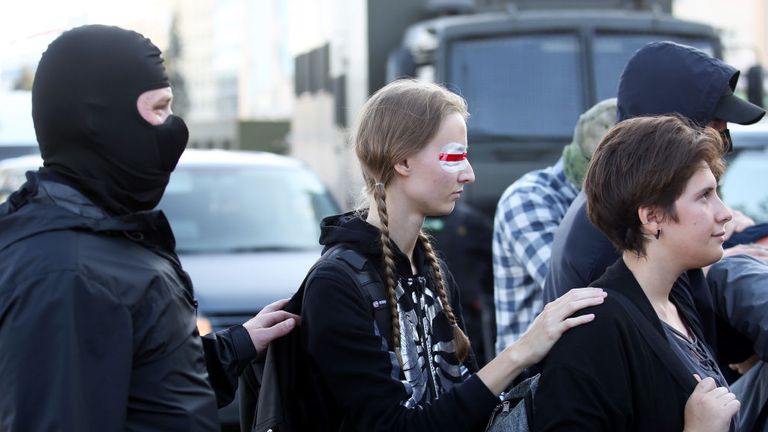 Local media organisations shared videos showing the security forces wearing helmets and balaclavas dragging demonstrators off the streets.
On Saturday, more than 390 women demonstrating in Minsk were arrested, including an elderly woman who has become a symbol of the protests.
The unrest began following the 9 August presidential election which many Belarusians believe Mr Lukashenko, a former Soviet collective farm manager, fraudulently won.
Mr Lukashenko has been president in Belarus for 26 years, during which time he has consistently suppressed political opposition.
He has resisted the calls to resign, sometimes appearing carrying an automatic rifle, and buoyed by support from the Russian president Vladimir Putin.
Weeks ago the European Union vowed to impose sanctions on Minsk for alleged election fraud and human rights abuses, but it is now expected to miss its Monday deadline for action.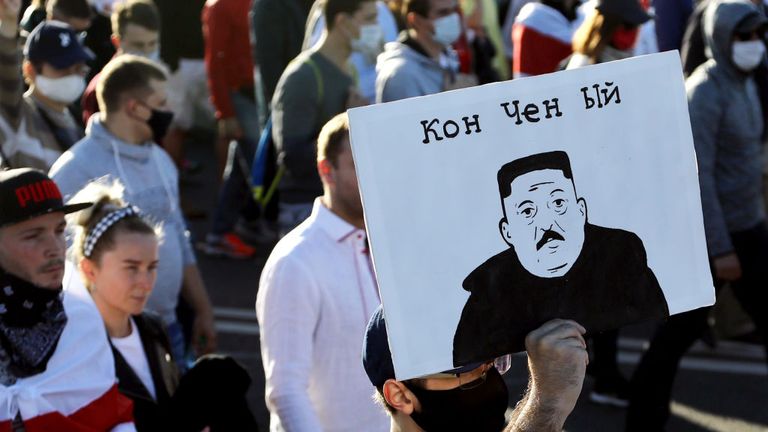 Thousands of people have been detained during the protests, many of whom have reported being beaten and tortured while detained – although the government denies these claims.
"As the arrests continue, we will continue to publish data on a massive scale," the hackers told opposition news channel Nexta.
The details include the names of the senior officers, as well their surnames, patronyms – common in Russian-speaking countries – as well as their dates of birth, parent units, ranks and positions.
The government said it would find and punish whoever was responsible for leaking the data on police officers, which was distributed over the popular chat app Telegram on Saturday.
"The forces, means and technologies at the disposal of the internal affairs bodies make it possible to identify and prosecute the overwhelming majority of those guilty of leaking personal data on the internet," said Olga Chemodanova, a spokesperson for the Belarusian minister of internal affairs.
Opposition leader Svetlana Tikhanovskaya praised the women's march in a video statement from Lithuania, where she fled after being held inside a government electoral office following the election.
Speaking to Sky News, Mrs Tikhanovskaya said she was not yet ready to talk about what happened to her during the time she was held in custody.
It is thought she was threatened with being separated from her two young children, whom she had already moved to Lithuania.
"They have frightened and put pressure on women for the second month, but despite this, Belarusians are continuing their peaceful protest and showing their amazing fortitude," Mrs Tikhanovskaya said of Saturday's march.
The Belarusian government reacted angrily to reports that Mrs Tikhanovskaya could soon meet EU foreign ministers.
Foreign ministry spokeswoman Maria Zakharova criticised the EU, accusing Brussels of attempting to "rock the boat" in Belarus – seen by Moscow as a strategic buffer against the EU and NATO.
Russia has accused the US of fomenting revolution in Minsk, and agreed to give a $1.5bn (£1.16bn) loan to prop up Mr Lukashenko's government following a meeting with Mr Putin.
Belarus will spend $330m (£255m) of the money it has received to cover its outstanding debt to the Russian gas giant Gazprom, according to Russian finance minister Anton Siluanov.
Coronavirus: Only one in 10 to be protected from COVID-19 in first year of vaccine use | UK News
Just one in 10 of the world's population is likely to be protected against COVID-19 in the first year of a vaccine being made available, experts have told Sky News.
Analysis of global manufacturing capacity shows just two billion doses could be made in 2021, even if a vaccine was given the green light by safety regulators at the start of the year.
But with seven of the nine prototype vaccines in late-stage clinical trials requiring two doses, that's likely to be enough to immunise only a little over 12% of the 7.8 billion people who need it.
Dr Cleo Kontoravdi, associate professor of chemical engineering at Imperial College London, told Sky News: "We have to be clear that in the first instance not everybody will have access to the vaccine. We do not have the manufacturing capacity."
Calculations by the Coalition for Epidemic Preparedness Innovations show that even if manufacturing capacity doubled, as planned, over the next 12 months less than half the world's population could be protected by the end of 2022.
It could mean some travel restrictions and social distancing will be needed for years to come, unless there is a game-changing advance in vaccine technology that speeds up production.
But making large amounts of vaccine is just one of many hurdles that will need to be overcome in the months ahead.
One of the biggest bottlenecks is traditionally at the "fill and finish" stage of production, when the vaccine is put in glass vials, labelled and packaged.
It needs several supply chains to converge seamlessly, with the final product meeting high quality standards. Any hiccup can cause delays.
Sky News was given access to Wockhardt's plant in Wrexham, where a high-speed production line has been bought up by the government to produce a finished vaccine over the next 18 months.
Preparations are being made to start production of the Oxford vaccine as soon as November. Between two and three million vials, each containing eight doses, could be produced every month.
Ravi Limaye, Wockhardt's UK managing director, said the vials will be quarantined until the vaccine is approved by safety regulators – but will have to be destroyed if for any reason it's turned down.
:: Subscribe to the Daily podcast on Apple Podcasts, Google Podcasts, Spotify, Spreaker
"This is a risk that one has to take considering the enormity of this pandemic," he said.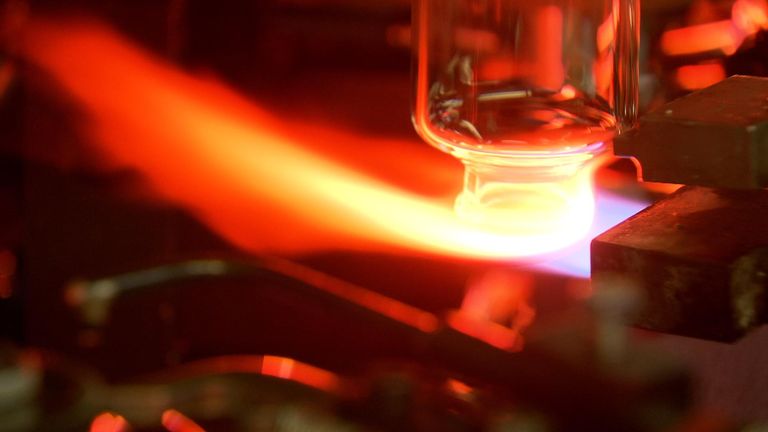 "This is an unprecedented step taken by the government in the interest of the UK to get the vaccine ready so that if it is approved by regulators it can be used straight away.
"It is a risk but a calculated risk."
'Down with feudalism': Activists lay plaque in defiance of Thai king | World News
They promised a dawn surprise, and in Bangkok, anti-government protesters ushered it in to the chorus of a pneumatic drill.
Below the skirt of a tent, we watched them chip away at a square of concrete in front of the country's Grand Palace.
Into it they laid a plaque which declared that Thailand belongs to the people.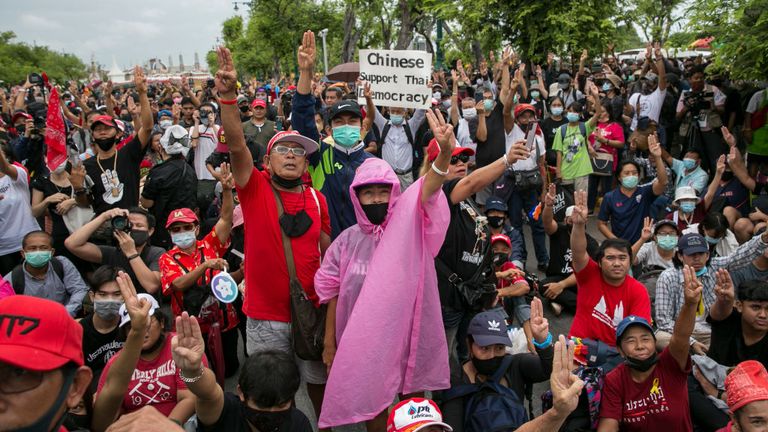 It's the latest challenge to the monarchy by a series of pro-democracy demonstrations which have been happening almost daily since July.
Many of Sunday's crowd have been there all night, after attending a massive demonstration on Saturday which the organisers claim attracted 100,000 supporters – while Thai authorities claimed the turnout was around 20,000.
"Down with feudalism, long live the people," the protesters chanted, before lining up to buy their own miniature metal versions of the plaque, which sold out in minutes.
The plaque resembles one commemorating the end of absolute monarchy in 1932.
In 2017, after King Maha Vajiralongkorn took the throne, it mysteriously disappeared from outside one of the royal palaces.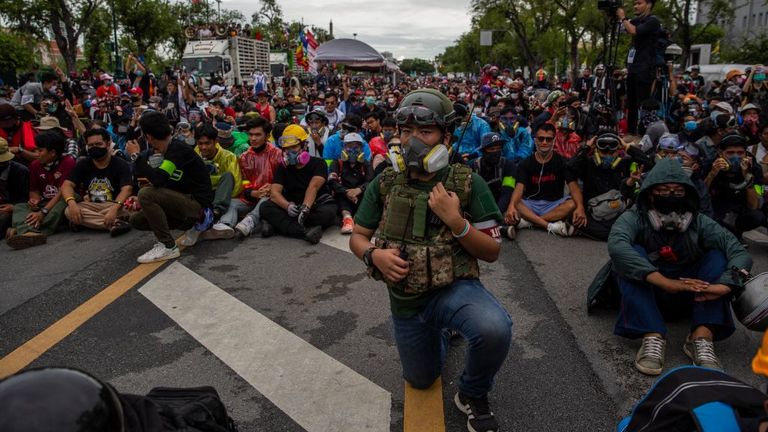 It was replaced by one bearing a pro-monarchist slogan.
Until recently, open criticism of the monarchy was unheard of in Thailand, which has strict defamation laws concerning the royal family.
Anyone found guilty of breaching them could face up to 15 years in jail.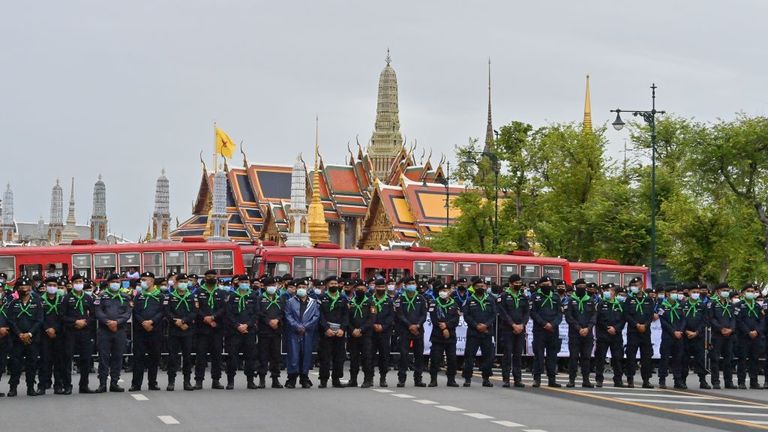 But some of the movement's leaders have been breaking this taboo.
As well as reform of the monarchy, they want new elections, a new constitution and the prime minister to step down.
Today, they went further, leading the crowd to present a petition of their demands, addressed to the king.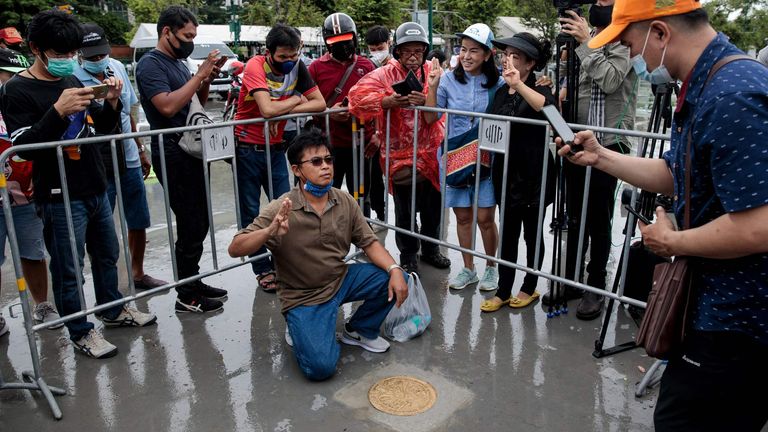 As the convoy snaked its way towards the Grand Palace, it was stopped by a line of unarmed police.
People had been warned to avoid clashes and as officers and protesters faced off at the barriers, student activist Panusaya "Rung" Sithijirawattanakul made her way through the masses to give their letter to Bangkok's police chief.
They hope it will be passed on to the king who is currently abroad.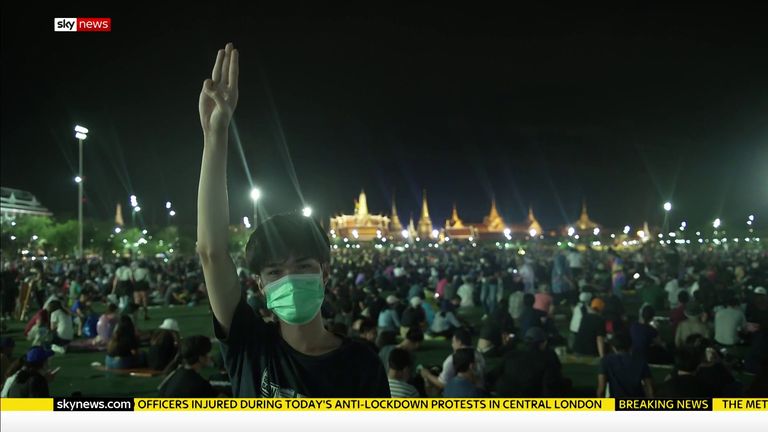 "We have now proved that even an ordinary citizen can communicate with the king, with the monarch, directly," student leader Parit 'Penguin' Chiwarak told me.
If their demands go unanswered, they have said they'll escalate their movement.
The Royal Palace was not immediately available for comment.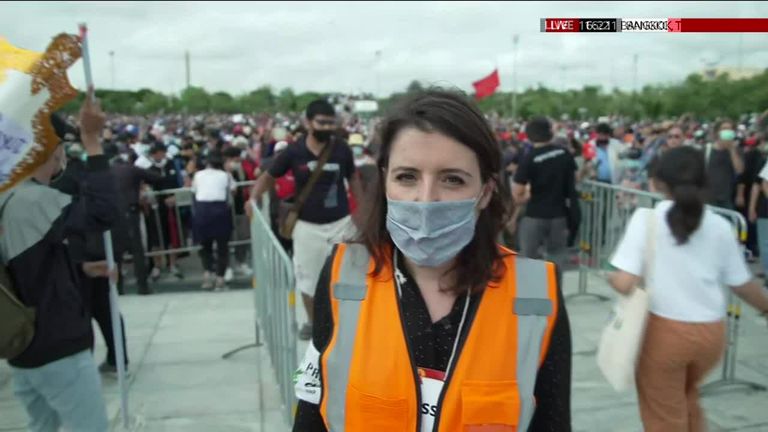 Government spokesperson Anucha Burapachaisri told me, ahead of the weekend's gatherings: "We encourage people to come forward if they have any issues at the moment to discuss. But we will try to avoid any kind of confrontation and we will try to facilitate in terms of discussion in a constructive way."
Demonstrators say they will gather again on Thursday.