Romney, seeking US Senate seat, calls for action against mass shootings
Just hours after announcing plans to run for a U.S. Senate seat in Utah, former Republican presidential nominee Mitt Romney took the stage Friday night in Provo to draw attention to a matter clear across the country: this week's massacre in Florida.
"I think we can't just sit and wait and hope for things to get better," Romney said, according to the Salt Lake Tribune. "It is wrong and unacceptable for children in our schools to fear for their lives."
Romney called for preventive measures, such as strengthening the FBI database for firearm background checks and enhancing school security with police patrols and intervention teams, as steps states should consider to prevent such tragedies.
Romney is considered the heavy favorite to replace the retiring Orrin Hatch.
After losing the 2012 presidential race, the former Massachusetts governor moved to Utah, where he has deep roots from his time at Brigham Young University and his role in repairing the image of the scandal-plagued 2002 Winter Olympics in Salt Lake City.
Romney briefly outlined his platform for his campaign in a video message posted to Twitter, where he touched on immigration, fiscal responsibility and took what seemed to be a jab at President Donald Trump.
"Utah has a lot to teach the politicians in Washington," Romney says in the video. "Utah has balanced its budgets. Washington is buried in debt. Utah exports more abroad than it imports. Washington has that backwards. Utah welcomes legal immigrants from around the world. Washington sends immigrants a message of exclusion."
Romney's announcement didn't come as much of a surprise, but it was delayed after Wednesday's shooting in Parkland, Fla.
The Associated Press contributed to this story. 
COVID-19: Anti-fraud probe as EU nations are offered 900 million 'ghost' jabs for €12.7bn | World News

Fraudsters are trying to cash in on mistakes made by the EU's coronavirus vaccination campaign by offering millions of scam jabs to member states.
The bloc's anti-fraud agency OLAF said around 900 million vaccines have been pitched to several countries for €12.7bn (£11bn).
These offers were said to be made by "alleged intermediaries," prompting OLAF to investigate.
Pharmaceutical companies involved in making vaccines against COVID-19 say they sell to governments direct only.
Live COVID updates from the UK and around the world
The 27-nation bloc has struggled to get its vaccination programme off the ground, taking longer to initially approve the jabs and running into procurement issues further down the line.
On Thursday, leaders will discuss via videoconference further action on the bloc's strategy, as well as how best to protect their 450 million citizens from new COVID variants.
Other items on the agenda will be stabilising vaccine deliveries, boosting production and making sure the jabs are up-to-date for tackling any new strains.
Two officials from the European Commission said they were concerned to hear of "ghost" vaccines being put up for sale.
"There is a really large quantity," said one, adding: "Nobody has any idea what is actually in these vials…The best case is it's just not working, in the worst case it's a very serious issue."
Another official, speaking on condition of anonymity to Reuters, said: "It is unclear whether these are genuine vaccine doses or if we are just talking about salt water in small vials."
The first also noted that the majority of the shots being offered were said to be the Oxford/AstraZeneca vaccine, before comparing the situation to the start of the pandemic when fraudsters had also tried to cash-in on PPE shortages.
News of "ghost" vaccines on the market has not been particularly helpful for a continent home to several countries with well-known hesitancies in relation to vaccines.
In France, for instance, a December study from the Jean Jaures Foundation found that just two out of five people trusted French health authorities for information on the jabs, with less than half that number trusting the government.
A YouGov study in November found just 45% of Swedes wanted to get vaccinated, while this was slightly higher at 51% in Germany.
This has since risen to 65% in Sweden and 61% in Germany as of 12 February. The same survey found 48% would be willing to receive the jab in France.
Perseverance: NASA's rover takes 11 million earthling names to Mars | World News
Nearly 11 million people landed on Mars last week – even if it was just in names only.
When NASA's Perseverance rover touched down on the red planet, it did so bearing three silicon chips.
Upon these small pieces of silicon – each one no larger than a fingernail – millions of names were etched with an electron beam.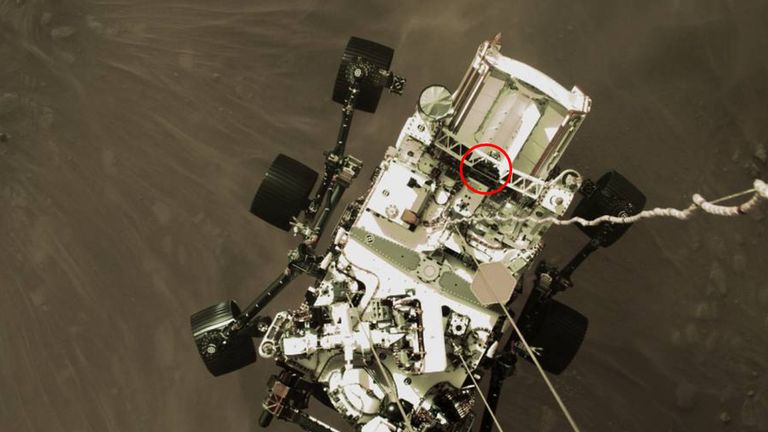 The beam allows for the writing to be less than one micron across – much less than the width of a human hair.
In total, 10,932,295 people from around 250 countries and territories had their names travel the 300 million miles through the solar system aboard the rover.
And 284,350 of those were people in the UK, with participating countries stretching from the United States to Niue as part of the "Send Your Name To Mars" project.
The silicon chips were attached to a plate on one of Perseverance's central beams, ensuring the camera on the rover could see them.
A virtual boarding pass was also sent to those who signed up for the scheme.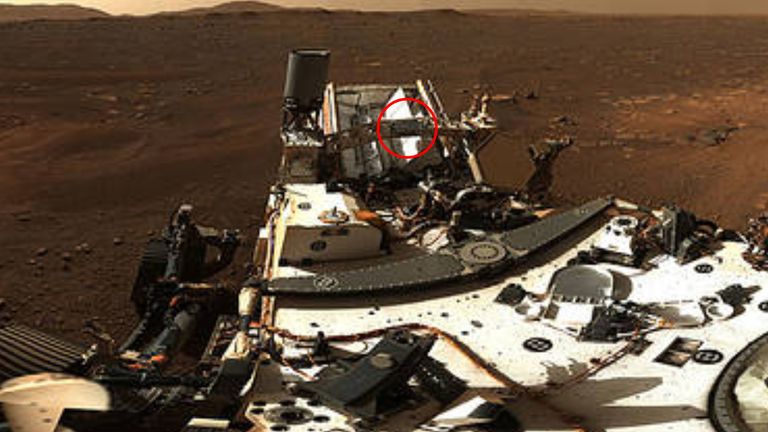 The previous NASA landing on Mars was InSight in November 2018 – this craft had 2,429,807 earthling names on it.
Meanwhile, 7,289,416 people have already signed up to have their names transported across the cosmos on the agency's next mission to the red planet.
Indonesia: Six killed and one missing after illegal gold mine collapses | UK News

Six people have been killed after an illegal gold mine in Indonesia's Sulawesi island collapsed on nearly two dozen people working inside.
One other worker is missing following the incident, officials said on Thursday.
An estimated 22 people became trapped in the rubble when the mine in Central Sulawesi province's Parigi Moutong district collapsed late on Wednesday due to unstable soil, according to Andrias Hendrik Johannes, who heads the local search and rescue agency.
The bodies of four women and two men were recovered during a gruelling search effort through the night.
Rescuers were also able to pull 15 survivors from the debris.
Police, emergency personnel, soldiers and volunteers have been trying to locate one worker who is still missing.
However, their efforts were hampered by the remote location of the mine and the unstable soil that risked further slides.
Video from the scene showed rescuers struggling to bring out a body bag from an inundated ravine.
Illegal or informal mining operations are commonplace in Indonesia, but put workers in conditions with a high risk of serious injury or death.
Landslides, flooding and collapses of tunnels are just some of the hazards putting labourers' lives at risk.
Meanwhile, much of the processing of gold ore involves use of highly toxic mercury and cyanide by workers using little or no protection.
Indonesia accounts for about 3% of the world's gold production – most of that coming from the Grasberg mine in Papua province, said to have $40bn (£28bn) in reserves and up to 20,000 workers.