Florida school shooting timeline | Fox News
The gunman who killed 17 at a Florida high school Wednesday afternoon attempted to fire at fleeing students from the building's third-floor windows, but the high-impact windows didn't shatter, a state senator said.
Florida State Sen. Bill Galvano said authorities told him it would have been easy for the shooter, identified as 19-year-old Nikolas Cruz, to open the windows.
"Thank God he didn't," Galvano said. He said he was given a tour of the school and was shown bullet holes on the glass.
Cruz set off fire alarms during the incident, luring hundreds of students out of their classrooms so he could open fire with a semi-automatic AR-15 assault rifle.
After firing several rounds, Cruz dropped his weapon and hid among the crowd as authorities evacuated students and faculty members from Marjory Stoneman Douglas High School in Parkland, Florida.
Police captured Cruz over an hour later in Coral Springs, located about a mile away. He was taken to a local hospital and then released into police custody.
Cruz was charged Thursday with 17 counts of premeditated murder. Fourteen others were wounded in the shooting, including several with life-threatening injuries.
Below is a timeline of events that detail how the shooting unfolded.
Wednesday, Feb. 14
2:19 p.m.
An Uber car dropped off Cruz at the school at approximately 2:19 P.M., Broward County Sheriff Scott Israel revealed at a news conference Thursday afternoon.
"The suspect entered the east stairwell, that's building 12, with a rifle inside a black soft case," he said. "The suspect exited the stairwell [and] pulled the rifle out of the case." 
2:21 p.m.
Cruz, according to Israel, then "readied his rifle and began shooting into rooms 1215, 1216, 1214. He went back to 1216, back to 1215 and then to 1213." 
Cruz, he revealed, "took the west stairwell to the second floor," where he shot one person in room 1234. The gunfire lasted a three-minute span, according to the sheriff.
Israel said Cruz "took the east stairwell to the third floor. He dropped his rifle and backpack [and] ran down the stairs."
Cruz eventually left the building with others who were trying to escape. He ran towards the tennis courts and then took a southbound turn, the sheriff said.
After the shooting, Cruz went to a Walmart and purchased a drink at a Subway before leaving the Walmart, according to Israel, though he couldn't give an exact time this occurred. Cruz then headed to a McDonald's and "sat down for a short period of time." 
2:35 p.m.
Students were allegedly texting about a shooter at the school.  
2:53 p.m.
Deputies responded to reports of a shooting at Stoneman Douglas High School, the Broward County Sheriff's Office confirmed in a tweet.
2:55 p.m.
WSVN, a local news station, reported that there were at least five people injured at the school.
2:56 p.m.
The sheriff's office warned the public to "avoid the area of Stoneman Douglas HS" as authorities investigated reports of an active shooter.
3:01 p.m. 
Cruz left McDonald's at exactly 3:01 p.m., according to Israel.
3:10 p.m.
A student shared a photo to Twitter to show where he and other students were hiding.
3:11 p.m.
The sheriff's office tweeted the shooter was still at large.
3:36 p.m.
Broward Schools said the school was on lockdown after students and faculty heard what sounded like gunfire.
3:40 p.m.
Broward Schools began dismissing students from the school.
"We are receiving reports of possible multiple injuries," the school district tweeted. "Law enforcement and the District's Special Investigative Unit are currently on site."
3:41 p.m. 
A Coconut Creek police officer detained Cruz in Coral Springs, located about a mile away from the school, and he was "taken into custody without incident," Israel said.
3:50 p.m.
President Trump tweets about the shooting, offering his "prayers and condolences."
4:11 p.m.
The shooter was taken into custody, the sheriff's office confirmed in a tweet, warning that the scene was still active.
4:22 p.m.
The sheriff's office tweeted there were at least 14 "victims," who "have been and continue to be transported to Broward Health Medical Center and Broward Health North hospital."
4:27 p.m.
The suspected shooter was taken to a local hospital.
4:50 p.m. 
Florida Sen. Bill Nelson said there were "a number of fatalities."
4:59 p.m.
Israel confirmed the shooter was not a current student at Stoneman Douglas High School.
In a separate tweet, the sheriff's office said that SWAT teams were still clearing the school.
5:39 p.m.
Students began to reunite with their parents.
6:27 p.m.
Sheriff Israel said 17 people were killed in the shooting.
6:29 p.m.
The sheriff's office identified the shooting suspect as 19-year-old Nikolas Cruz.
8:24 p.m.
A local news reporter for WSVN tweeted a photo of the suspect being detained by police.
Thursday, Feb. 15
7:12 a.m. 
Trump urges the public to always report suspicious behavior to authorities.
"So many signs that the Florida shooter was mentally disturbed, even expelled from school for bad and erratic behavior. Neighbors and classmates knew he was a big problem," Trump tweeted. "Must always report such instances to authorities, again and again!"
10:49 a.m.
Cruz was charged with 17 counts of premeditated murder, Israel announced in a news conference.
11:22 a.m. 
Trump addressed the nation, describing the incident as a "scene of terrible violence, hatred, and evil." 
He vowed to work with state and local leaders to help "secure our schools and tackle the difficult issue of mental health." 
2:00 p.m. 
Cruz appeared in court on 17 counts of murder. The judge ordered him to be held without bond.
4:43 p.m.
Cruz confessed to arriving at the high school with an AR-15 rifle and a back pack of "additional loaded magazines" and told authorities he shot "students that he saw in the hallways and on school grounds," according to an arrest affidavit filed Thursday evening.
Fox News' Shira Bush and Kathleen Joyce contributed to this report. The Associated Press also contributed to this report.
US Capitol riots: Police break silence on 'brutal, medieval style combat' | US News
Police involved in protecting the Capitol building last week have spoken for the first time describing what happened as "brutal, medieval style combat".
The officers were outnumbered by hundreds of rioters, who federal prosecutors claim were intending to "capture and assassinate officials".
Officer Daniel Hodges was nearly crushed to death in the violence. Disturbing video shows him trapped by a metal door, bloodied and screaming for help.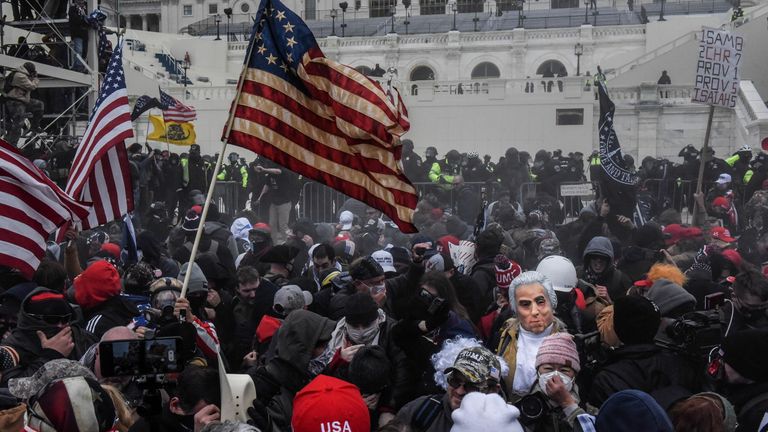 "They were calling us traitors, shouting at us, telling us to remember our oath, and eventually, they attacked us," he said.
"At that moment in the hallway where I was pinned, I was there to do my best to keep them out, obviously, and the way I was doing that was with my body."
At times, he said, he thought he wouldn't survive.
"There was chaos, someone managed to get his thumb in my eye and start gauging my eye," he said.
"That was the second time I thought it might be the end, or I might be maliciously disfigured."
The police officers' accounts of the chaos and the violence brings a chilling new understanding to what the world witnessed.
Nancy Pelosi has spoken of visiting Auschwitz – and then seeing anti-Semitic T-shirts among Capitol rioters

The footage is still being carefully studied by investigators.
In one video, police officer Michael Fanone can be seen being pulled from the building.
He was then beaten by the pro-Trump thugs on the steps of America's seat of democracy.
He said: "Guys were grabbing at my gear, I had my badges ripped off, my radio was ripped off, one of my ammunition magazines was stripped from my belt and guys were trying to grab my gun and they were chanting: 'Kill him with his own gun'.
"I thought… I could shoot them, they're trying to kill me and I'm justified, but if I did that I'd provide them with the justification they needed to kill me.
"So then I thought I could appeal to someone's humanity and I just started yelling that I have kids."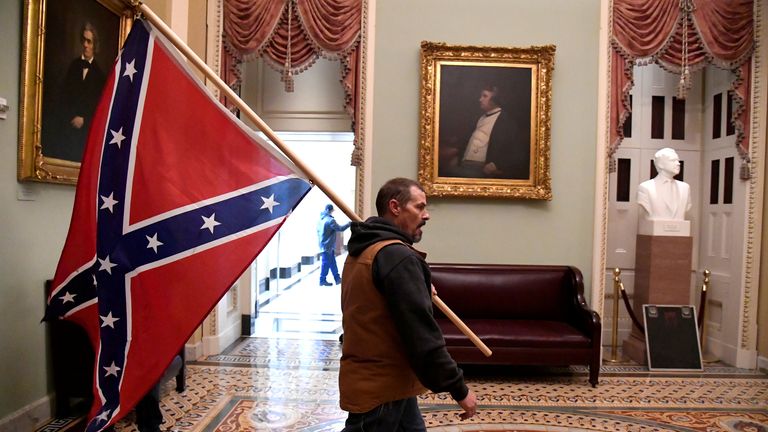 Another police officer, Eugene Goodman, has also been feted for his bravery and is now in line for the congressional gold medal.
In video that has emerged he can be seen armed with just his baton and, at great risk, diverting the insurrectionists away from the unguarded entrance to the Senate, allowing members to escape.
But as some police officers are lauded for their heroism, others are being investigated. It is thought some had a role in the chaos.
The wider investigation is beginning to gather pace and so far there have been nearly 100 arrests.
Authorities are still trying to identify more suspects, including the man wanted in connection with the murder of police officer, Brian Sicknick.
Subscribe to the Daily podcast on Apple Podcasts, Google Podcasts, Spotify, Spreaker
And it is feared there could be more attacks in the days leading up to the inauguration of President-elect Joe Biden.
Thousands of National Guard troops are fanned out across the capital, fortifying institutions.
This city now has all the hallmarks of a war zone. It is a sad reflection of the state of politics in a country which feels increasingly under siege.
COVID-19: Global coronavirus deaths pass two million – just over a year since outbreak began | World News

Global deaths linked to coronavirus have passed two million – just over a year since it was first identified in China.
The US has recorded the highest number at over 389,000 – and more than 23 million cases, according to figures from Johns Hopkins University.
Brazil – where several new variants have recently been identified – is second with over 207,000 deaths.
India and Mexico are next, with roughly 152,000 and 137,000 respectively.
The UK has recorded the fifth-highest death toll – and the highest in Europe – with more than 87,000 deaths recorded within 28 days of a confirmed positive test. Italy follows closely behind with around 80,000.
Global deaths from coronavirus hit one million on 29 September – it has taken 108 days to reach two million.
UN Secretary General Antonio Guterres said the death toll had been "made worse by the absence of a global coordinated effort" on vaccination.
"Science has succeeded, but solidarity has failed," he said.
While wealthy nations have already given millions of doses, things have barely got off the ground in poorer countries with large populations – meaning deaths from the virus are likely to remain high for a long time.
"Behind this terrible number are names and faces – the smile that will now only be a memory, the seat forever empty at the dinner table, the room that echoes with the silence of a loved one," said Mr Guterres.
It is little over a year since the World Health Organisation (WHO) put out its first bulletin on COVID-19, warning that a "pneumonia of unknown cause" had been identified in China.
At that stage, it said the country had reported 44 patients of which 11 were severely ill, and that the outbreak had been linked to a wet market in the sprawling city of Wuhan.
Thailand confirmed the first case outside China on 13 January, and France reported three cases – the first in Europe – on 24 January.
America's first case was in Washington state on 21 January – in a man who had recently been to Wuhan.
By the end of January, the WHO's emergency committee declared the outbreak a Public Health Emergency of International Concern (PHEIC).
The first UK cases were confirmed on 31 January – in two Chinese nationals at a York hotel – one of whom was a student at the city's university.
Uganda: Are armed government troops using intimidation tactics? | World News
Bobi Wine, whose real name is Robert Kyagulanyi, has a large house about an hour outside Uganda's capital, Kampala.
After sending out a couple of panicky-sounding tweets on Friday saying members of the military were encroaching on his property, that his property had been essentially surrounded by the military, we drove out there as quickly as we could.
We found him at the edge of the lawn, where there is then a gate and a fence and a hill which leads down to more of his property, which is forested.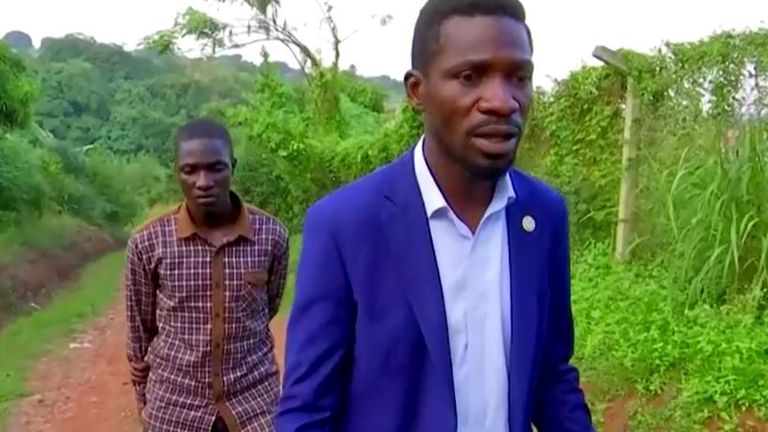 He was somewhat anxiously examining his land.
Mr Wine told us that he had seen troops – soldiers on the property – that they had come and beat one of his guards up.
We were introduced to the guard who had suffered some facial injuries. And then he took us and a small number of other journalists on a tour of his property.
We went down a hill into some of the trees, around the corner and we saw a group of about five uniformed men armed with automatic weapons.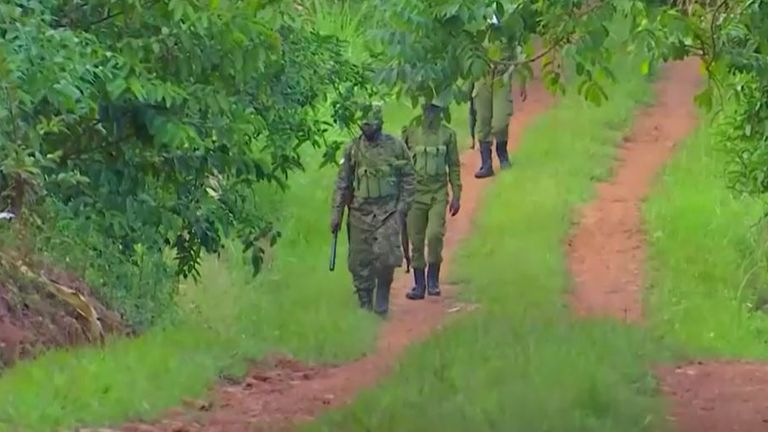 One of them picked up his weapon and pointed it at us. And we, along with Bobi Wine, ran for cover.
I must say, at no stage was one of the weapons discharged, but it was a frightening experience.
We ran back up to the main house, had a chat with Bobi Wine, who said this was an example of the intimidation that he has faced during the campaign and increasing intimidation now that the election results are expected.
Polls have closed in Uganda with president Yoweri Museveni, who is 76, seeking a sixth term in office.
But he is facing a strong challenge from Mr Wine, a former reggae singer who is half his age.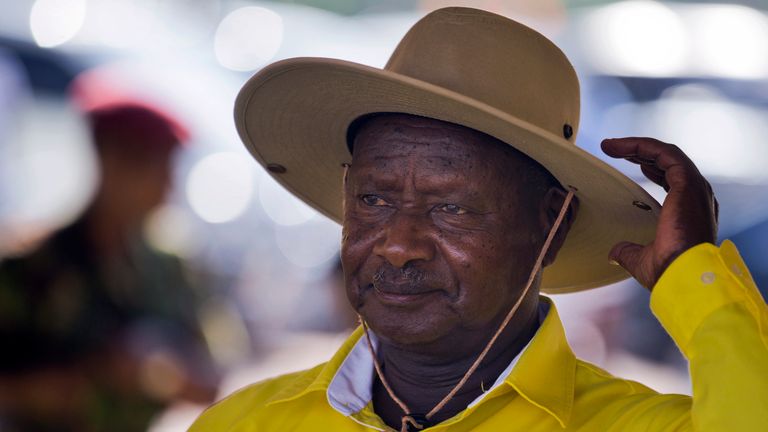 Results are expected to be delivered by the Election Commission on Saturday.
But Mr Wine says the government is trying to put him in his place.
It is certainly an unusual, a highly unusual way to treat a presidential candidate in this election or in any election.
He has run a very strong campaign. He has fired up certainly younger members of the electorate in this country.
A military spokeswoman said any soldiers in the area were there to protect him.
And a Kampala police spokesman told NTV Uganda that three unidentified people had tried to enter Mr Wine's property and one had been arrested.
But this does sound and look like government intimidation to me. On another side of the property, through a chain link fence, we could see soldiers and plainclothes men with weapons as well.
I tried to speak to them. They said nothing.
Bobi Wine is the country's best known and most effective opposition leader – but this is a very uncomfortable place for him to be at the moment.