Drug supply surge prompts record levels of murders in Mexico
A huge increase in the production and supply of drugs to the United States from Mexico is the cause of an explosion of violence in the Central American country that has seen record levels of murders in the past year, according to both governments.
A new war between competing drug cartels, after a series of arrests of high profile leaders, has only exacerbated the problem.
Authorities in the United States are warning it is out of control.
The most highly valued drug is heroin, produced in vast amounts in poppy fields dug into mountainous jungles, almost inaccessible from the ground and protected by thousands of armed gang members.
Some 90% of America's heroin comes from Mexico.
:: Trump's opioid 'emergency' may be too little, way too late
After 12 months of negotiation with the cartel gangs we were told to meet our contacts in the mountains of Guerrero state.
We travelled on quad bikes over mountainous terrain, deep into the jungle.
We were escorted by two security guards carrying machine guns and dressed in camouflage with bandanas hiding their faces.
Nobody is allowed down these forest trails without permission and nobody can get here without being seen by lookouts for miles around.
The gunmen told us to dismount while two "farmers" sharpened machetes.
They then began to hack their way through the undergrowth.
There was a path but it had been grown over. It was not their normal route they told us, rather a short cut.
Eventually we emerged into one of the cartel's poppy fields.
It is about 10 hectares and literally cut into the jungle. The almost constant clouds and size of the field make it difficult to spot from the air. The men told us they have a lot of fields spotted across the mountain range.
They said we are the only outsiders they have ever let in.
Here the opium business flourishes. The men showed me how the poppy is sliced and bled of its oil.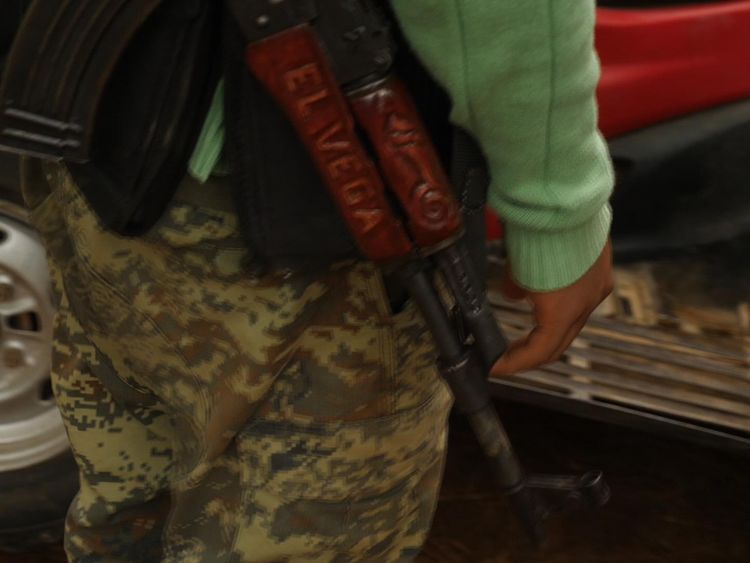 The raw material of what becomes opium and of course heroin.
For them this really is a matter of economics.
Ten hectares of Mango would earn a farmer $53,000 a year. Ten hectares of poppy nets them $350,000 a year.
The poppy growers see absolutely no correlation between what they produce and the drugs that ravage lives across the world and have directly led to the cartel wars and the deaths of tens of thousands of people in Mexico.
"It's what we have to do to feed our families," one of the gunmen told me.
Our guards, it transpired, were not there because of us. They are there to protect the poppy fields from raids by other gangs. Even in these wild remote mountains the drug wars are never far away.
"We come here and stay when the poppy is being harvested," the guard told me.
"There are gangs who want our produce and will kill for it. We are here to stop them," he said, starting up his quad bike as we headed to the home of the man who allowed our trip to take place.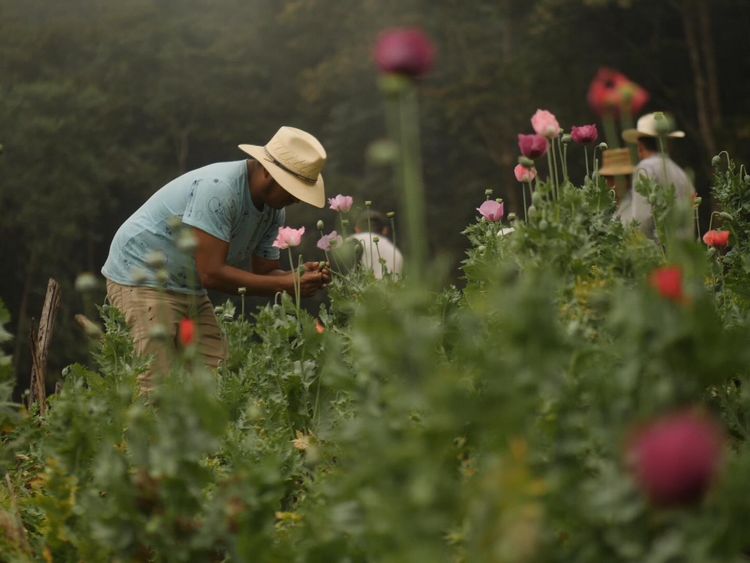 That man is Ruben Granados. We met him at his modest home, where he was helping to prepare lunch with his second wife. His first wife was killed along with their two sons as a warning to Ruben some years ago.
Ruben says he is the head of a farmers union that grows a variety of products on the mountain, including mango, avocado, marijuana and of course the poppies used to make heroin.
The Mexican government says he is the head of a drug cartel, and sent in troops in three Black Hawk helicopters to arrest him.
He beat the charges and says all the arrest showed was that the government and the cartels are in cahoots. Basically everyone wants a slice of the action produced on his mountain.
"We live in a very complicated and testing country because the crime gangs extort, kidnap and kill," he told me during his first ever interview.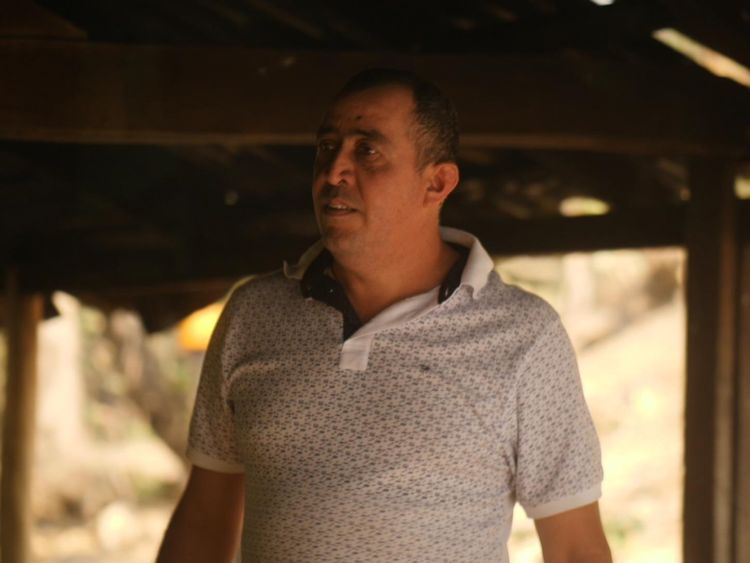 "The government is hand in hand with them because the gangs pay them.
"If you are a criminal the government likes you. If you are honest people, the government wants to destroy you," he said.
Every day Mexico wakes up to more news of violence, murder and chaos running in tandem with otherwise totally ordinary life.
Mexico is a wealthy country, but its drugs business eclipses its legitimate economy many times over. The drug business is at the root of the nation's murder epidemic.
Its wealth has left Mexico inured to the horror of violent crime, and nobody from the government to law enforcement to gang leaders and humble farmers, think they are responsible.
:: Watch Stuart Ramsay's report on Mexico's drug trade as part of Hot Spots, on Thursday night on Sky Atlantic, and in a special report on Sky News at 9.30am, 11.30am, 1.30pm, 4.30pm and 7.30pm on Wednesday.
How heat dome has sparked worst wildfires in a decade across parts of Southern Europe | Climate News

Unprecedented wildfires have broken out across Italy, Turkey and Greece due to rising temperatures caused by climate change.
Wildfires are common in southern Europe during the summer months, but extreme weather has made 2021 an especially bad year.
France and Spain experienced around 200 weekly wildfires during July, compared with an respective average of 38 and 81 in the preceding 12 years.
Wildfires have intensified this year driven by the high temperatures and drought that have plagued Europe since the start of the summer.
In the most recently affected countries, Turkey, Italy and Greece, there have been between two and five times as many wildfires during July as there were in the period between 2008 and 2020.
The devastation in Turkey over the recent weeks shows the scale of the environmental impact – over 150,000 hectares of land has been burnt at the start of August, which was more than nine times the average over the preceding 12 years.
These wildfires can have devastating consequences for human and ecological health, says Professor Dann Mitchell, a professor of climate science at the University of Bristol.
He said: "All the burnt material creates high levels of particles in the air, which cause significant respiratory problems, and visibility problems. On top of that, the loss of ecosystems can undo hundreds of years of nature's work."
What has caused a surge in wildfires?
Europe is experiencing the worst heatwave in a decade because of a heat dome – a high-pressure bubble trapping heat within an area.
This has caused temperatures to rise above 40C (104 F) in many parts of southern Europe and created the perfect conditions for wildfires to run rampant.
Professor Mitchell said: "Wildfires result from a combination of weather types, but the key ingredients are hot temperatures, dry conditions, and strong winds.
"In Greece and Turkey, the combined extreme heat wave and drought conditions have created the perfect storm."
This year has also seen historically low levels of rainfall for much of southern Europe. In Hellinikon in Greece, for example, it has been below the five-year average for the entirety of 2021."
In the coming years, more extreme weather patterns could mean that wildfires become a problem for other parts of Europe as well, says Professor Mitchell.
"In the winter, there is expected to be more rain, causing vegetation to boom. In the summer, there is expected to be less rain in many parts of Europe. So in the future we may have more vegetation which is drier, therefore leading to more fuel for the wildfires.
"As the climate warms, we expect to see these major wildfire events occurring more and more frequently in the mid- and north of Europe."
---
The Data and Forensics team is a multi-skilled unit dedicated to providing transparent journalism from Sky News. We gather, analyse and visualise data to tell data-driven stories. We combine traditional reporting skills with advanced analysis of satellite images, social media and other open source information. Through multimedia storytelling we aim to better explain the world while also showing how our journalism is done.
India: Nine-year-old girl allegedly raped and murdered in Delhi | World News
A nine-year-old girl has allegedly been raped and murdered in India's capital, sparking four days of protests.
Police say she had gone to fetch water from a crematorium near her house in Delhi on Sunday when she was killed.
Her family say the perpetrators cremated her body against their wishes.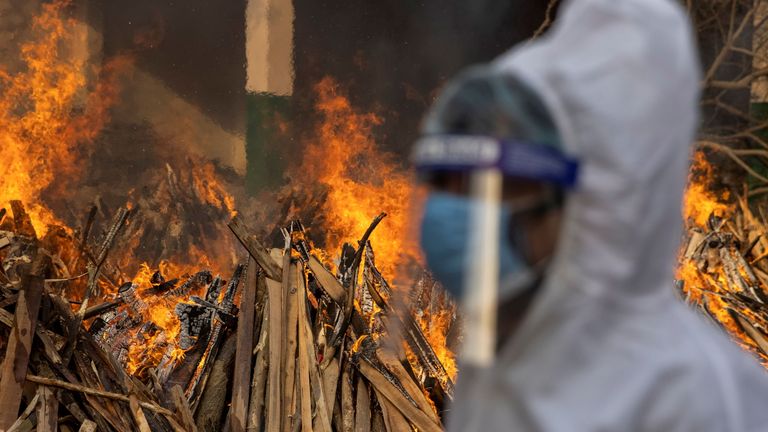 Delhi's chief minister has ordered a judge-led inquiry into the alleged rape and murder.
Four men have been arrested, Ingit Pratap Singh, the top police officer in the southwest of the capital, told Reuters.
They face charges of rape, murder and criminal intimidation, he said.
The girl's family have said one of the alleged rapists was a Hindu priest.
She was reportedly a member of the Dalit community, the lowest caste in India's Hindu hierarchy.
Hundreds of people protested in Delhi on Wednesday, blocking roads and demanding justice.
They held placards reading: "Justice for India's daughter."
Arvind Kejriwal, the head of Delhi's provincial government, ordered a judicial review of the case.
He called on the central government to do more to prevent crime.
"Top lawyers will be engaged to get the culprits punished," Mr Kejriwal tweeted.
"Central government should take strict steps to improve law and order in Delhi, we will cooperate fully."
Rahul Gandhi, a leader of the main opposition Congress party, said: "Her parents' tears are saying only one thing – their daughter, the daughter of this country, deserves justice."
India has a poor record for women's safety. The issue gained worldwide attention with the 2021 gang-rape and murder of a 23-year-old student on a bus in Delhi.
More than 32,000 rapes were recorded in India in 2019 according to the government. Experts have said that figure is likely to be a conservative esimate, due to the stigma involved.
There were also more than 100,000 kidnappings of women, a third with the stated aim of forced marriage.
Afghanistan: Taliban car bomb followed by gun battle leaves eight dead and 20 wounded | World News
The Taliban has claimed responsibility for a car bomb attack in Afghanistan's capital which targeted the country's acting defence minister.
The blast in Kabul on Tuesday night was followed by a five-hour gunfight between Afghan security forces and Taliban insurgents.
At least eight civilians were killed in the explosion and 20 wounded.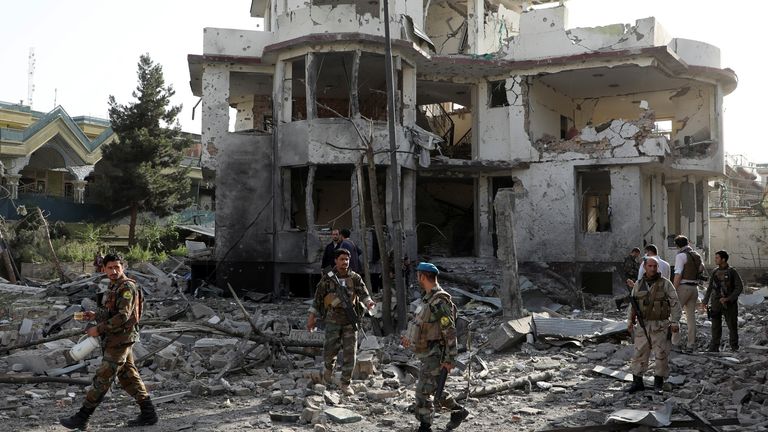 A blast near the office of the main security agency just hours later wounded three more people.
The defence minister, Bismillah Khan Mohammadi, survived and his family were evacuated to safety, Interior Ministry spokesman Mirwais Stanekzai said. He warned the death toll could rise.
All four attackers were shot and killed during the fighting, Mr Stanekzai added.
He said the attack took place in the upmarket Sherpur neighbourhood, which is located in an area with tight security known as the Green Zone. Several senior government officials also live in the area.
Hours after the attack, the Afghan defence ministry released a video of Mr Mohammadi saying his guards had been injured in a suicide attack.
"I assure my beloved countrymen that such attacks cannot have any impact on my willingness to defend my countrymen and my country," he said.
Officials said hundreds of people in the area had been evacuated to safety as security personnel carried out house-to-house searches.
Taliban spokesman Zabihullah Mujahid claimed responsibility for the attack, saying it was revenge for recent assaults by Afghan national forces that he claimed had caused civilian casualties.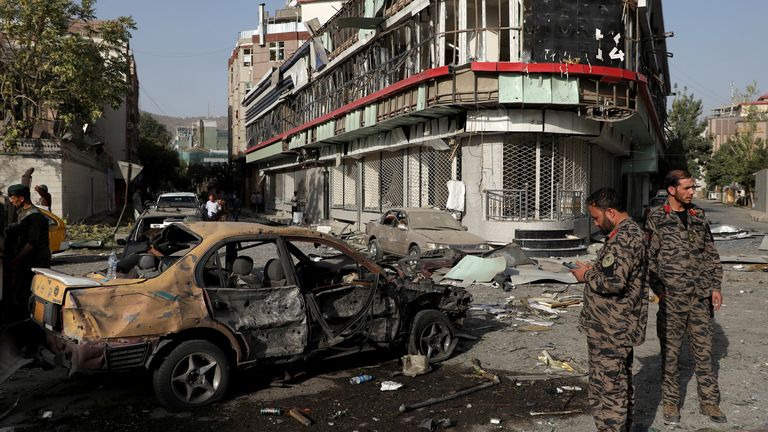 The Taliban are currently on the offensive, putting heavy pressure on provincial capitals in the south and west of Afghanistan.
The group has escalated its campaign to unseat the US-backed government since April, as US-led foreign forces withdrew after 20 years of war.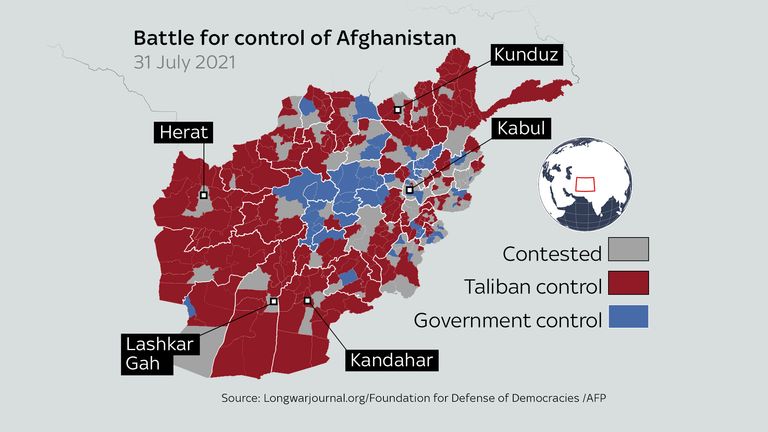 Afghanistan's president has blamed the rapid withdrawal of western forces for the increase in Taliban offensives.
There has been heavy fighting around the city of Herat, as well as Lashkar Gah and Kandahar.
An emergency has been declared in Lashkar Gah and special forces troops have been deployed along with US air support.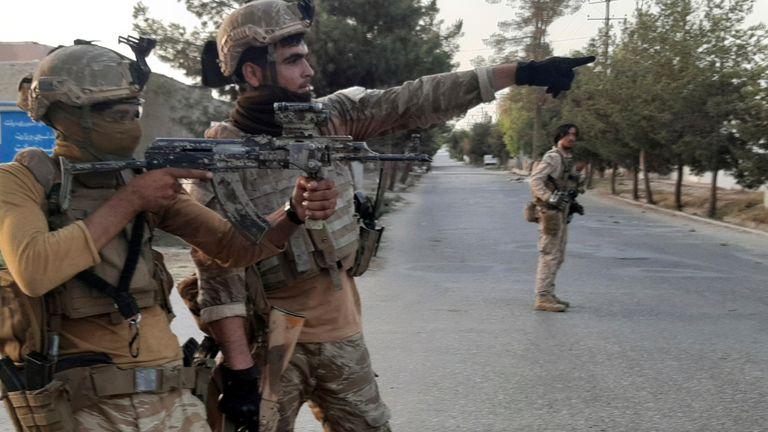 The United Nations said at least 40 civilians had been killed in the small city, capital of Helmand province, on Monday.