Chicago TV station mixes up P.F. Chang's and Pyeongchang in Winter Olympics graphic
Pyeongchang is a city in South Korea where the 2018 Winter Olympics is being held, and P.F. Chang's is a popular Asian-inspired restaurant chain — but somehow a local news station in Chicago got the two names confused.
WLS-Ch. 7, an ABC affiliate in Chicago, had viewers scratching their heads Saturday when it showed a graphic that said "P.F. Chang 2018" with an incorrect Olympics logo while talking about the Winter Games in South Korea. Weekend anchor Mark Rivera appeared on-air reading a series of news stories with the graphic in the right corner, the Chicago Tribune reported.
Jayme Nicholas, a spokeswoman for the news station, apologized for the image and told the Chicago Tribune the graphic was merely a "mix-up." The "P.F. Chang 2018" graphic was supposed to be used for a "satirical piece" that sports anchor Mark Giangreco created Friday.
The graphic, however, was then accidentally used for the real news on the Pyeongchang Winter Olympics, the station said.
The "P.F. Chang 2018" graphic brought an onslaught of mockery on social media, with many first questioning if it was real.
"P.F. Chang's.. Bringing the world together in 2018," one user wrote.
Another person tweeted, "I may not be an athlete competing in Pyongyang, but I definitely compete in P.F. Chang's"
"Please tell me this didn't really happen," one user tweeted, to which someone else replied: "@PFChangs if team USA gets over 35 medals, can you give away some free food?"
The restaurant chain, which has more than 210 locations in the U.S., eventually joined in on the fun, tweeting: "Contrary to this broadcast, we're not hosting the games."
The chain also replied "Looks like someone was hungry" when another person asked them about their input on the image. 
'Virulent' outbreak of equine herpes forces European equestrian events to be axed | World News

A virulent outbreak of equine herpes in eastern Spain has forced European equestrian events to be cancelled across the continent.
The International Federation for Equestrian Sports said the move will see events axed in 10 European countries until 28 March.
The ban affects upcoming events in Spain, Portugal, Belgium, Italy, Austria, Poland, Netherlands, Germany and Slovakia.
The federation's general secretary, Sabrina Ibáñez, said an unspecified number of horses have already died from the outbreak.
"This was not an easy decision to block events in mainland Europe, particularly after the major disruption to the FEI Calendar caused by the COVID-19 pandemic.
"But this EHV-1 outbreak is probably the most serious we have had in Europe for many decades."
The outbreak appears to have originated in Valencia, Spain, and has been linked to subsequent outbreaks in three other European countries.
The federation is allowing horse jumping shows in Spain, Portugal, Italy and Belgium to go ahead as long as no new horses enter the events and no cases of the virus are detected.
US police uncover 'possible plot' by militia group to breach Capitol on Thursday | US News
Police say they have intelligence showing a "possible plot" by a militia group to breach the US Capitol on Thursday.
A US Capitol Police statement did not name the organisation but called it "an identified militia group".
It follows an advisory sent to members of Congress by the acting House sergeant-at-arms earlier this week, saying Capitol Police had "no indication that groups will travel to Washington DC to protest or commit acts of violence".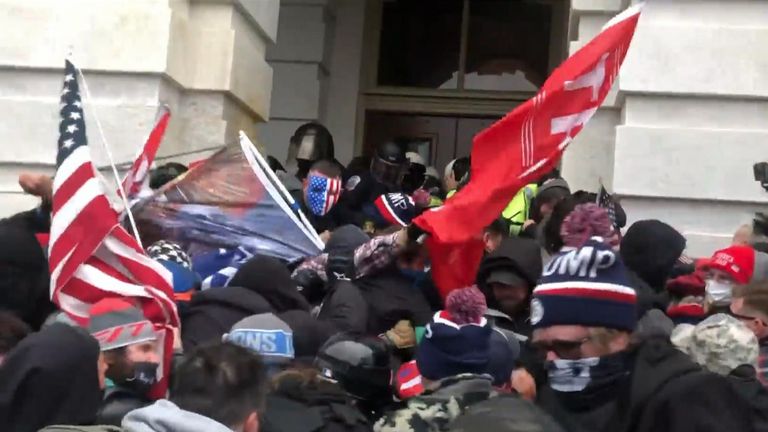 "The United States Capitol Police Department is aware of and prepared for any potential threats towards members of Congress or towards the Capitol complex," the agency said in a statement.
"We have obtained intelligence that shows a possible plot to breach the Capitol by an identified militia group on Thursday March 4."
The statement said the agency was "taking the intelligence seriously" but provided no other specific details on the threat.
It comes at the same time the acting police chief is testifying before a House subcommittee.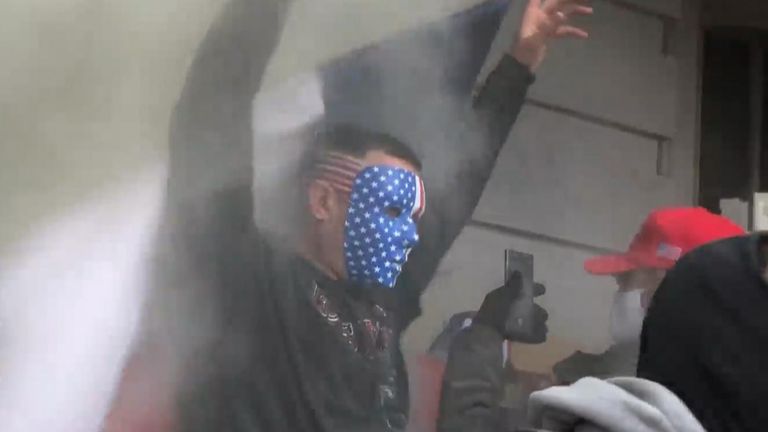 The threat comes nearly two months after thousands of supporters of then-President Donald Trump stormed the Capitol in a violent insurrection as Congress was voting to certify Joe Biden's electoral win.
So far, around 300 people have been charged with federal crimes for their roles in the riot and five people, including Brian Sicknick a Capitol Police officer, died.
The threat appears to be connected to a far-right conspiracy theory, mainly promoted by supporters of QAnon, that Trump will rise again to power on 4 March, which was the original presidential inauguration day, until 1933 when it was moved to 20 January.
Capitol Police say it had stepped up security around the complex since January's insurrection, adding physical security measures such as fencing topped with razor wire and members of the National Guard, who remain at the complex.
Alek Minassian: 'Incel' found guilty of murdering 10 people in Toronto van attack | World News
An "incel" who admitted using a van to kill 10 pedestrians in Toronto has been found guilty of their murder.
Alek Minassian faced 10 counts of first-degree murder and 16 counts of attempted murder in connection with the attack on 23 April 2018 that drew attention to an online world of sexual loneliness, rage and misogyny.
He had pleaded not guilty and his lawyer argued he did not know what he was doing was wrong because he has autism spectrum disorder.
Justice Anne Molloy said his lawyers failed to prove he was not criminally responsible for all the charges against him.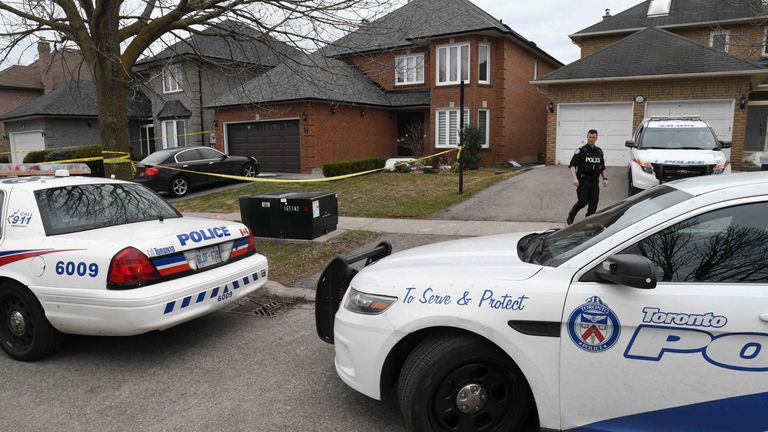 She said there is no doubt his actions were planned and deliberate and that he was fully aware of what he was doing.
"His attack on these 26 victims that day was an act of a reasoning mind," Molloy said.
She noted the man sought and enjoyed notoriety from his actions and instead of naming him in her decision, she referred to him as "John Doe".
The verdict was livestreamed on YouTube because of the pandemic.
Minassian, 28, told police he belonged to an online community of sexually frustrated men, some of whom have plotted attacks on people who have sex.
He admitted to police that he drove a rental van into crowds of pedestrians in a busy north Toronto neighbourhood. Eight women and two men ranging in age from 22 to 94 died.
Minassian, who said he never had a girlfriend and was a virgin, rented the van and admitted to police he used it as a weapon, saying he wanted to inspire more attacks.
He called himself an "incel", short for involuntary celibate, an online subculture that has been linked to other attacks in California and Florida and that often promotes the idea men are entitled to have sex with women.
Autism Canada denounced what it called "egregious claims" by Minassian's lawyer that he did not know what he was doing was wrong because he has autism spectrum disorder.
Minassian faces an automatic life sentence in prison and will be sentenced on March 18.