Colombian kingpin 'Otoniel' arrested in 'biggest blow to drug trafficking since fall of Pablo Escobar' | World News
A notorious Colombian drug kingpin has been arrested in what has been described as the biggest blow to the country's trafficking network since the death of Pablo Escobar.
Dairo Antonio Usuga, known as Otoniel, was captured by the armed forces during an operation in a rural area of the South American nation's Uraba region.
Both the Colombian and US governments had been willing to pay a premium for information about the gang leader's network and whereabouts – three billion pesos (£577,000) and $5m (£3.6m) respectively.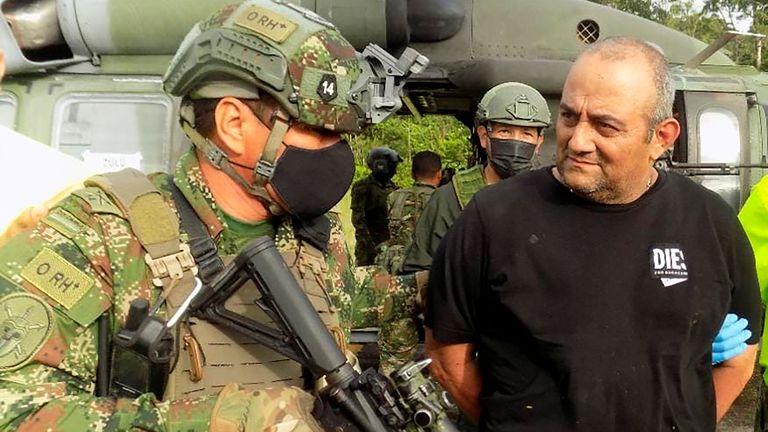 Otoniel is accused of sending dozens of shipments of cocaine to the US, killing police officers, illegal mining, recruiting minors, and sexually abusing children, among other crimes.
Colombian President Ivan Duque hailed the 50-year-old's arrest in a video message, saying: "This is the biggest blow against drug trafficking in our country this century.
"This blow is only comparable to the fall of Pablo Escobar in the 1990s."
Saturday's operation, Osiris, involved more than 500 members of Colombia's special forces and 22 helicopters, according to defence minister Diego Molano.
Such was the significance of the arrest, soldiers posed for pictures and took selfies with Otoniel.
The operation, which resulted in the death of one police officer, brought to an end years-long efforts to find Otoniel.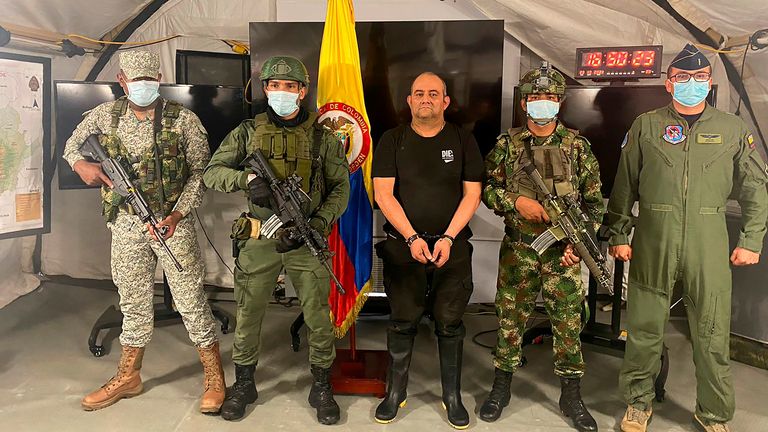 Dozens of his lieutenants were captured and killed in an operation in 2016, and his sister, Nini Johana Usuga, was arrested in March this year.
She was extradited to the US to face charges connected to drug trafficking and money laundering.
Otoniel's rise to prominence saw him become leader of drug trafficking group Clan del Golfo, or Gulf Clan, following stints as a left-wing guerrilla and later as a paramilitary.
Clan del Golfo has around 1,200 armed men – the majority being former members of far-right paramilitary groups, stationed across 10 of Colombia's 32 provinces.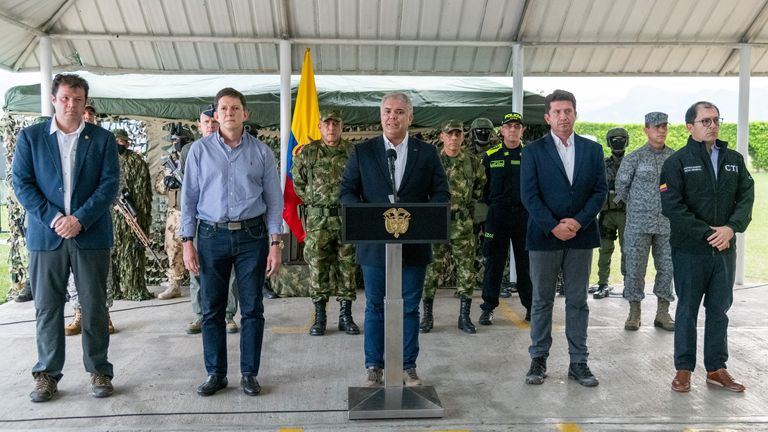 While Colombia's president was bullish in the wake of Otoniel's arrest, he has been warned that another figure will almost certainly take his place.
Sergio Guzman, director of the Colombia Risk Analysis organisation, said the arrest was a "big deal", but that Otoniel was "bound to be replaced".
COVID-19: EU regulator authorises Pfizer vaccine for children aged five to 11 | World News

The European Union drugs regulator has authorised Pfizer's coronavirus vaccine for use on children aged from five to 11.
It clears the way for jabs to be administered to millions of school children on the continent amid a new wave of infections sweeping across Europe.
It is the first time the European Medicines Agency (EMA) has cleared a COVID-19 vaccine for use in young children.
The agency said it "recommended granting an extension of indication for the COVID-19 vaccine Comirnaty to include use in children aged five to 11".
The vaccine, called Comirnaty, will be given in two doses of 10 micrograms three weeks apart as an injection in the upper arm, the EMA recommended. Adult doses contain 30 micrograms.
However, the French health minister Olivier Veran has asked the country's medical ethics committee and health regulator to examine whether children as young as five should get a jab.
South Korea to consider banning dog meat | World News
South Korea is launching a taskforce to consider making the consumption of dog meat illegal after the country's president offered to look into ending the practice.
The number of restaurants that serve dog meat in the country have fallen as younger people generally find it a less appetising dining option and pets are growing in popularity.
But recent surveys indicate more people oppose banning dog meat even if many do not eat it.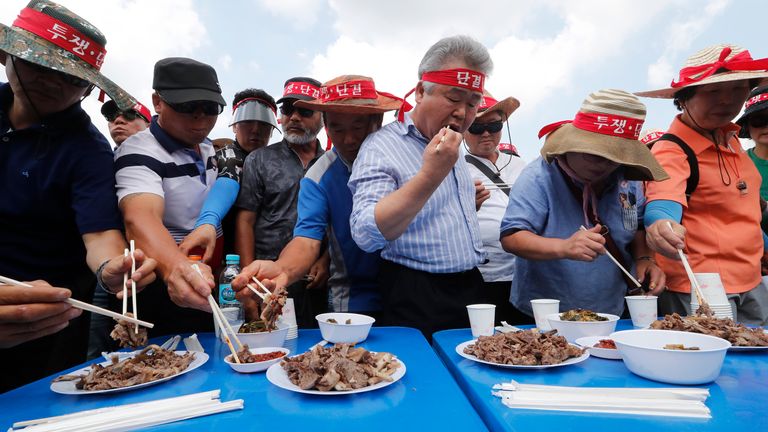 Seven government offices including the agriculture ministry said they decided to launch the group comprising officials, civilian experts and people from related organisations to deliver recommendations on potentially outlawing dog meat consumption.
It said authorities would collect information on dog farms, restaurants and other facilities while examining public opinion.
The statement said "public awareness of their basic rights and animal rights issues are tangled in a complicated manner" when it comes to dog meat.
Public opinion suggests "people have negative views both about eating dogs and legally banning it", it noted.
The government says the initiative does not necessarily guarantee a ban of the centuries-old practice, a stance that drew immediate protests from dog farmers and animal rights activists.
Farmers say the taskforce's launch is a formality to shut down their farms and dog meat restaurants, while activists insist the government's announcement lacks resolve to outlaw dog meat.
Ju Yeongbong, general secretary of an association of dog farmers, accused the government of "trampling upon" people's right to eat what they want and farmers' right to live.
Lee Won Bok, head of the Korea Association for Animal Protection, described the government's announcement as "very disappointing" because it did not include any concrete plans on banning dog meat.
About one million to 1.5 million dogs are killed each year for food in South Korea, a decrease from several million around 10-20 years ago.
Thousands of farmers raise up to two million dogs for meat, according to the association of dog farmers.
Mr Ju said the farmers, mostly poor, elderly people, wanted the government to temporarily legalise dog meat consumption for about 20 years, with the expectation that demand would gradually taper off.
But Lee said animal rights organisations wanted a more rapid end of the business.
"South Korea is the only developed country where people eat dogs, an act that is undermining our international image," he said.
"Even if the K-pop band BTS and the (Korean drama) Squid Game are ranked number one in the world, foreigners are still associating South Korea with dog meat and the Korean War."
He also accused many farmers of animal cruelty and other illegal activities when they raise and slaughter their dogs. However, Mr Ju argued activists "exaggerated" such information, and that it only applied to a small number of farms.
It comes after President Moon Jae-in, a dog lover, asked during a meeting with his prime minister in September "if it's time to carefully consider" a ban of dog meat, sparking a new debate.
Dog meat is neither legal nor explicitly banned in South Korea.
COVID-19: New coronavirus variant B.1.1.529 identified in Botswana as scientists play down concerns | World News
A new variant of the coronavirus with a "constellation" of mutations has been identified in Botswana.
Designated as B.1.1.529, scientists are still unclear whether existing antibodies would react well to the variant – which has 32 spike protein mutations.
Tom Peacock, a virologist at Imperial College London, branded the mutations "really awful".
Live COVID updates from across the UK and around the world
Just spotted: very small cluster of variant associated with Southern Africa with very long branch length and really awful Spike mutation profile including RBD – K417N, N440K, G446S, S477N, T478K, E484A, Q493K, G496S, Q498R, N501Y, Y505Hhttps://t.co/kgA9c1hKDa

— Tom Peacock (@PeacockFlu) November 23, 2021
Spike proteins are what viruses use to get into human cells, and some of the vaccines work by training the body to recognise the spikes and neutralise them.
Mutations on the spike can therefore potentially prove problematic for mRNA doses, like Pfizer and Moderna.
However, with only a handful of recorded cases – three in Botswana, six in South Africa and one in Hong Kong from someone who travelled from South Africa – scientists are hopeful that COVID cases caused by the new virus specimen will not be widespread.
Francois Balloux, professor of computational systems biology at University College London, said: "For the time being, it should be closely monitored and analysed, but there is no reason to get overly concerned, unless it starts going up in frequency in the near future."
She added that the "constellation" of mutations on B.1.1.529 could be because it "evolved during a chronic infection of an immunocompromised person, possibly in an untreated HIV/AIDS patient".
It comes amid reports that England may be nearer to the "end" of the pandemic than any other European country.
Scientists reckon that high vaccination and infection rates mean that a high level of immunity is now present.
According to The Times, scientists at the London School of Hygiene and Tropical Medicine estimate that – should all restrictions and vaccinations end immediately – England would have around 10,000 more COVID deaths relative to its population of 56 million.
How many Britons could die of COVID?

This compares to 114,000 estimated in Germany – population 83.2 million – and 16,000 in Greece – population 10.7 million.
Researchers did not directly study Wales, Scotland and Northern Ireland, but they expect similar figures to England.
According to Johns Hopkins University, the UK has had 144,728 COVID-related deaths, Germany 100,123 and Greece 17,612 so far.
Lloyd Chapman, from the London School of Hygiene and Tropical Medicine, said the reason for England having a better outlook going forward was due to higher infections previously.
Follow the Daily podcast on Apple Podcasts, Google Podcasts, Spotify, Spreaker
"In a sense we paid a very high price for being further along a path towards having a high level of immunity in the population," he said.
"Whether that was the right strategy or not, I think in a way only time will tell."