Russia COVID-19 cases hit record daily high as deaths spike with infection surge and sluggish vaccine rollout | World News
Russia has reported a record number of new coronavirus infections in the last 24 hours with cases hitting 34,303 – the highest since the pandemic began.
It represents a hike of more than 70% when compared with last month's figure of 20,174.
Meanwhile, the number of daily COVID deaths in Russia stood at 997 – just five fewer than the record-high of 1,002 seen the previous day.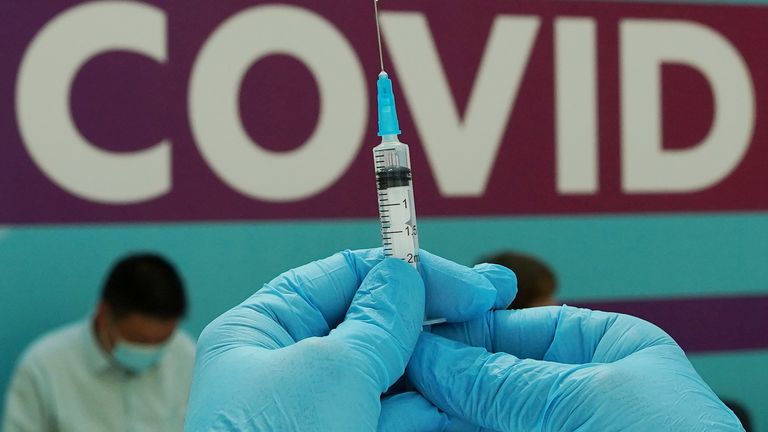 Overall, the country's coronavirus taskforce has registered almost eight million confirmed cases and 223,312 deaths – the highest number in Europe.
The Russian authorities have blamed a slow vaccination rollout for the sharp rise of COVID-19 infections and deaths, which has forced the health ministry to ask retired, vaccinated medics to return to hospitals.
Efforts have been made to speed up the pace of injections with lotteries, bonuses and other incentives, but widespread scepticism about the jabs and conflicting messages from officials have hampered efforts.
The government said this week that about 43 million Russians, some 29% of the population, had been fully vaccinated.
Despite the surge in cases and deaths, the Kremlin has ruled out a new nationwide lockdown like the one early on in the pandemic that badly hit the economy and damaged President Vladimir Putin's popularity.
Instead, it has delegated the power to enforce coronavirus restrictions to regional authorities.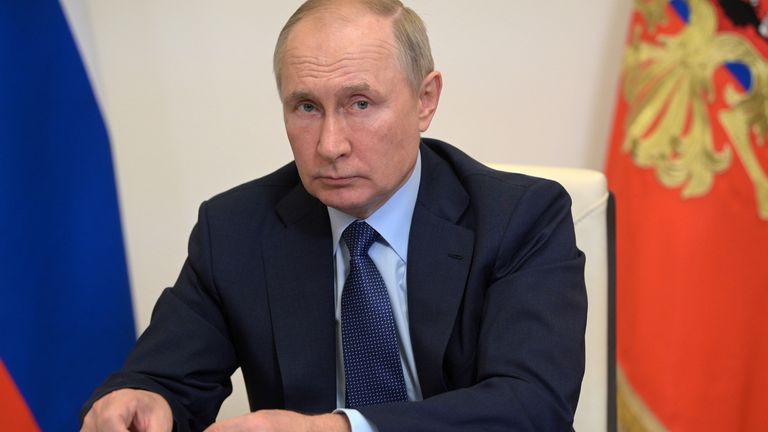 Some of Russia's 85 regions have restricted attendance at large public events and limited access to cinemas, restaurants and other venues.
However, daily life is going on largely as normal in Moscow, St Petersburg and many other Russian cities.
The highest concentrations of cases are found in urbanised areas of western Russia and along the Pacific Coast such as Vladivostok and Khabarovsk.
But the thinly populated Siberian region of Sakha and Chukotka in the extreme northeast also show high case rates of more than 150 infections per 100,000 people.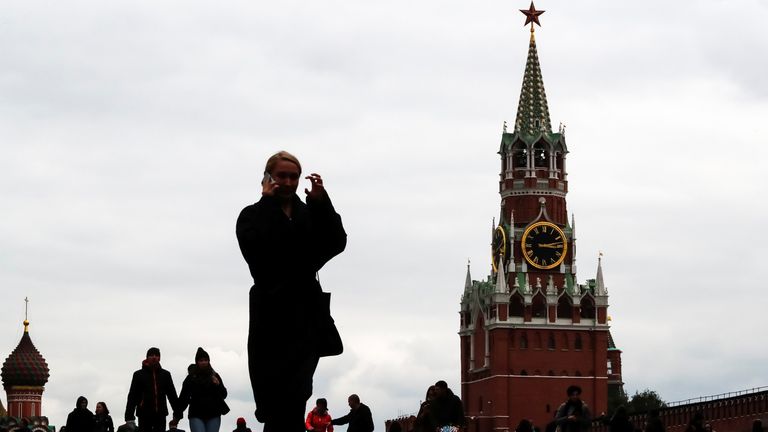 The official record ranks Russia as having the fifth most pandemic deaths in the world following the United States, Brazil, India and Mexico.
However, state statistics agency Rosstat, which also counts deaths in which the virus was not considered the main cause, has reported a much higher number of fatalities – about 418,000.
Based on this, Russia would rank as the fourth hardest-hit nation in the world, ahead of Mexico.
Ethiopia: Four young sisters among those caught up in country's bloody civil war | World News
There is a little park in Addis Ababa with a bench and some flowers and a big red wall.
It was built on scrap land by the manager of a local hostel, and there is a five-year-old who comes to draw every afternoon.
Her name is Kidist, and she sketches on the wall with small rocks that work a bit like chalk.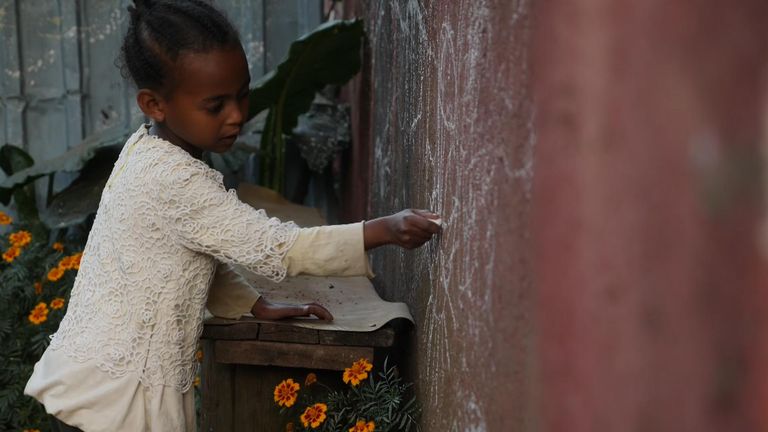 "That is the face, that is the hand, the eyes, legs. Oh, the hair."
As an image takes shape, her right sleeve slips down, revealing a nasty scar – one of many, say doctors, that cover her body.
Kidist also lost her heel in one foot after an artillery shell exploded in front of her family's home.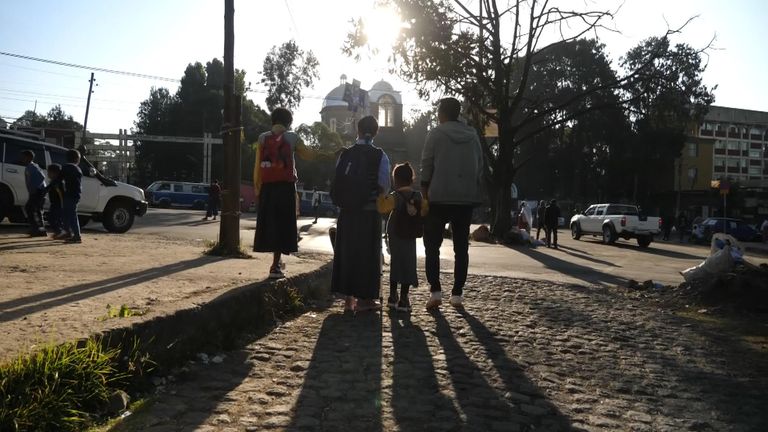 Her sisters were also injured in the blast, which took place late last year.
Bethlehem, who is nine, lost her Achilles tendon and the wound has never healed.
The 14-year-old, Yordanos, has lost most of her left leg.
The eldest sister is Abeba, 17, who has had part of her right leg amputated.
She wears a weary, distant look.
"When I walk on it, when I touch it, it hurts," she said as she poked at a large scar above the amputated limb.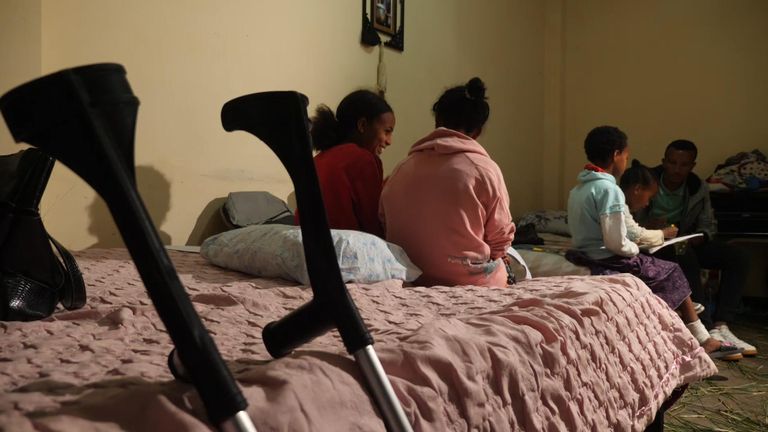 Ethiopia's bloody civil conflict is waged with little knowledge of the cost. The number of dead, injured or missing are seemingly unknown as the forces of the government of Abiy Ahmed battle fighters from the rebellious region of Tigray.
But the impact on the Yigzaw family has been calamitous.
"Do you think about the war?" I asked Abeba.
"Of course, we are worried. Lots of people are dying, lots of people are injured. We are the example of that. We have been worrying and crying, but there is nothing we can do. What happened, happened."
Nobody knows who fired the shell that destroyed the family home, located in a village called Hawelti. Both government soldiers and Tigrayan rebels were fighting nearby.
But the girls have found some safety and security in a cramped bedsit in the capital, Addis Ababa. They live here with their uncle, Kalayu, who found them last December, covered in blood, in the back of an Ethiopian army truck.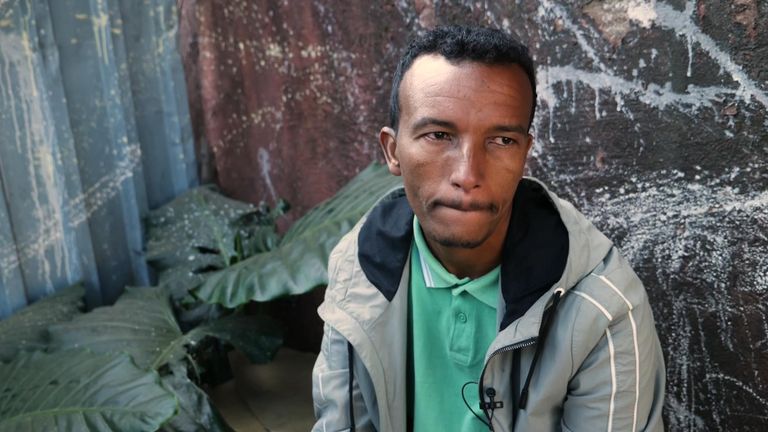 They had been brought to a place called Dessie for emergency treatment from the team at International Committee for the Red Cross (ICRC).
"It is very difficult when you see they are bleeding, they are injured, they cry. It is very difficult. I saw them in the (vehicle) so I pulled up there. I saw them…" Gripped with emotion, Kalayu was unable to continue.
He has taken up a role that he could not anticipate – a substitute parent to four vulnerable girls. He says he has little choice as their mother was killed in the attack and their father has been missing for months.
"I didn't tell them about what happened to their mother because they were in a horrible situation. After seven months, we told the older two, but Kidist and Bethlehem (still) don't know. They say, 'I miss my mother, I miss my mother'…"
Kalayu is unable to continue the thought.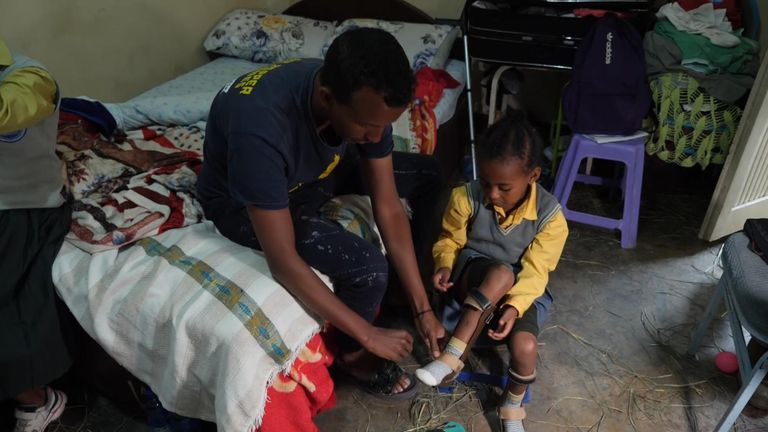 The ICRC has provided medication and rehabilitation in Addis Ababa but was clear that Yordanos was in pain.
We watched the girls get themselves ready for school, but the 14-year-old was unable to get out of bed.
"All of this is swollen," she said, looking tearfully at the bulbous end of her amputated leg.
"Will you go to school today?" I asked.
"I can't, the prosthetic won't fit because it is swollen."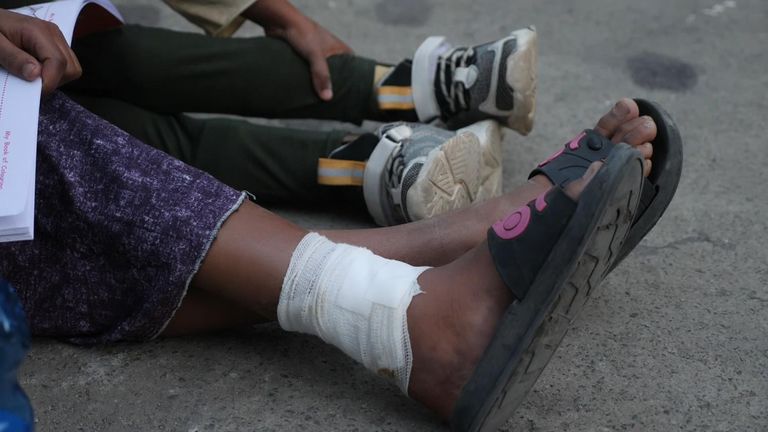 Her siblings know this pain, but they still had to get themselves ready for school. Their uncle, is a teacher and this is what he expects.
Yet, the 32-year-old is shouldering much on his own. Financial support from the ICRC that keeps them in this cramped hostel finishes at the end of the month, and he will have to find the family a new place to live.
But his faith in the future is undiminished.
"God makes these things, and we are going to (get by). They will succeed their dreams and I will be beside them forever."
South Africa sees rise in child COVID hospital admissions in Omicron epicentre but cases 'mild' | World News
A marked rise has been seen in the number of children admitted to hospital in South Africa – the epicentre of the new coronavirus Omicron variant – but cases are "mild", a public health expert has said.
The increase has sparked concerns the latest COVID-19 strain, which has spread rapidly around the world, could pose greater risks for youngsters.
However, the authorities in South Africa said the surge should trigger vigilance, not panic, with no link established and the potential impact of other factors.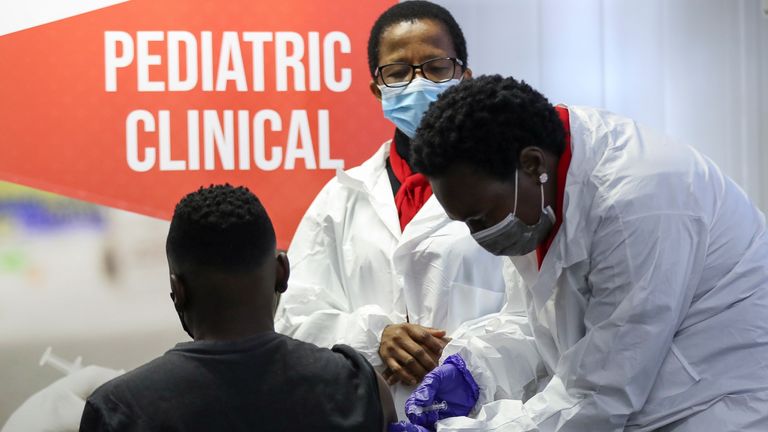 It is also difficult to draw conclusions about the implications for other countries, such as the UK, given South Africa has a much younger population that is less likely to be vaccinated.
Ntsakisi Maluleke, a public health specialist in Gauteng province which includes the capital Pretoria and the biggest city Johannesburg, said that out of the 1,511 COVID-positive patients in hospitals in the area, 113 (7%) were under nine-years-old, a greater proportion than during previous waves of infection.
But she said: "We are comforted by clinicians' reports that the children have mild disease."
Health officials and scientists were currently investigating what was driving the increased admissions in younger ages and hoped to be able to provide more details shortly, she said.
Since only a small proportion of South Africa's positive coronavirus tests are sent for genomic sequencing, officials do not yet know which variants the children admitted to hospital have been infected with.
Pointing out healthcare workers could be acting out of caution, she said: "They would rather have a child under care for a day or two than having a child at home and complicating… but we really need to wait for the evidence."
Top tips from WHO to stop COVID spread

She also said many COVID-19 patients in Gauteng were reporting "non-specific" flu-like symptoms like a scratchy throat, as opposed to more easily identifiable signs like a loss of taste or smell.
But she urged parents and pregnant women, another group that has seen more hospital admissions recently, not to take flu-like symptoms lightly and to get tested in case.
"The public needs to be less fearful but vigilant," she added.
Follow the Daily podcast on Apple Podcasts, Google Podcasts, Spotify, Spreaker
Despite a recent influx of admissions, Gauteng's dedicated COVID-19 bed occupancy was still only around 13%, Ms Maluleke said, adding that contingency plans were in place should capacity become stretched.
Scientists are still working to find out what severity of illness is caused by the Omicron variant, first detected in southern Africa last month and since seen in more than 30 countries, and whether it may be more resistant to existing vaccines.
Rio cancels New Year's Eve celebrations amid spread of Omicron variant | World News

Rio has cancelled its traditional New Year's Eve celebrations as the Omicron COVID variant spreads around the world.
Announcing the move on Twitter, the mayor of the Brazilian city Eduardo Paes said the decision was taken "with sadness", but that organisers "respect the science".
It comes as countries around the world wrestle with the transmission of the worrying new COVID-19 strain, first identified in South Africa.
Latest official figures show Brazil registered 221 coronavirus deaths on Friday and 10,627 additional cases.
The South American country has now registered a total of 615,400 coronavirus deaths and 22,129,409 confirmed cases.
Mr Paes said: "We respect science.
"As there are divergent opinions among scientific committees, we will always stick with the most restrictive.
"The city council says it can. The state's says no. So it can't.
"We're going to cancel the official New Year's Eve celebration in Rio in this way."
He added: "I make the decision with sadness, but we cannot organise the celebration without the guarantee of all the health authorities.
"Unfortunately, we cannot organise a party of this size, in which we have a lot of expenses and logistics involved, without the minimum time for preparation.
"If this is the command of the State (this was not what the governor had been telling me), let's accept it.
"I hope I can be in Copacabana hugging everyone from 22 to 23. It will be missed but the important thing is that we continue vaccinating and saving lives."