Tiananmen Square vigil organisers in Hong Kong to disband amid crackdown | World News
A Hong Kong pro-democracy group, which held annual vigils to remember the victims of China's military during the 1989 Tiananmen Square protests, has voted to disband during a crackdown on political activism in the semi-autonomous city.
Police had notified the Hong Kong Alliance in Support of Patriotic Democratic Movements of China last month that it was under investigation over allegedly working for foreign interests, an accusation the group denies.
While they called the probe an abuse of power, core members voted 41-4 at a meeting on Saturday to bring the 32-year-old group to an end.
Tens of thousands of people had attended the annual vigil until authorities banned it in 2020, citing anti-pandemic measures.
The government investigation came during heavy restrictions on people in Hong Kong following mass pro-democracy protests in 2019 and the imposition of a sweeping national security law by China's ruling Communist Party last year.
The legislation effectively criminalised opposition and severely limited free speech, while other measures have heavily reduced popular participation in the city's electoral process.
The law, which outlaws subversion, secession, terrorism and foreign collusion to interfere in the city's affairs, has forced several civil organisations to disband or seen their ties to the government cut.
More than 100 pro-democracy activists have been arrested under the law, including leaders of the Hong Kong Alliance, while other opposition figures have sought asylum abroad or been intimidated into silence.
In August, the prominent Hong Kong Civil Human Rights Front, made up of a slew of member organisations, said it could no longer operate and chose to disband.
The group helped organise large protests in 2019, which grew increasingly violent as mostly young demonstrators battled police.
The annual vigil had honoured those who died when China's military violently suppressed massive pro-democracy protests in Beijing's Tiananmen Square on 4 June 1989.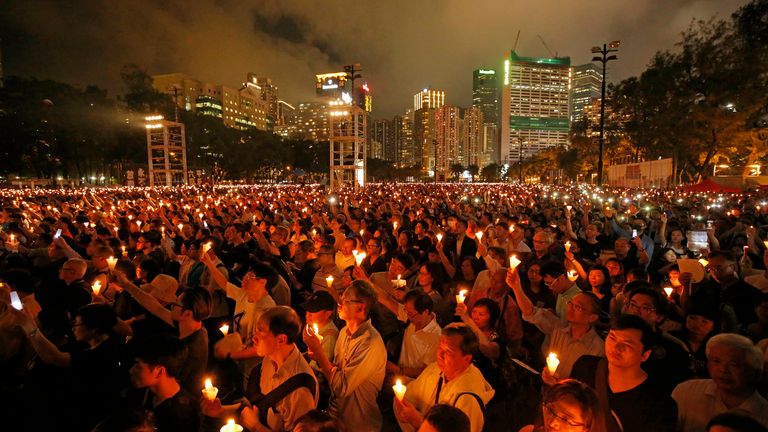 The topic has long been taboo in mainland China and Hong Kong had been the only place in the country allowed to hold such a commemoration. Smaller crowds gathered this year and in 2020 despite the police ban.
Police had asked the alliance to hand over any information about groups they had worked with overseas or in Taiwan – the self-governing island democracy China claims as its own territory – as well as contact information. They did not mention what specific incidents prompted the investigation.
Critics say the national security law restricts freedoms Hong Kong was promised it could maintain for 50 years following the territory's 1997 handover to China from colonial Britain.
Amnesty International's Asia-Pacific director Yamini Mishra said "the effectively forced disbandment" of the alliance showed the Chinese authorities are seeking to censor all mention of the crackdown in Hong Kong, as it has on the mainland.
"After the recent demise of some of Hong Kong's largest unions and the group organising some of the city's largest protests, it is clear the Hong Kong government is targeting civil society groups with broad support and the capacity to mobilise," Ms Mishra said.
"Worryingly, the government's crackdown on such organisations seems likely to continue."
Colin Powell: Former US Secretary of State dies following COVID complications, says family | US News
Former US Secretary of State Colin Powell has died following coronavirus complications, his family has said.
A statement on his Facebook page posted by his family said the 84-year-old "passed away this morning due to complications from COVID-19".
"He was fully vaccinated," they said.
"We have lost a remarkable and loving husband, father, grandfather and a great American."
NBC News cited his spokesperson Peggy Cifrino and a family member as saying he was at Walter Reed National Medical Centre in Maryland at the time he died, where he had been suffering from multiple myeloma.
Mr Powell was the first African American secretary of state and the first black chairman of the joint chiefs of staff.
Myanmar junta chief says military government committed to restoring peace | World News
Myanmar's junta leader has said his military government is committed to restoring peace and democracy. 
In a televised address on Monday, Min Aung Hlaing, dressed in civilian attire, reiterated the junta's five-step plan toward restoring order.
His comments came in response to the Association of Southeast Asian Nations' (ASEAN) decision to sideline him from an upcoming leaders' summit over a lack of progress on a peace roadmap.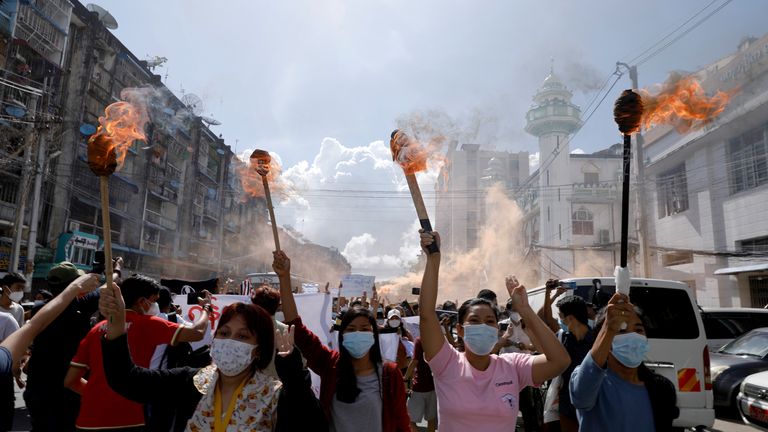 The group of southeast Asian countries said they would invite a non-political representative to the summit – an unprecedented snub to the military leader, who led the coup against the elected civilian government led by Aung Sung Suu Kyi in February.
Brunei, ASEAN's current chair, issued a statement citing a lack of progress made on a peace roadmap that the junta had agreed to with the body in April to restore peace in Myanmar.
But Min Aung Hlaing said on Monday that ASEAN should take note of his government's plans – and the provocations and violence he said were being carried out by its opponents.
"More violence happened due to provocations of terrorist groups," Min Aung Hlaing said. "No one cares about their violence, and is only demanding we solve the issue. ASEAN should work on that."
Minutes after his speech, state television announced more than 5,600 people arrested or subject to arrest warrants over their roles in anti-coup protests would be freed in an amnesty for "humanitarian reasons".
Singapore's foreign ministry said at the weekend that the move to exclude Min Aung Hlaing was a "difficult, but necessary, decision to uphold ASEAN's credibility".
A spokesman for Myanmar's military government blamed "foreign intervention" for the decision.
Junta spokesman Zaw Min Tun accused the United States and representatives of the European Union of pressuring ASEAN member states.
"The foreign interventions can also be seen here," he said. "We learned that some envoys from some countries met with US foreign affairs and received pressure from EU," he told the BBC Burmese news service.
More than 1,000 civilians have been killed by Myanmar security forces with thousands of others arrested amid a crackdown on strikes and protests that has derailed the country's delicate democracy and prompted international condemnation, according to the United Nations.
The junta says those estimates of the death toll are exaggerated.
ASEAN has faced increasing international pressure to take a tougher stand against Myanmar, having been criticised in the past for its ineffectiveness in dealing with leaders accused of rights abuses, subverting democracy and intimidating political opponents.
A US State Department official told reporters on Friday that it was "perfectly appropriate and in fact completely justified" for ASEAN to downgrade Myanmar's participation at the coming summit.
Kerala floods: At least 22 people killed in flash flooding and landslides in south Indian state | World News
At least 22 people have been killed in flash floods and landslides caused by heavy rain in the southern Indian state of Kerala over the weekend.
The National Disaster Response Force, the Indian army and navy were called out to rescue people after several areas were hit.
According to a government official, 13 people were killed in a landslide in the village of Kuttikkal, Kottayam district, with six of the casualties coming from one family.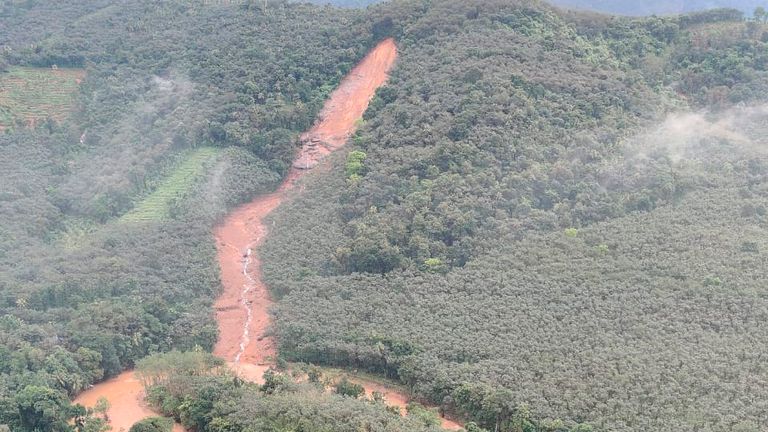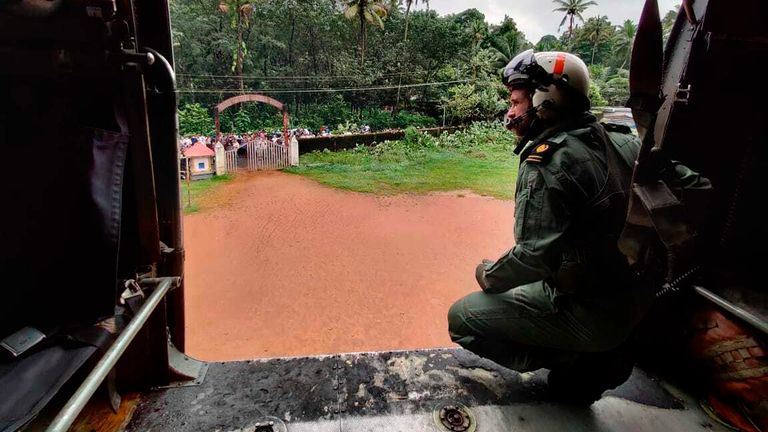 Officials said the intense rainfall had subsided, but feared the number of deaths could rise as relief and rescue operations continued.
On Sunday, rescuers recovered bodies in two of the worst-hit districts, Kottayam and Idukki.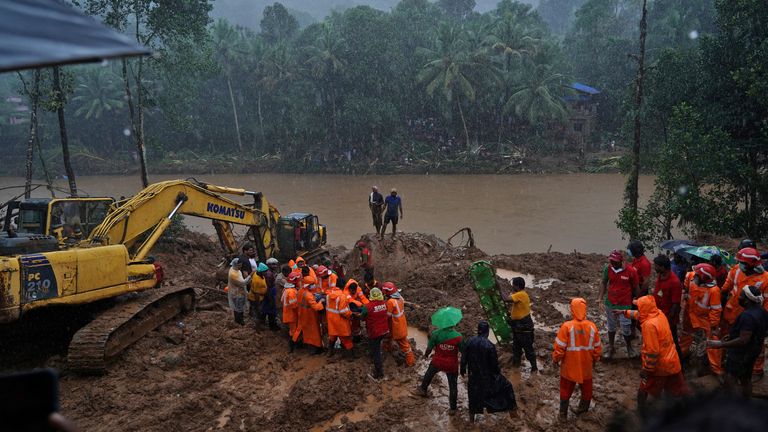 Kerala floods kill at least 22

Those two districts and four others were reported to have been put on red alert after at least one of them saw more than 12cm of rain by 8.30pm local time on Saturday, when the heavy rains began.
Then, television reports showed people wading through chest-deep waters to rescue passengers from a bus that was nearly submerged by the torrents flooding the roads.
The state chief minister, Pinarayi Vijayan, urged residents to exercise extreme caution even though the intense rainfall had subsided.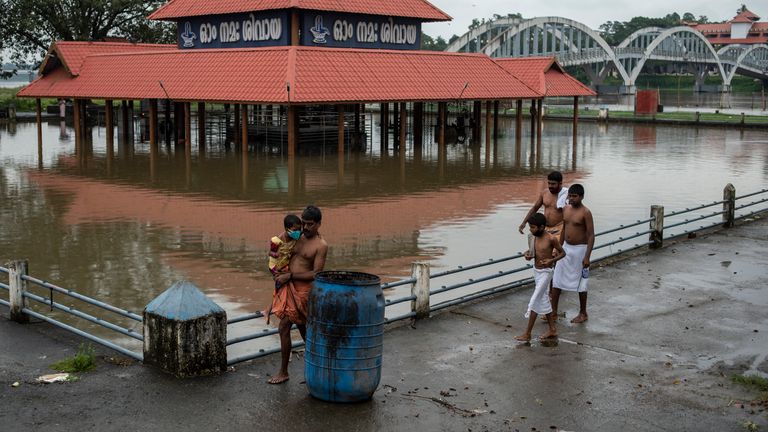 More than 100 relief camps have been set up, he added.
Prime Minister Narendra Modi said he spoke to the chief minister and added that authorities were working to rescue those affected. "I pray for everyone's safety and well-being," he said in a tweet.
In 2018, Kerala suffered catastrophic floods when heavy downpours during the monsoon season killed at least 400 people and displaced around 200,000.