German election: Voters want fresh leadership even if many seem unconvinced by the options | Politics News
They're already putting Angela Merkel out to pasture at the Tussauds waxworks in Berlin, decking her out in clothes to go hiking, which the chancellor says she wants to do more of when she's retired.
Mrs Merkel has been chancellor for 16 years.
Madam Tussaud's studio assistant Karen Fries says it will be strange when she is gone.
Germany election: What's at stake?

"It's going to be weird, yes, because it's now 16 years and we are not used to getting along without her, but we'll see."
The same sentiments are around the corner at the Brandenburg Gate.
Another race was under way ahead of the election: rollerbladers gathering to speed around the route of the marathon that is run this weekend.
"Both of us, we are 23," two young bladers told us. "We just know Angela Merkel. So I think an era comes to an end."
Another man told us none of the candidates can replace her: "No, they are too weak."
Is this just another country's election or one we should all be interested in?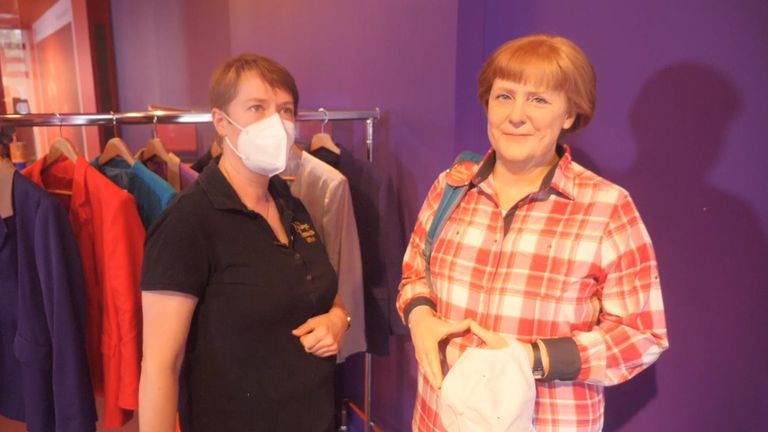 Angela Merkel was called the leader of the free world, a moniker she herself thought was absurd. But it gives a sense of the void she may leave in these uncertain times.
Mrs Merkel has been credited with steering Germany through numerous crises but critics say she did not do enough to see them coming or warn Germans about others on their way.
Matthew Karnitschnig, Politico's chief Europe correspondent, says: "The problem is that Merkel has shielded the population for a very long time from the realities of what's going on in the world."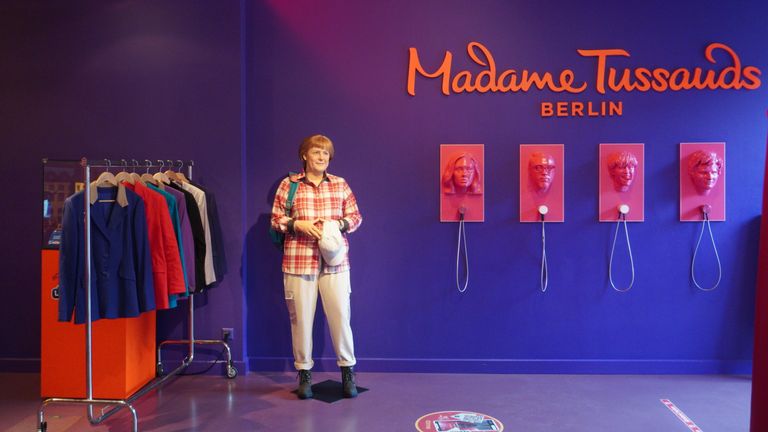 Mrs Merkel was more of an administrator than a leader, he says, and has left one key question unanswered for her successors to address.
The way they do could have ramifications far beyond Germany.
"What's at stake, really, is what role Germany is going to play in the world," he says.
"Does Germany want to be a real player on the world stage, or does it want to act more like a giant Switzerland in the middle of Europe, trying to be all things to all people?"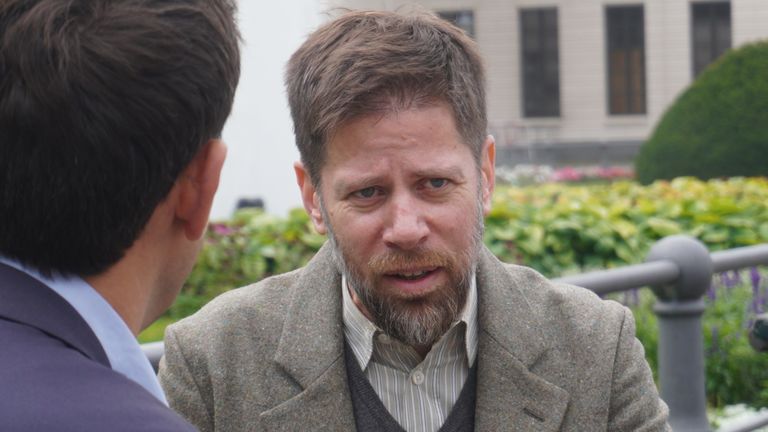 Germany after Mrs Merkel will be under pressure from America to take on Russia more and be a more useful partner within the EU.
For Europe's largest country and richest economy, it has not punched at its weight in the minds of many in Washington and elsewhere.
Others agree that Mrs Merkel cossetted Germans and protected them from global realities too much.
Green MEP Sergei Lagodinski, who helped write his party's foreign policy, told Sky News: "I do hope very much that after this very comfortable sleep that we had with a very comforting leader who actually drove us and directed us quite good through a couple of crises, we need now to wake up not only to survive crisis and get back to the business as usual, but try to reimagine both Germany and Europe in this new age."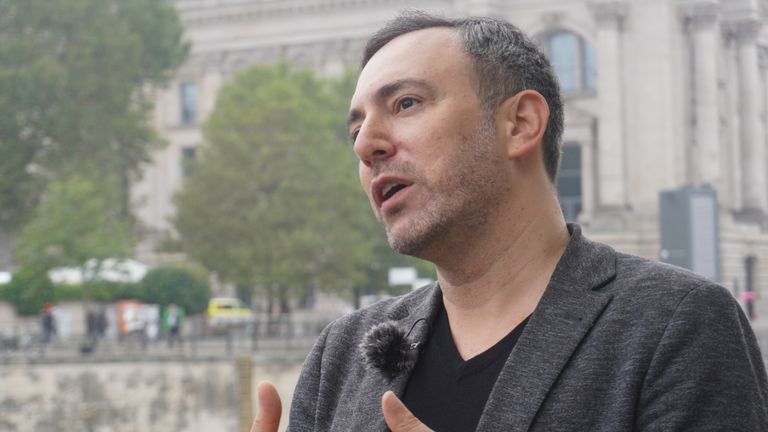 The world and Germany are very different now than 16 years ago when Merkel first came to power.
Climate change, populism and artificial intelligence are all challenges that need proactive leadership, arguably not a strength of Mrs Merkel's.
"I think it's tremendously important, not just for Germany but for Europe," Mr Lagodinski says.
German voters take to the polls

"We have a situation where we have a change in terms of who's going to lead Germany but also we have a totally changed global situation."
There is the sense of an era coming to an end on the eve of this important election.
In the dusky light of a warm September evening, the voters we spoke to seemed relaxed about the future but conflicted too.
Germany's election: The end of Merkel

They want change but also continuity.
There is a yearning for stability with such a familiar figure bowing out and in such unpredictable times. But 16 years is a long long time to have one leader, we have been told repeatedly.
Germany and the world have new challenges to take on and new demons to fight, and voters want fresh leadership even if many seem unconvinced by the line-up they have to choose from.
Brexit: Latest Northern Ireland Protocol talks 'constructive', says UK – as EU negotiators head for London | Politics News
UK officials have described the latest talks with the EU over the controversial Northern Ireland Protocol as "constructive", as a Brussels delegation prepares to travel to London on Tuesday.
Measures recently proposed by the EU would cut checks on retail agri-food products arriving in Northern Ireland from Great Britain by 80%.
A 50% reduction in customs paperwork is also on the cards.
It is understood, however, that the role of the European Court of Justice (ECJ) in resolving disputes between the UK and the EU remains a key sticking point.
A UK government source said the arrangement "must end", while the European Commission has insisted it will not budge on the issue.
EU's Sefcovic pushed on UK's red lines around ECJ

The UK source said: "The talks this week were constructive and we've heard some things from the EU that we can work with – but the reality is that we are still far apart on the big issues, especially governance.
"There's been plenty of speculation about governance this week but our position remains unchanged: the role of the European Court of Justice (ECJ) in resolving disputes between the UK and EU must end."
Follow the Daily podcast on Apple Podcasts, Google Podcasts, Spotify, Spreaker
The source added that "real progress" must happen "soon" to avoid a "process of endless negotiation".
At the end of the week, once several days of negotiations have been completed, Brexit minister Lord Frost and EU Commission vice president Maros Sefcovic are due to meet in Westminster.
The protocol is designed to avoid the introduction of a hard border between Ireland and Northern Ireland, following Brexit.
Newcastle United takeover: Crystal Palace fans' banner protesting Saudi-led consortium's Tyneside takeover investigated by police | UK News
A banner unfurled by Crystal Palace fans ahead of Saturday's draw with Newcastle, protesting the recent Saudi-led takeover of the Tyneside club is being investigated by police.
The graphic sign, held up at Selhurst Park, showed a man wearing Arab-style clothing wielding a bloodied sword about to behead a magpie, as faceless supporters in the background sing: "We've got our club back."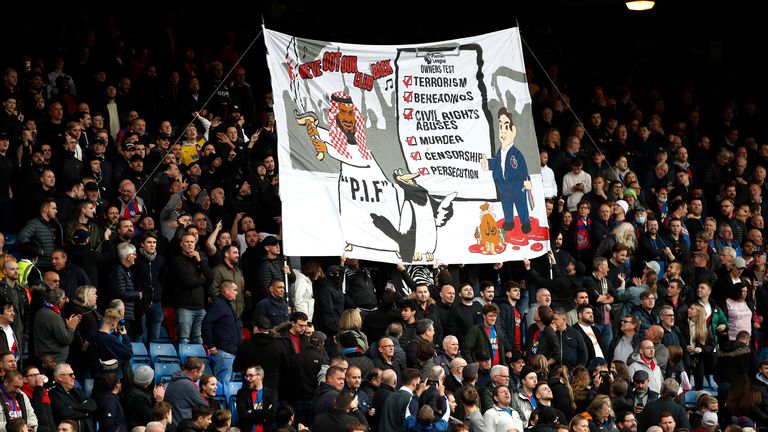 It listed offences the regime is accused of by human rights groups – terrorism, beheading, civil rights abuses, murder, censorship and persecution – which were all ticked off on a clipboard under the heading "Premier League Owners Test".
The top-flight league's chief executive Richard Masters is also depicted giving a thumbs-up to a bag of cash, standing in a pool of blood.
It comes after the controversial go-ahead was given for a consortium led by Saudi Arabia's state sovereign wealth fund – known as the Public Investment Fund or PIF – to take control of Newcastle United in a £300 m deal, earlier this month.
This was despite the closeness of the fund to the Saudi state, which has faced criticism over its human rights record.
PIF is chaired by Saudi's de facto ruler Crown Prince Mohammed bin Salman, who was linked to the gruesome 2018 murder of exiled journalist Jamal Khashoggi, although he has denied any involvement.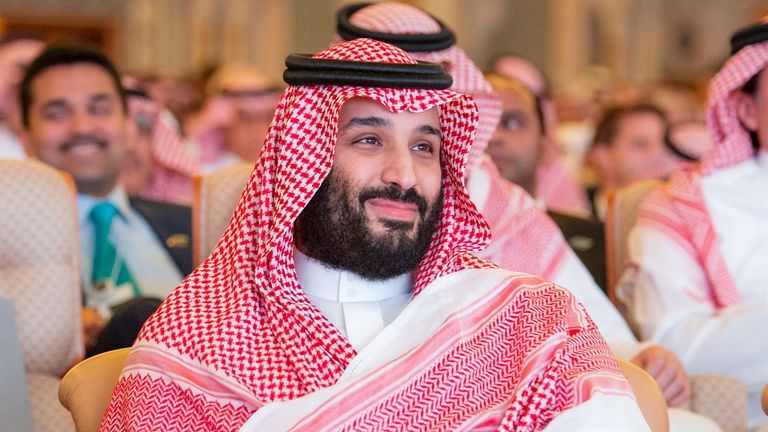 A post on the official Croydon Metropolitan Police Twitter account said: "On Saturday 23 October police received a report of an offensive banner displayed by Crystal Palace fans.
"Officers are assessing the information and carrying out enquiries. Any allegations of racist abuse will be taken very seriously."
Palace supporters' group Holmesdale Fanatics released a statement after the banner was unveiled.
It said: "The Saudi led takeover of Newcastle has rightly received widespread condemnation and anger.
"To give the thumbs up to this deal at a time when the Premier League is promoting the women's game and inclusive initiatives such as rainbow armbands, shows the total hypocrisy at play and demonstrates the league's soulless agenda where profits trump all."
Proud and Palace, the club's official LGBT+ supporters group, also posted a video on its Twitter account which highlighted the case of Suhail al Jameel, a gay man reportedly imprisoned in Saudi Arabia.
A spokeswoman for the group said: "We don't believe these owners have a place in the Premier League and we want to keep raising awareness."
Taiwan: Earthquake of magnitude 6.2 strikes island | World News

An earthquake with a magnitude of 6.2 has struck Taiwan, according to the European Mediterranean Seismological Centre (EMSC).
It had a depth of 25 miles (40km), the EMSC added.