German election frontrunner Olaf Scholz: Who is the man likely to replace Chancellor Angela Merkel? | World News
After 16 years of Angela Merkel in the chancellorship, Germany can be said to value leaders who are regarded as strong and steady.
It is something the leading contender in Sunday's election, Olaf Scholz, is counting on as he bids to become the natural successor to the outgoing leader – despite being from a different party.
The pair know each other well – Social Democrat Mr Scholz has been Ms Merkel's finance minister and vice chancellor in the uneasy "grand coalition" of conservatives and members of the Social Democratic Party (SPD) she had to bring together to form a government in 2017.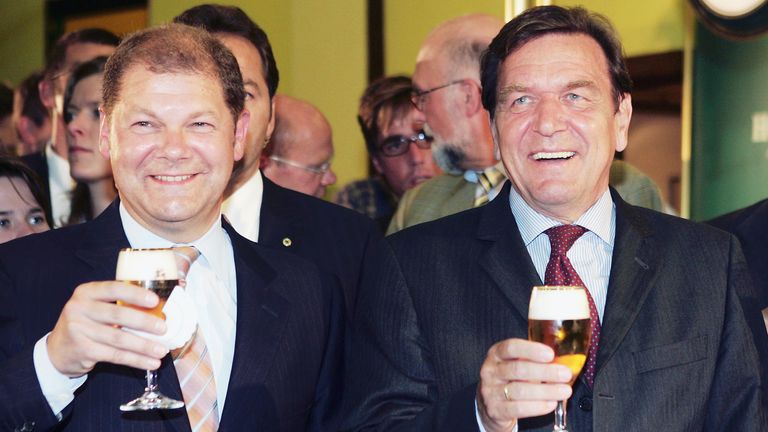 The latest polls suggest Mr Scholz has come from behind in his bid to replace her, while the main conservative candidate Armin Laschet has fallen behind.
If Mr Scholz wins, it will be a vindication of his attempt to follow in Ms Merkel's footsteps.
Germany election: What's at stake?

Although frequently labelled "boring", the 63-year-old finance minister has been keen to present himself as a man of action who can be trusted to get things done.
And, despite promising continuity and stability, Mr Scholz has distanced himself from his former conservative partners in the coalition, claiming they are too cozy with business.
A lawyer by background, he is a widely experienced politician having served in some of the highest offices at local and national level.
He first entered the German parliament at the age of 40 in 1998, and, amid spells of various lengths within the government of the city-state of Hamburg, has been high up in the federal government or SPD for the last 20 years.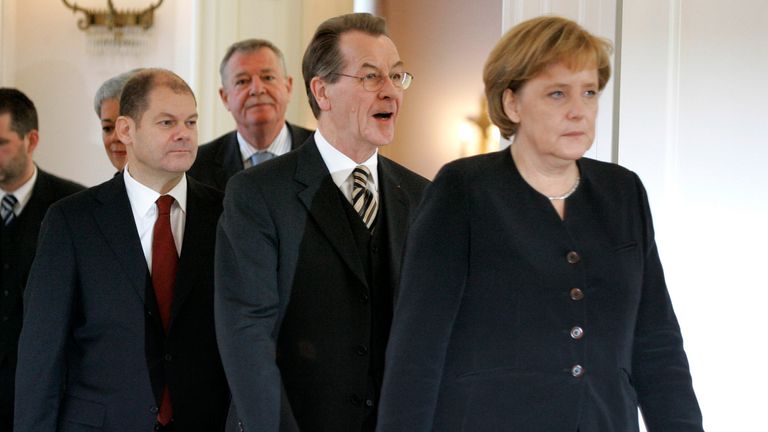 He was mayor of Hamburg from 2011 to 2018 but has also held the position of SPD chief whip, SPD deputy leader, and minister of labour and social affairs in Ms Merkel's first government, as well as his current roles.
During the pandemic, Mr Scholz won praise from the International Monetary Fund for his measures, having ditched a balanced budget at home to protect the German economy and helped create the EU's COVID recovery fund, despite Ms Merkel's initial resistance.
Amid soaring German inflation and pressure from his conservative adversaries, he has been keen to keep the activities of the European Central Bank (ECB) separate to the government's handling of the German economy, pointing to the need to respect the ECB's independence, following the lead of his chancellor.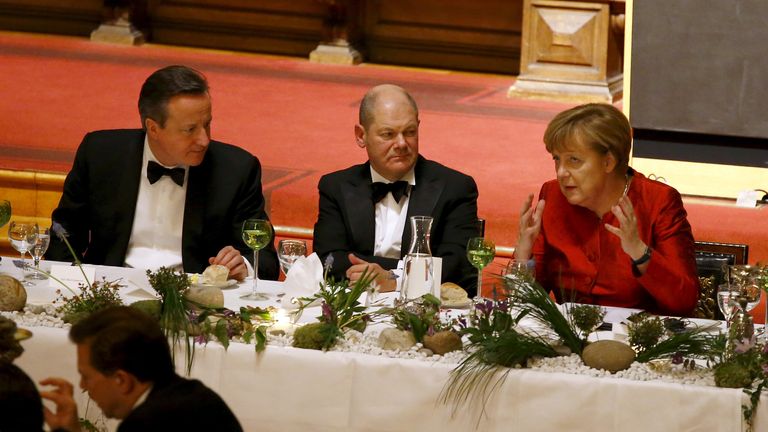 He also cooperated with France to drive forward efforts to introduce a global minimum rate of corporate tax and new tax rules for tech giants.
His combination of prudence and vital assistance amid the crisis have paid off.
A snap poll after the last TV debate showed Mr Scholz won a clean sweep, despite conservative candidate Armin Laschet attacking his record on tackling money laundering.
Is Germany as green as it would like to think?

From the moderate wing of his party and thoroughly versed in the realities of German government, if he wins he will set about the task of building a coalition, probably with the Greens, but perhaps of the grand coalition type that Ms Merkel has lived happily with repeatedly, alongside her CDU party.
During the COVID era, he has underwritten his left-of-centre credentials with a significant stimulus package but, in opposition to some on the left of his party – which is similar to the UK's Labour movement – he wants Germany to rein in debt by 2023, reintroducing strict limits on federal and state government spending.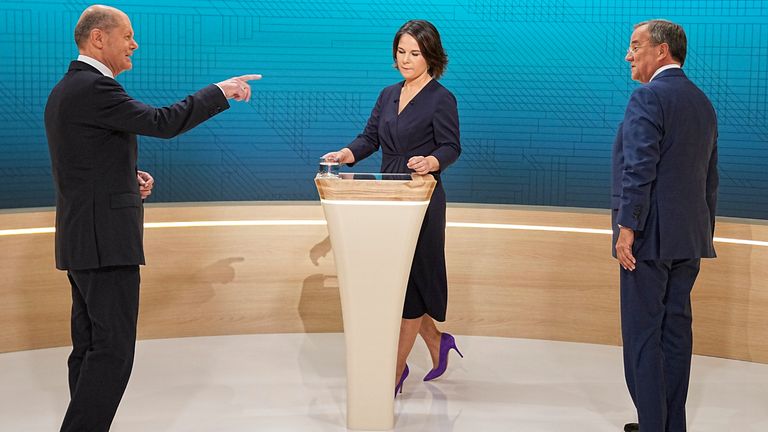 His claim to be as calm and collected as his potential predecessor may be on shakier ground than he admits, having shown a tetchiness in the past in his dealings with the media and rioters during the Hamburg G20 event, but he is adamant he is driven by pragmatism, not personality.
"I'm applying for chancellor, not to be a circus ringmaster," he told women's magazine Brigitte.
Moeen Ali becomes first English cricketer to win Indian Premier League | World News

Moeen Ali has become the first Englishman to win the Indian Premier League after his team the Chennai Super Kings beat the Kolkata Knight Riders.
Ali, who scored 37 not out from 20 balls, including three sixes, said afterwards: "It's amazing and I can't describe it really.
"I never thought I'd win the IPL and to do it with this team is amazing."
Chennai had set a target of 192 for Kolkata, with opener South African Faf du Plessis anchoring their innings with 86 off 59 balls.
But, despite a good start, Kolkata – led by England's Eoin Morgan – slumped to a 27-run defeat.
Morgan scored just four runs for his team.
Chennai's captain Mahendra Singh Dhoni said: "We shuffled a few players, we used them in different ways.
"It was important to take responsibility and we had match-winners coming game after game and performing.
"People who were in form, they made sure they were scoring throughout the tournament, and everybody else was chipping in."
Morgan said: "Our guys fought incredibly hard and performed but today, unfortunately, proved just one game too many."
The second half of this year's IPL was shifted to the United Arab Emirates due to the COVID-19 situation in India.
EuroMillions: Record £184m jackpot won at last – by French ticket-holder | UK News

A record £184m EuroMillions jackpot has been won by a French ticket-holder, the National Lottery has said.
The amount went unclaimed after Tuesday's draw – and led to a surge of entries for Friday's game.
The winning numbers were 21, 26, 31, 34, 49 and the Lucky Star numbers were 02 and 05.
The winner would now be able to count themselves richer than singer Adele, who has a net worth of £130m, according to The Sunday Times Rich List.
The jackpot up for grabs on Tuesday 19 October now sits at an estimated £14 million.
So far this year there have been five UK EuroMillions jackpot winners, including the anonymous winners of £122 million in April and £111 million in June.
The most recent biggest UK winners to go public were Frances and Patrick Connolly from Northern Ireland, who scooped a £115 million prize in 2019.
In
COVID-19: US to reopen borders to vaccinated passengers from UK and EU on 8 November | World News
The United States will reopen its borders to travellers from the UK and European Union, lifting a ban that has been in place for more than 18 months.
Kevin Munoz, the White House's deputy press secretary, announced that 8 November will mark the moment vaccinated travellers will once again be allowed to fly into the US.
"The US' new travel policy that requires vaccination for foreign national travelers to the United States will begin on Nov 8," he tweeted.
"This announcement and date applies to both international air travel and land travel. This policy is guided by public health, stringent, and consistent."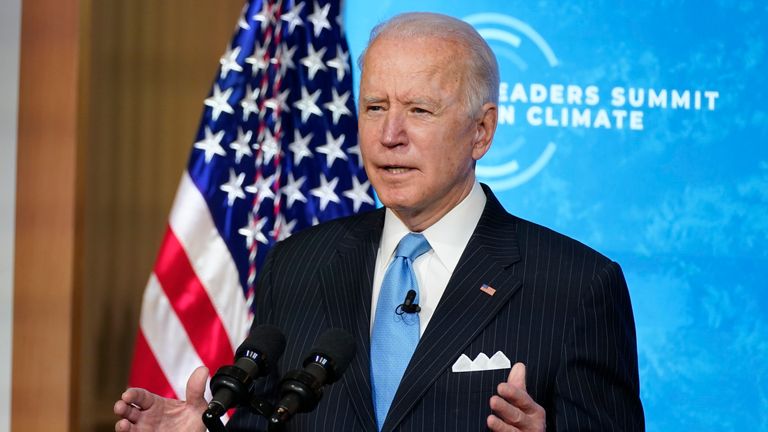 The White House announced last month that it planned to lift the ban in "early November" but no date was given making it impossible for people to make any firm travel arrangements.
It is understood that the timing of that announcement had been rushed with much of the logistics and detail not in place.
It was feared that the removal of the ban would need to be delayed because of the numerous US government departments and agencies involved.
The ban had been put in place by the Trump administration through a presidential proclamation because of the pandemic.
The Biden administration renewed the ban, which has caused huge difficulties for businesses, the travel industry, and families with members living on both sides of the Atlantic.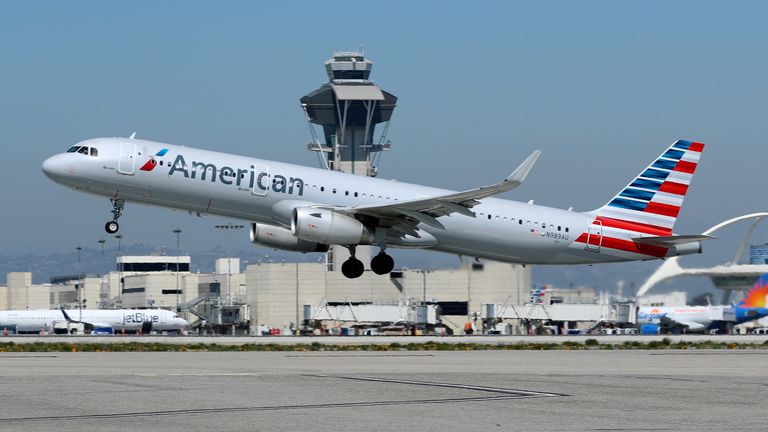 In order to travel, passengers must show proof of being fully vaccinated, they must have a negative COVID test taken in the three days prior to arrival and they must share their details for purposes of contact tracing.
However, the announcement does not mention the status of children who are unlikely to be vaccinated, making it hard for families wishing to travel to know whether they can safely make plans.
But Sky News understands that an exemption is expected to be made for children. Sources have said that there is not any sense that the US administration is trying to put barriers in place.
The announcement is also short on detail of which vaccines will be accepted as satisfactory proof of vaccination. The American drug regulators have not formally approved the Astra Zeneca vaccine which has been widely administered across the UK and EU.
It is expected that administration officials will make these details clear well before 8 November.