SpaceX Inspiration4 mission: All-civilian crew touch down on Earth after historic three days in orbit | US News
A SpaceX capsule carrying the first all-civilian crew into space has touched back down on Earth after three days in orbit.
The four amateur astronauts orbited the planet every 90 minutes at a speed of more than 17,000mph and an altitude of up to 363 miles – higher than the International Space Station and Hubble Telescope – during their time in space.
Their dragon capsule safely parachuted into the ocean just before sunset on Saturday, off the Florida coast where the private flight began three days ago.
Commander Jared Isaacman, pilot Sian Proctor, medical officer Hayley Arceneaux and mission specialist Chris Sembrosk took part in the Inspiration4 mission, making them the first to circle the world without a professional astronaut.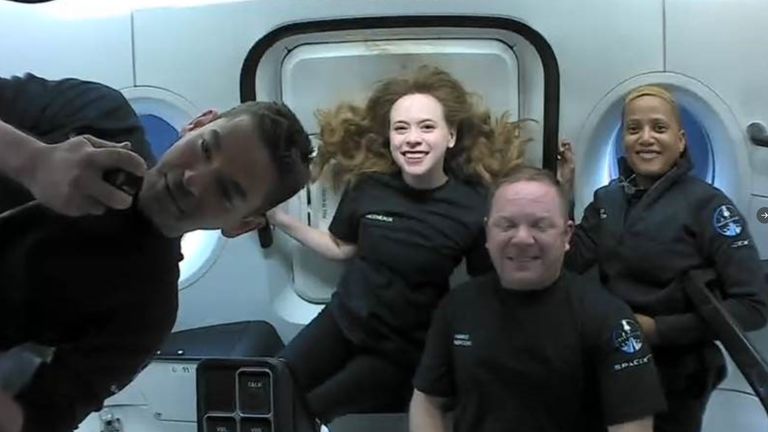 "Your mission has shown the world that space is for all of us," SpaceX Mission Control radioed as the capsule landed.
"It was a heck of a ride for us… just getting started," replied trip sponsor Mr Isaacman, hinting at more private flights in the future.
Mr Isaacman, a billionaire, paid undisclosed millions for the trip for himself and his three guests – all of whom were strangers to him before the trip.
The group wanted to show that ordinary people could blast into orbit by themselves, and SpaceX founder Elon Musk took them on as the company's first rocket-riding tourists.
They were treated to unparalleled views of earth during their time in orbit through a large bubble-shaped window added to the top of the capsule.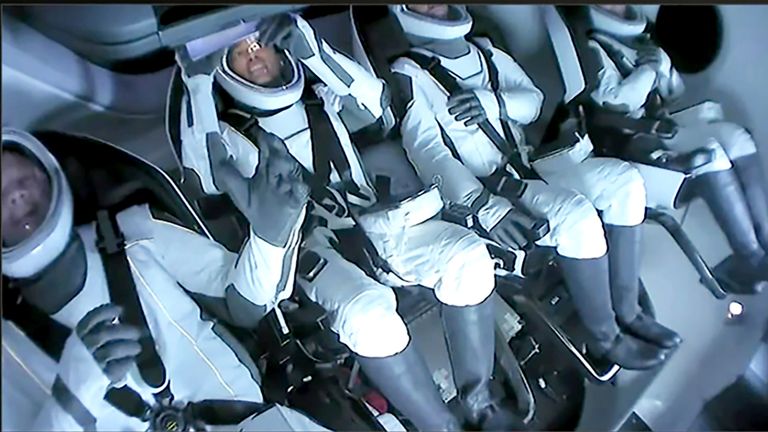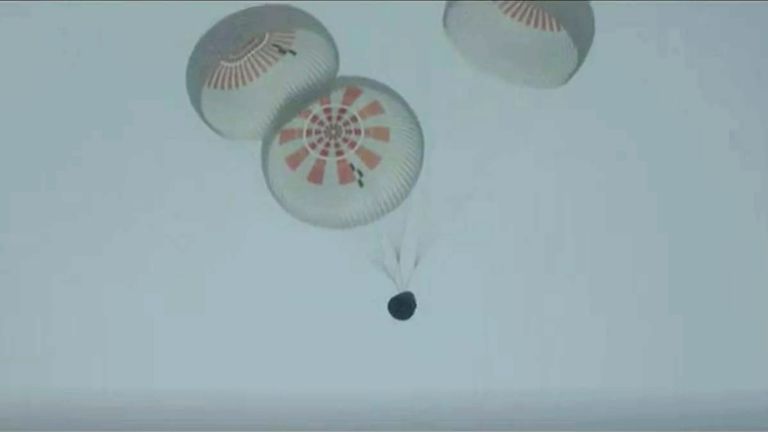 The 38-year-old entrepreneur and experienced pilot aimed to raise $200 million (£145 million) for St Jude Children's Research Hospital through the trip.
Donating 100 million himself (£72.5 million), he held a lottery for one of the four seats. He also held a competition for clients of his Allentown, Pennsylvania payment-processing business, Shift4 Payments.
Ms Arceneaux, 29, a St Jude physician assistant who was treated at the Memphis, Tennessee hospital nearly two decades ago for bone cancer, took one of the seats.
Mr Sembroski, 42, a data engineer in Everett, Washington, and Ms Proctor, 51, a community college educator, scientist and artist from Tempe, Arizona won their seats through competitions.
They spent six months training and preparing for potential emergencies during the flight but did not have to undergo the rigorous preparations that astronauts go through.
During the trip they chatted with St Jude patients, conducted medical tests on themselves, rang the closing bell for the New York Stock Exchange, and complete some drawing and ukulele playing.
The four also took calls from Tom Cruise, interested in his own SpaceX flight to the space station for filming, and the rock band U2's Bono.
Ms Arceneaux, the youngest American in space and the first with a prosthesis, told her patients: "I was a little girl going through cancer treatment just like a lot of you, and if I can do this, you can do this."
Even their space menu was not typical: Cold pizza and sandwiches, but also pasta Bolognese and Mediterranean lamb.
Nearly 600 people have reached space – a scorecard that began 60 years ago and is expected to soon skyrocket as space tourism heats up.
The group are the first space travellers to end their flight in the Atlantic since Apollo 9 in 1969. SpaceX's two previous crew splashdowns – carrying astronauts for NASA – were in the Gulf of Mexico.
NASA had little to do with the mission, only lending the use of its Kennedy Space Centre launch pad.
Brexit: Latest Northern Ireland Protocol talks 'constructive', says UK – as EU negotiators head for London | Politics News
UK officials have described the latest talks with the EU over the controversial Northern Ireland Protocol as "constructive", as a Brussels delegation prepares to travel to London on Tuesday.
Measures recently proposed by the EU would cut checks on retail agri-food products arriving in Northern Ireland from Great Britain by 80%.
A 50% reduction in customs paperwork is also on the cards.
It is understood, however, that the role of the European Court of Justice (ECJ) in resolving disputes between the UK and the EU remains a key sticking point.
A UK government source said the arrangement "must end", while the European Commission has insisted it will not budge on the issue.
EU's Sefcovic pushed on UK's red lines around ECJ

The UK source said: "The talks this week were constructive and we've heard some things from the EU that we can work with – but the reality is that we are still far apart on the big issues, especially governance.
"There's been plenty of speculation about governance this week but our position remains unchanged: the role of the European Court of Justice (ECJ) in resolving disputes between the UK and EU must end."
Follow the Daily podcast on Apple Podcasts, Google Podcasts, Spotify, Spreaker
The source added that "real progress" must happen "soon" to avoid a "process of endless negotiation".
At the end of the week, once several days of negotiations have been completed, Brexit minister Lord Frost and EU Commission vice president Maros Sefcovic are due to meet in Westminster.
The protocol is designed to avoid the introduction of a hard border between Ireland and Northern Ireland, following Brexit.
Newcastle United takeover: Crystal Palace fans' banner protesting Saudi-led consortium's Tyneside takeover investigated by police | UK News
A banner unfurled by Crystal Palace fans ahead of Saturday's draw with Newcastle, protesting the recent Saudi-led takeover of the Tyneside club is being investigated by police.
The graphic sign, held up at Selhurst Park, showed a man wearing Arab-style clothing wielding a bloodied sword about to behead a magpie, as faceless supporters in the background sing: "We've got our club back."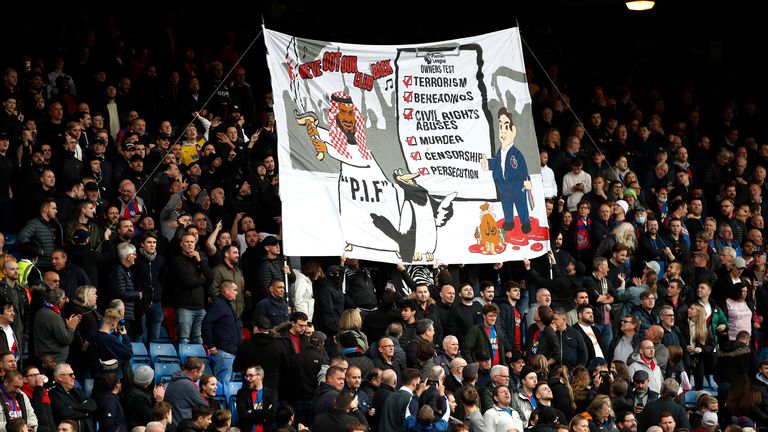 It listed offences the regime is accused of by human rights groups – terrorism, beheading, civil rights abuses, murder, censorship and persecution – which were all ticked off on a clipboard under the heading "Premier League Owners Test".
The top-flight league's chief executive Richard Masters is also depicted giving a thumbs-up to a bag of cash, standing in a pool of blood.
It comes after the controversial go-ahead was given for a consortium led by Saudi Arabia's state sovereign wealth fund – known as the Public Investment Fund or PIF – to take control of Newcastle United in a £300 m deal, earlier this month.
This was despite the closeness of the fund to the Saudi state, which has faced criticism over its human rights record.
PIF is chaired by Saudi's de facto ruler Crown Prince Mohammed bin Salman, who was linked to the gruesome 2018 murder of exiled journalist Jamal Khashoggi, although he has denied any involvement.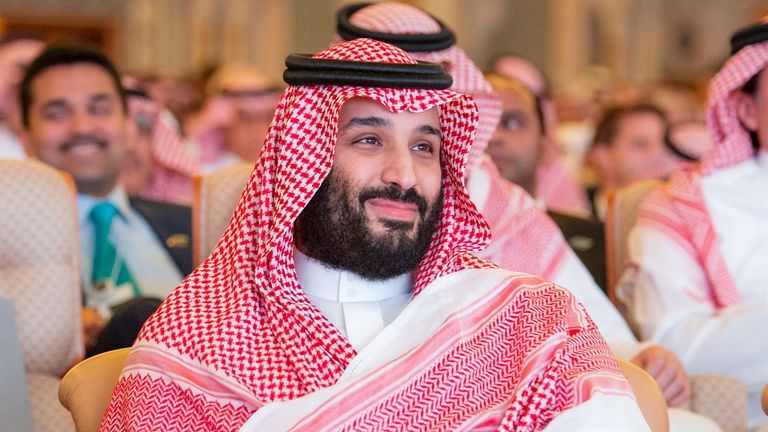 A post on the official Croydon Metropolitan Police Twitter account said: "On Saturday 23 October police received a report of an offensive banner displayed by Crystal Palace fans.
"Officers are assessing the information and carrying out enquiries. Any allegations of racist abuse will be taken very seriously."
Palace supporters' group Holmesdale Fanatics released a statement after the banner was unveiled.
It said: "The Saudi led takeover of Newcastle has rightly received widespread condemnation and anger.
"To give the thumbs up to this deal at a time when the Premier League is promoting the women's game and inclusive initiatives such as rainbow armbands, shows the total hypocrisy at play and demonstrates the league's soulless agenda where profits trump all."
Proud and Palace, the club's official LGBT+ supporters group, also posted a video on its Twitter account which highlighted the case of Suhail al Jameel, a gay man reportedly imprisoned in Saudi Arabia.
A spokeswoman for the group said: "We don't believe these owners have a place in the Premier League and we want to keep raising awareness."
Taiwan: Earthquake of magnitude 6.2 strikes island | World News

An earthquake with a magnitude of 6.2 has struck Taiwan, according to the European Mediterranean Seismological Centre (EMSC).
It had a depth of 25 miles (40km), the EMSC added.