AUKUS: Maintaining West's unity will 'require a lot of effort', German official says, as France rages over nuclear submarine deal | World News
Maintaining unity between Western allies will "require a lot of effort" in light of an unfolding rift between France and members of a new security partnership, Germany's ambassador to the UK has said.
Andreas Michaelis was responding to France recalling its ambassadors to the US and Australia, after the latter's government ditched a multi-billion dollar deal with Paris for new nuclear submarines and decided to instead buy ones made with US technology.
The response to the cancelled agreement – resulting from something that has been dubbed the AUKUS partnership, between Australia, the UK, and US – has been described by Sky's security and defence editor Deborah Haynes as "one of the gravest rifts among allies in living memory".
The new 🇩🇪 government to be elected on 26/9 will be faced with important strategic discussions. The AUKUS debate illustrates this vividly. 🇩🇪 has always aimed for coherence&unity of the West. It became part of our DNA during the Cold War. This unity will require a lot of effort. https://t.co/nmNEwk6hYP

— Andreas Michaelis (@GermanAmbUK) September 18, 2021
It comes as Germany's long-standing chancellor, Angela Merkel, is due to be replaced next weekend by whoever wins federal elections.
Mr Michaelis, referencing Deborah Haynes' Sky News analysis, said on Twitter: "The new German government to be elected on 26/9 will be faced with important strategic discussions.
"The AUKUS debate illustrates this vividly. Germany has always aimed for coherence&unity [sic] of the West. It became part of our DNA during the Cold War. This unity will require a lot of effort."
The decision to pull out its representative in the US, outlined last night by foreign minister Jean-Yves Le Drian on the orders of President Emmanuel Macron, was the first time France has ever recalled its American ambassador.
He said the cancellation by Australia of the big contract to buy French conventional submarines in favour of nuclear-powered subs built with US technology was "unacceptable behaviour".
It means France loses a nearly $100bn Australian dollars (£47bn) deal to build diesel-electric submarines.
'AUKUS alliance will bring us closer than ever'


Australia said on Saturday morning it regretted that France was recalling its ambassador, adding that it valued the relationship with France and would keep engaging with Paris on other issues.
A US State Department spokesperson said France was a "vital ally" and the United States would be engaged in the coming days to resolve the differences.
A French foreign ministry statement did not mention the UK, but a diplomatic source said France believed Britain's joining of the deal was opportunistic.
The AUKUS partnership is part of a new strategic Indo-Pacific alliance between the US, Australia and Britain, US President Joe Biden announced last week.
Did Biden forget Australian PM's name?

French President Emmanuel Macron has so far not commented directly, but on Friday a top French diplomat spoke anonymously of a "crisis" in relations with the US.
He said that for Paris "this is a strategic question concerning the very nature of the relationship between Europe and the United States about the Indo-Pacific strategy".
He added that Australia never mentioned to France its wish to shift to nuclear-powered submarines, including during a meeting between Mr Macron and Prime Minister Scott Morrison.
The French diplomat said that Mr Macron received a letter from Mr Morrison on Wednesday morning announcing the decision to cancel the submarine deal.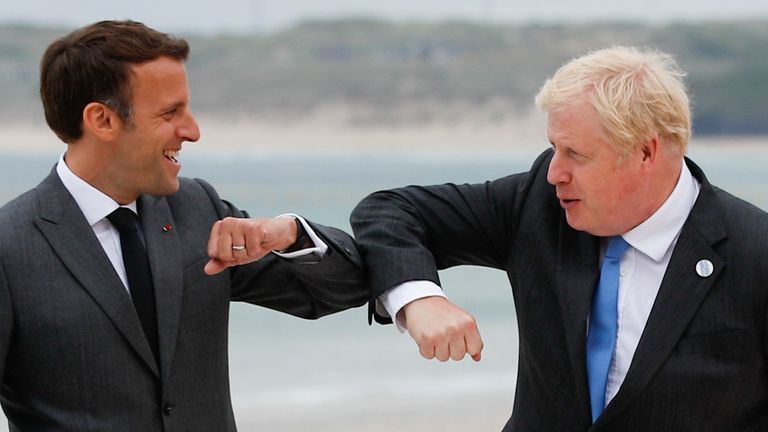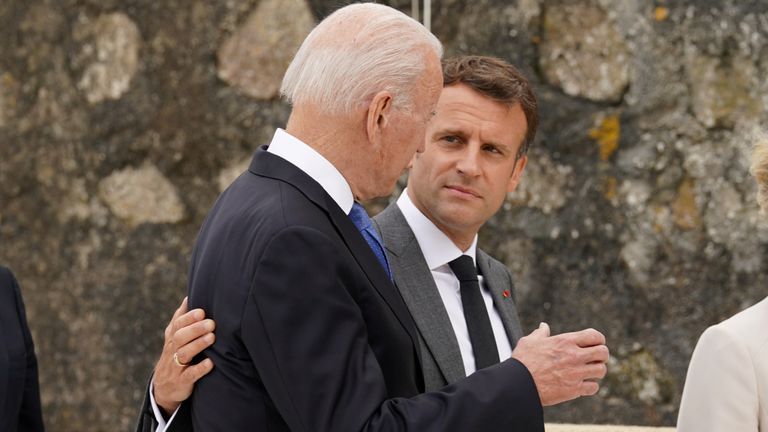 After the deal was announced, Mr Le Drian told franceinfo radio it was a "brutal, unilateral and unpredictable decision" reminiscent of the sort of actions Donald Trump would take.
He said: "I am angry and bitter. This isn't done between allies. It's a stab in the back. We created a relationship of trust with Australia, and that trust has been broken."
The "landmark" UK, US and Australia partnership aims to boost defences and share nuclear submarine secrets at a time of growing concern over China.
China has condemned the agreement, saying the Western powers' cooperation in nuclear submarines "severely damages regional peace and stability" and "jeopardises the international efforts in promoting the non-proliferation of nuclear weapons".
London, Canberra and Washington have said they will seek to collaborate in cyber, quantum technologies and artificial intelligence, as well as other underwater capabilities.
Russia COVID-19 cases hit record daily high as deaths spike with infection surge and sluggish vaccine rollout | World News
Russia has reported a record number of new coronavirus infections in the last 24 hours with cases hitting 34,303 – the highest since the pandemic began.
It represents a hike of more than 70% when compared with last month's figure of 20,174.
Meanwhile, the number of daily COVID deaths in Russia stood at 997 – just five fewer than the record-high of 1,002 seen the previous day.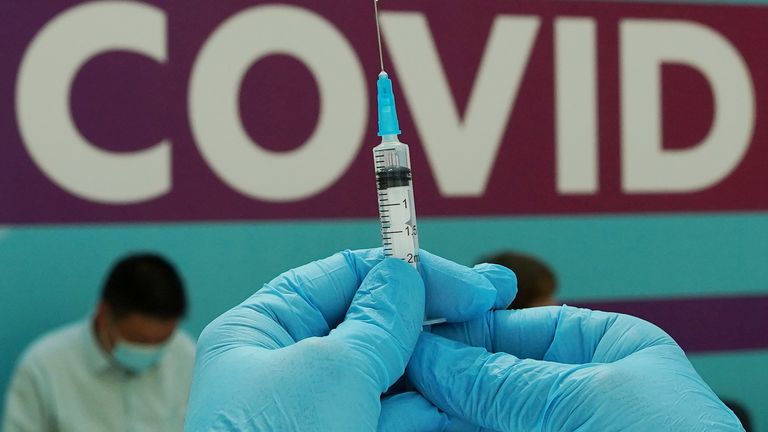 Overall, the country's coronavirus taskforce has registered almost eight million confirmed cases and 223,312 deaths – the highest number in Europe.
The Russian authorities have blamed a slow vaccination rollout for the sharp rise of COVID-19 infections and deaths, which has forced the health ministry to ask retired, vaccinated medics to return to hospitals.
Efforts have been made to speed up the pace of injections with lotteries, bonuses and other incentives, but widespread scepticism about the jabs and conflicting messages from officials have hampered efforts.
The government said this week that about 43 million Russians, some 29% of the population, had been fully vaccinated.
Despite the surge in cases and deaths, the Kremlin has ruled out a new nationwide lockdown like the one early on in the pandemic that badly hit the economy and damaged President Vladimir Putin's popularity.
Instead, it has delegated the power to enforce coronavirus restrictions to regional authorities.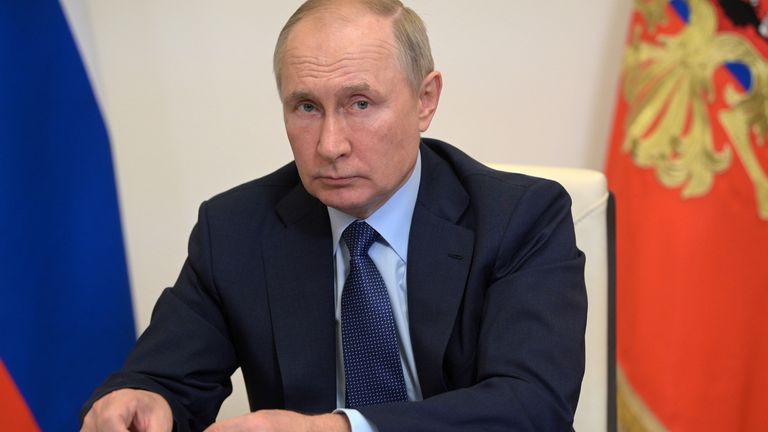 Some of Russia's 85 regions have restricted attendance at large public events and limited access to cinemas, restaurants and other venues.
However, daily life is going on largely as normal in Moscow, St Petersburg and many other Russian cities.
The highest concentrations of cases are found in urbanised areas of western Russia and along the Pacific Coast such as Vladivostok and Khabarovsk.
But the thinly populated Siberian region of Sakha and Chukotka in the extreme northeast also show high case rates of more than 150 infections per 100,000 people.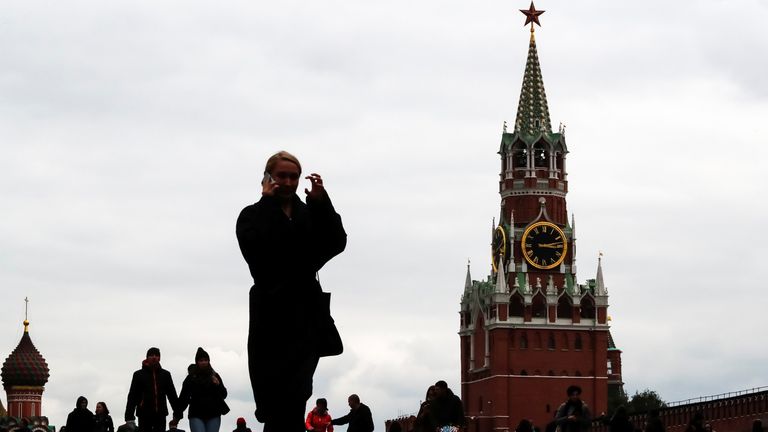 The official record ranks Russia as having the fifth most pandemic deaths in the world following the United States, Brazil, India and Mexico.
However, state statistics agency Rosstat, which also counts deaths in which the virus was not considered the main cause, has reported a much higher number of fatalities – about 418,000.
Based on this, Russia would rank as the fourth hardest-hit nation in the world, ahead of Mexico.
Kerala: At least eight dead and dozens missing in floods in southern India after heavy rain | World News
At least eight people have officially died and another 12 are missing after the southern Indian state of Kerala was hit by flooding.
Local media put the number killed even higher, with reports saying that at least 12 bodies have been recovered from Kottayam and three more bodies recovered from Idukki, the two worst hit areas.
Flash floods and landslides followed downpours on Saturday that left rescue services scrambling to help.
Among those whose bodies were recovered in Koottickal, in Kottayam, were two women and a child and at least five houses were washed away, News18 reported.
Teams from the National Disaster Response Force and the Indian army and navy were deployed in Kottayam and Idukki.
Those two districts and four others were reported to have been put on red alert after at least one of them saw more than 12cm of rain by 8.30pm local time on Saturday.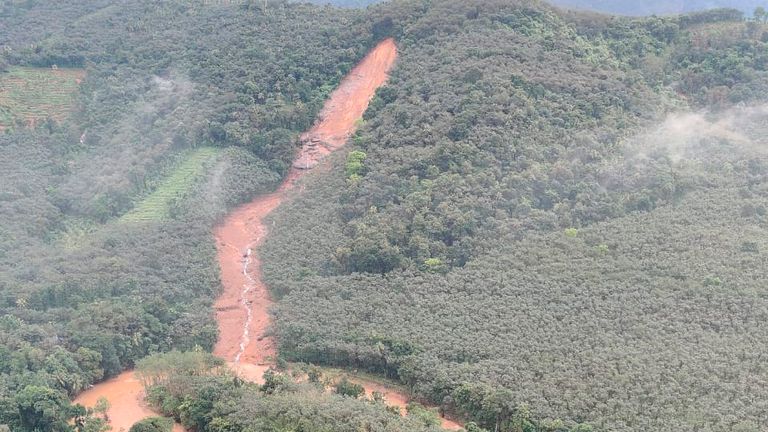 Television footage showed people wading through chest-deep water to rescue passengers from a bus that was nearly submerged.
Officials said the intense rainfall has subsided, but they fear the death toll could rise as relief and rescue operations continue.
Home affairs minister Amit Shah said the federal government was monitoring the situation in Kerala and would provide any necessary support to the state.
He said on Twitter: "Praying for everyone's safety."
In a statement released on his official Twitter account, Kerala governor Shri Arif Mohammed Khan said: "My heartfelt condolence to the bereaved families. I request people to be vigilant, pay heed to warnings & cooperate with rescue teams".
Local residents towing a KSRTC bus which got stuck in flood at Poonjar on Saturday. No loss of life.Heavy rain lashes #Kerala triggering floods and inundating several areas.#REDALERT in Pathanamthitta, Kottayam, Ernakulam, Idukki & Thrissur. 4 shutters of Malampuzha dam opened. pic.twitter.com/D1dbOtEqcV

— Raam Das (@PRamdas_TNIE) October 16, 2021
In 2018, 223 people died and hundreds of thousands were driven from their homes when Kerala suffered catastrophic floods during monsoon season.
Some parts of neighbouring Tamil Nadu state were also reported to have been hit by the flooding.
Russian actress, director and cosmonaut return to Earth after 12 days on International Space Station making a movie | World News
An actress and film director have returned to Earth after spending nearly two weeks in space making a movie on the International Space Station.
Yulia Peresild and Klim Shipenko emerged from the Russian capsule smiling after it landed on the Kazakhstan steppe along with cosmonaut Oleg Novitsky inside.
Two of the group had rocketed into orbit on 5 October for a 12-day stint to film segments of a movie called The Challenge, which the Russian space agency Roscosmos said would help attract the "cream of the crop" to the sector.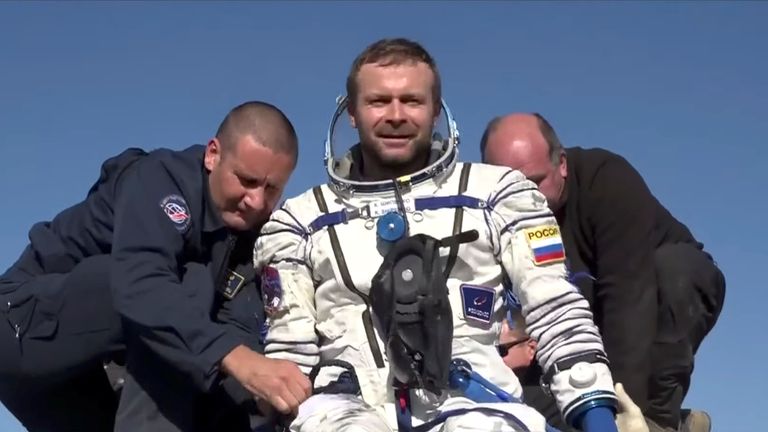 The movie focuses on the story of a doctor, played by Peresild, who is asked to go to the space station to save the life of a cosmonaut
Roscosmos cosmonauts Mr Novitsky and Peter Dubrov, who were already on board the ISS when the crew docked, and Anton Shkaplerov, who travelled to the ISS with Peresild, also took part in filming the scenes, which were directed on location by Shipenko.
In all, about 35-40 minutes of screen time should have been filmed in orbit.
Analysts have said the Russian movie aimed to be the first to be filmed in space before a Hollywood project announced earlier this year, which involves actor Tom Cruise, NASA and SpaceX.
The capsule landed on schedule at 5.35am UK time on Sunday morning after a three-and-a-half hour journey from the ISS.
Ground crews extracted the three from the capsule and placed them in seats set up nearby as they adjusted to the pull of gravity before taking them to a medical tent for examination.
All looked healthy and cheerful with a beaming Peresild holding a large bouquet of white flowers as reporters clustered around her.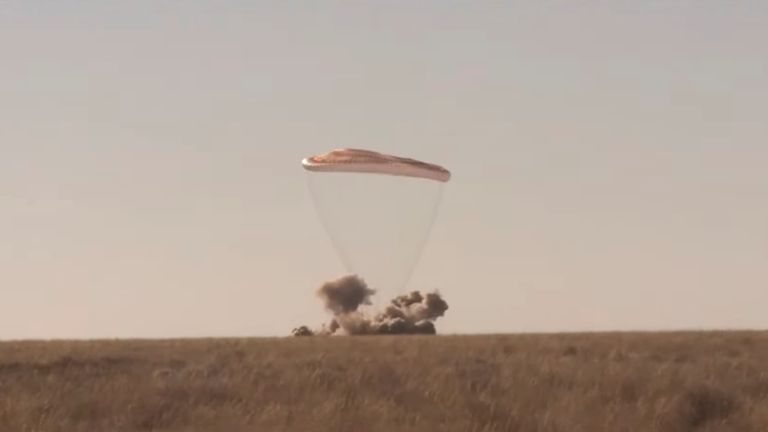 Roscosmos said the recovery of the actress and director will take about a week and their first news conference will be on Tuesday.
Seven astronauts – Russia's Mr Shkaplerov and Mr Dubrov; Americans Mark Vande Hei, Shane Kimbrough and Megan McArthur; Thomas Pesquet of the European Space Agency; and Japan's Aki Hoshide – remain on board the space station.