Afghanistan: Taliban replaces women's ministry with 'vice and virtue' ministry – as schools reopen for boys | World News
The Taliban has replaced Afghanistan's women's ministry with an all-male "vice and virtue ministry".
The new ministry is tasked with enforcing the group's extreme interpretation of Islam.
Officials at the ministry told the Associated Press they had not been informed whether a new women's ministry is being planned.
Afghanistan: Women in fear for their freedom

It comes as schools across Afghanistan reopened for boys from Saturday, effectively barring girls from secondary education despite the group's previous commitment.
The new Taliban ministry of education's announcement did not mention when girls may be able to return to classes, even in gender-segregated settings.
It said state and private schools at primary and secondary level, as well as official madrasa religious schools, will open from Saturday.
"All teachers and male students should attend school," the statement said.
It comes after staff from the World Bank's $100m (£72m) Women's Economic Empowerment and Rural Development Programme were escorted off the grounds of the old ministry by the Taliban in Kabul.
Sharif Akhtar, a programme member who was escorted out with his staff, said he could not say how or if the programme could continue.
'We left our family – our country is destroyed'

Most educational institutions remain closed across Afghanistan, more than a month after the Taliban seized Kabul.
Girls up to the sixth grade have managed to attend some schools and women have gone to university classes, but high schools for girls have been closed.
The Taliban has said it will not replicate the fundamentalist policies of the previous Taliban government, which banned girls from education.
Girls will be able to study as long as they do so in segregated classrooms, the group has said.
Although the Taliban's leaders have not ordered schools to close, they have said the security situation means many activities for women and girls are not yet possible.
Footballer's fears for women under the Taliban

Meanwhile, a series of explosions targeted Taliban vehicles in the capital of Nangarhar province.
The three explosions left at least three dead and 20 wounded.
While no one immediately claimed the attack in Jalalabad, the Islamic State affiliate group ISIS-K, which opposes the Taliban, has its headquarters in eastern Afghanistan.
Also on Saturday, a sticky bomb exploded in the capital, wounding two people, police said.
COVID-19: Children as young as five to get vaccine within weeks, White House announces | US News
Children aged five to 11 in the US will soon be able to get a COVID-19 jab, the White House has announced. 
Officials say the expected authorisation of the Pfizer vaccine for younger children in a matter of weeks will allow them to receive the shot at their paediatrician's office, local pharmacy and potentially even their school.
Federal regulators will meet in the next two weeks to assess the benefits of giving COVID jabs to people in that age group, after lengthy studies intended to ensure the safety of the vaccines.
Within hours of formal approval, expected after the Centers for Disease Control and Prevention advisory meeting scheduled for 2-3 November, doses will start being shipped to providers across the country.
Smaller needles necessary for injecting younger children will also be sent out.
"We're completing the operational planning to ensure vaccinations for kids aged 5-11 are available, easy and convenient," said White House COVID-19 coordinator Jeff Zients on Wednesday.
The Biden administration noted the nationwide campaign to extend vaccination to the school-going cohort would not resemble the start of the country's vaccine rollout 10 months ago, when scarcity of doses and capacity issues meant a painstaking wait for many Americans.
The country now has ample supplies of the Pfizer shot to vaccinate the roughly 28 million children who will soon be eligible, White House officials said, and work has been ongoing for months to ensure widespread availability of shots once approved.
More than 25,000 paediatricians and primary care providers have already signed on to administer COVID vaccine shots to children, the White House said, in addition to the tens of thousands of retail pharmacies that are already administering shots to adults.
Hundreds of school- and community-based clinics will also be funded and supported by the Federal Emergency Management Agency to help speed the vaccination process.
US President Joe Biden has received his COVID booster jab – and told eligible Americans to theirs booked.

The White House is also preparing to roll out an intensified campaign to educate parents and young people about the safety of the shots and the ease of getting them.
"COVID has also disrupted our kids' lives. It's made school harder, it's disrupted their ability to see friends and family, it's made youth sports more challenging," US surgeon general Dr Vivek Murthy told NBC.
"Getting our kids vaccinated, we have the prospect of protecting them, but also getting all of those activities back that are so important to our children."
Dr Murthy said the administration, which is promoting employer vaccine mandates for adults, is leaving the question of requirements for schools to local and state officials, but described them as "reasonable".
The administration says children who get their first shot within a couple weeks of the expected approval in early November will be fully vaccinated by Christmas
Brazil's president Jair Bolsonaro should face homicide charges over 95,000 COVID-19 deaths, draft report finds | World News
Brazil's president should face homicide charges over errors that led to an estimated 95,000 COVID-19 deaths, a draft of a major inquiry report has found.
With more than 600,000 deaths, only the US has lost more people to coronavirus than Brazil and the president has been widely criticised for openly objecting to lockdowns, regularly refusing to wear a mask in public and stating he has not been vaccinated.
And now, the senator leading a congressional probe into his handling of the pandemic has recommended Mr Bolsonaro be charged with homicide.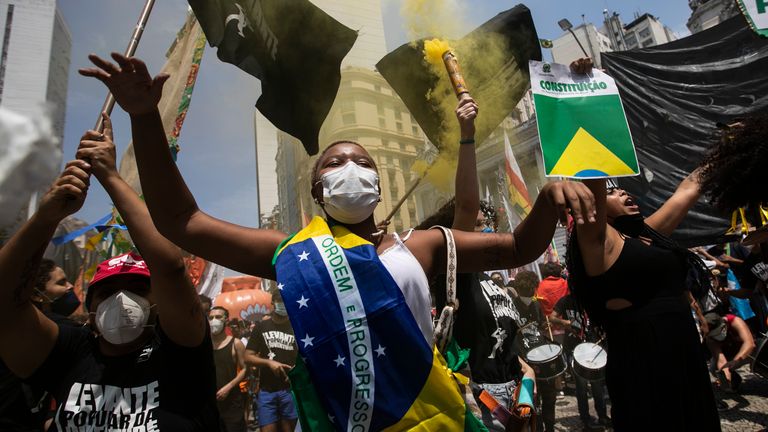 A 1,200-page document, prepared over six months by opposition senator Renan Calheiros for a Senate commission that conducted the probe, alleges that Mr Bolsonaro failed to take the opportunity to acquire vaccines, when they were presented, leading to the deaths of thousands.
It says he was guided "by an unfounded belief in the theory of herd immunity by natural infection" and is "principally responsible for the government's errors committed during the COVID-19 pandemic".
The president has been repeatedly criticised for pushing unproven remedies for the illness such as antimalaria drug hydroxychloroquine, which has been dismissed by scientists as ineffective.
The report, in its final form, is expected to presented to the committee on Wednesday with a vote taking place next week.
If approved, it will be sent to the country's chief prosecutor, who was appointed by Mr Bolsonaro, who will decide whether the president should be criminally charged.
But even if it then goes no further, analysts say the high-profile discussion about it could hurt the president in the upcoming election.
Mr Bolsonaro claims the probe is politically motivated and has denied responsibility for any deaths.
On Wednesday morning, the number of criminal charges the report recommends be brought against Mr Bolsonaro appeared to have been reduced to 11 from 13.
The charges include homicide, genocide, charlatanism and inciting crime.
Three of the seven opposition senators on the 11-person committee are understood to be opposed to including the homicide and genocide charges, AP reported.
The three were trying to persuade the four other opposition senators to join them in opposing the two charges, according to five of the senators AP spoke to anonymously.
The senate committee was formed in April to investigate allegations Mr Bolsonaro's management of the pandemic caused a substantial proportion of Brazil's deaths.
Brazilian congressional committees can investigate, but don't have the power to indict.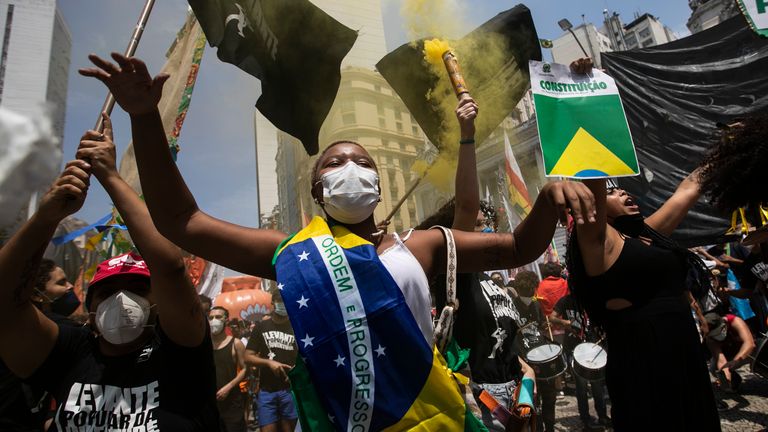 The allegations are expected to be used by opponents of the far-right leader, whose approval ratings have slumped ahead of his 2022 re-election campaign, despite his still sizable internal support base.
The biggest row has been over Senator Calheiros' determination to recommend that Mr Bolsonaro should be investigated by the International Criminal Court for possible genocide of indigenous peoples, as a substantial proportion of those who died were from the Amazon region.
But the committee members who oppose this, including critics of the government, say genocide is an exaggeration that could threaten the entire report's credibility.
Political analyst Carlos Melo, from Insper University in Sao Paulo, said: "The prosecutor-general's office will look with a magnifying glass for errors, failures and inconsistencies in order to wash their hands of it.
"If you have 10 accusations that are very strong, and one that has inconsistencies, that's what the government will latch on to, to try and discredit the whole report."
Senators on the committee have also been wary of calling for charges against members of Mr Bolsonaro's family, who are named in the report, and the military.
North Korea test-fires 'new ballistic missile' from submarine | World News
North Korea has test-fired a new ballistic missile from a submarine, according to state media.
It confirms reports on Tuesday from South Korea that such a launch had taken place, with the missile landing in the Sea of Japan.
North Korea said the new SLBM (submarine-launched ballistic missile) has "lots of advanced control guidance technologies" including "flank mobility and gliding skip mobility".
The missile "will greatly contribute to putting the defence technology of the country on a high level and to enhancing the underwater operational capability of our navy", according to the country's KCNA media outlet.
It is the fifth round of missile tests for the totalitarian state since September, which last month included a launch from a train.
Pictures from Tuesday's test appeared to show a smaller, thinner missile – which could mean more could be stored on one submarine, according to experts.
"It's an interesting development but with only one submarine in the water that can launch notionally one or two of these it doesn't change much," said Joseph Dempsey from the International Institute for Strategic Studies.
"North Korea's goal is building more powerful SLBMs that can be fired from big submarines like the US does," added Moon Keun-sik, from Kyonggi University in South Korea.
Diplomats said Britain and the US planned to raise the test at a UN Security Council meeting on Wednesday, while the White House urged North Korea to refrain from further "provocations".
North Korea launches missile from train

America has imposed tough sanctions on the country but has said it remains open to restarting talks over its weapons programme.
North Korea has so far refused and says Washington must first abandon its "hostile policy", referring to sanctions and US-South Korea military exercises.
The test also comes days before President Biden's special envoy on North Korea is due in Seoul for talks on the possibility of restarting diplomacy with Pyongyang.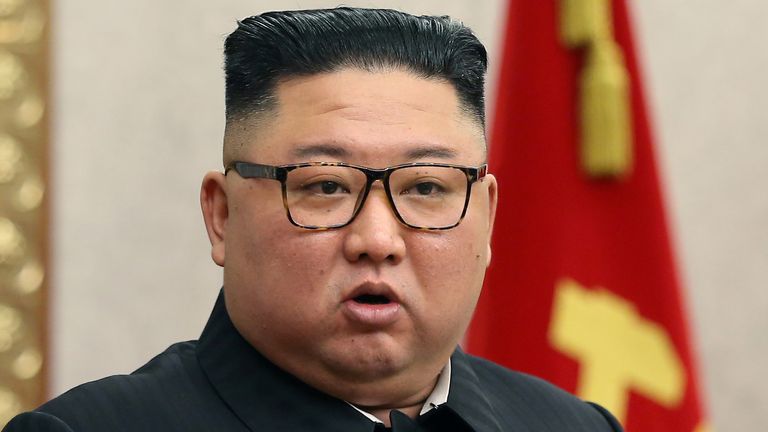 Talks over its nuclear disarmament ground to a halt after Donald Trump's second meeting with Kim Jong Un in 2019, when the former US president rejected a request for major sanctions relief.
South Korea, meanwhile, is accelerating its own weapons programme, which President Moon Jae-in said at a defence expo on Wednesday is aimed at achieving peace on the peninsula.