Putin self-isolating 'for a few days' after dozens of his entourage catch COVID | World News
Vladimir Putin has said he will spend "a few days" in isolation after dozens of people in his entourage caught coronavirus, according to Russia's TASS news agency.
News of the outbreak among the president's inner circle emerged earlier this week but the Kremlin said the president had tested negative and was "absolutely healthy".
However, it was previously unclear how big the outbreak was and how long the president would isolate for.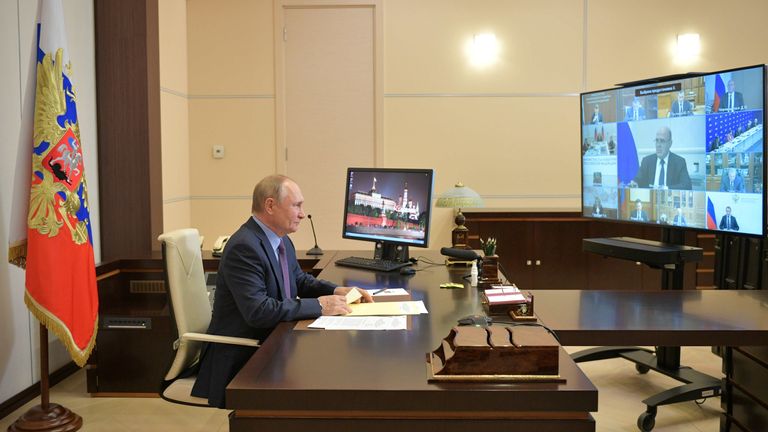 Mr Putin revealed more details as he spoke via video to a security summit in Tajikistan.
"This is not just one person or two people, there are dozens of people," he said.
"And now I have to remain in self-isolation for a few days."
Mr Putin, who is fully vaccinated with Russia's Sputnik V vaccine, had several public engagements on Monday.
He awarded medals to Russian Paralympians, met Syria's President Assad and attended military exercises with other officials.
The 68-year-old said one of those infected was a staff member who he had close contact with this week.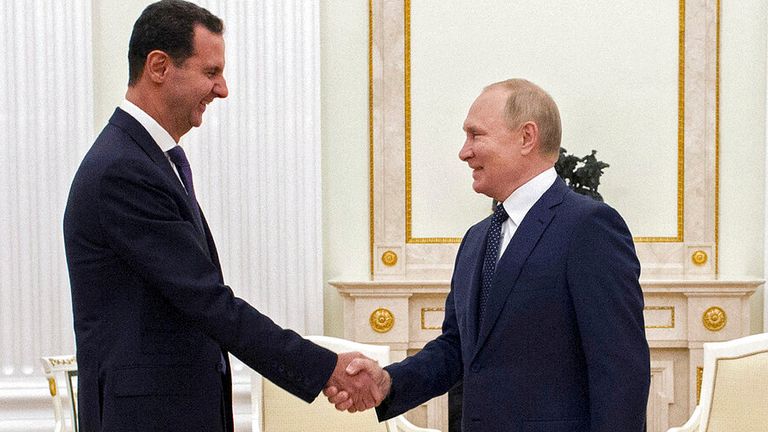 Kremlin spokesman Dmitry Peskov has previously confirmed reports that people who meet Mr Putin or attend events with him have to have "rigorous testing" or quarantine beforehand.
There were even "disinfection tunnels" installed at the Kremlin last year that anyone meeting him had to go through.
The president has rarely been seen with a mask and COVID-19 deaths in Russia have recently been their highest of the pandemic, at just under 800 per day, even as daily infections have dropped slightly in the past month.
There are few coronavirus restrictions in place in Russia – despite less than a third of people being fully vaccinated.
Turkish president Erdogan says 10 ambassadors who backed activist are 'persona non grata' | World News
Turkey's president Recep Tayyip Erdogan has said 10 ambassadors, including those from the US and France, were "persona non grata" after they issued a statement in support of a jailed activist.
Osman Kavala, 64, is a Turkish businessman, publisher and activist who has been detained for more than four years despite having never been convicted of a crime.
He was acquitted last year in connection to nationwide protests in 2013, but then rearrested in connection with the attempted military coup in 2016.
A joint statement calling for Mr Kavala's release was jointly issued this week by the US, France, Germany, Canada, Finland, Denmark, the Netherlands, New Zealand, Norway and Sweden.
"The continuing delays in his trial, including by merging different cases and creating new ones after a previous acquittal, cast a shadow over respect for democracy, the rule of law and transparency in the Turkish judiciary system," the statement read.
The embassies of its signatories called for a "just and speedy resolution to his case… in line with Turkey's international obligations and domestic laws".
"Noting the ruling of the European Court of Human Rights on the matter, we call for Turkey to secure his urgent release," it added.
Erdogan vows traitor crackdown after failed coup

The ECHR called for Mr Kavala's immediate release two years ago, finding that there was no reasonable suspicion that he had committed an offence and accusing Turkey of detaining him for the purpose of silencing him.
The Council of Europe, the 47-member human rights body which drafted and now upholds the European Convention of Human Rights, said it would begin infringement proceedings against Turkey if Mr Kavala wasn't released.
In response to the joint statement, President Erdogan told a crowd on Saturday that the foreign ambassadors "cannot dare to come to the Turkish foreign ministry and give orders".
He said: "I gave the necessary order to our foreign minister and said what must be done. These 10 ambassadors must be declared persona non grata at once. You will sort it out immediately.
"They will know and understand Turkey," Mr Erdogan added of the ambassadors, telling the cheering crowd in the city of Eskisehir: "The day they do not know and understand Turkey, they will leave."
A host state may declare foreign ambassadors persona non grata (Latin for "person not welcome") "at any time and without having to explain its decision" under the Vienna Convention on Diplomatic Relations.
Doing so is usually a mechanism to expel the ambassador by stripping them of diplomatic immunity, but no official notification of the declaration has yet been received by the embassies involved.
Seven of the ambassadors represent fellow NATO members and their expulsion threatens to create the most significant rift between Turkey and the West in Erdogan's 19 years in power.
Six of them belong to EU members, and the European Parliament President David Sassoli tweeted: "The expulsion of ten ambassadors is a sign of the authoritarian drift of the Turkish government. We will not be intimidated. Freedom for Osman Kavala."
A source cited by Reuters from the German foreign ministry said that the 10 countries were consulting with one another.
Spain: Flash floods damage buildings and sweep away cars in Alicante | World News
Homes and businesses were left severely damaged after the Spanish region of Alicante was battered by flash flooding.
Up to four inches of rainfall hit the town of Torrevieja on Friday, according to the State Meteorological Agency (AEMET).
This resulted in the evacuation of the Dama de Guardamar school in Vega Baja del Segura.
Video footage showed deep levels of water sweeping through buildings, while cars were seen submerged as streets in Alicante were left underwater.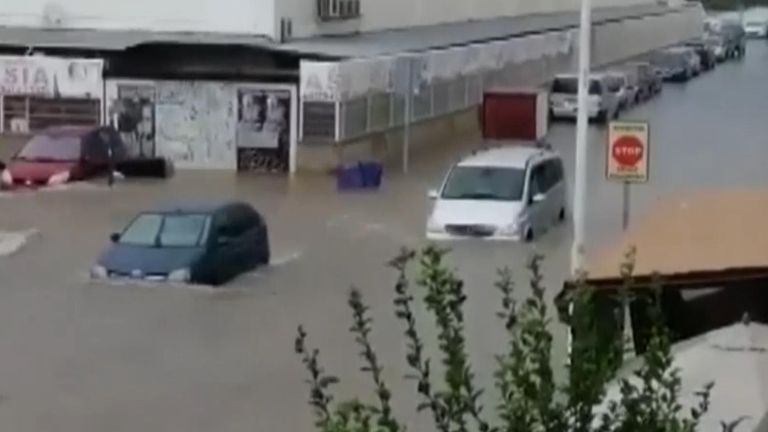 This is not the first time Alicante has been hit with flash flooding this year.
Alicantetoday.com reported Guardamar del Segura and Santa Pola in the south-east of Spain were also hit with flooding back in August due to a rare climate-linked weather phenomenon.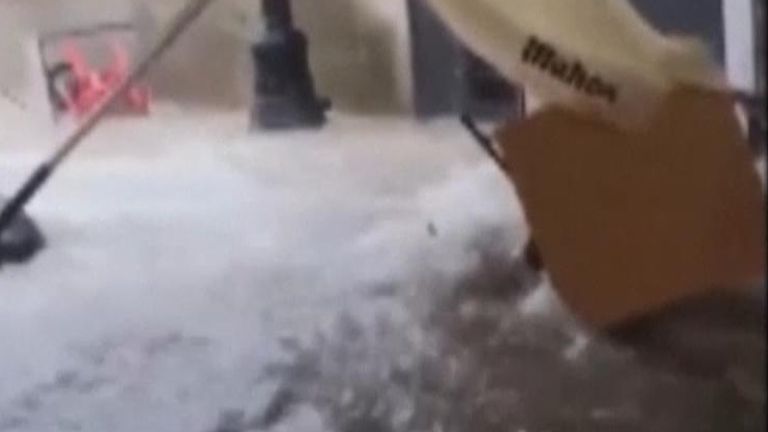 A "meteotsunami", which is also known locally as a "rissaga", caused the flooding due to a sudden change in atmospheric pressure that made the tide quickly recede, before a large tsunami-like wave then hit back into the coast.
Meanwhile, police in Costa Blanca, which lies along the coastline in the Alicante province, have been given new kits for their cars to help deal with flooding.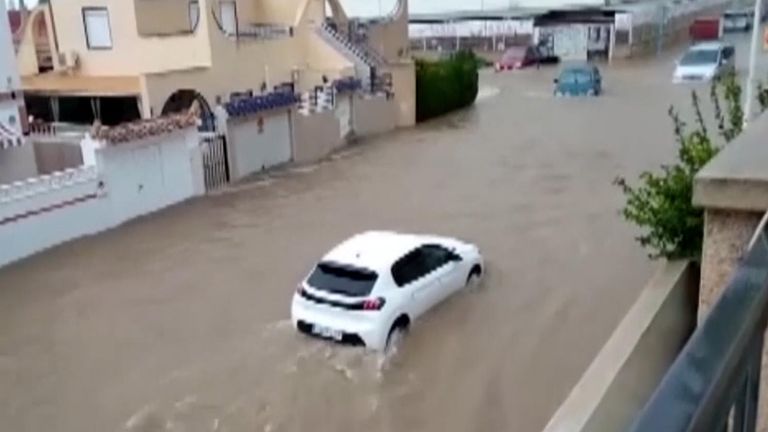 The new devices include portable communication radios so they can quickly alert other officers, fire fighters and the health services when extreme weather occurs.
Jose Sampere, the mayor of the San Fulgencio area, said the devices will be a "fundamental tool for the coordination of actions in case of emergency".
Italian former minister Matteo Salvini goes on trial for kidnap over blocked migrant ship | World News
The first trial of Italy's former interior minister Matteo Salvini, who is charged with kidnapping after he refused to allow a migrant rescue ship dock in Sicily in 2019, has begun.
Mr Salvini – who likened humanitarian rescue ships to migrant taxi services – left 147 people rescued from the Mediterranean Sea on board the ship for days in August 2019.
He was present for the opening day of the trial in Palermo, which is the first against him regarding his actions to prevent migrant landings while in office.
Migrants jumped off the boat in an attempt to swim to shore

Mr Salvini had taken a hard line on migrant arrivals, attempting to block ships from entering Italian territorial waters and from docking at Italian ports while calling for other European nations to take the burden of the arrivals.
The politician built his reputation by campaigning against illegal immigration but agreed to allow "presumed minors" to disembark.
Actor Richard Gere boarded a migrant boat refused access to a port by Mr Salvini in order to deliver food and supplies.
At the time, Filippo Grandi, the UN High Commissioner for Refugees, advised European countries to "do the right thing" and aid the migrants "in their time of need", but so far only Ireland and Albania have offered to take about 20 each.
"European solidarity is important and this is the right thing to do," the Irish foreign minister, Simon Coveney, said on Twitter.
Contemporary reports in Italy announced that prosecutors had opened an inquiry into Mr Salvini for "illegal confinement, illegal arrest and abuse of power" regarding his treatment of the boats.
Earlier this year another court in Catania, Sicily, decided not to try Mr Salvini in a similar case – this time for keeping 116 migrants on board an Italian coastguard ship at sea for five days – also in 2019.
In court he is now accused of dereliction of duty and of refusing to allow the ship into port for almost three weeks, during which time some migrants threw themselves overboard and the captain pleaded for a safe nearby port.
During this period some of the migrants were taken to land for humanitarian or health reasons while the remaining 83 were eventually permitted to disembark on the Italian island of Lampedusa when Salvini was overruled by then prime minister Giuseppe Conte.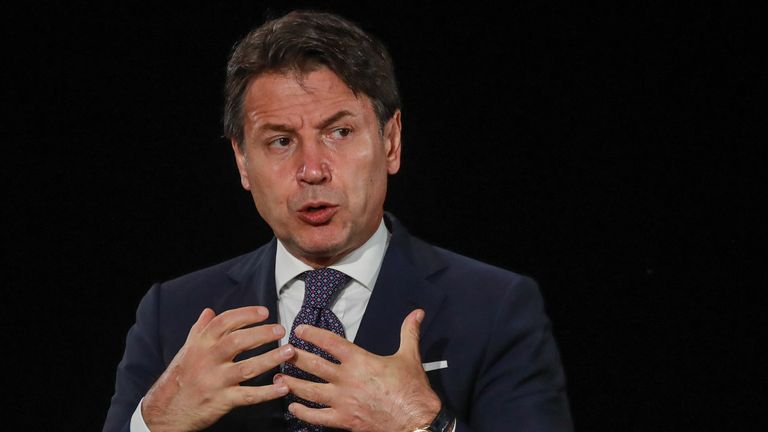 "We expect justice for the unnecessary suffering that all the people had in those 20 days," said Oscar Camps, head of the Spanish non-governmental organisation Open Arms, whose ship had rescued the migrants off the coast of Libya.
Later that same August, Mr Salvini resigned from the coalition government formed between his own right-wing League group and Mr Conte's supporters in the populist 5-Star movement.
He announced a motion of no confidence against Mr Conte, though in the end the prime minister remained in post by resigning before forming a new coalition with Italy's centre-left Democratic Party.