China will be alarmed by US-Australia pact – a new alliance it could do without | World News
China has been making much of the US's chaotic retreat from Afghanistan, pointing to it as proof of America's retreat from its global role. 
It may have spoken too soon. The US did retreat – but only to pop up in China's backyard with the new AUKUS pact.
The new alliance is a serious statement of intent. America does not hand over military secrets lightly but has overcome the security and economic concerns to furnish Australia with state-of-the-art nuclear submarines.
'AUKUS alliance will bring us closer than ever'

China reacted angrily, describing the agreement as "a highly irresponsible act" which "severely damages regional peace and stability". It will be alarmed.
From China's perspective, the US has long hemmed it in – with a presence stretching down and around from China's north east in Japan, through South Korea, US ally the Philippines, Australia and India (much closer to the US these days because of the deadly border disputes with China in the Himalayas).
Australia's position in that chain has now been greatly strengthened. According to the Chinese Ministry of Foreign Affairs, Australia is "solely responsible" for the current "difficult" Chinese-Australian situation.
China might want to ask instead why Australia has committed so heavily to the US, the supposedly fading power.
Only a few years ago Australia was hedging, insisting it didn't have to choose between the US and China, a vital trading partner. That was why it signed a deal with the French in 2016 for diesel-powered submarines, rather than nuclear-powered, because Australia didn't feel that the strategic situation demanded it.
Did Biden forget Australian PM's name?

That has all changed. China's boycott of Australian goods, because the latter had the temerity to ask for an investigation into the origins of COVID-19, and China's militarisation of the South China Sea have altered the calculus.
China's aggressive foreign affairs strategy has won plaudits from nationalists at home. But it has created a new alliance it could do without.
So a contest for the Indo-Pacific region is truly under way. China will surely respond. But if it does so aggressively, it could end up pushing more Pacific countries into America's embrace.
TRUTH Social: Donald Trump to launch social network, saying 'your favourite president has been silenced' | World News
Donald Trump is launching a new social media platform to "stand up to the tyranny of big tech".
The former US president – who was banned from Twitter and Facebook earlier this year – says he plans to share his thoughts with the world on TRUTH Social.
Announcing his plans, Mr Trump added: "We live in a world where the Taliban has a huge presence on Twitter, yet your favorite American President has been silenced.
"This is unacceptable. I am excited to send out my first TRUTH on TRUTH Social very soon."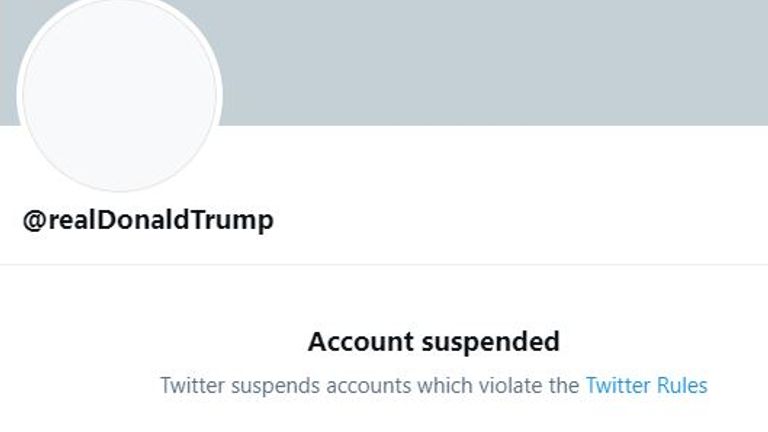 The 75-year-old has also revealed that he is forming a new company called Trump Media & Technology Group.
Mr Trump added: "Everyone asks me why doesn't someone stand up to Big Tech? Well, we will be soon!"
The company's launch was confirmed following a merger agreement between Trump Media & Technology Group and Digital World Acquisition.
TMTG is going to be listed on the Nasdaq and has attracted an initial valuation of £632m.
That pales in comparison to the likes of Facebook, which has a market capitalisation of £700bn.
Follow the Daily podcast on Apple Podcasts, Google Podcasts, Spotify, Spreaker
Guests are going to be invited to start testing TRUTH Social in November, and the site will officially launch in 2022.
Mr Trump was removed from Twitter and Facebook following the 6 January riots in Washington DC.
Trump's presidency… in six minutes

His Twitter ban is permanent, while he has been banned from using Facebook for two years.
In May, he launched "From The Desk of Donald J Trump" – but the blog site was taken down after less than one month.
In July, Mr Trump announced he is launching a class-action lawsuit against the chief executives of Facebook, Google and Twitter.
July: Trump says he's suing social media giants

Since leaving office, he has criticised the bans as an act of political censorship.
Without evidence, Mr Trump has continued to claim that last year's presidential election election was rigged against him.
'They kill us and we are helping them': Ethiopia's increasingly nasty civil conflict | World News
We could see a seemingly endless line of trucks as we headed down the highway in northern Ethiopia.
As their contents drew closer we knew the battle ground was shifting in this country's increasingly nasty civil conflict.
There were thousands of troops perched on the back, clutching automatic weapons while fighting to stay upright. They were accompanied by specialist vehicles hauling artillery and tanks, moving at speed towards the region of Afar.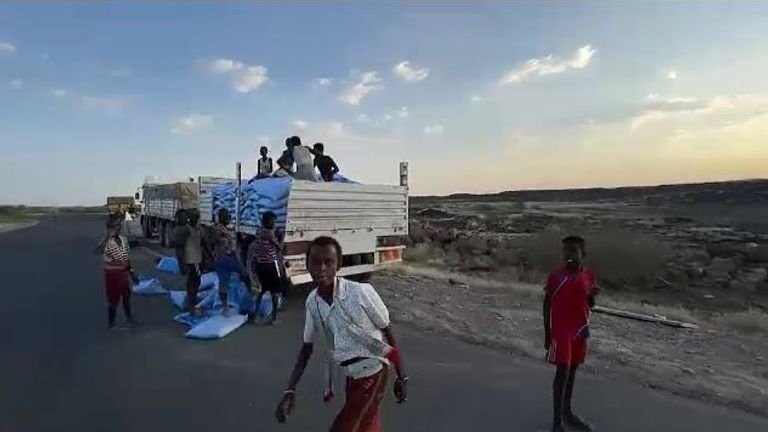 This arid and underpopulated place has been utterly overlooked as Ethiopia's federal government and leaders of the restive region of Tigray battle for power and control.
But a major offensive, sanctioned by the country's leader, Abiy Ahmed, has almost certainly stalled and fighters from the Tigrayan People's Liberation Front (TPLF) were advancing on communities in Afar.
The region has played host to convoys of a very different sort in recent months as the UN's World Food Programme (WFP) tries to send emergency aid into Tigray.
Estimating that some 400,000 Tigrayans are living in famine-like conditions, the WFP has created a 'staging post' in the regional capital of Semera, where humanitarian supplies are loaded onto oversized trucks and we watched as drivers set out on the two-day trip to the Tigrayan border.
But the terrain is difficult and the residents of Afar are decidedly hostile to what is a massive emergency operation.
We saw overturned trucks on the route to the border town of Abala and witnessed residents stealing bags of flour from the vehicles.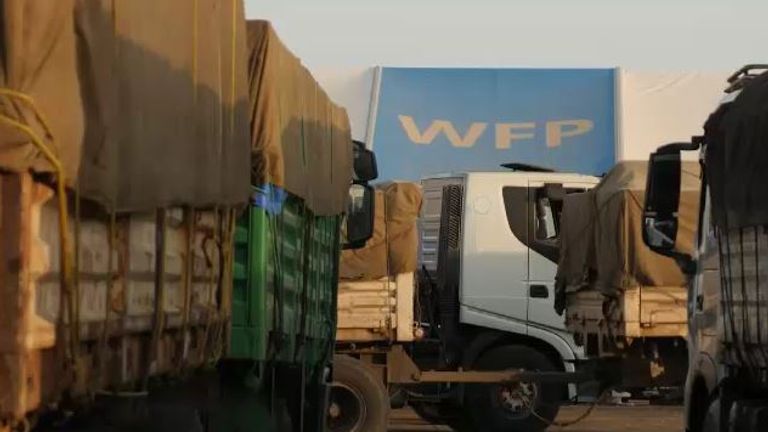 The drivers know that some trucks will be stopped – or attacked – and the road is too narrow to turn around.
Yet this is the only route they can use.
I spoke to one driver – a Tigrayan – as he was about to cross this internal frontier.
I asked him if people in Tigray need humanitarian aid.
"It's needed, my feeling is I am doing important work," he replied.
Yet the drivers know are taking a chance in the region of Afar.
"Are you worried about coming back?" I asked.
"Yes, I am but I haven't had any problems yet. I've gone back and forth safely."
The Afaris are angry, blaming Tigrayans for a series of raids and attacks on their communities and they made their displeasure clear to us.
"They kill us, not we kill them, they kill us and we are helping them, all the trucks are using this way and (we are) not stopping (them), not closing any roads," said a local resident called Ali Mussa Ahmed.
"This is our border, they are killing us (and) we are supporting them," said Abdu Ebrahim.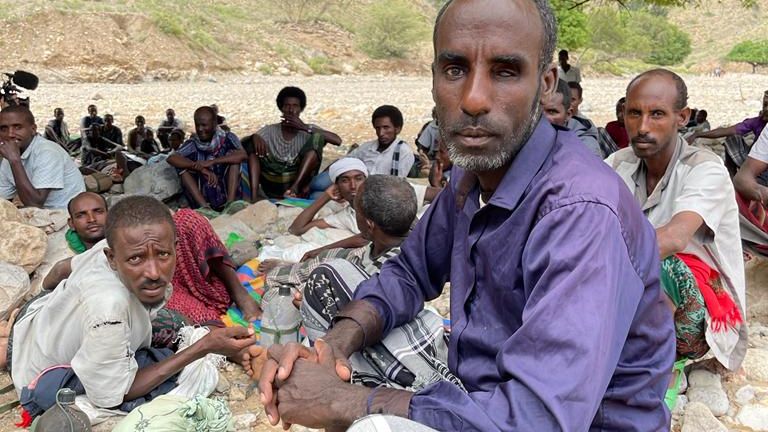 Some 60km to the north, near the Afar town of Shahigubi, we found 400 men living under the trees after they had been displaced from their homes by the fighting. Women and children had been sheltered in a nearby school.
I asked one elderly man how long he had been there.
"Three months," he said.
"How long will you have to stay?"
"Who could ever say?" he replied.
The same simmering resentment exists here at this camp as residents struggle on one meal a day.
During our visit, the men cut up a camel and boiled the meat in a pot but we could see there would not be much to go around.
"These people have destroyed our livelihoods and then we witness all the support that they are getting by land and by air. It bypasses us directly," said a man called Hamedur Nur.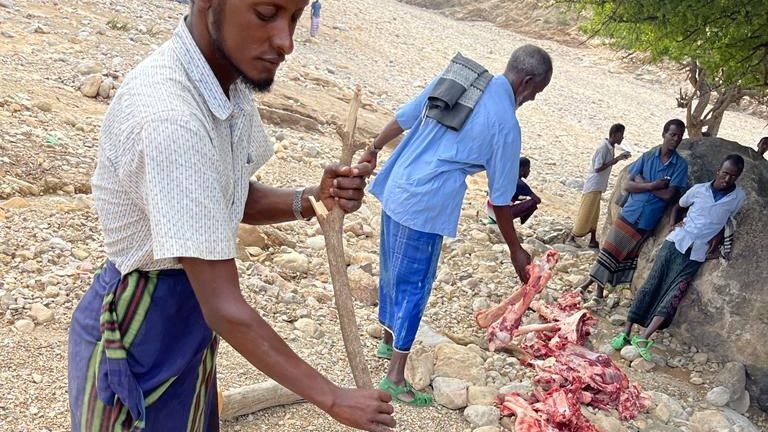 It is a challenging time for the UN's humanitarian staff as they try to keep the aid flowing into Tigray.
Three weeks ago, seven senior UN officials were expelled by the Ethiopian authorities for "meddling in the internal affairs of the country".
The move followed pointed remarks by UN aid chief Martin Griffiths who said a nearly three-month-long "de-facto blockade" had restricted aid deliveries to just 10% of what was needed.
In a statement released on Wednesday evening by the Ethiopian Embassy in London, ambassador Teferi Melesse Desta said: "The government of Ethiopia takes its responsibility to safeguard those who have been affected by the ongoing conflict in the northern part of Ethiopia very seriously and has demonstrated its willingness and commitment to work with the international community to respond to the humanitarian crisis in the affected regions."
COP26: Russia's President Vladimir Putin will not attend climate change summit in Glasgow, Kremlin announces | Climate News
Russia's President Vladimir Putin will not attend COP26 in Glasgow at the end of the month in what is being seen as another major blow for the climate summit.
A Kremlin spokesman said other representatives of Russia would attend the talks and that Mr Putin would take part remotely.
The decision to not attend by the leader of the world's fourth-biggest emitter of greenhouse gases is the latest setback for the summit.
There is also continuing doubt over whether Chinese President Xi Jinping and Indian Prime Minister Narendra Modi will be involved in the talks in Scotland.
The UK is hosting the summit from 31 October to 12 November and will be looking to agree a deal for a more radical plan to tackle global warming.
The Kremlin had previously announced that Mr Putin would not attend a Group of 20 summit in Rome in person this month due to concerns about the COVID-19 pandemic.
"He will also not fly to Glasgow, unfortunately," Mr Putin's spokesman Dmitry Peskov said.
"We need to work out in what format it will be possible (for Mr Putin) to speak via video conference, at what moment.
"The issues that will be discussed in Glasgow right now form one of the priorities of our foreign policy."
This is everything you need to know about COP26

Russia is warming 2.8 times faster than the global average, with the melting of Siberia's permafrost, which covers 65% of Russian landmass, releasing significant amounts of greenhouse gases.
Mr Putin said last week Russia would strive to be carbon neutral no later than 2060.
He said hydrogen, ammonia and natural gas were likely to play a larger role in the energy mix in coming years and that Russia was ready for dialogue on ways to tackle climate change.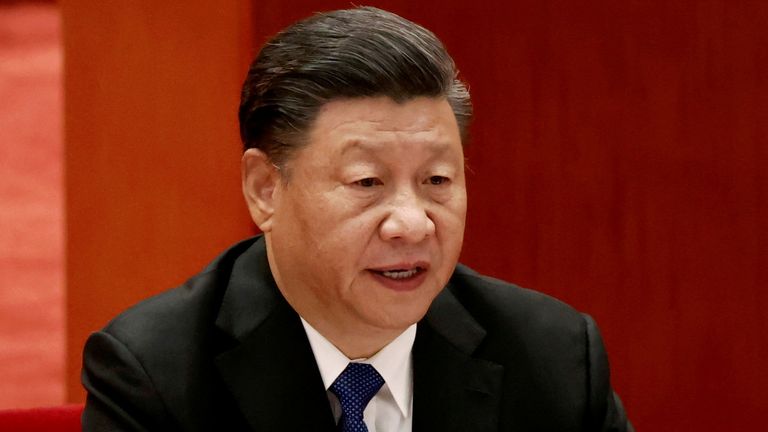 Meanwhile, China has not confirmed whether Mr Xi – who has not left his own country since the beginning of the COVID pandemic – will take part in the summit.
Asked by reporters if he would be at the COP26 talks in person or via a video call, China's special climate envoy, Xie Zhenhua, said: "We still need to wait for the information (from the) Ministry of Foreign Affairs, and only after they make an announcement will we tell you."
Subscribe to ClimateCast on Spotify, Apple Podcasts, or Spreaker
Mr Modi is also yet to decide whether he will attend, Indian officials have said.
However, a large number of other world leaders, including US President Joe Biden and French President Emmanuel Macron, will be at the talks.